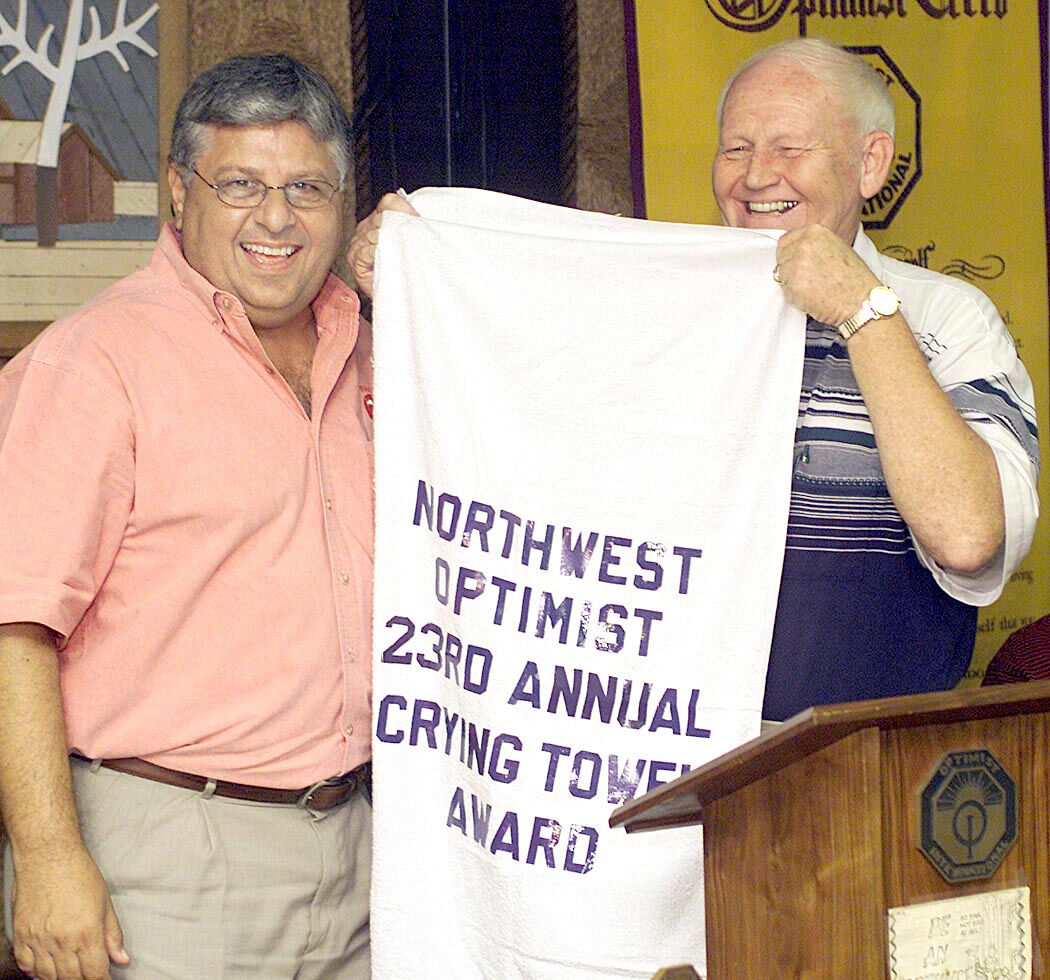 For the first 20 years of Waco ISD Stadium's existence, Butch Henry served as the voice of the press box.
Henry, the color analyst on the televised Waco ISD Game of the Week, offered up his homespun descriptions of the gridiron action, which were in turn broadcast live within the press box. Media members, scouts and stadium workers chuckled along as Henry put his spin on the game.
So it's a perfect fit that Waco ISD is christening the stadium's broadcast booth in Henry's honor.
Henry, who died last summer, voiced the Waco ISD Game of the Week from the stadium's opening in 2000 through the 2019 season. Before that, he was on the broadcast team for games at Paul Tyson Field.
"You know how everyone felt about Butch Henry," Waco ISD athletic director Ed Love said. "He was so well-liked. This is just the right thing to do."
Love said the school district will hold a naming ceremony for the Butch Henry Broadcast Booth during the Waco High vs. Midway game on Oct. 15.
Lark Smith joined Henry on the Game of the Week broadcast team in the 2000s and continues as the play-by-play man. He said his longtime partner in the booth was a true Central Texas sports insider.
"Butch was the guy that knew everything about all the teams," Smith said. "He was a member of the Northwest Optimist Club and everything he did, he did for youth sports."
Henry also annually emceed the Optimist Club's Crying Towel luncheon. The preseason event featured local high school football coaches giving their team's outlook for the upcoming campaign. Henry awarded the coach who had the saddest tale of woe with the Crying Towel.
Henry got started broadcasting high school games when he was an account executive at KCEN-TV and later joined the popular local sports radio talk show "You Make the Call." Through sports radio, Henry became locally famous for his use of phrases like "nanner puddin'" and "winner, winner, chicken dinner."
Smith said his color analysis had the same flare as he would employ aphorisms like "I'm with you, win or tie" and at times breakout in his alma mater Stephenville's fight song.
Tom Barfield, who worked with Henry on game broadcasts as well as "You Make the Call," said he felt his job was to tee it up for Henry and then get out of the way.
"Butch absolutely loved covering high school football," Barfield said. "He was incredibly knowledgeable, but he delivered it in a way that everybody could relate to it."
Wolf, Harrington to enter Midway HOF
Most of the time during football season, spring sports are way on the back burner. But a couple of former spring sports stars will get a moment in the spotlight when Midway ISD adds to its Athletics Hall of Fame.
Early 2000s track star Caroline Wolf and early 1980s football and baseball standout Ty Harrington will make up the Midway Athletics Hall of Fame Class of 2021, which will be inducted prior to the Midway vs. Waxahachie football game on Friday night at Panther Stadium.
Wolf, who graduated in 2003 earned four varsity track letters as well as two in basketball. She won the 4A state title in the high jump with a mark of 5 feet, 10.5 inches in 2003. She still holds the Midway and Central Texas records in the event. After transferring from Texas State to Texas A&M as a junior, Wolf won a Big 12 title in the high jump and finished fourth at the NCAA National Championships in 2006. Her personal best of 6-1.25 at Texas A&M is still the Aggies' record.
Harrington, who graduated in 1983, earned all-state honors on the baseball diamond along with multiple all-district distinctions in football and baseball. He went on to play college baseball at Texas, where he was a member of four Southwest Conference champions and three College World Series teams. Harrington went into coaching immediately following his playing career. He became Texas State's head coach in 2000 and continued in that post until his retirement in 2019. During that time, Harrington won 657 games and made three NCAA Tournament appearances.
This will be the first Hall of Fame class Midway has inducted since 2019. The shortened season and COVID-19 protocols prevented the Panthers from bringing in a new class a year ago.
Marlin's Torres wins DCTF honor
Dave Campbell's Texas Football singled out first-year Marlin head coach Ruben Torres as the Class 2A Coach of the Week this week.
Torres has guided the Bulldogs to a 2-1 record so far this season and back-to-back wins against San Antonio Pieper and Valley Mills.
On Friday, Marlin held off a Valley Mills rally to claim a 34-29 victory on the road. The Bulldogs stay on the road when they go to Lexington this week.
Bosqueville, Wortham players grab honors
Bosqueville quarterback Justin Moore and Wortham defensive end Anthony Fortoul won the WacoTrib.com player of the week polls, which wrapped up on Wednesday morning.
Moore passed for 183 yards and a touchdown and rushed for 206 yards and three TDs in Bosqueville's 48-37 loss at Palmer on Friday. He received 285 votes in the poll and was 63 votes in front of Lorena QB Ryne Abel in second place.
Fortoul helped Wortham claim a 42-30 victory over Dawson as he had 14 tackles, including five TFLs. He garnered 338 votes and edged out China Spring defensive back Greg Salazar (252).
The WacoTrib.com players of the week polls are made up from the weekly Honor Roll, published in Sunday's edition of the Trib.