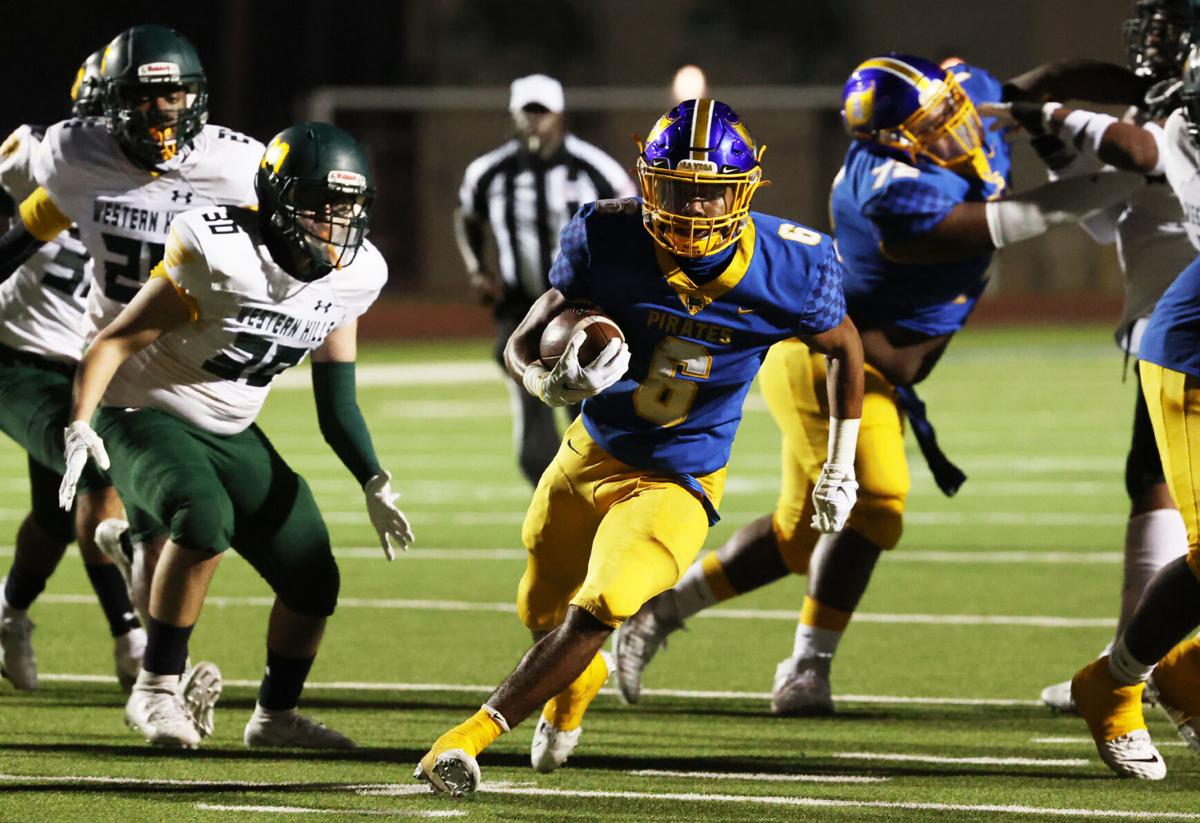 It may seem unconventional to describe a first-round playoff game as a tune-up, but La Vega all but made it that way Friday night at Willie Williams Stadium.
Dominating the line of scrimmage from the first kick and shaking off a second-quarter scuffle that saw several players ejected, La Vega found no trouble with Western Hills, downing the Cougars, 51-0, in the bi-district round of the UIL state playoffs.
A cheap shot by Tahj Wade on Jordan Rogers incited a quick scuffle that saw Sol'Dreveon Degrate and Andrew Brown ejected for retaliating. Degrate was seemingly tossed for leaving the sidelines, while Brown was on the field when the incident occurred. Aaron Boydston was ejected for Western Hills.
Despite the tussle, La Vega head coach Don Hyde saw his team dominate for 48 minutes.
"It's not about this game, it's about getting better for the next games," Hyde said. "That was our approach all week and I think our kids did a pretty good job of adapting to that."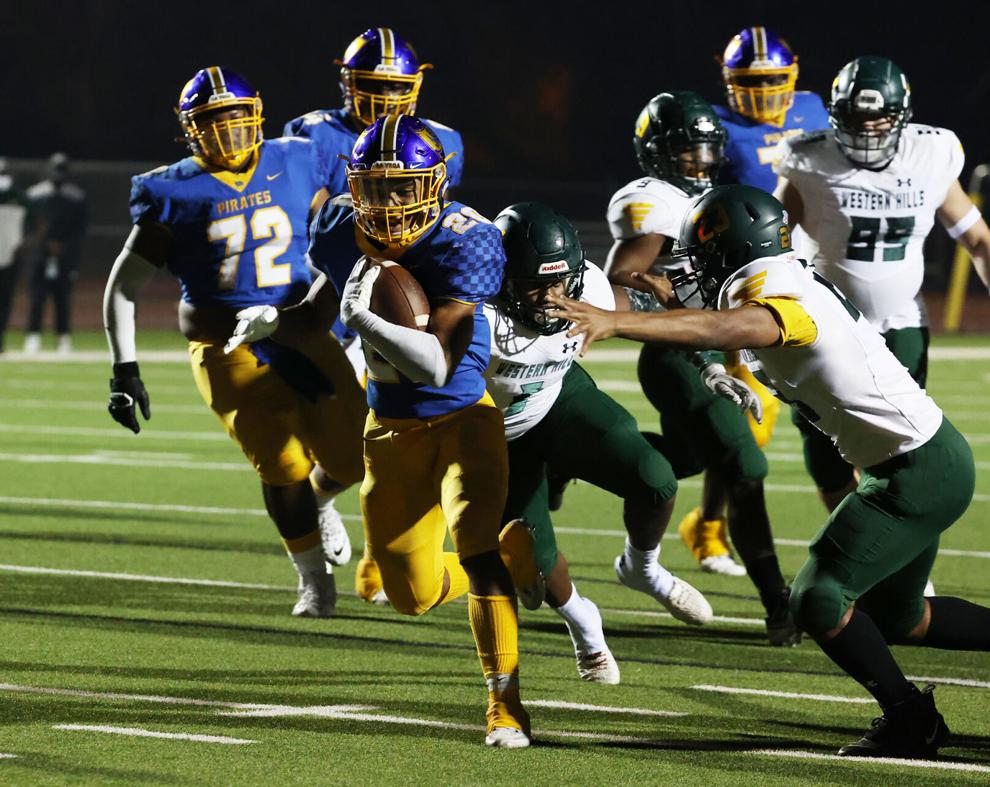 It seems to be a bit of a postseason trend for the Pirates, winning their last five playoff-opening matchups by an average of 43 points, including two straight drubbings of Lake Worth by a combined 133 in 2018 and 2019.
But when you attempt to dig a bit deeper and find the reason, it's not just the lack of worthy adversaries. The Pirates seemingly take no opponent lightly, even if it's one in Western Hills that hasn't seen the playoffs in a decade.
"You share film with the kids and they see a team that they should beat," Hyde said. "You just concentrate on trying to do things right and not make mistakes and stay locked in."
Quarterback Ara Rauls III, who has not missed a beat since returning from an injury that kept him sidelined for most of the season, only completed three passes and threw a pick, but led the Pirates on five-straight scoring drives to open the game.
Running back Jar'Quae Walton dominated in his limited playing time, rushing for 122 yards and three scores, including touchdowns from 46 and 22 yards. Walton's other score came on the heels of an Anthony Burns strip and Ja'Von Iglehart fumble recovery, setting the Pirates up at the Cougar 12.
Converted back Jordan Rogers saw action, scoring twice while and adding 71 yards on the ground.
Up 34-0, La Vega's defense reared it's fierce head. A tipped pass that hung in the air was grabbed by Anthony Burns and taken back 38 yards for a touchdown.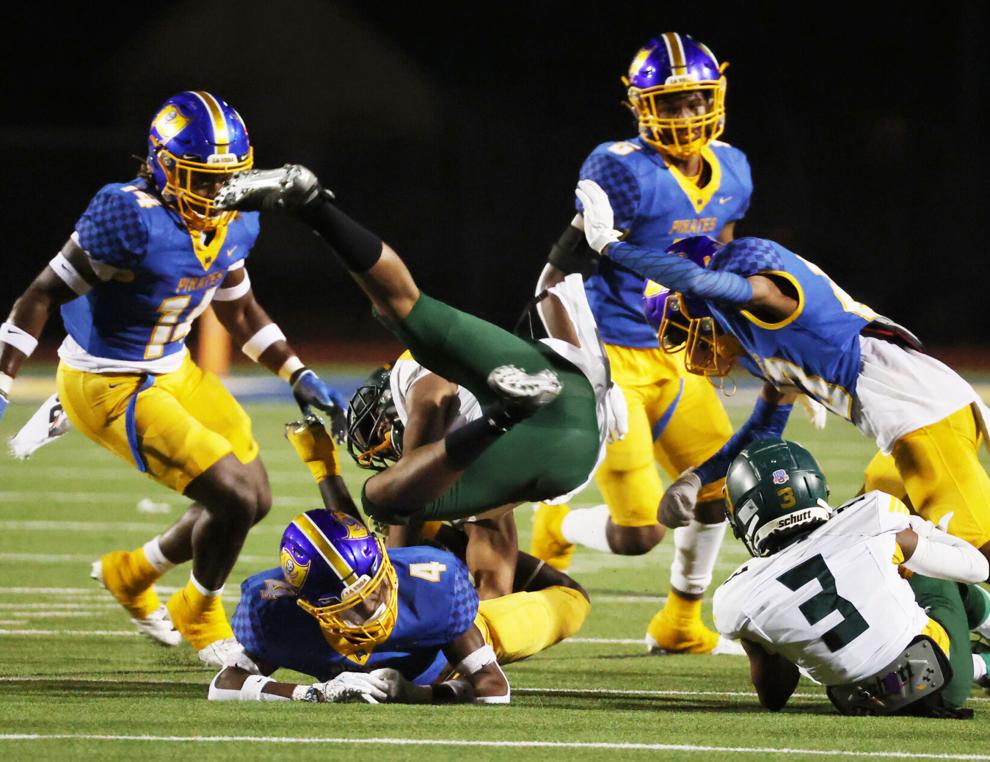 A bad snap flew over the head of Western Hills punter Jude Collins for a safety and two possessions later junior Keywan Ross sacked Cougar quarterback Keyon Butler in the end zone for two more points. Ross had a big night off the bench, adding another sack in the third quarter.
"Keywan is a good player for us," Hyde said. "It just so happens he plays behind two guys that are pretty good. He's a physical kid that can run a little bit and when he gets in there he has a presence on defense."
Western Hills mustered just 15 rushing yards and 11 passing, averaging just one yard per play in the first half. Facing six and even eight-man protections all night, Hyde saw a defense that stuck to its assignments and did not allow Butler to get comfortable.
"Our kids did a good job of getting back there and moving him off his spot and making him move around which forced him into some errant throws," Hyde said.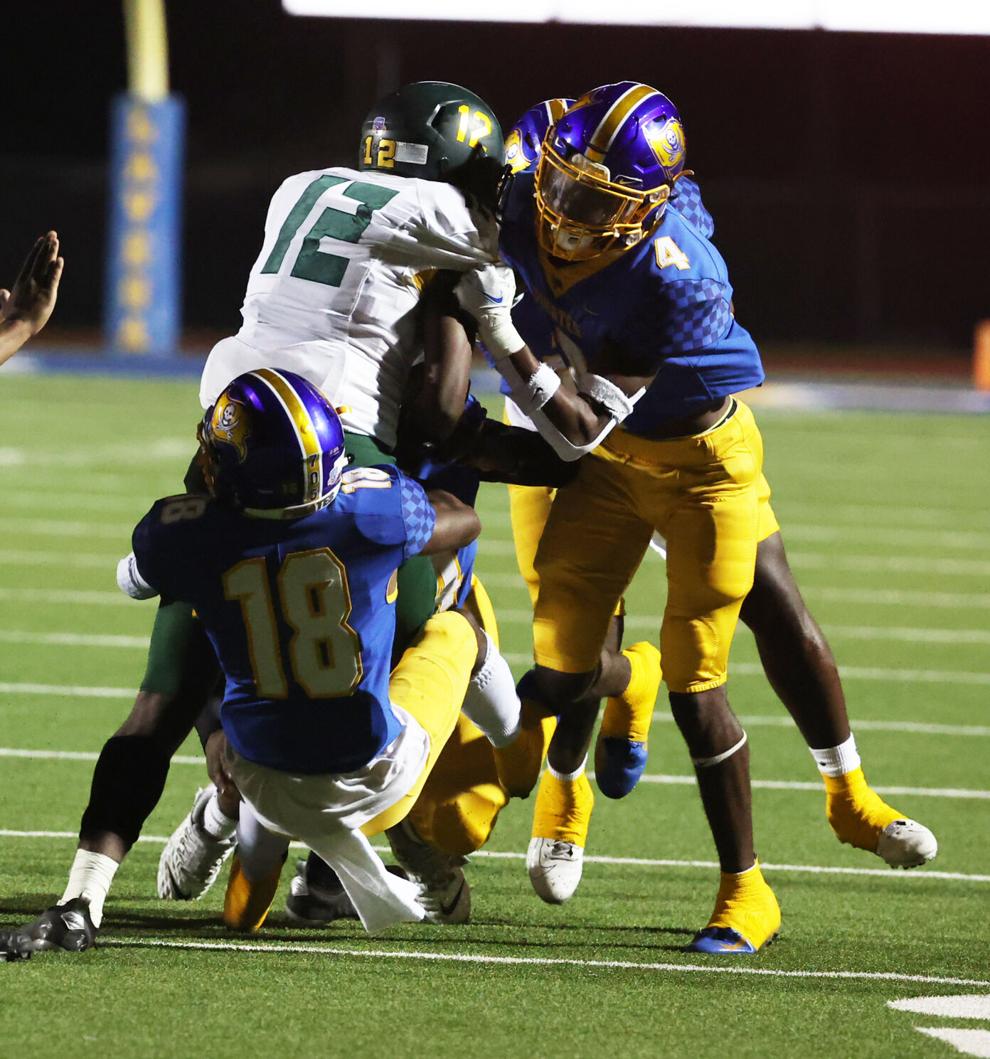 The only promising drive for the Cougars was thwarted by a sack of Butler by Ross, a third-quarter possession that saw the Cougars drive into Pirate territory for only the second time in the game.
La Vega backup quarterback Blaine Nickell then hit Dontroy Sterling for a one-yard score late in the fourth quarter.
Western Hills mustered just 65 offensive yards. Butler completed eight passes for 54 yards and a pick. Tyreke Lewis led the Cougars with just nine yards rushing.
La Vega sophomore Robert Prescott also saw his first varsity action in the third quarter, as the quarterback/punter pinned the Cougars deep with a 46-yard punt.
La Vega will play Wilmer-Hutchins in the area round next week.
---
Photo gallery