AUSTIN — The La Vega Pirates are track and field state champions. Again.
Just as they did in 2019 — there was not a state meet in 2020 due to COVID-19 — the La Vega boys swept the relay events to cruise to the Class 4A team championship at the UIL Track and Field State Championships on Thursday at Mike A. Myers Stadium.
"They dedicated themselves to finishing what COVID cut short," La Vega coach Chris Ward said. "It feels outstanding. I'm so proud of them."
Along the way, the Pirates set two 4A state records. It was a dominant performance on a sun-splashed day in front of a large crowd on the campus of the University of Texas.
The Pirates scored 82 points, soundly defeating second-place La Grange, which had 40.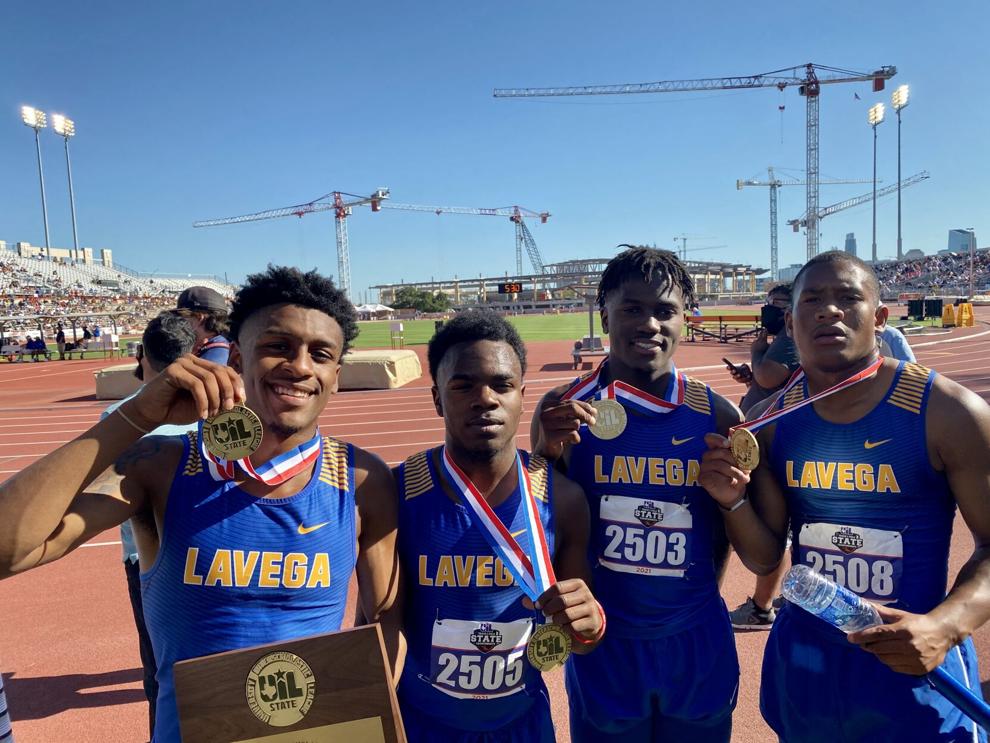 The La Vega 4x100 meter relay team — Ara Rauls III, Jai'Brian Bouye, Jeremiah Fisher and Jesse Majors-Sterling — set the tone and set a 4A state record with a blistering 40.71 seconds. Their big, gold medal-winning day came after working hard every day, Rauls said.
"No days off," he said. "We broke it down, focused and concentrated, and it feels amazing."
The 4x200 team added a bit of drama to the La Vega effort. A tight race down the stretch compelled Majors-Sterling, the anchor, to dive at the finish line. Apparently it worked, as the four Pirate runners — Rauls III, Sol'Dreveon Degrate, Bouye and Majors-Sterling — turned in a 1:24.61. It was yet another 4A state record.
"I had to do it," Majors-Sterling said about the dive. "I was tightening up, so I had to do it for my team. Win at all costs."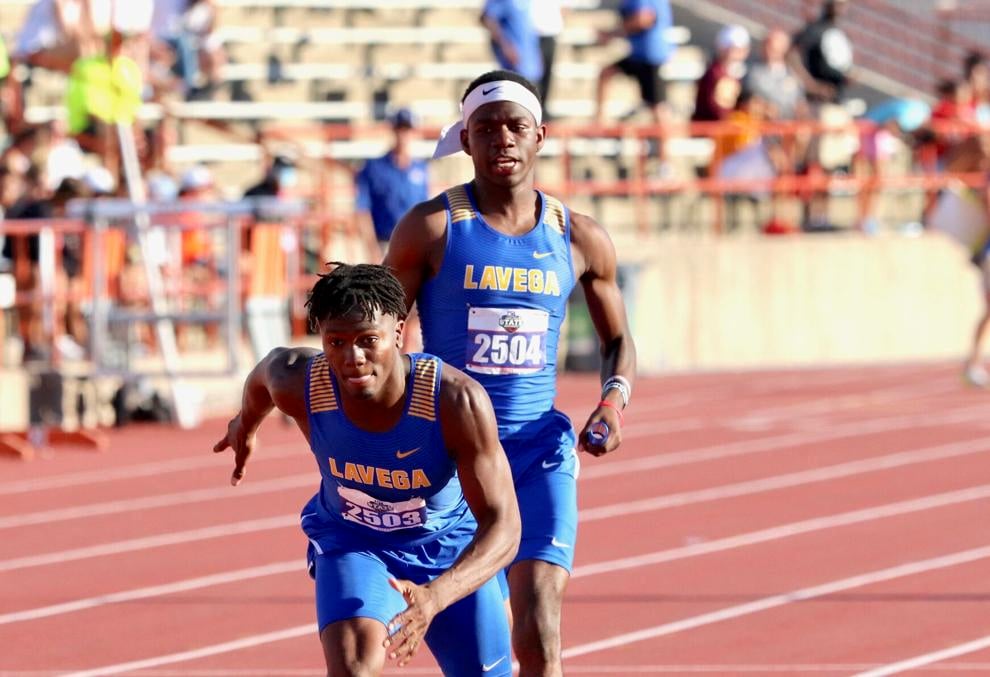 By the time the 4x400 relay, the last event of the day, finished, La Vega could smell the victory. That team, comprised of Nikzavyer Rice, Degrate, Stephon Nickerson and Majors-Sterling, ran a 3:16.79, sending the Pirate fans into a jubilant celebration.
The Cameron Yoe girls joined La Vega in bringing home a team title to Central Texas. Yoe scored 56 points and finished 10 ahead of Goliad in second place.
The La Vega girls made sure they got some time on the medal stand as well, as the quartet of Ariana Brown, Kaela Sawyers, Kiyleyah Parr and Ny'Cierra Hinton took the silver medal with a season-best time of 1:41.23.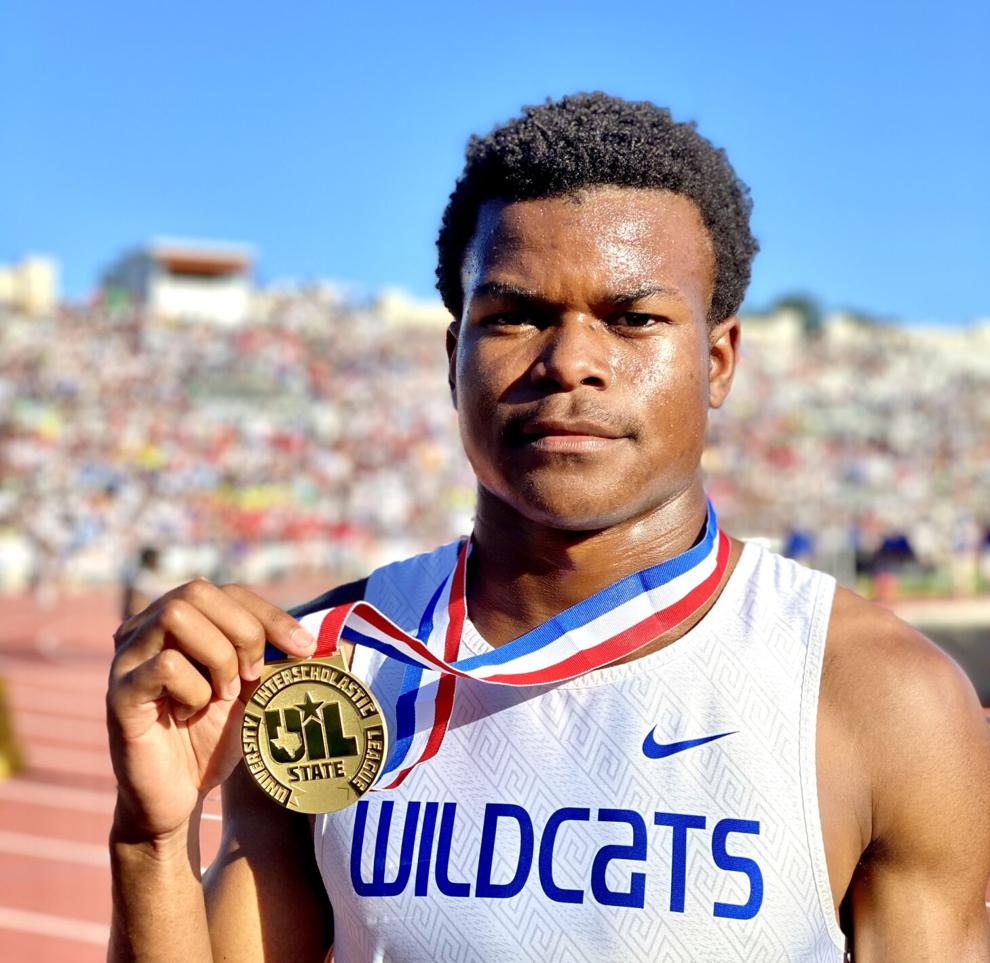 Elsewhere, Demari Wilson of Whitney took gold in the 100 meters with a 10:38, narrowly holding off Brenen Thompson of Spearman, who ran a 10.40.
Yierra Flemings of Cameron Yoe won two gold medals, taking first in the 400 with a 54.98, and anchoring the 4x100 relay team, who also took first with a 48.04.
Mara Hering of McGregor ran a personal-best 43.64 to take the bronze medal in the 300-meter hurdles.
Earlier in the day, Central Texas was well represented at the high jump pits. Jamariyan Howlett of Riesel won the 3A boys high jump state championship, while Shadasia Brackens of Fairfield and Connally's Jelani McDonald both took home silver medals in 3A girls and 4A boys, respectively.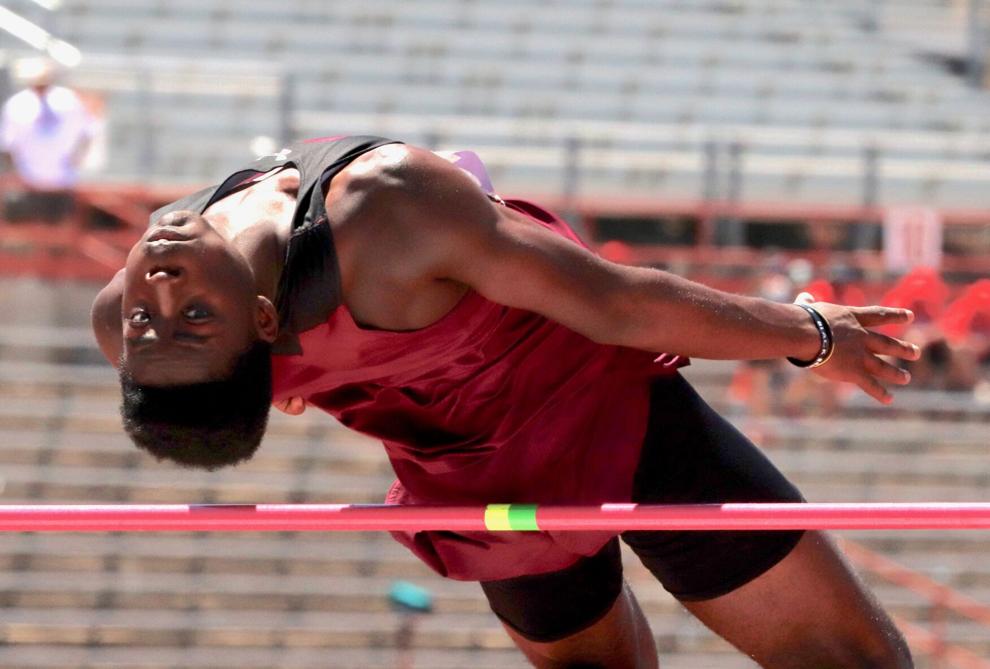 Howlett won the gold medal with a personal-best jump of 6 feet, 8 inches. The senior said he took a a relaxed approach to the event.
"It felt like practice," Howlett said. "I started a little slow, but then I talked to my coach and we figured it all out."
Brackens also set a personal record, as she cleared the bar at 5-7. Although she finished second to Lexi Ivy of Denver City, who won it at 5-8, Brackens said she was still very happy with her effort.
"I never thought about going to state for high jump," she said. "It is always basketball for me, so it feels really good to make it this far."
McDonald's 6-4 leap earned him the second spot on the podium. Later, he added more hardware with another silver medal, this time in the triple jump. His feet found the sand at the 45-4.75 mark.
"I didn't think I was going to make it (to state) because this was my first year doing triple jump," said McDonald, a sophomore. "I just kept working, trying to go get it."
Makayla Pavelka of West also brought home home a pair of silver medals, in the long jump and triple jump. Her long jump of 17-11 edged out Flemings of Cameron Yoe by 1/2 inch, while her 37-7.5 triple jump mark was four inches behind the winner, Jenci Seahorn of Big Sandy Harmony.
In the first race of the day, Addie Sykora of Lorena finished second in the 3A girls 3,200 meters with a time of 11:25:42. Sykora added a silver medal in the 1,600 on Thursday evening.
La Vega's Parr took home a bronze medal in the 4A girls triple jump. Leah Anderson of Midlothian Heritage won the event with a mark of 38-10.25. Parr came in at 38-0.
Pirate sprinters Fisher and Bouye made sure their squad locked down the points they needed before the final event of the night. Fisher won the 100 with a time of 10.49, while Bouye claimed gold in the 200 at 21.33.