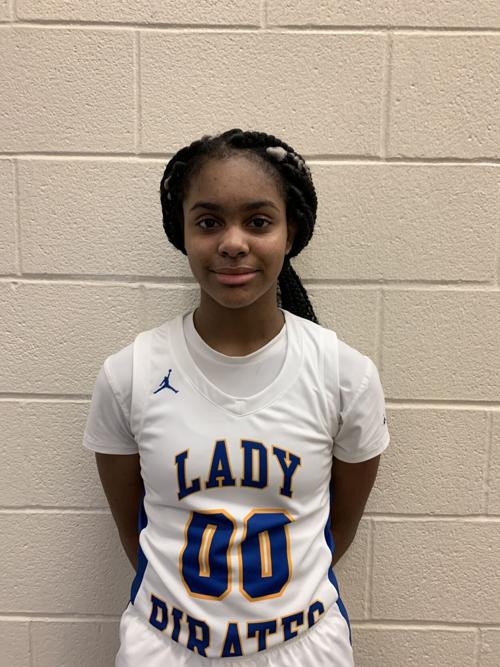 Intensity, thy name is La Vega-China Spring.
In another epic chapter in one of the most hotly contested rivalries in Central Texas, La Vega survived by keeping its cool. Mar'cyah Willis delivered a timely putback late in the fourth quarter, and Jadyn Iglehart gave her team some breathing room with two critical free throws with 25 seconds left. Such clutch plays helped the 25th-ranked Lady Pirates fend off gritty China Spring, 49-47, in the District 18-4A girls' basketball opener for both squads on Tuesday night at the Pirate Gym.
La Vega (10-5, 1-0) couldn't have staged a more dramatic opening act. The Lady Pirates scored the first 14 points of the game to whip out to an eye-opening 17-4 lead over the Lady Cougars (8-6, 0-1) after a quarter. But China Spring fought back with a heavyweight champ's gusto.
"We were definitely ready to play," La Vega coach Marcus Willis Sr. said. "That was the problem though, we got out too hot. And I knew we were going to cool off sooner or later. China Spring is a team you cannot let hang around, and we did that. Of course, we got out at the beginning and then we got too lax after halftime.
"You let a good team hang around like that and you get a battle at the end of the game. But I'm proud of my girls."
China Spring faced an imposing 35-16 deficit at the half. But Kristi Mize's team is one that would stare up at El Capitan and say, "Yeah, let's go climbing."
The Lady Cougars scratched and scurried their way back into the game in the third quarter, outscoring La Vega, 21-7, in that period.
"We showed some grit and grind in getting down like that and coming back," Mize said. "They knocked us in the mouth in the first half. But we came out and fixed some things at halftime. We were trying some new things. The girls were really resilient, because I was making stuff up as we went. We were in situations they haven't practiced — concepts they'd practiced, but we were lining up in different ways. … But I love my team for getting after it and not giving up. They fought and clawed with bloody fingernails to dig out of the well we put ourselves in."
This game should have been sponsored by InstantPot, because it was a serious pressure cooker. And both teams took a page out of the other's playbook to find success.
On a winter night, a blanket can be warm and cozy. Unless you're a point guard trying to bring the ball up while feisty defenders blanket your every move. Then you start to sweat.
That's how it went early in the game for China Spring. The Lady Pirates harassed the Lady Cougars into an array of first-half turnovers. And La Vega turned them into splash landings on the other end, hitting four first-quarter 3-pointers, including three from freshman point guard Mar'cyah Willis.
"Three-ball was big for us," Marcus Willis said. "We can shoot the ball. Now we've got to figure out how to space that out, and not just get so hot in the first quarter and second quarter, and save a little bit for the end of the game."
In the second half, China Spring cranked up the backcourt heat on La Vega, and it led to several Lady Pirate turnovers. That helped ignite the Lady Cougars' fast-break game and start chopping away at the deficit.
China Spring cut the gap to 10 when high-octane guard Mochieyveon Hobbs fed Hadley Phillips, fresh off the bench, for a layup with two minutes left in the third. Moments later, senior post Brylee Smith took a well-placed sideline inbounds pass from Kayla Peoples and ducked into the lane for a left-handed layup to pull even closer.
Challenged by Mize at halftime, Smith responded. She scored all 12 of her points in the third quarter. She also yanked down 12 rebounds and tallied one block — though it could've counted as two, since she used two hands to stuff La Vega's putback attempt.
China Spring just kept coming. When Peoples drew a foul after hustling to a third straight offensive rebound, she converted one of her two free throws to propel the Lady Cougars to within one of La Vega, 42-41, with 5:29 left in the game.
But La Vega found its finishing gear. Marcus Willis calls his team "a run-and-gun team" and Mize said that the Lady Pirates play "100 miles an hour, all the time." Down the stretch, they hustled their way to some huge momentum savers. Iglehart banged in a 3-pointer at the 4:25 mark, and Mar'cyah Willis slipped inside an attempted box-out and stuck in a follow shot with 2:52 to go.
Iglehart's free throws with 25 seconds to play gave La Vega a 49-44 edge, but China Spring still didn't go quietly. Senior guard Riley Shoots lived up to that hoops-perfect surname by banking in a 3-pointer with four seconds to go, slicing the score to 49-47, La Vega.
China Spring knew it needed to foul to stop the clock, but La Vega perfectly executed a long, touchdown-style inbounds pass to sophomore forward Andrea Johnson and the Lady Pirates were able to elude the foul attempt and escape with a hard-fought district win.
Mar'cyah Willis, one of seven underclassmen on La Vega's baby-faced roster, led all scorers with 18 points. Iglehart chipped in eight points for the Lady Pirates, who travel to Madisonville Friday.
Riley Shoots joined Smith in double figures for China Spring with 11 points and Hobbs zipped her way to 10. China Spring is home to Robinson on Friday.
Following the game, China Spring's Mize mentioned to La Vega's Willis to expect this type of tussle every time out in 18-4A. Willis certainly knows to expect it anytime the Lady Pirates see China Spring.
"Hat's off to China Spring, Coach Mize and her whole staff and their team," Willis said. "They play hard from start to finish. We knew that, and so compliments to them for coming in here and giving us a good game. It's going to be another good battle in a couple of weeks when we go see them at China."
BOYS No. 16 Lorena 64, West 35
WEST — Vrail George tossed in 22 points as the 16th-ranked Leopards tossed aside the Trojans to stay perfect in District 17-3A.
Lorena (11-4, 2-0) has won its last three games since a home loss to Class 4A's 20th-ranked La Vega on Dec. 19. Senior Graham Goolsby added 10 points.
Seth Grazier had 10 points for West (7-3, 0-2) and Kirk Zuehlke contributed nine.