When you're a teenager, growth spurts don't always happen at the pace at which you desire.
You're probably still growing. But sometimes it feels like everyone else is shooting up like reeds all around you.
Welcome to the life of the Midway volleyball team.
Midway has talent. That much is evident after one quick glance. But so do their rivals in the potent District 11-6A. Mansfield Lake Ridge revealed as much Tuesday, as the heavy-hitting Eagles powered past the Pantherettes, 26-24, 25-22, 21-25, 25-18, at the Midway High Arena.
Midway wraps up the first half of district play at 3-4, and the Pantherettes fall to 5-7 overall. After the match, Midway coach Ryan Porter challenged his team to work harder, because they'll have to pick up the pace big-time if they want to preserve the program's streak of reaching the playoffs.
"It's there, it's there. We've got a lot of young talent, we've got a lot of old talent," Porter said. "We've got returners, we've got (players) brand new to varsity. They've got to figure out how to compete at this level. We're used to competing at our old district's level, and this is a different game."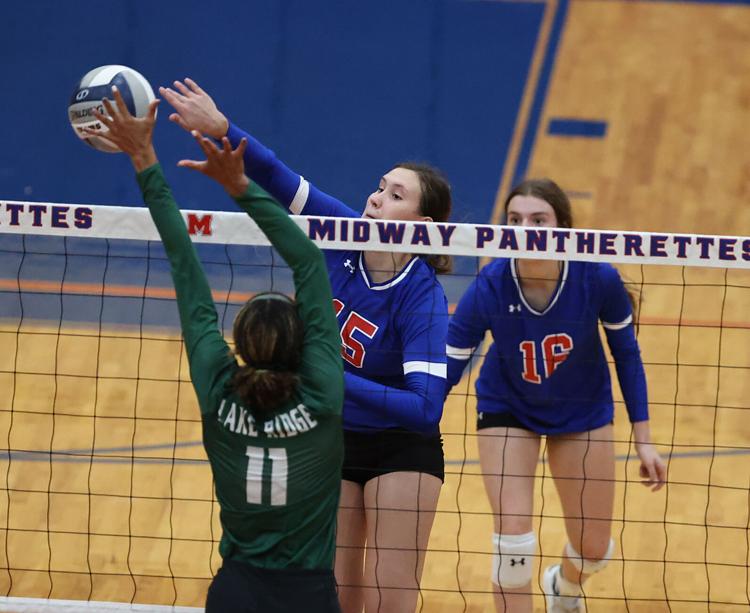 Lake Ridge (9-4, 6-2) is nasty enough that it can drop a Lyric and still lay down a funky beat. The reference is to Lyric Stewart, as the senior outside hitter and University of Georgia pledge is out of commission with an injury, watching on crutches.
But the Eagles still looked plenty imposing even with her absence. Senior MeKayla Coger and sophomore Clair Redmon applied relentless pressure at the net, swooping in with emphatic, well-placed spikes. And 6-foot-3 middle blocker Kaelyn Mack stuck her big mitts on plenty of the Pantherettes' offerings, slowing the Midway attack.
Midway kept things close throughout, but Lake Ridge produced points at the timeliest of junctures to snatch each of the first two sets.
In the third set, the Pantherettes put together their sharpest stretch of play of the match. Their passing improved, and that set up easier hunting opportunities at the net. Sophomore Sydney Smith displayed some crafty acumen in squeezing a couple of kills around the Lake Ridge blockers, and Midway bounced out to an 18-11 lead.
"I thought our serve-receive picked up quite a bit," Porter said. "Kara (Wachsmann) started passing some dimes and throwing it out there quite a bit. I thought two of the seniors, Avery Acosta came in and contributed immediately. Andi Wisdom did as well, on the offensive side at least. But more importantly, I'm not sure how many aces we finished up with in that third set, but we served them off the court pretty well in the third set. But then they answered."
Lake Ridge surged back in the third, as Coger and Redmon launched some missiles to spark an 8-2 Eagle run. Midway went up 21-19 when Acosta, with help from teammate Kennedy Carter, accosted an Eagle attack with an impressive block. Carter followed up with back-to-back kills, and Midway eventually took the set 25-21 when a Lake Ridge return of a Smith spike detoured out of bounds.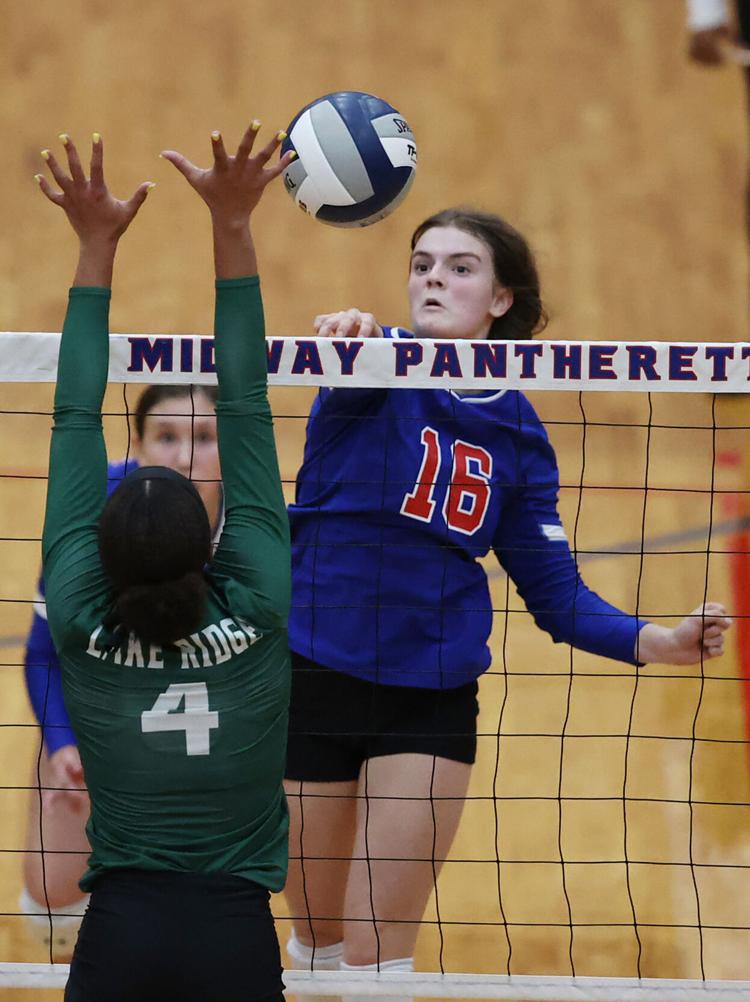 But Lake Ridge showed some finishing ferocity in coming out with the win. The teams scratched back and forth early in the fourth set, and the score was tied at 13 after a Carter thumper.
The consistency just wasn't there for Midway, though. Its next shot sailed long of the back line. The Eagles took particular umbrage after an official overturned an apparent Redmon kill for a net violation, giving Midway a point to make the score 18-15, Lake Ridge.
The fired-up Eagles responded with a swooping spike from Makenzie Washington, closing on a 7-3 run to seize the win.
Carter and Smith led Midway with seven kills apiece. But the Pantherettes weren't overly efficient in their attacking, hitting just .067 for the match. Gabby Jones served up a team-best four aces, while Cindy Mellen and Kennedy Bryant had one each.
Midway will kick off the second half of 11-6A play at home Friday against Cedar Ridge, a team it swept the first time around. The Pantherettes will need to spring a couple of upsets, though, if they want to get in the playoff mix.
Basically, they'll need to grow up in a hurry.
"We're improving every day in practice, but we're not improving fast enough to kind of keep up with some of the athleticism we're seeing," Porter said. "If anything, it kind of shows how much we accomplish in the offseason, that our kids are ready to play and how fast they improve. Whenever you don't have that opportunity, all of the sudden the teams that are better trained don't necessarily keep up with the teams that are more athletic anymore. We're seeing that. … But we've got work on ourselves first and then we'll worry about them."
No. 3 China Spring 3, Madisonville 0
Winner-winner, it's another Cougar dinner.
China Spring continues to feast on wins, as it improved to 24-0 overall and 9-0 in District 18-4A action by sweeping Madisonville, 25-10, 25-15, 25-13.
The Lady Cougars can complete a perfect regular season if they can knock off Madisonville at home on Friday and beat Mexia on the road next Tuesday.
McGregor 3, Whitney 0
Mara Hering shredded 12 kills as the Lady Bulldogs turned back Whitney, 25-10, 25-16, 25-9.
The powerful Hering had help though, as Audrey Lillard tacked on 11 kills and Chloe McCauley had six in the sweep. Kiley Coats dished out 26 assists from the setter spot.
McGregor improves to 13-8 overall and 6-5 in District 17-3A.
No. 2 Crawford 3, Valley Mills 0
Give those Lady Pirates a big tip, because they're excelling as a service industry.
Crawford dropped in 15 aces from the service line in deflecting Valley Mills, 25-9, 25-9, 25-16. Lexi Moody delivered a match-leading six aces, and McKenna Post and Taylor Westerfeld added three apiece. Overall, the Lady Pirates (24-3, 13-0 in District 12-2A) made only seven service errors in 73 attempts, a 90.4 percentage.
Katie Warden whacked 12 kills to fuel the attack for Crawford, and Westerfeld had 10. Moody handed out 27 assists. It marked Crawford's final home match of the season, as it'll close out with road matches against Bosqueville and Moody.
Get in the game with our Prep Sports Newsletter
Sent weekly directly to your inbox!