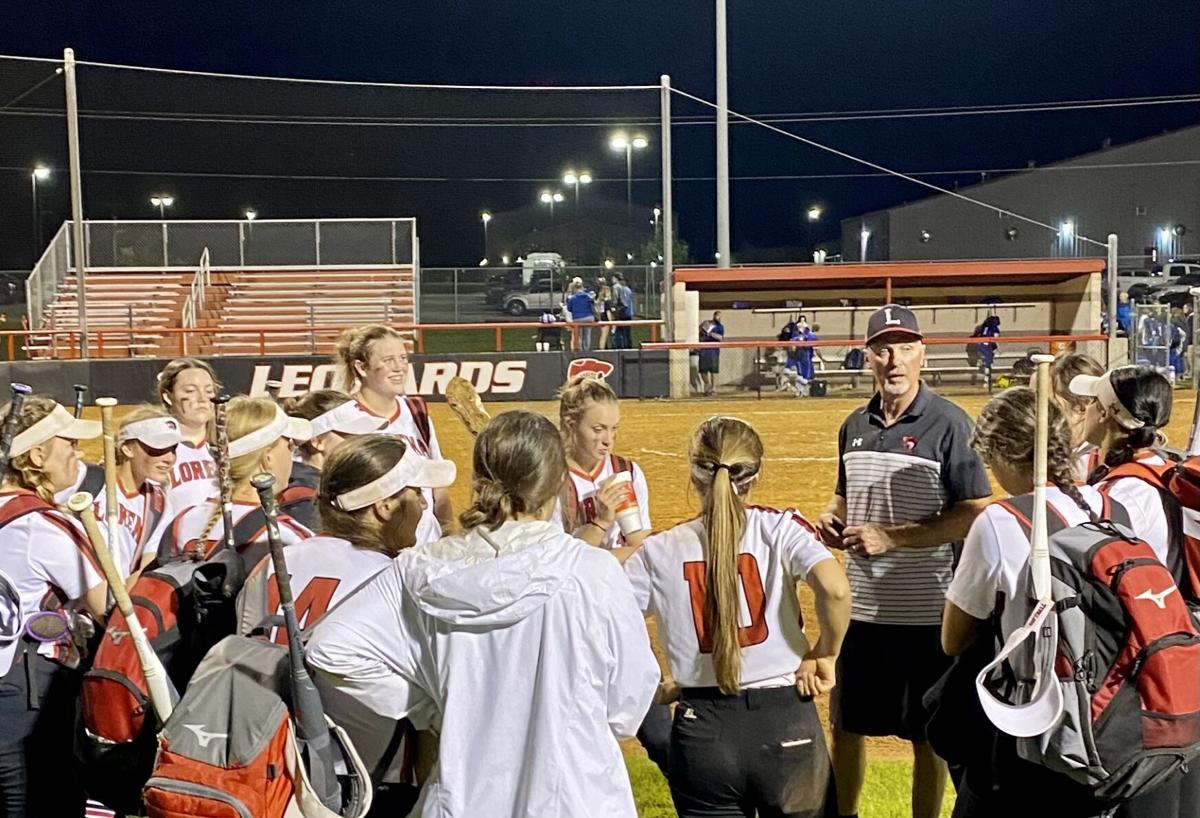 LORENA — The Lorena Lady Leopards softball team did a lot of work in the circle and on defense in the second game of their bi-district playoff series against Blooming Grove.
Pitcher Kate Houser worked a complete-game shutout, sitting the Lady Lions down in order in their final three at-bats. Centerfielder Ashlyn Wachtendorf delighted the home crowd with a couple of sparkling defensive plays.
But it took just a couple of swings by No. 2-hole hitter Alexis Nava to make all the difference on the scoreboard.
Nava blasted a two-run home run in the third inning and a solo shot in the sixth to lift Lorena to a 3-0 victory over Blooming Grove on Friday night at the Lady Leopards' diamond.
The Lady Lions and Lorena were locked in a scoreless pitcher's duel through two and half innings. Blooming Grove pitcher Ava Eldridge got a pair of ground outs to start the Lady Leopards' half of the third before Wachtendorf worked a walk and stole second.
Wachtendorf was poised to score on anything that landed in the outfield, but Nava had other ideas.
Nava drilled a 1-0 pitch that sailed over the wall in left-center field to put Lorena in front, 2-0.
"I didn't know if she got all of it. I knew we were going to get one with Ashlyn at second," Lorena coach Steve Dolezel said. "We were going to score. It just kept on climbing and I said, 'That's gone.'"
That was all the run support Houser needed. She struck out five and didn't walk anybody to get the win in both games of the bi-district best-of-three series.
By sweeping the Lady Lions, Lorena (20-5) advances to play Fairfield in the second round at a time and site to be determined.
While Houser gets credit for a complete-game shutout and a four-hitter, Wachtendorf gets an unofficial assist.
Lorena's Baylor-bound centerfielder robbed Blooming Grove's Kinley Skains of a bloop single in the top of the fifth. Wachtendorf raced in from deep in the outfield and made diving scoop catch for the second out of the inning.
It took her until the next frame to top it. With one out in the top of the sixth, the Lady Lions' Mason Williams hit what looked like it could be a gapper to right-center. But Wachtendorf got there in time to make another diving grab before rolling into rightfielder Jaylynn El-Far.
The Lady Leopards got up slowly, but both stayed in the game and Dolezel said no one was injured on the play.
"(Wachtendorf) tracked a few of them down tonight," Dolezel said. "We haven't had that many hit to her. It's been everywhere but her. We finally got some where she could track them down."
Houser got a strikeout to end Blooming Grove's sixth, then it was time for one more offensive highlight.
Nava worked her way into a 3-1 count as she led off the bottom of the seventh. Then she made the most of the green light by hitting a no-doubt line-drive home run to straight away left.
"Alexis is seeing it well again," Dolezel said. "That's good because she can hit it. She just was waiting for that one. Whether it was going to be a strike or a ball, she was going to give it her best cut."
Houser struck out Blooming Grove's final two batters, including a backwards K to end the game and send Lorena on to the next round.
BASEBALL
La Vega 2, Madisonville 0
MADISONVILLE — For the first time since 1989, the La Vega Pirates are headed to the state baseball playoffs.
La Vega clinched that spot by shutting out Mexia in a fourth-place District 18-4A tiebreaker game. The Pirates (9-9) will face the District 17-3A champion in the bi-district round next week.