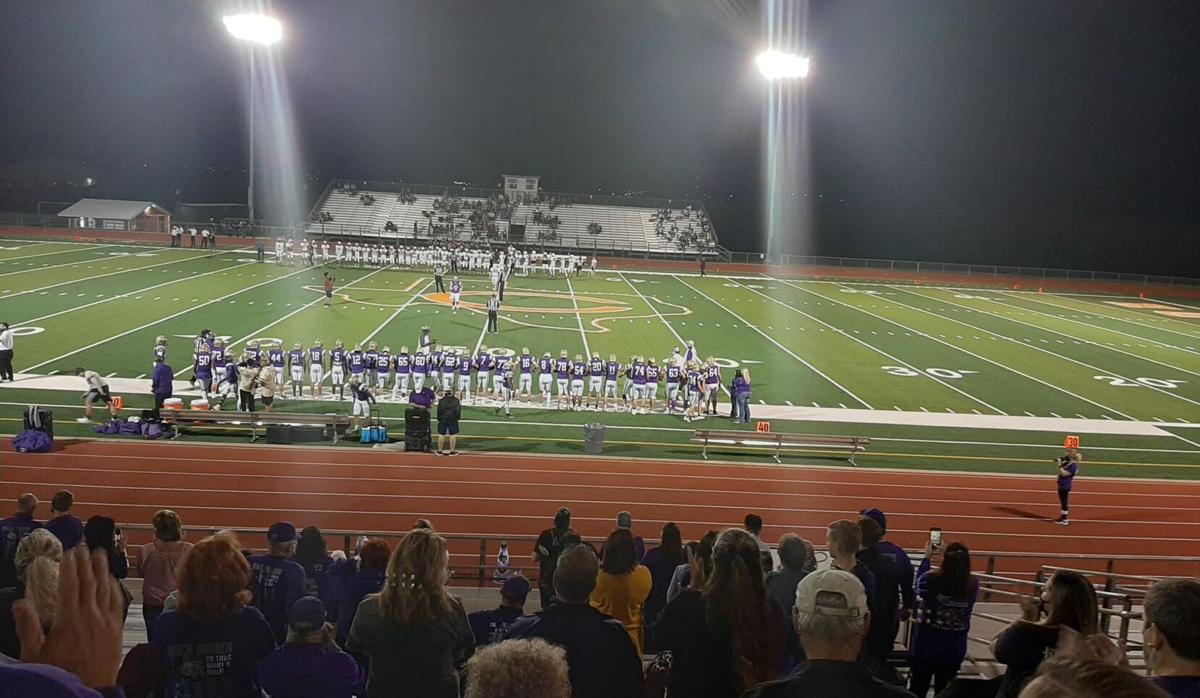 CALDWELL — Three weeks in the fall without a football game can seem like an eternity to high school players.
Playing its first game since Oct. 31, three-time defending state champion Mart looked like it couldn't wait to get into the end zone Friday night against Lovelady.
Neven Hickman and Keishawn Clater each broke loose for a pair of first-half touchdowns en route to Mart's 48-12 blowout of the Lions in the Class 2A Division II area playoffs.
The Panthers (11-0) hadn't played since a 78-6 thrashing of Bremond on Oct. 31. Mart advanced to the area round when Cumby had to forfeit the bi-district game due to COVID-19.
"We all get tired of practicing, especially when you think you're going to have a game at the end of the week and then you don't," said Mart coach Kevin Hoffman. "We prepared for these guys for two weeks. These are teenage kids and it's hard for them to see the end result. There's no prize at the end of that week and you have to get it ramped up again."
The Panthers will face West Sabine in regionals at a site to be determined, and Hoffman is looking forward to playing two straight weeks.
"I talked to the kids all week and my concern tonight was that we hadn't played a game in 20 days," Hoffman said. "I had a couple of starters quarantined two weeks before that, so they hadn't played in about 34 days. I've got three starters sitting at home because they're quarantined, not from anything that happened with the team or at school but stuff from the outside. I was concerned, but we played some young kids who had to fill those spots."
The Panthers needed just 12 plays to score five first-half touchdowns to open up a 34-0 halftime lead.
Quarterback Roddrell Freeman scored a first-half touchdown on a 69-yard run before breaking loose for a 54-yard score in the second half. He also led the defense by delivering some big hits from his linebacker spot.
After taking the opening kickoff, the Panthers needed just three plays to score as Freeman and Klyderion Campbell ran for 17 yards apiece before Clater found an opening on the left side for a 27-yard touchdown run.
Only 65 seconds had ticked off the clock.
The Lions (7-5) tried to run as much time off the clock as possible with Shaun Easterling carrying 34 times for 150 yards.
Following a Lovelady punt, Freeman exploded up the middle for a 69-yard touchdown to give the Panthers a 13-0 lead with 4:02 left in the first quarter.
The Lions put together their best drive of he first half as they moved 61 yards to Mart's 3. But on third-and-goal, Freeman busted through the line to nail quarterback Slade Murray for a three-yard loss.
On fourth down from the 6, Murray's pass fell short and the Panthers took over with 7:22 left in the second quarter.
It didn't take long for Mart to score as Hickman found a huge gap on the right side and broke away for a 90-yard touchdown to push the lead to 20-0 with 7:04 left in the second quarter.
"I give the credit to Lovelady and their game plan on offense to put those big guys in there and lean on us and try to get three or four yards and try to eat up the clock and try to shorten the game," Hoffman said. "We had a big stop inside the 5 and then a long run. We know we can score quickly."
Hickman scored again on a 20-yard run before Clater extended Mart's lead to 34-0 when he exploded for a 49-yard touchdown with 1:01 left in the second quarter.
By halftime, the Panthers had amassed 347 yards on just 14 plays.
The Lions finally broke through for their first touchdown after taking the second-half kickoff when Eric Anderson ran for a three-yard score with 2:17 left in the third quarter.
After Freeman fumbled at Mart's 28, the Lions scored again when Anderson rammed across for an eight-yard touchdown to cut the lead to 34-12 with 10:33 left in the fourth quarter.
When Lovelady's onside kick failed, Freeman broke away from several defenders for a 54-yard touchdown.
The Panthers quickly got the ball again when Clater recovered Easterling's fumble at Lovelady's 31.
After an unsportsmanlike conduct penalty against the Lions, Campbell blew up the middle for a 16-yard touchdown to push the lead 48-12 with 9:23 remaining in the game.