MART — The Mart Panthers are clearly a pretty territorial bunch.
With the tenth-ranked Chilton Pirates in town for a matchup of state-ranked football teams, No. 1 Mart bared its teeth and proved to be a hostile host.
The Panthers turned a couple of blocked punts into touchdowns and scored in a variety of ways as they pounded Chilton, 56-6, on Friday night at Panther Stadium.
One of the things that makes Mart so good is that it has playmakers up and down the roster. Defensive lineman Alan Harringer was the man against the Pirates as he swatted two punt blocks that helped to create an avalanche of Panther points.
Mart QB Trey Powell took care of his business as well as he passed for 121 yards and a touchdown and ran for a couple of TDs.
With that, the Panthers (6-0, 1-0 in District 10-2A Division II) asserted what most Central Texas football fans already knew: They're the class of their district and very likely headed toward another long playoff run.
Chilton (5-1, 0-1) still has plenty to play for this season. The Pirates actually slowed down Mart's offense for much of the night, an indication that they're primed for a lengthy postseason as well.
But on this night, Mart's defense and special teams controlled the action.
Mart used a series of special teams plays to tilt the scoreboard in its favor in the first half.
The Panthers led 14-0 early in the second quarter when their defense backed up Chilton inside the Pirates' 10. Chilton punter McKeller Cook had trouble handling the deep snap around his own goal line. He managed to get a kick away, but Harringer got his paw on the ball, sending it sideways.
Panthers sophomore Dominic Medlock scooped the bouncing ball just before it went out of bounds and strolled three yards into the end zone.
Chilton's problems went from bad to worse on the ensuing kickoff. The Pirates' return team let a high Mart kick bounce on the turf long enough for Da'Marion Medlock to take it away.
Medlock caught the live ball on the run and swept it into the end zone. However, because the kicking team can't advance that type of loose ball, the Panthers had to settle for possession at the Pirates' 11.
No matter. Neven Hickman carried on three straight plays, finishing the scoring drive with a one-yard touchdown dive and a 28-0 lead.
"We spend a lot of time working on special teams. Probably more than a lot of people do," Mart coach Kevin Hoffman said. "We work punt return phases and that type of stuff into offensive team practices and defensive team practices. We work on our blocked punts. We just don't take a play off."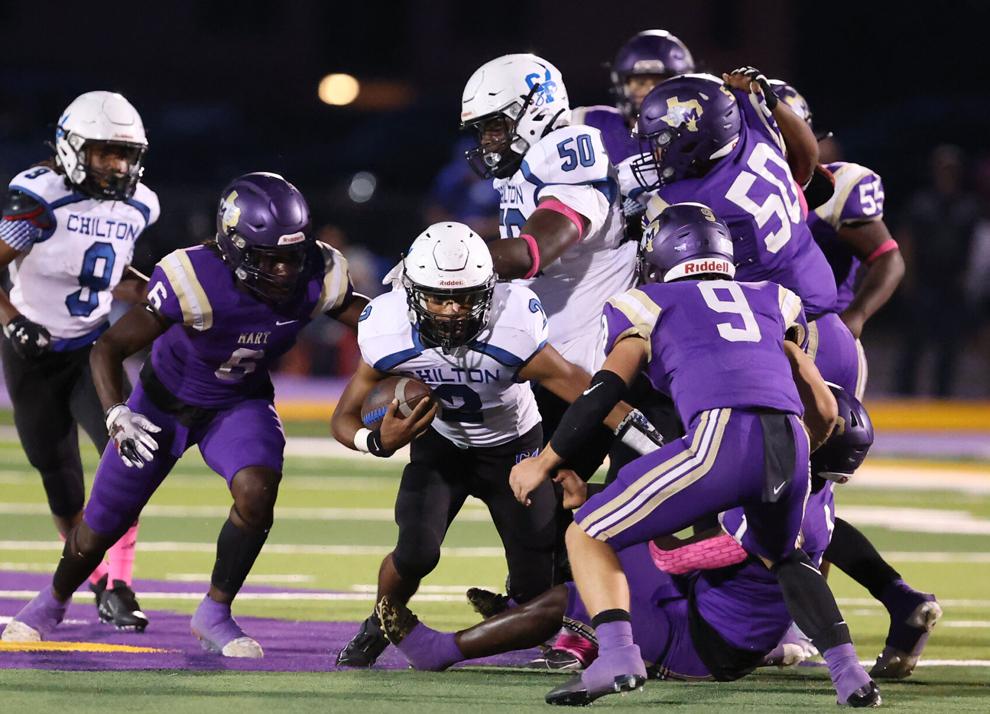 Chilton wasn't deflated, though. The Pirates responded to the four-touchdown deficit with their biggest play of the half. Chilton running back Luis Fernandez found a hole and raced into the Mart secondary.
The Panthers' defense doesn't let many opposing ball carriers get away from them, but that's what Fernandez did on a 70-yard touchdown romp.
Mart used its longest march of the first half to boost its lead to 35-6 at intermission.
Powell converted a couple of long third downs to keep the drive going, hitting Brandon Lundy for 16 yards and De'Traevion Medlock for 19, moving Mart inside the Chilton 20. The Mart QB kept on an option play for 13 yards to get inside the 5 and Klyderion Campbell finished the possession with a two-yard TD run.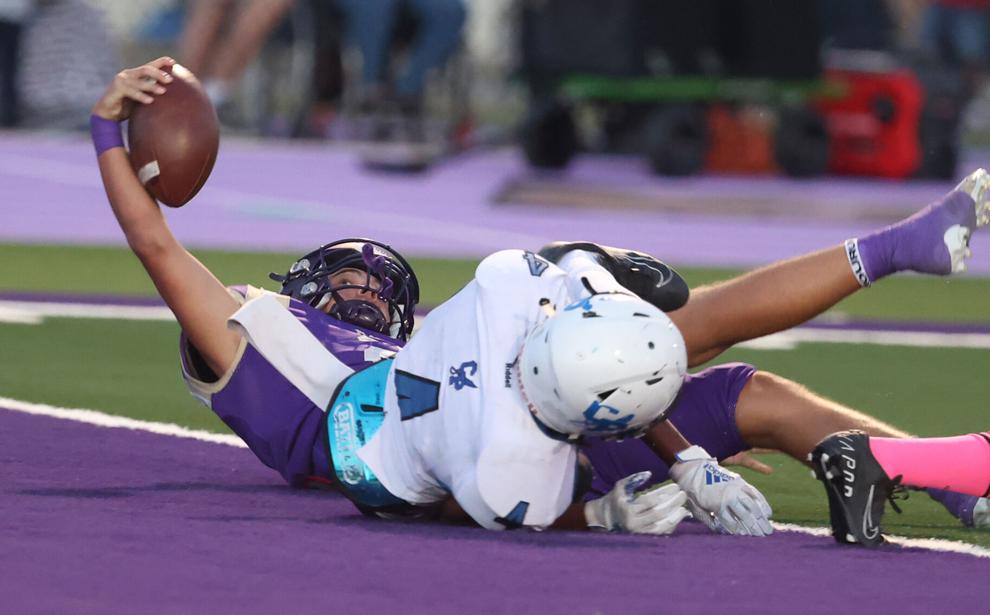 Powell ran for a score and threw for another one early in the first quarter. He capped the Panthers' first drive with an 18-yard option keeper and connected with De'Traevion Medlock on a 40-yard post route that Medlock dived to catch in the end zone.
Chilton recovered a couple of Mart fumbles and intercepted a pass near the end of the second quarter to keep the Panthers from running further ahead.
Mart shut out the Pirates in the second half and added one more special teams gem. Da'Marion Medlock stopped the Panthers' fourth blocked punt of the night and returned it 20 yards for his team's final score.
"(Chilton has) a good team," Hoffman said. "I know they probably felt like the score would be closer. But when things like that happen — you get a blocked punt and you don't field a kick — things can get away from you. I thought we played well."