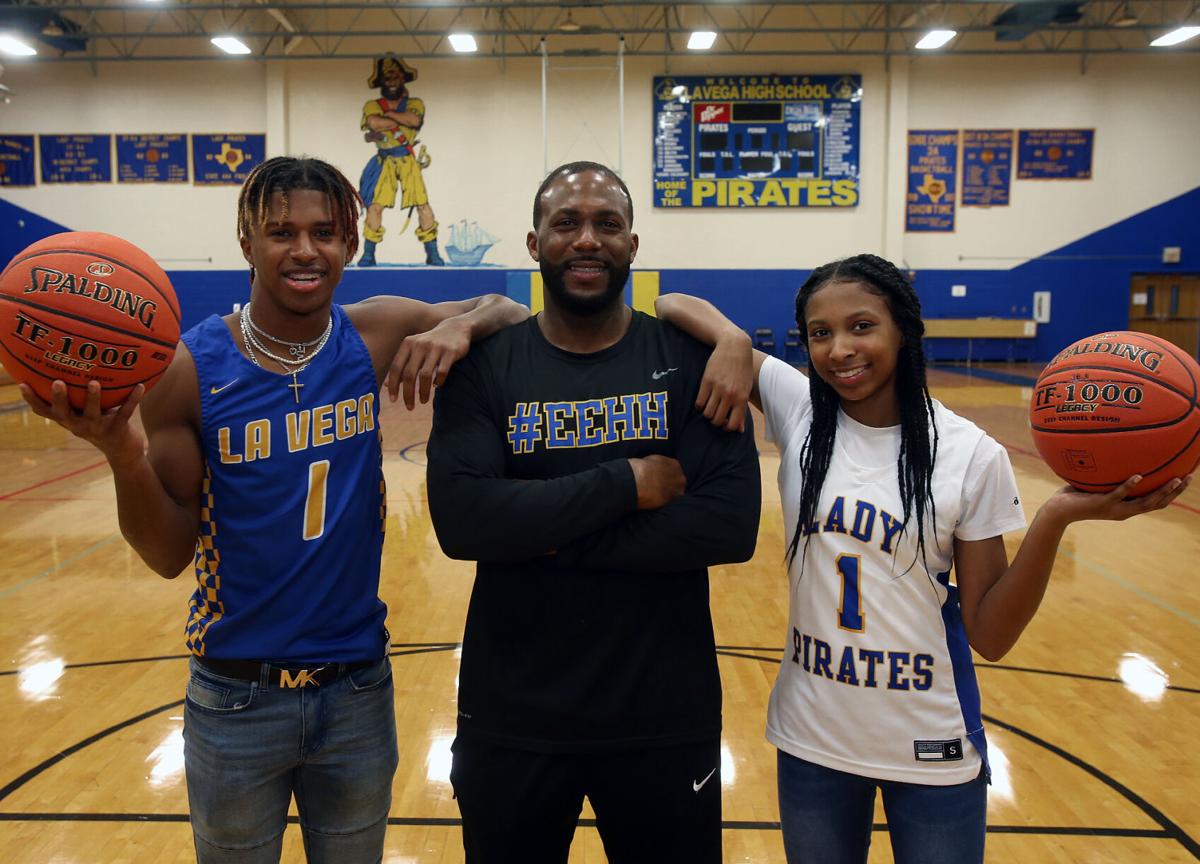 Like every coach in District 18-4A, La Vega's Marcus Willis Sr. is prone to praising the toughness of the district's other teams and the competition they provide twice a week.
But, really, could those district games be any more intense or competitive than the Willis Family Shootout?
You've heard that the family who prays together stays together, right? Well, similarly, the family that balls together, brawls together. The family that shoots together, hoots together.
Of course, it's all in good fun in the Willis household. "Love and Basketball" isn't just an underrated 2000 romantic comedy. It's a way of life for this family.
"We talk about basketball a lot at home, but we also throw that out the window and we're daddy and daughter as well," Marcus Willis Sr. said. "Not just with her. I have a great relationship with all my kids."
Marcus Sr. is in his first year as the head coach of La Vega's girls hoops team, and his daughter Mar'Cyah is the team's starting two-guard as a freshman. The baby-faced Lady Pirates spent several weeks in the state poll before dropping out following a two-game losing skid, but they're still in the midst of a strong season, with a 16-7 overall record and a 7-2 mark in district, a game behind China Spring.
And Mar'Cyah — who everyone knows as MiMi — has chipped in nicely to the team's success. In her first varsity season, she's putting up 8.7 points, 2.1 assists and 2.2 steals per game, while acting as one of the team's most potent outside shooters.
But the Willis family's impact on La Vega basketball doesn't end there. Marcus Willis Jr. plays an integral role as a senior backcourt starter on the school's 22nd-ranked boys team. Marcus Jr. averages 17.1 points, 4 rebounds, 3.7 assists and 2.7 steals per night. Earlier this season, he topped the 1,000-point mark for his high school career.
"He's just a combo guard who can do whatever is asked of him," La Vega boys head coach William Cartwright said. "If we need him to be the primary ballhandler for the game or take on the scoring, he can do that. He can facilitate, he'll do whatever is needed of him to get the job done."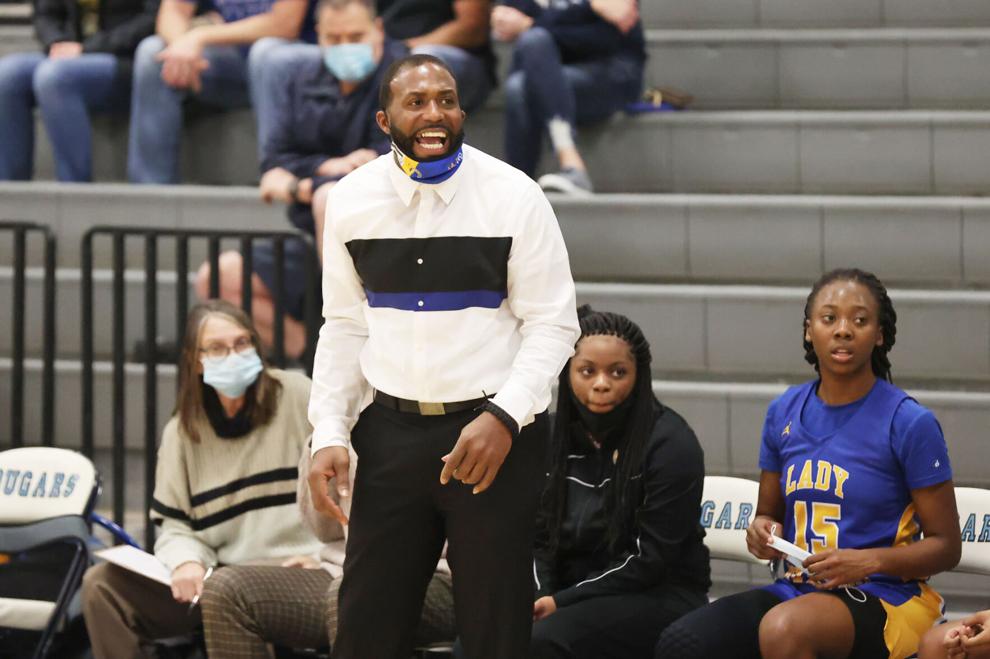 It's safe to say basketball is in the Willis family's blood. Nevertheless, Marcus Sr. took the long way around to get into the high school coaching profession.
He played plenty of sports growing up, and saw action as a football player at Cisco College. After college he worked several different jobs while also coaching AAU basketball for the DC Kings and the DC Queens organizations. Marcus enjoyed what he was doing, but he also realized he was missing out on some things. Namely, watching his kids grow up.
"I had to start putting back some time with the family," he said. " I was losing a lot of time, working a lot of hours in a lot of different fields. My wife (La'Toya) and I decided to try to get on the same platform as far as working together, and here we are."
LaToya is a science teacher at La Vega, and four years ago Marcus Sr. started to explore the idea of joining the education field as well. He joined La Vega ISD and then prior to this season he added the role of head girls basketball coach to his duties, just in time for MiMi to enter high school.
"This opportunity came, and it was just a bright spot at the perfect time," Marcus Sr said. "I want to give a quick shout-out to Dr. (Sharon) Shields and the athletic director, Coach Willie Williams, for believing in me and trusting the process with me and also taking a chance on me as well."
With any new job, there's always a learning curve. Same goes for Marcus and his team, which features seven underclassmen who play big minutes. Early on, the coach knew he'd have to set a no-nonsense tone with MiMi, because there can be cries of special treatment in the community whenever a parent coaches his or her kid.
"I'm even harder on her," Marcus Sr. admitted. "Even her teammates, her sisters, tell me that all the time: 'You're harder on Mimi.' You have to be, because we never show any favoritism. They have to understand that if I can be hard on her and hold her accountable, then you'd better believe I'm going to hold you accountable.
"That actually helps us, though, that whole dynamic. They're very coachable. They stay locked in with the whole coaching staff, and that's a plus and a bonus, which is one reason we're headed into the postseason."
MiMi said that she tries to listen and learn, and takes any firm coaching instruction in stride. In truth, she's proud of the way her dad has adapted to coaching in high school. "He's awesome, he's amazing. He's pretty tough, but he's great," she said.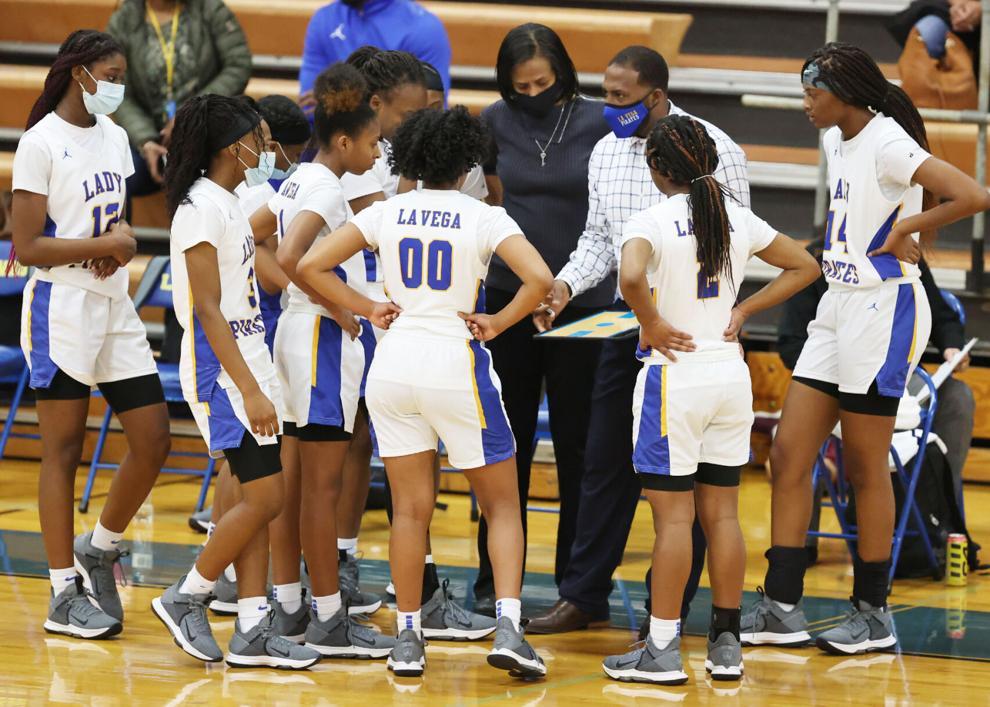 The downside to this season for the family is that they're rarely in the same gym on the same night. COVID-19's interference prompted District 18-4A to get away from playing girls and boys varsity games at the same site on the same night. So MiMi and Marcus Sr. don't get to see Marcus Jr. play much, other than the family's nightly film sessions back at the homestead.
"I'm very, very proud of my son, my first one, the one who's named right after me," Marcus Sr. said. "It's been a difficult time, not just for me but him, the wife, the whole entire family, trying to juggle both. And then the COVID year and switching out, having him play at a different venue, a different site, than we do every Tuesday and Friday. It does get frustrating. But we go home and watch film on him and on her as a family. We actually do that together. We also work on the kinks in the film, but it's a luxury to watch him play, too."
Despite the distance between them on game nights, the family keeps abreast of what's happening at the other gym.
"I have a little alert on my phone," Marcus Jr. said. "So after the game I go straight to my phone, see what they're doing, try to talk to them. Of course right after the game, as soon as everyone gets home we're always watching film and talk about the game."
Marcus Sr. said that he won't ever check his phone when he's coaching during the game. But halftime is a little different.
"Sometimes if I get a chance, I may try to skip in at halftime and shoot wifey a quick text and try to check on them," he said. "And vice versa, I know he's trying to do the same. We're very, very supportive of each other, even though we can't be there all the time, through this COVID year."
If all goes to plan, the game-day complications will continue for a while for both La Vega teams. The Lady Pirates still have hopes of sharing the district title with China Spring if they can win Friday's regular-season finale against Robinson, while hoping for a Mexia win over the Lady Cougars. But whatever playoff seed they inherit, they're hoping to do some damage and make a deep run.
It's a similar story for the La Vega boys, who feature a more veteran team. The Pirates are currently locked in a three-way tie for the district lead with China Spring and Connally with three games remaining in the regular season. Last year they reached the regional quarterfinal round before dropping a three-point game to China Spring, and they have aspirations of playing all the way to the state championship game in San Antonio in 2021.
At some point for both squads, the 2021 season will end. But the basketball never really takes a break in the Willis's driveway. Besides Mar'Cyah and Marcus, there are three other siblings: Micah, Marqwae and Marquan. "I have a starting five," Marcus Sr. joked.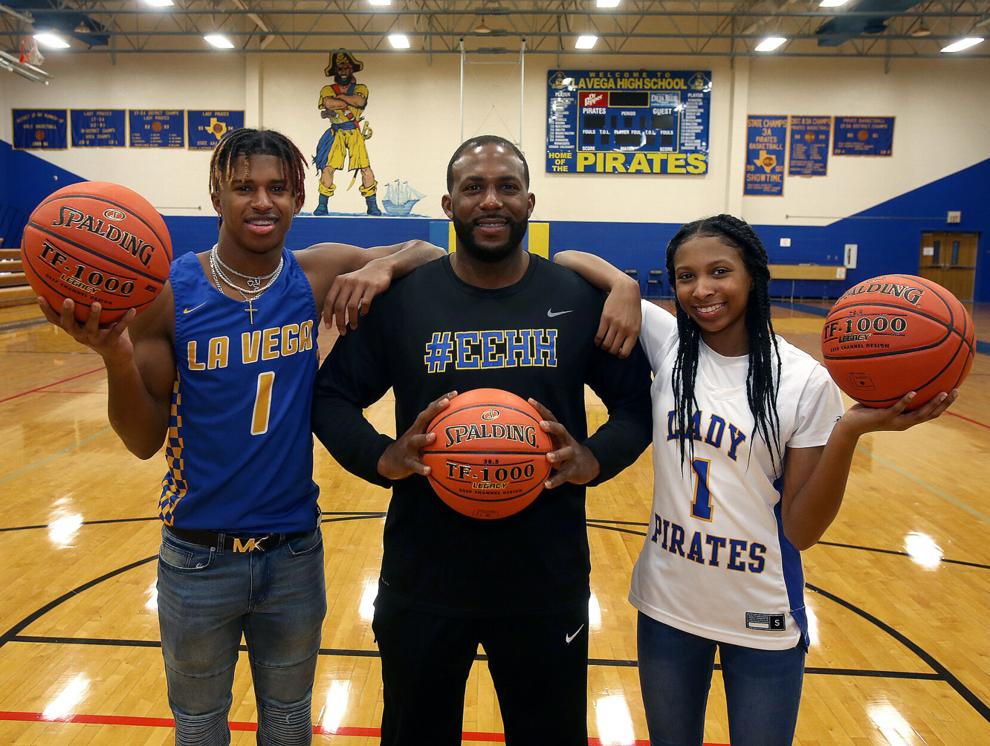 The kids all know they've got to bring their "A" game anytime the ball goes up.
"We always have a little 3-point shooting contest or something," Marcus Jr. said, unveiling an wide grin. "Everyone knows I'm the best shooter in the family, so that's always going on."
Pops, Sis and even Mom weren't about to take that barb lying down.
"I've gotten a little older now, so I can't do too many pickup games. We do more shootouts," Marcus Sr. said. "For the record, he's not the best shooter. I think I still hold that title right now, and I think his sister is getting a little better than him now. He used to be the best shooter in the household. He's maybe the third-best now. And, hey, wifey can stroke that thing as well, too. He may be down the line. It's fun, it's competitive. We love those times."