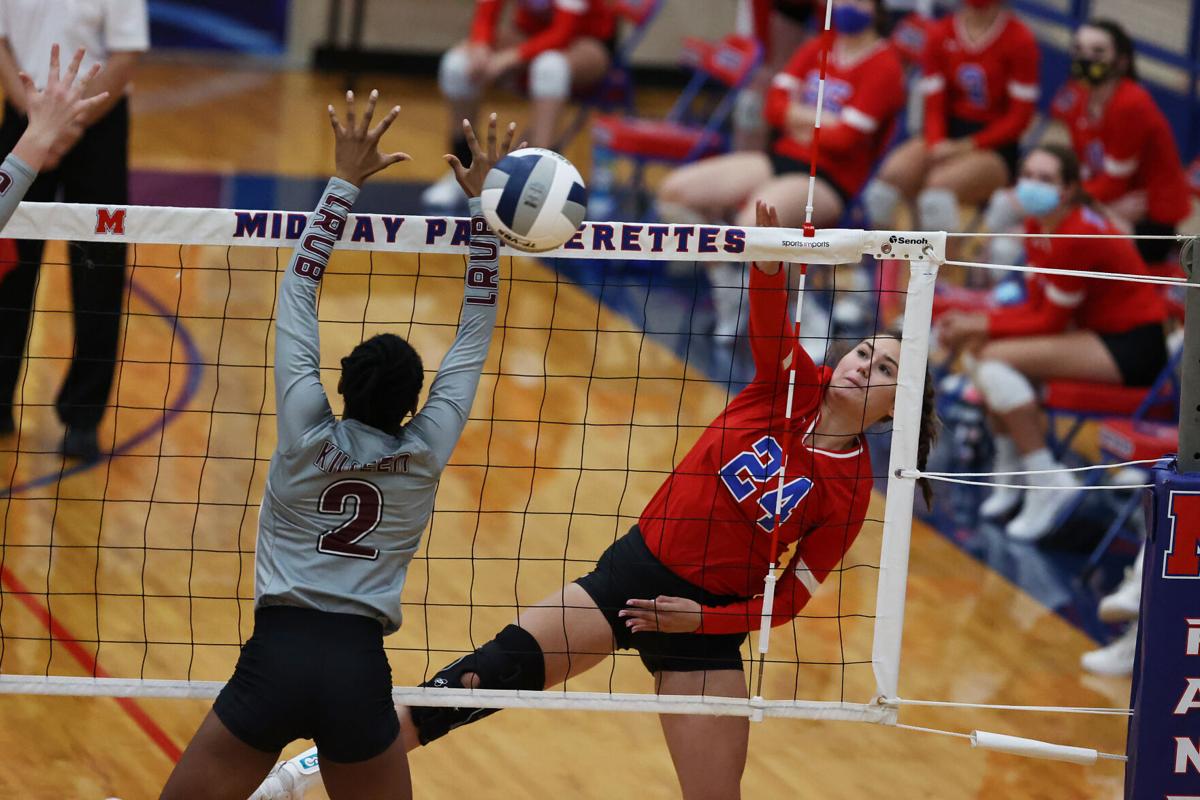 One single serve summed up the Midway volleyball team's opening match of the season. On it, the ball sailed deep of the back line and through an open door of the gym, bouncing into the hallway, where a Killeen player had to jog off to retrieve it.
Killeen scored the point. But, in a sense, Midway may have stressed an even more emphatic point. That being – the Pantherettes may not always be flawless, but boy, do they ever possess a wealth of power.
Midway's deep 20-player roster showed off its prodigious pop in a season-opening 25-20, 25-18, 25-15 sweep of former district rival Killeen on Tuesday night at the Midway High arena. The Pantherettes (1-0) flashed plenty of potential, even if it was apparent that they still need to sharpen up some rough edges.
"It's an incredibly deep group. The juniors from last year, at any point we had five of them out there on the court, and they've all developed. And then my sophomores behind them, that doesn't look like a sophomore," said Midway coach Ryan Porter, nodding toward one of those impressive-looking sophs walking by, outside hitter Miriam Williams.
Porter's biggest problem in 2020 may be finding playing time for all his horses. That's a nice "problem" to have, naturally. In the opener, he not only managed to get all 20 players on the court, but he rolled out a completely different unit for the start of the second set after winning the opening set.
It marked the second night that teams in Classes 6A and 5A could play a match, after the UIL delayed the start of the bigger schools' seasons to mitigate the risk of spreading COVID-19. So, the accumulation of some rust was understandable.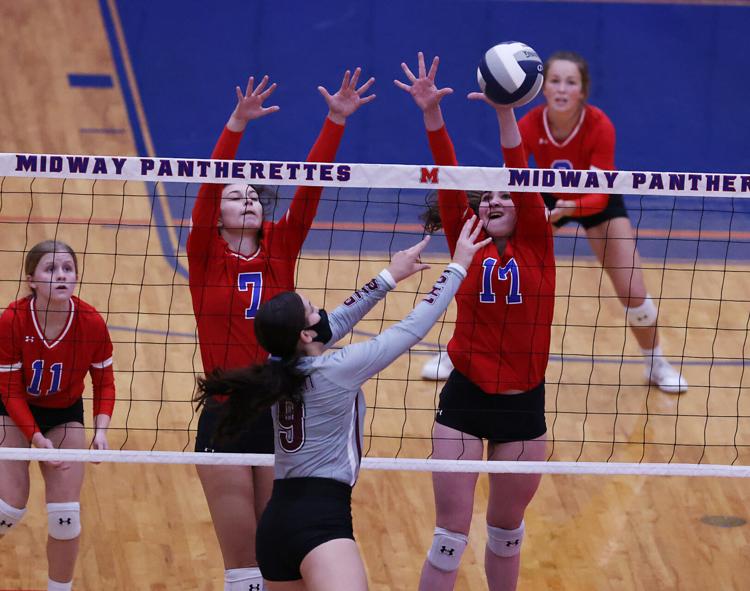 Killeen (0-1) scored the first point of the match on a floater ace from Adriana Garcia, then Midway proceeded to bust off an 8-0 run in response. The Pantherettes demonstrated a savvy feel for when to spatter high-velocity shrapnel and when to go for the tip over Killeen's blockers at the net, led by Avery Acosta, who tied for team-high honors with seven kills.
The Kangaroos bounded back, though, and pulled to within 14-12 after a long serve by the Pantherettes. But as is wise in any fight with a Kangaroo, Midway kept them at arm's length the rest of the set. Ultimately they took the win, 25-20, when MacKenzie LeBeuf curled an ace over the net with a heavy amount of topspin for the winning point.
Midway's players had been anxious to go up against someone other than their teammates for a while now. Porter said that the team "probably peaked a few weeks ago" in terms of their intensity in practice. So, getting on the court to play a real-life opponent in a different-colored jersey? Yeah, they were ready for it.
"It felt great," Porter said. "Reminded me of the Snickers commercial, 'If you're hangry, eat a Snickers.' Kids were ready to compete. We need to get a lot of rust knocked off, too."
For the second set, Porter allowed several of his sophomores to get more burn on the court. Again, the results weren't always flawless, but the potential was clear, especially when the Pantherettes hopped out to a brisk 9-2 lead.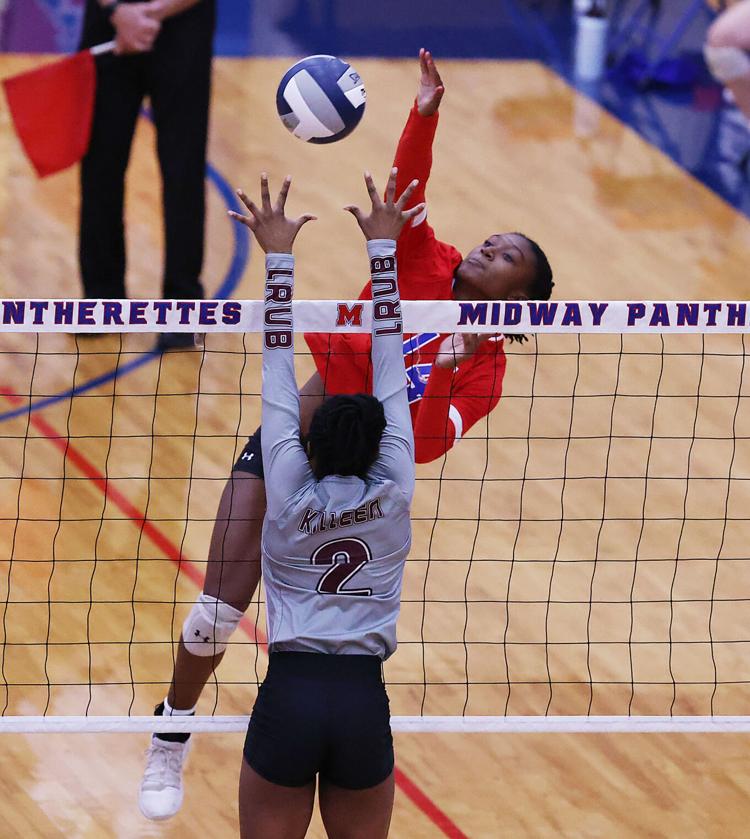 Porter said that youngsters like springy-legged outside hitter Sydney Smith is "going to be amazing," especially as she builds confidence and experience, and that setter/defensive specialist Cambry Saul possesses the highest volleyball IQ of any sophomore he's had in a long time and perhaps ever.
Later in the set, juniors Gabby Jones and Lauren Johnson got their chances to pound away at the pins. Jones tallied seven kills while Johnson contributed six.
Porter still wants to see his team cut down on some of its mistakes, specifically trimming some of its service errors and also setting with more consistency. But some of those errors he can live with. Few high school volleyball teams serve as aggressively as Midway. That showed in the third and final set, as Kara Wachsmann continued to put pressure on the Kangaroos with her zippy service game. Wachsmann finished with a match-leading five aces.
Killeen's most effective moments came when their big senior middle blocker Kaila Mills walled up some of Midway's striking lanes. But the Pantherettes' relentless pounding wore down the Kangaroos. And even when they went to softer strikes, those worked out too, as setter Cindy Mellen once tapped a set that slipped off target, yet still managed to dip over the net and hit the floor on Killeen's side for a Midway point.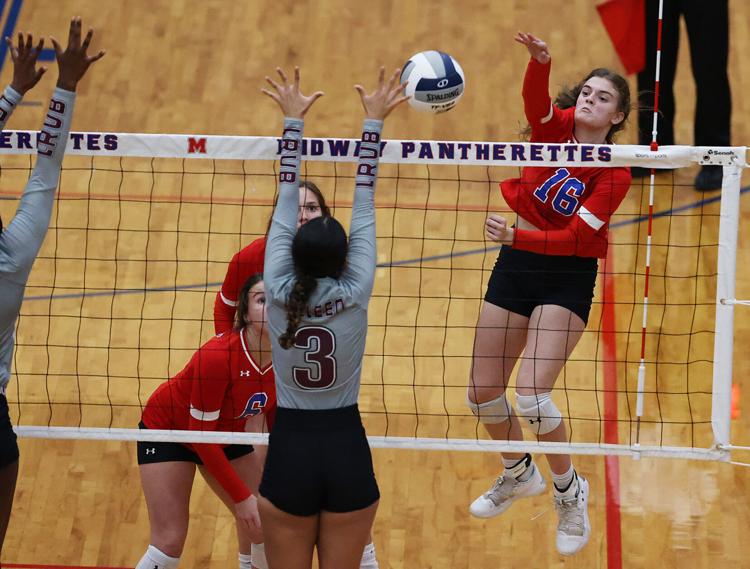 Trinity Alcorn chipped in five kills and a pair of aces to supplement the Midway attack.
Killeen's players actually played in masks, though that is not a UIL requirement. Midway wore masks when its players went to the bench.
Next up, Midway will host Belton Saturday, and then the schedule will ramp up even more in the next couple of weeks as the Pantherettes face the likes of Leander Rouse, Austin Vandergrift and Highland Park.
"We'll see what kind of teeth we've got," Porter said. "If we can find the right lineup with that sophomore-junior group, along with some of the senior leadership, we'll be good."
Get in the game with our Prep Sports Newsletter
Sent weekly directly to your inbox!