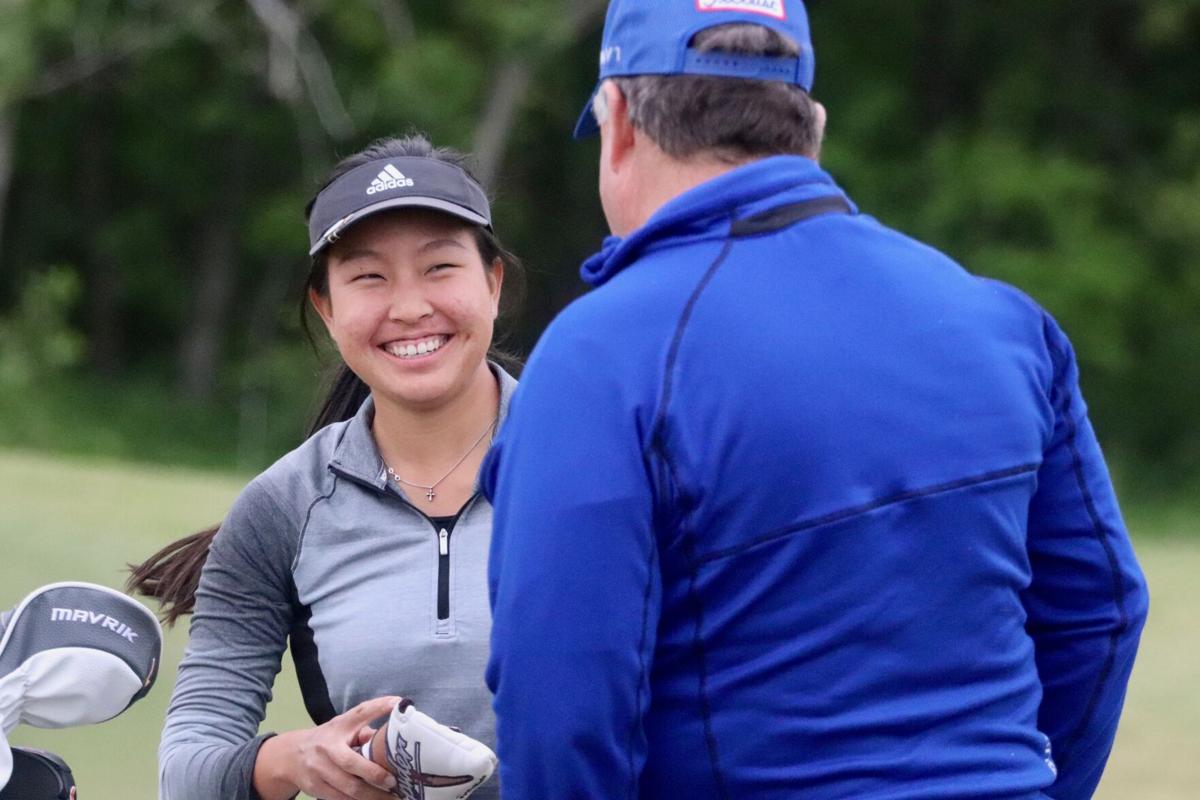 Midway star senior golfer Eubin Shim has some unfinished business with the Texas Class 6A girls state golf tournament, which begins Monday at Legacy Hills Golf Course in Georgetown.
Two years ago, the Midway star came agonizingly close to making state as an unheralded sophomore, missing by just two shots in the regional tournament. Last year, she was a favorite to make state, poised to become only the second Midway individual to ever do that, but the COVID-19 pandemic ended the season before she could qualify.
This year, Shim took no chances, blistering the regional tournament field to easily capture the medalist honor. She carded rounds of 70 and 72, to make that long-awaited trip to state for the final high school tournament of her storied career.
"I'm just so happy for Eubin to finally make state and have all her hard work pay off," said longtime Panthers coach Harvie Welch.
Added Shim, "I'm just really happy to make state. I'm excited for the week."
While her state dreams have been delayed, but not denied, it has not slowed the rest of the aspects of her rising golf career.
Her junior season may have ended prematurely last spring, but she was still able to play in some elite American Junior Golf Association (AJGA) events last summer and place high enough to attract attention from several top women's college coaches.
That led her to accept a golf college scholarship to Boston College, home of some of the best golf courses in the country and the prestigious Eagles golf program. Shim will be the first Midway female golfer ever to earn a women's golf scholarship anywhere in the esteemed Atlantic Coast Conference.
"I'm confident in my game, and I just keep my head down and take it one step at a time, one round at a time," Shim said.
With only two rounds left in her high school career, starting Monday, Shim certainly has plenty of confidence on which to draw.
Last summer, she authored a golf performance worthy of some of the best junior players in Waco, if not Texas history.
She captured her first AJGA victory at the prestigious Bass Pro Invitational at the Buffalo Springs course at Big Cedar Lodge in Branson. Missouri. Shim shot a five-under-par 208 total and recorded 16 birdies in the four-day event.
Shim followed that up the following week at the AJGA tournament in St. Louis with a second-place finish, then took fourth at the Bob Estes Junior Tournament in Abilene and a 12th-place showing in the AJGA Texas Junior Open.
She now has 10 top 12 finishes in AJGA competition, playing against the best junior players in the country.
"I know I can go low and make birdies, that's my goal when I am out there," Shim said.
None of that comes as any surprise to Midway's Welch, who has watched his star student wear a bare green grass patch into the Bear Ridge and Cottonwood Creek practice ranges where his team works every week during the school year.
"Every time, every single time, she is the last player on the practice range," Welch said. "I look out there to see if everybody is finished and Eubin is always the last player out there. I'm just so glad all all her hard work is paying off."
Shim said she has a full summer of AJGA tournaments ahead before she reports to Boston College in August, including trying to qualify for a 2021 U.S. Girls' Junior at Columbia Country Club in Chevy Chase, Maryland.
But her high school career comes to an end this week in Georgetown, where hard work and patience can pay off for Shim.
"I've had other girls make state, and other teams, but I'm just excited for Eubin for everything she has had to endure in her Midway High School career," Welch said.