Some things are bigger than the game. Crawford's annual Pink-Out Game, which supports breast cancer research, is one such very big deal.
Of course, it's nice to win the game, too.
The third-ranked Lady Pirates polished off Bosqueville with precision, 25-4, 25-10, 25-6, on Tuesday at the Crawford Gym to complete a perfect first half of District 12-2A competition. Then they donned their hot pink T-shirts and posed for photos alongside Tina Dieterich and her daughter Karlie Dieterich Collins. Tina, who is battling cancer, played on Crawford's 1974 Class B basketball state championship team while Karlie was a senior captain on the first Crawford volleyball team coached by current head coach Jeff Coker back in 2006-07.
Coker's late mother was a breast cancer survivor, so Pink-Out night has always held a special place in the hearts of the Crawford volleyball family. To have Tina in the gym for this one made it even more special, Coker said.
"Just a great Crawford family and they've been going through some cancer. So we just wanted to help her out," he said. "It's definitely a special game for us. My mom was a breast cancer survivor before she passed away from another kind of cancer, so when she was a survivor Race for the Cure and stuff like that was super important to her.
"It kind of became a big deal here for us, just trying to carry that tradition on and that legacy. Then with Karlie being one of my very first kids here, tonight was really special. I thought just the way our kids played was unbelievable. Just really proud of them and what we were able to do tonight."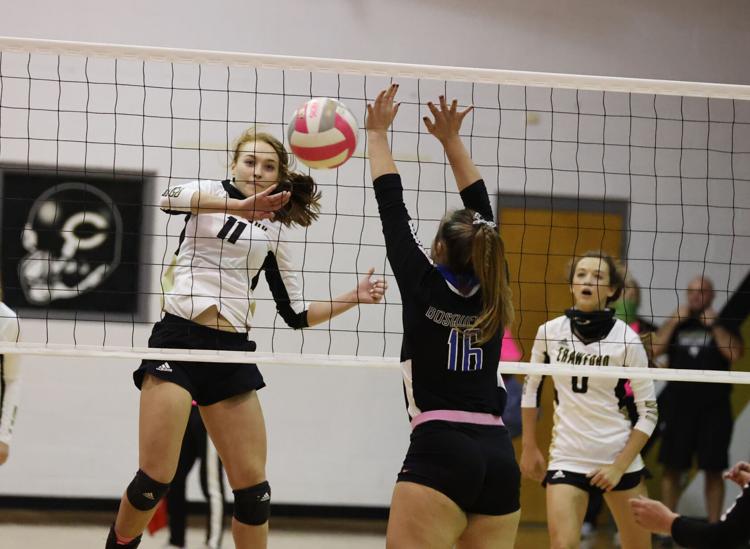 True, Crawford (17-3 overall, 7-0 district) couldn't have played much better, as the defending Class 2A state champion signaled that it should again be a contender for more end-of-year trophy hardware. Senior Taylor Westerfeld smashed 18 kills in the three-set sweep that took less than a hour to complete. Westerfeld did so on just 21 swings, crushing it at an incredible .762 hitting percentage. She also chipped in four aces, eight digs and a pair of blocks.
"It's so fun. We had a really good passing game tonight," Westerfeld said. "The passes were great, the sets were great, and then it leads to good things at the net."
It certainly gives Crawford a distinct advantage with junior Lexi Moody patrolling the court at setter. Though Westerfeld was correct in her assessment that Crawford's back-row passing was on point, even when the occasional pass went a little astray, Moody adeptly angled her body to still put the ball in position for the putaway.
Moody played with her right hand wrapped, a result of a nagging thumb injury. But Coker said the injury hasn't kept her from continuing to play at an elite level. "She's playing great, though," he said. "The one ball she went and got and brought back and set Taylor, and Taylor just crushed it, the whole gym thinks it's an overpass and all of the sudden Taylor's hitting it because Lexi goes and gets it. It's just an unbelievable play. Normal people don't do that."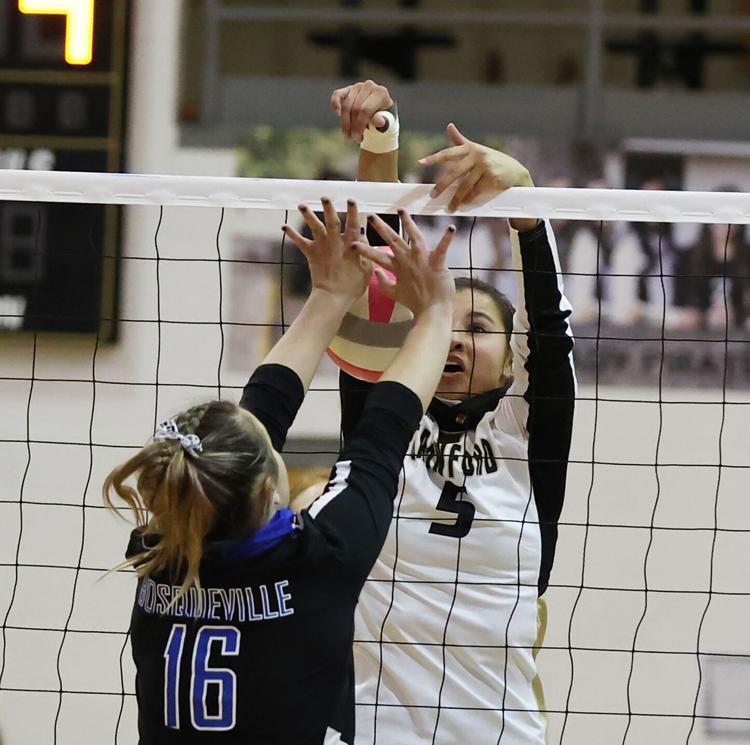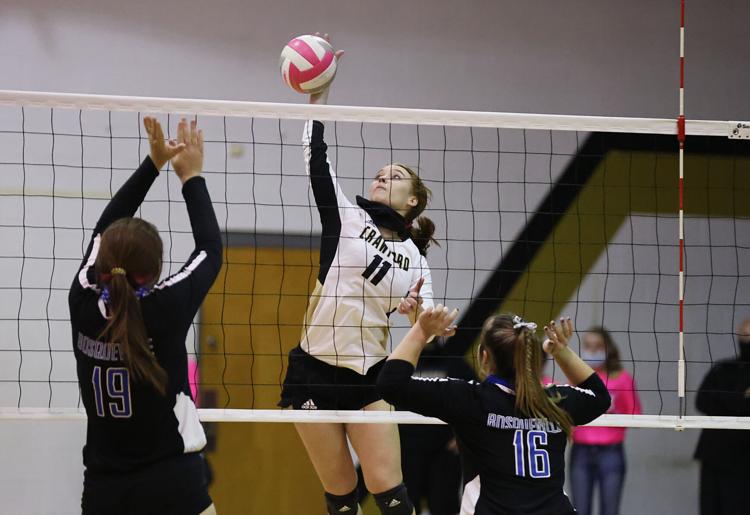 Added Westerfeld, "She's amazing. We saw that one that she barely tipped back over the net when it was going over. She's amazing. She's like the energy bunny for our team. It really helps."
The Lady Pirates breezed through the opening set, dropping only four points. Second-place Bosqueville (12-5, 6-1) put together its best stretch of the match at the start of the second set, capitalizing on a handful of net serves by the Lady Pirates and a pair of Jaden Dougherty kills to stay locked on Crawford's hip. The score was 8-8 after the first 16 points.
But when Crawford picks on people its own size (those in Class 2A) it's rarely a fair fight. The Lady Pirates never stop applying pressure with their bullet serving, and they left Bosqueville behind in that second set with a 16-0 run. Sophomore Addi Goldenberg was the scoring beneficiary from the service line, and she helped herself out with four of her match-high six aces during that stretch.
"We've been working it, trying to be better at our serving, trying to be aggressive without making mistakes," Coker said. "I thought we did a really good job of that tonight. We still had a few errors here and there, but you can live with a few. You just don't want it to be a whole bunch."
Crawford cruised home to the win from there. Katie Warden caught fire at the net late, as the junior ripped six of her 11 kills in the final eight points of the match. McKenna Post had five kills in seven swings to go along with a team-leading 10 digs, while the crafty Moody finished with five kills, 35 assists and one ace.
District wins — well, any kind of wins — are a regular thing for this Crawford squad. But Westerfeld said that Tuesday's victory felt even sweeter because they "played for something better" than a win alone, given the Pink-Out promotion. The senior added that the team is trying to seize every moment it gets on the court this season, because nothing is guaranteed.
"We are (locked in). Coach Coker always tells us to stay focused, stay in the moment," Westerfeld said. "You don't get many chances — with all this COVID stuff, you don't know how long you're going to get to play. So we're using every game and having fun, being energetic throughout the whole time."
No. 3 China Spring 3, Connally 0
The third-ranked Lady Cougars remained undefeated on the season with a sweep of the Lady Cadets in District 18-4A action, 25-10, 25-13, 25-11.
Catyn Wright swatted six kills and dropped in four aces for China Spring. Katie Cofer added five kills and Kayla Peoples thumped seven aces to go with 10 assists.
The dominant Lady Cougars (18-0 overall, 3-0 district) will next play at Madisonville on Friday.
Midway 3, Cedar Hill 0
It's a new district for Midway, but a familiar start.
The Pantherettes opened up District 11-6A play with a convincing road sweep of Cedar Hill, 25-7, 25-12, 25-13. The Pantherettes played without head coach Ryan Porter, who was quarantined and had to watch via streaming. It was Porter's first absence in 22 years of coaching.
He singled out Mackenzie Lebeuf, Cambry Saul and Andi Wisdom as having "phenomenal" performances in the win.
Midway (4-3, 1-0) will return home Friday to face Mansfield, which Porter described as a "rock solid" team and the likely district favorite.
Troy 3, Clifton 0
CLIFTON — Troy's junior standout Graycee Mosley moved a bit closer to an impressive career milestone as the No. 14-ranked Trojanettes swept the Lady Cubs, 25-23, 25-16, 25-17.
Mosley had seven kills in the win to move to 997 for her career, as Troy (14-2 overall, 4-1 in district) spread around its attacking on this night. Mosley will get a chance to reach 1,000 kills for her career at home on Friday when Troy faces 15th-ranked Lorena.
Mosley had 210 kills her freshman year, 483 as a sophomore and has amassed 304 so far this season.
Get in the game with our Prep Sports Newsletter
Sent weekly directly to your inbox!