Brownwood is one of the state's legendary football powers, but China Spring left no question which team possesses more firepower in 2021.
Kyle Barton rushed for 142 yards and three touchdowns while Major Bowden threw two touchdown passes and ran for an electric 40-yard touchdown as the No. 5 Cougars romped to a 57-21 win over the Lions Friday night.
Bowden hit six of 10 passes for 124 yards with both of his touchdown passes going to Tre Hafford, for 15 and 32 yards. Bowden also ran seven times for 92 yards before the second team offense entered the game with 9:37 left in the third quarter with the Cougars leading 50-7.
"Major was very efficient and that's what we're looking for in the passing game," said China Spring coach Brian Bell. "Kyle is an unbelievable running back and he's only a sophomore, so we've got him for a long time. He's a tough runner. Our offensive line was especially good."
It was a tremendous all-around game for the Cougars (3-0), and it started with their defense pinning the Lions (1-2) deep in their own territory throughout the first quarter.
"The defense came out playing with a lot of energy and did a lot of good things," Bell said. "We had a great week of practice. Anytime you have a great week of practice it's no coincidence that you play well on Friday night."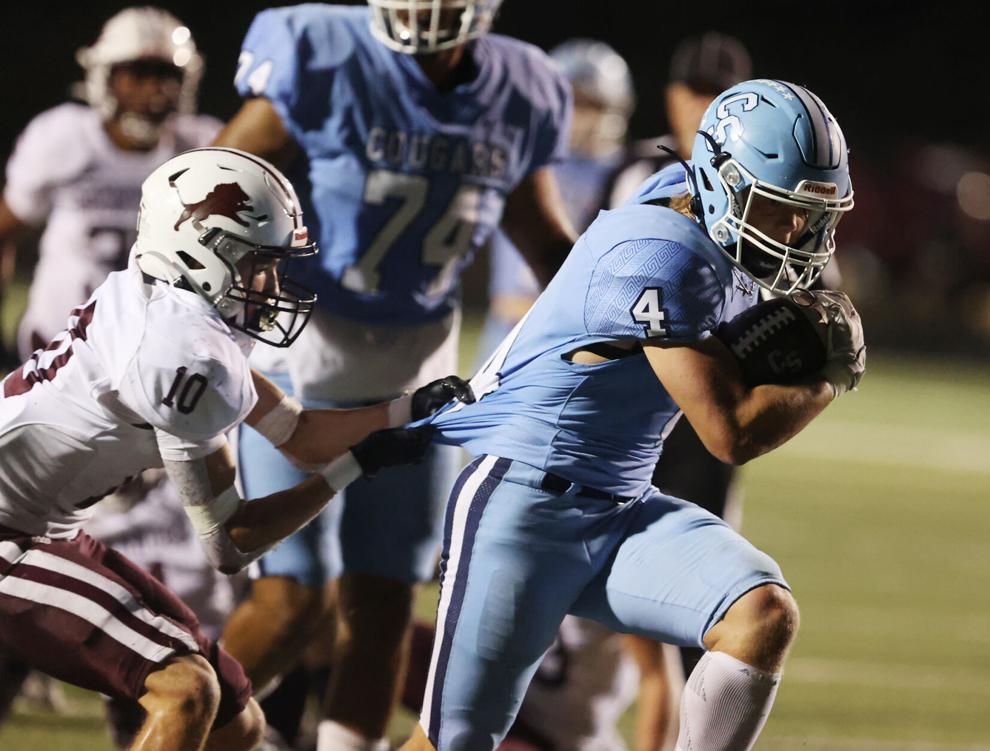 After a short Brownwood punt, the Cougars got ideal field position at the 50 and it took just three plays to score.
Barton ran for 12 yards and Bowden picked up 23 before he hit Hafford along the left sideline for a 15-yard touchdown pass with 7:01 left in the first quarter. Bowden then threw to Greydon Grimes for the two-point conversion to take an 8-0 lead.
Keith Njemini came through with a big defensive play when he sacked Brownwood quarterback Chance Jones for 10-yard loss to the 2.
Another short Brownwood punt gave the Cougars the ball at the 19, and three plays later Barton drove for a two-yard touchdown to open up a 15-0 lead with 4:31 left in the first quarter.
The Lions put together a drive to China Spring's 28 that ended when Jones threw three straight incompletions.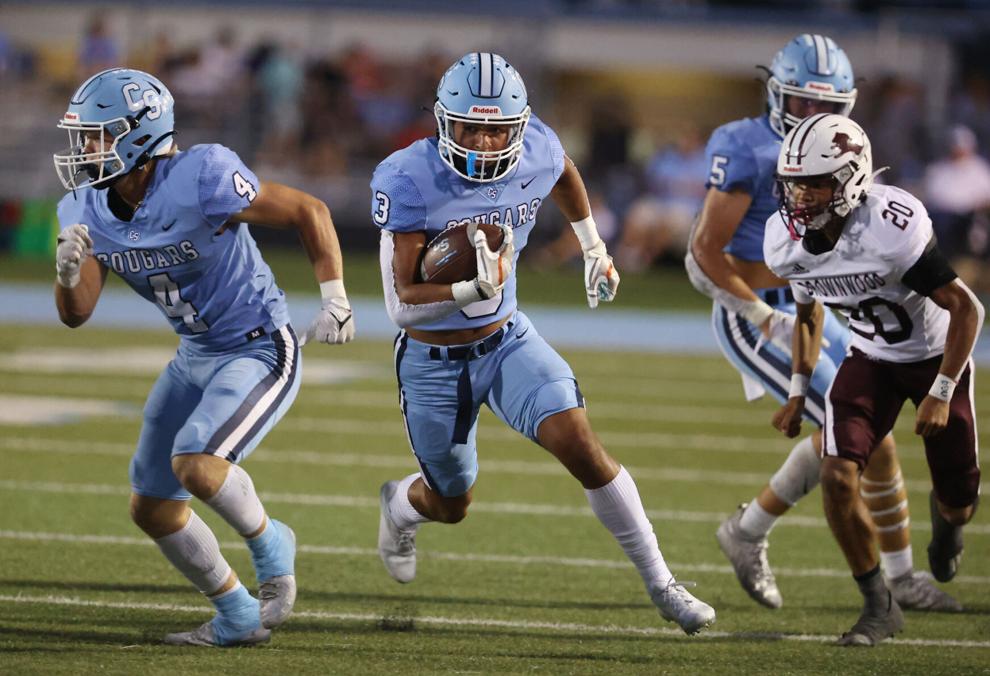 China Spring's offense delivered again as Bowden threw to Sebastian Trevino for 51 yards to set up Barton's two-yard touchdown run to open up a 22-0 lead with 11:33 left in the second quarter.
The Cougars moved 75 yards on their next possession with Dawson Exline plowing up the middle for a two-yard touchdown run.
The Lions broke through for their first score when Jones hit Jason Jackson alone behind the China Spring secondary for a 35-yard touchdown to cut China Spring's lead to 29-7 with 4:45 left in the second quarter.
After Gabe Watkins' kick return put China Spring in Brownwood territory, Bowden delivered the most dynamic play of the night.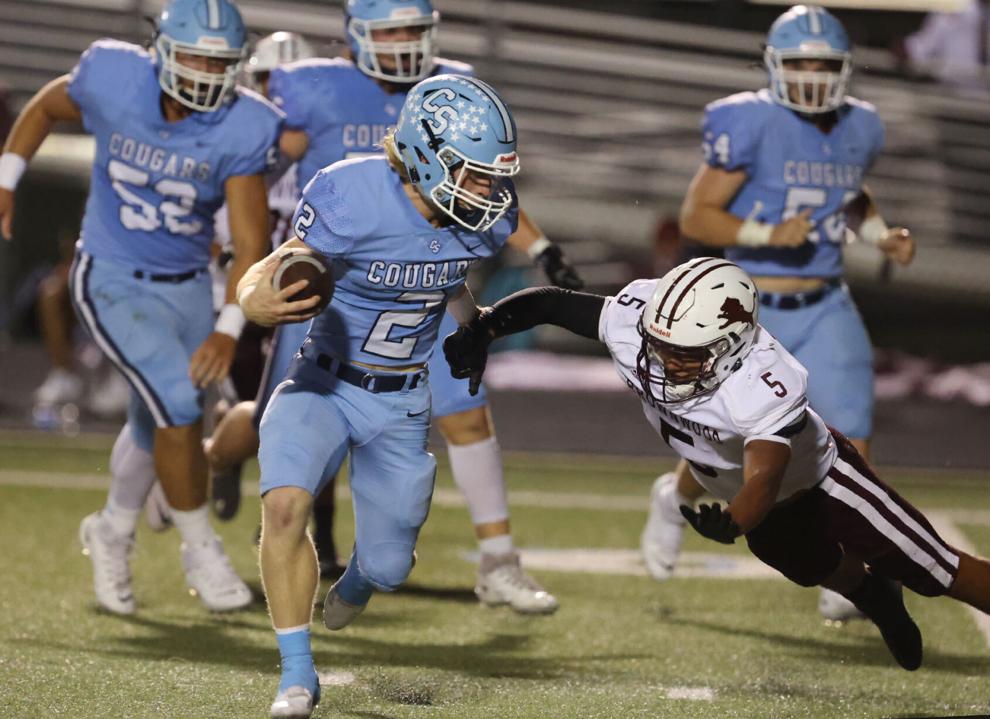 Running to the left sideline, Bowden suddenly reversed field and escaped several Brownwood defenders for a 40-yard touchdown to extend China Spring's lead to 36-7 with 4:22 left in the second quarter.
The Cougars still had time to score another touchdown before halftime as Barton broke away for a 39-yard run to open up a 43-7 lead with 1:43 left in the second quarter.
It took the Cougars just two plays to score to open the third quarter as Isaiah Williams exploded for 30 yards before Bowden hit Hafford in stride for a 32-yard touchdown for a 50-7 lead.
Playing against China Spring's second-team defense, Jones hit Jackson for a 23-yard touchdown with 11:33 left in the game.
Isaiah Redd scored on an 18-yard touchdown run for the Cougars before Jones scored the final touchdown for the Lions on a four-yard run with 1:41 left in the game.