A football coach in the middle of a winning season will almost inevitably talk about how his players are "buying in" to the system.
What he means is that they understand what the team is doing to be successful and they're investing in the process.
As the 2020 season approaches in the COVID-19 era, high school coaches are faced with getting student-athletes to buy in simply for the chance to play.
Central Texas football and volleyball programs in Classes 1A through 4A started practice on Monday. The usual traditions of the first day were mixed with safety protocols related to the "COVID-19 Risk Mitigation Guidelines" as established by the UIL.
Among the protocols, coaches and players are required to go through pre-practice screening, adhere to social distancing and wear masks when not actively participating in a drill.
However, even though an athlete going through conditioning at practice might feel like it's never going to end, the reality is practice time is a small portion of the day.
"You're dealing with high school-aged kids and they're going to be around each other," said Mike Sims, who was Baylor's head of athletic training for more than 30 years. "You can control them all you want to when you've got them at practice, but then you look and they're over at somebody's house and they're watching TV for three or four hours together. So you've got to get the student-athletes to buy in on what you're doing."
Sims left Baylor after 42 years at the school in 2017 to take a position at Southwest Sports Medicine, which is now part of Baylor Scott & White Sports Therapy.
As sports have transitioned from the coronavirus shutdown to re-emerging, Sims is helping Central Texas schools follow the guidelines set out by the UIL, TEA and local districts.
"They're trying to get another opinion or double-check what they're doing," Sims said. "They're doing the best they can and they want to get somebody else to come and look at it and make sure they didn't overlook something. Some schools that don't have an athletic trainer, we're giving them ideas on the best way to handle certain situations."
He helped Lorena put its system in place. The Leopards send a link for online pre-practice screening to athletes, coaches and visitors.
Lorena athletic director Ray Biles is one of many that are scrambling to follow seemingly ever-changing guidelines on top of the normal preseason practice routine.
"We're just trying to make sure we're doing what we've got to do to keep our kids," Biles said. "They know what to do when they're around us. They know what's acceptable and what's not. The rest of the time? We can go out there and preach a sermon when practice is over, but if 20 of them want to go over to somebody's house and play video games all night and eat pizza, there's nothing we can do."
Coaches like Biles and Mart athletic director and head football coach Kevin Hoffman are hoping the same techniques that produce consistent winners on the field can work in keeping this football season going.
On Monday, Mart players drank from individual water bottles that were filled at water stations manned by a coach.
They're also spending lots of extra man hours every day cleaning equipment.
"As coaches, we worked all last week and we spent probably 75 percent of our time talking about all the guidelines," Hoffman said. "All the things that we have to try to follow, the message we need to get across to the kids. Sanitizing. Kids need to understand that all of their equipment is going to be sanitized. We're going to wash all their stuff. Whatever it is they wore today. Their helmets are going to be sanitized outside the locker room before we ever take them in. The weight room is going to be sanitized. We'll sanitize it when we're working out, we'll sanitize it after we work out. Those are things that we've never had to do. But we're going to follow all those guidelines and try to be as safe as we can."
In Crawford, the volleyball team started two-a-days on Monday. Lady Pirates coach Jeff Coker said he doesn't allow much time in workouts for standing around, so there weren't many occasions for players to put on masks.
For athletes, having a place to put a mask during drills is something to figure out. Coker said Crawford has neck gaiters on order, which can be pulled up and down with ease to help solve the problem. In Lorena, the Leopards had gaiters in use during football practice on Monday.
The UIL's risk mitigation guidelines are spelled out on the organization's website in a document of more than 3,400 words, which also links to TEA instructions where applicable. It includes everything from pre-practice to game night and what to do if a student-athlete contracts COVID-19.
Sims said the UIL did a good job of creating the guidelines and giving general instructions that schools of all sizes can follow. But the interpretation of the guidelines has to be done on a situation-by-situation basis because Waco High and Midway have different logistical concerns than Mart and Crawford.
"You need to have your plans ready for whatever happens, knowing that at some point you're probably going to have one of your athletes test positive," Sims said.
For schools in 1A through 4A, volleyball matches are set to begin on Monday and the first Friday night of football is scheduled for Aug. 28.
Will the risk mitigation guidelines pave the way for fall sports to run smoothly? There are as many guesses as experts these days. But the game plan might hinge on the student-athletes realizing safety guidelines apply around the clock.
"Getting kids to buy in with the prevention deal is the best answer to everything," Sims said.
Photo gallery: Football practice gets underway with masks
covid hs football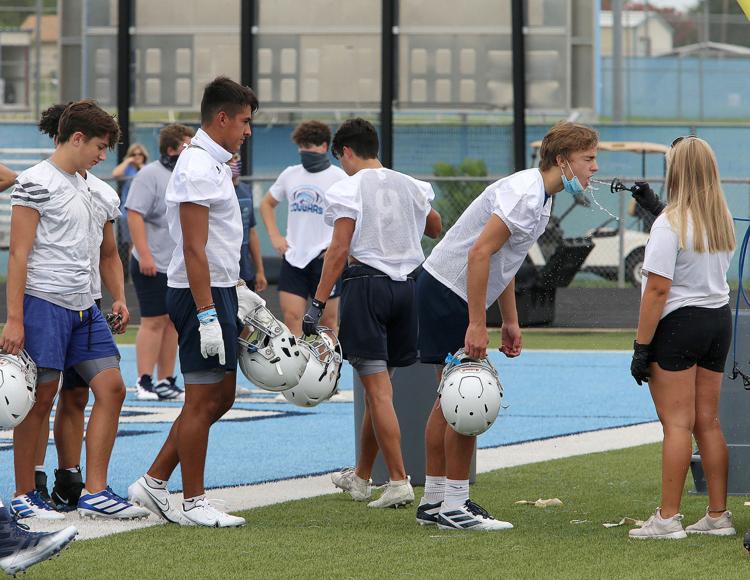 covid hs football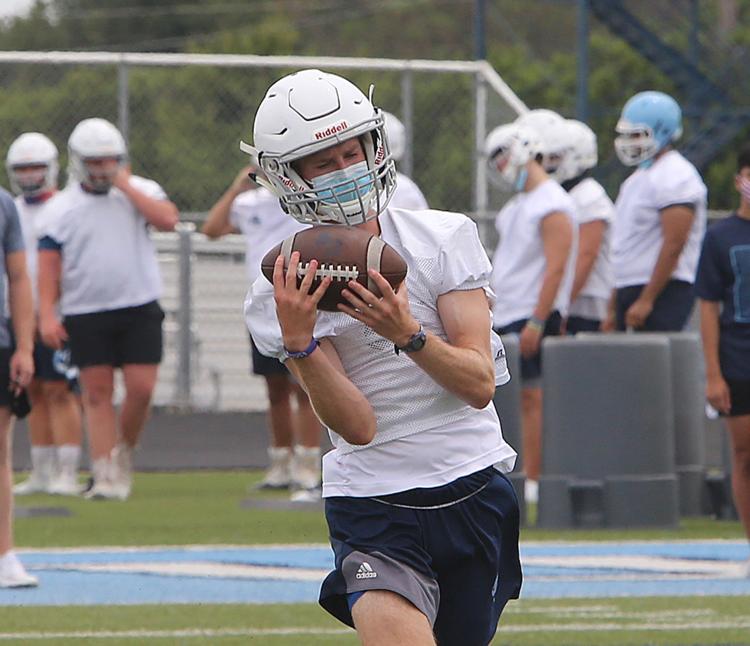 covid hs football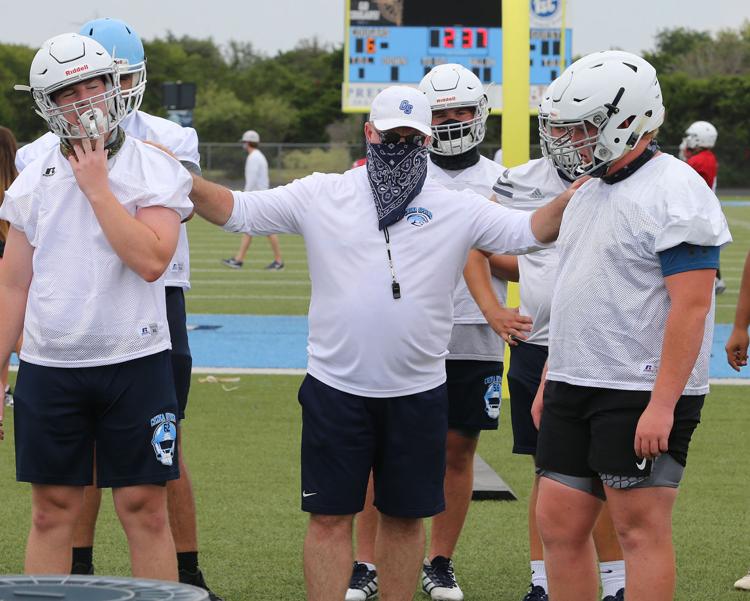 covid hs football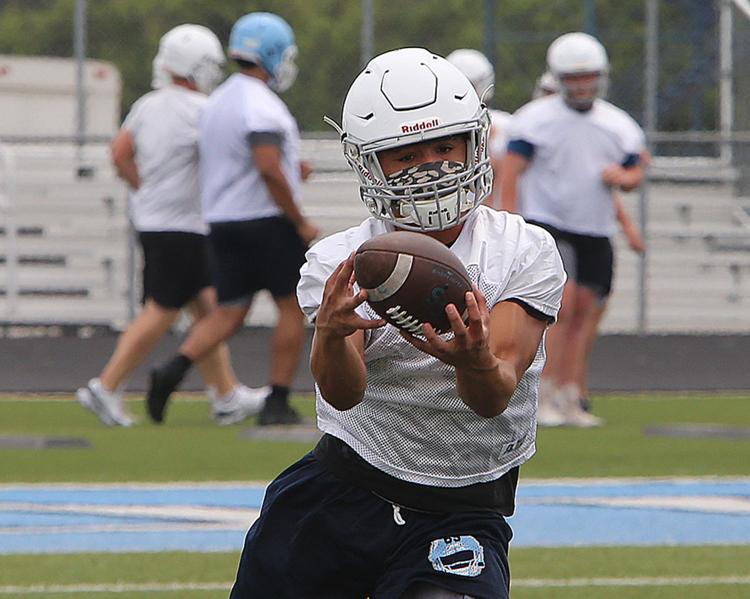 Mart safety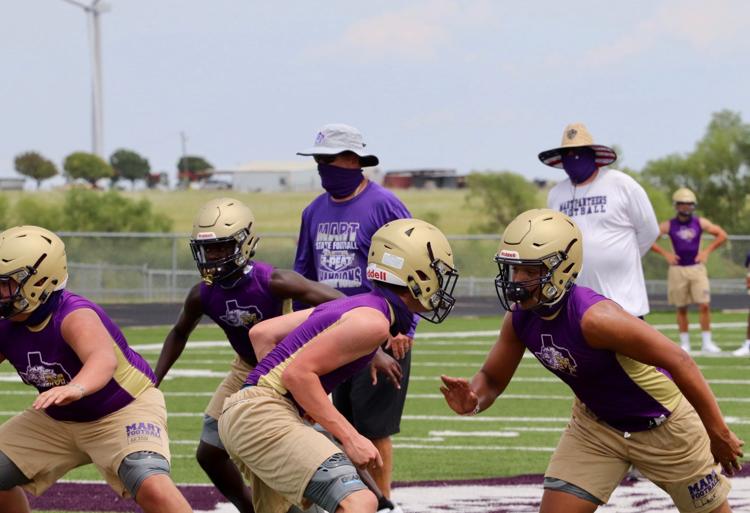 covid hs football
covis hs football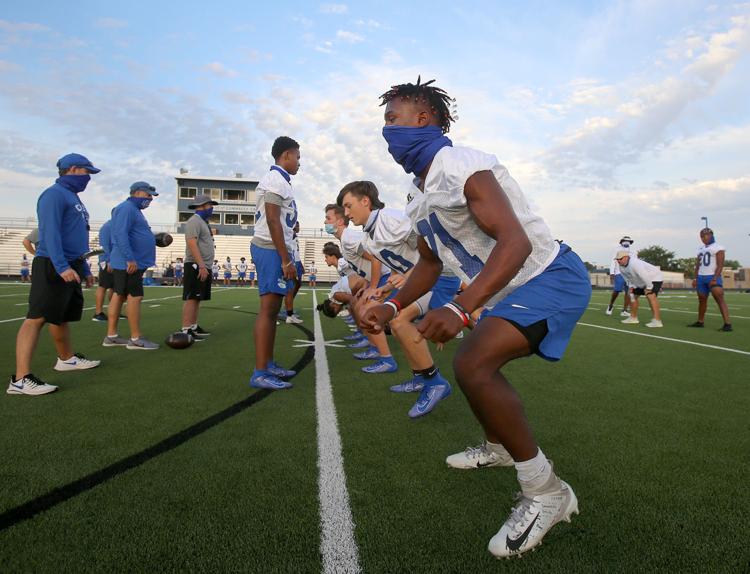 20200804_loc_hs_football_jl3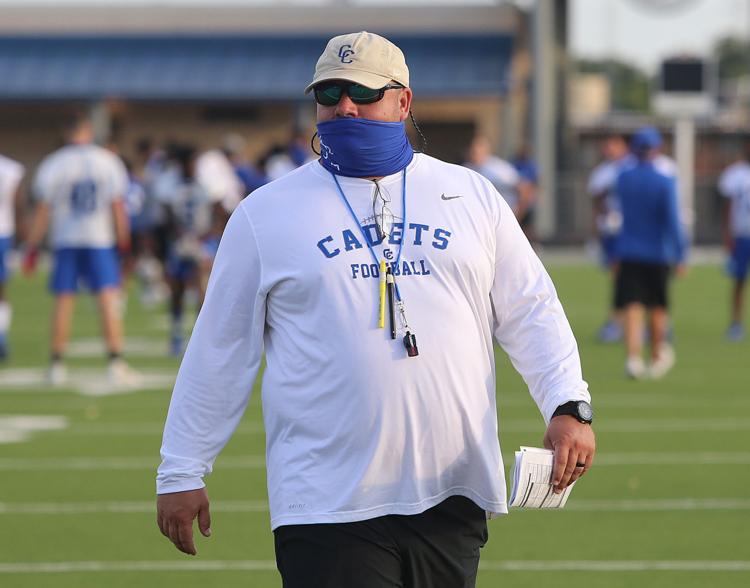 Lorena players
Mart linemen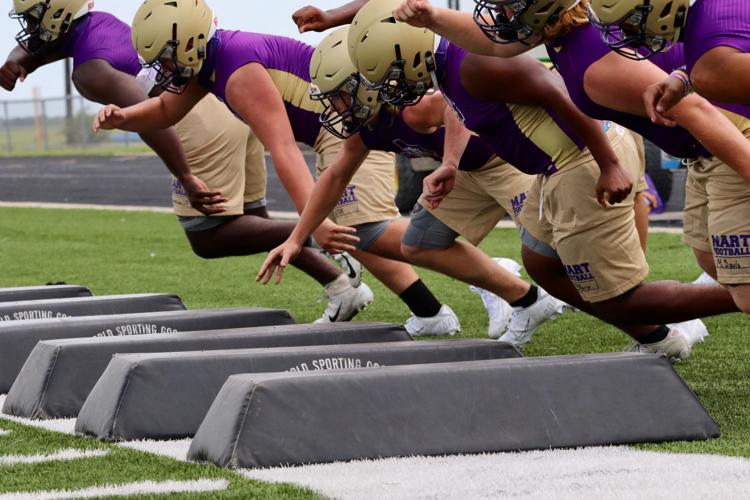 20200804_spt_hs_football_jl1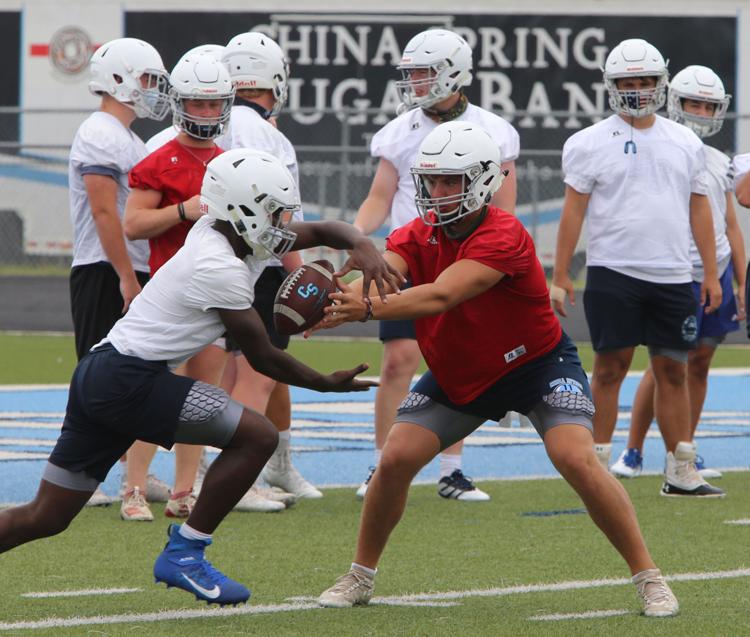 20200804_spt_hs_football_jl3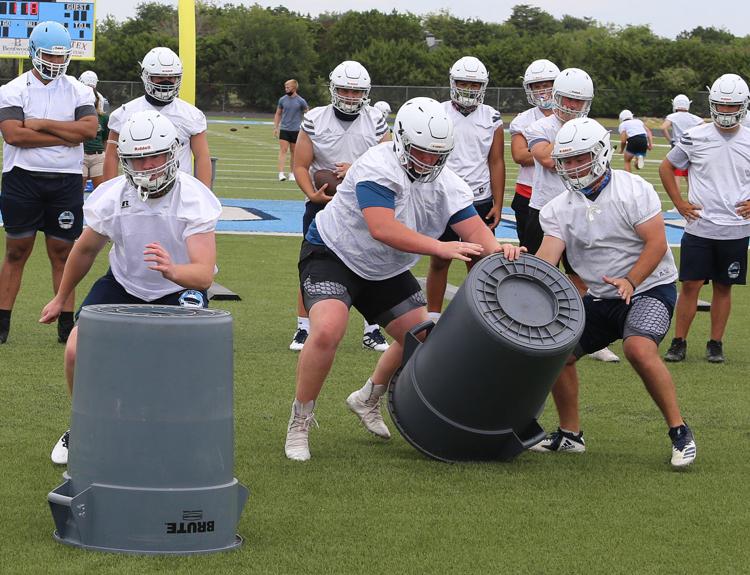 20200804_spt_hs_football_jl2 China Spring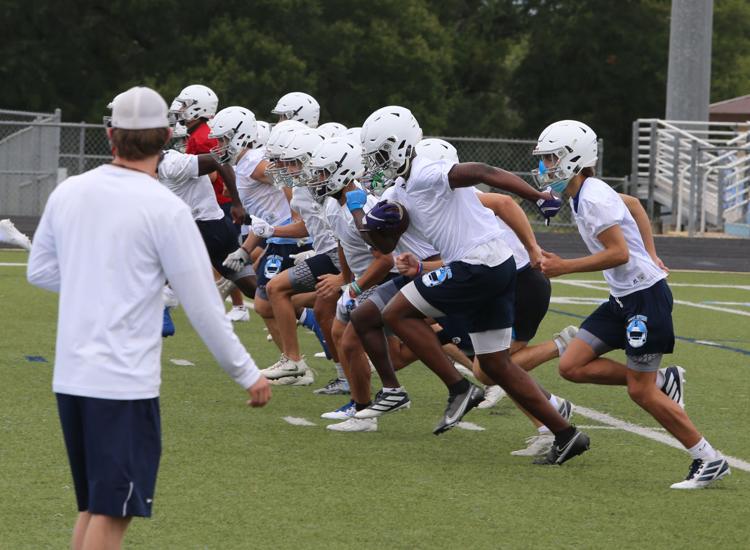 20200804_spt_hs_football_jl2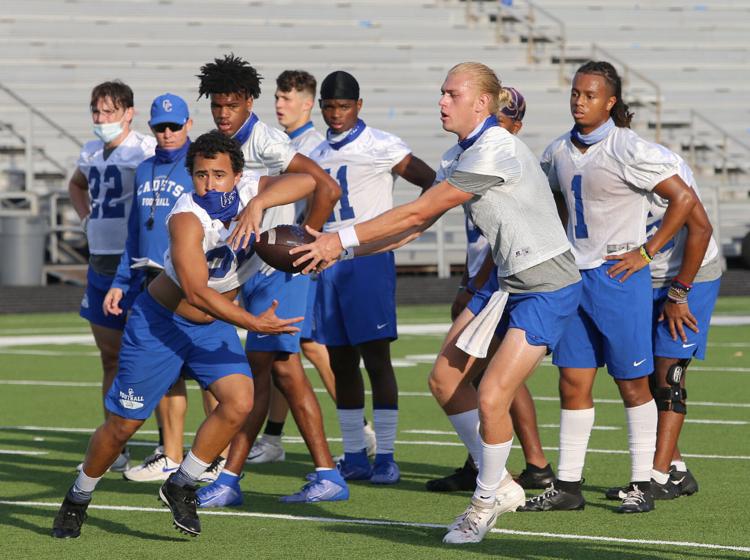 20200804_spt_hs_football_jl3 Connally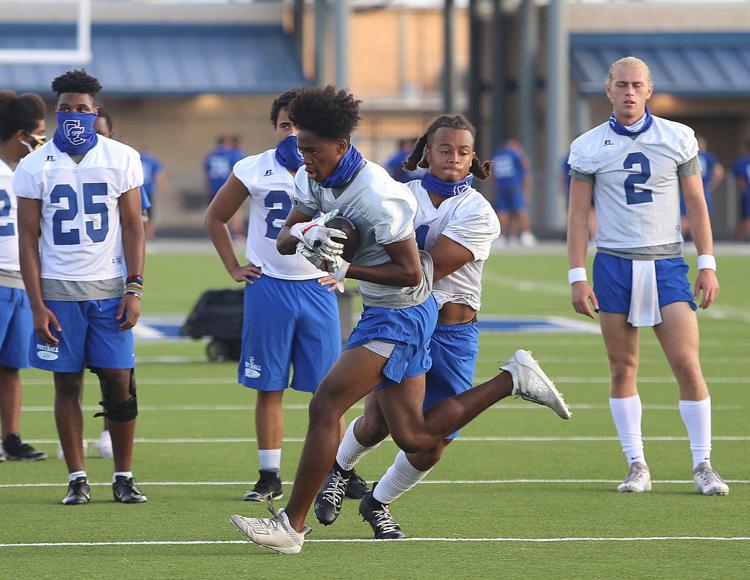 20200804_spt_hs_football_jl1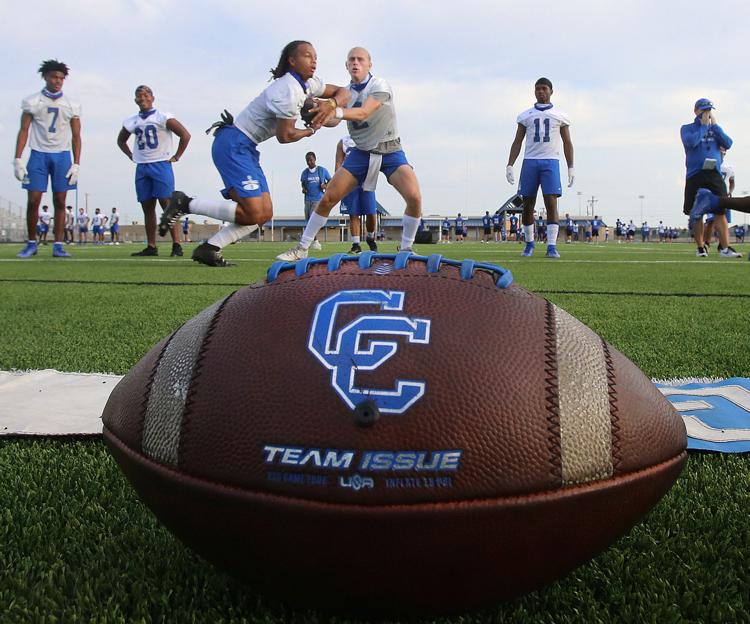 20200804_spt_hs_football_jl4
-- HIDE VERTICAL GALLERY ASSET TITLES (copy) -- (copy)
Get in the game with our Prep Sports Newsletter
Sent weekly directly to your inbox!