Signing Day in February has become a time when Central Texas high school athletes ink their letters and look toward horizons all across the state, region and country.
On Wednesday, dozens of athletes signed with more than two dozen schools, making plans to play at the next level in at least seven different sports.
Some will stay very close to home after signing with Baylor or Mary Hardin-Baylor in Belton. But others, like Midway seniors Eubin Shim and Declan McCabe, will traverse a big chunk of the country to begin college
Shim signed with the Boston College women's golf program, while McCabe inked his intent to play football at Montana. Both will have to get used to colder winters, but they were enthusiastic.
"I went over spring break and got to look around. I'm excited," Shim said. "They have a couple of indoor facilities. It will be different. Obviously, Texas weather is nowhere near close to the weather up in Boston. But I'm hoping I'll get used to the cold weather pretty soon."
McCabe found time for a fall visit to Missoula, Mont., and even though it was October, the change in scenery got his attention.
"It was cold, actually," he said. "I think the high one day was 55. I wasn't used to it, but it'll be one of those things that, once I'm immersed, it will be fine. I hope so at least."
Fortunately, one of McCabe's first tasks will be to add a layer or two. The 6-foot-4, 255-pound offensive lineman said the Grizzlies coaches want him to gain weight to be able to better battle in the trenches at the NCAA Division I Football Championship Series school.
He'll be up to the challenge after checking off a major item on his to-do list.
"This is something you dream about from the time that you're a kid," McCabe said. "I obsessed about it to the point that some days you make yourself sick. It was nice to finally sign and make a childhood dream come true."
Another group of Central Texas athletes that will be crossing several state borders on their way to college will be the contingent of football players headed to Iowa Wesleyan. The Tigers landed seven Centex players, including Kace Baggett, Jeremiah Fisher, Rae Shawn Roberts and Lamarion Williams from La Vega, Jordan Nevarez and Greyson Snydal from China Spring and Humberto Arizmendi from Temple.
China Spring coach Brian Bell said his players were recruited by Iowa Wesleyan offensive coordinator Kiefer Price, who played high school football at Copperas Cove. Bell believes the Tigers are gaining a foothold in the area.
"It always makes a coach feel better when you can send your players out to a place that you know is going to take care of them," Bell said. "We've got guys going to some really good coaching staffs."
Cougars celebrate record class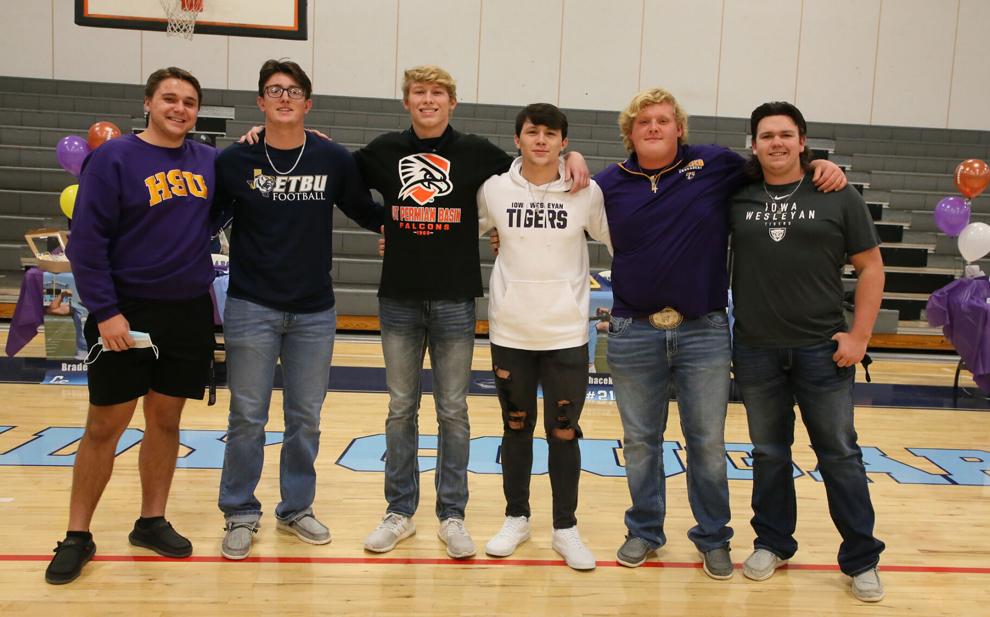 Along with Nevarez and Snydal, China Spring had four other players sign letters on Wednesday — Hayden Hopkins with Mary Hardin-Baylor, Tristyn Pechacek with East Texas Baptist, Braden Spivey with Hardin-Simmons and Coltin Locking with Texas-Permian Basin.
Added to December signee D'Marion Alexander, who inked with Kansas, and two more expected to make decisions soon, the Cougars' class of nine players headed to the college football ranks is a record.
"This is a special time. I think it says a lot about the kind of football environment we have at China Spring right now," Bell said. "The kids just love football and they're really excited to play at the next level."
Trojans praise class of four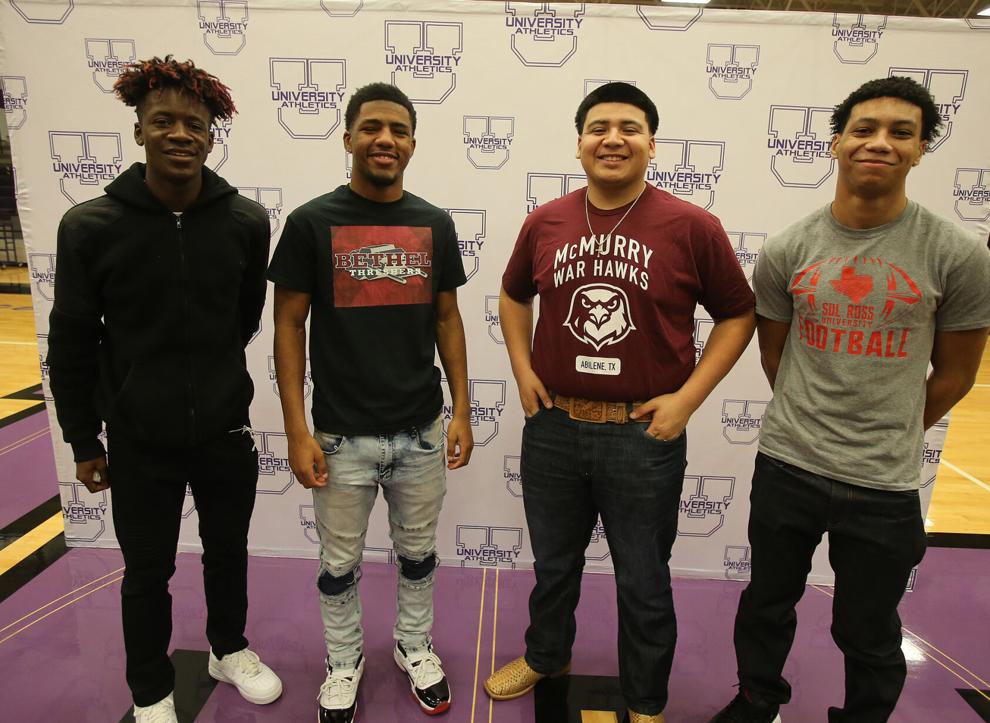 University's incoming football coach Kent Laster and the outgoing coach Rodney Smith tag-teamed a signing day ceremony at the Trojans' gym. With great enthusiasm, Laster took the microphone and pointed to the program's four signees as role models for the younger classes to follow. (He also instructed the freshmen football players to stick around and help clean up the gym at the end of the ceremony, not wasting any time putting them to work.)
University's college-bound quartet included offensive lineman Felipe Gonzalez (McMurry), safety Michael Drake Jr. (Sul Ross State), receiver Jay'lyn Jones (Central Methodist) and defensive back Ja'Marius Bailey (Bethel College).
Jones was mostly a basketball player before 2020, when he came out for football as a senior. Smith, who now works as an assistant athletic director for Waco ISD, pointed to that decision as a significant one, letting University's younger athletes know that it sometimes pays to play multiple sports.
Jones was overcome with emotion as he signed his NLI.
"I'm just happy to make my mama proud," he said, as the tears welled in his eyes.
Gonzalez was one of several Centex prospects snapped up by McMurry, an NCAA Division III program in Abilene. He was able to visit the campus, and just felt like it had a familiar feel to it.
"It seemed like they had everything together over there," Gonzalez said. "They had a plan, they had a great atmosphere. I think the coaches welcomed me there, it was home. It reminded me back of pee-wee football, where it all started and all began. That's what it felt like. It just felt like a culture that I could be around, surround myself with a group of guys, and build myself as a man as I continue on with my life."
Each athlete's signing was a singular, personal achievement. And yet like so many across Central Texas, the Trojans seemed happy that they could share it with their teammates, their "brothers," as they called them.
"I'm happy for all of them," Drake said. "I'm happy we all get to further our education and our sports at the next level."
Several Lions staying together
Former Waco High football coach Kwame Cavil, who resigned in December, kept his commitment to help some of his seniors reach the next level. Cavil made his closing remarks as the Lions' HFC while introducing a signing class of six football players and one baseball player.
Waco High's Jaelyn Rhynes signed to play football and baseball at Angelo State, while Keegan Hyde inked a baseball letter with Texas Wesleyan.
Five Lions — Jaelyn Lester, Trenton Freeman, Xavier Williams, Tyron Minnitt and Jamarion Johnson — signed with McMurry.
"We have a couple of guys that have been to McMurry and done some good things," Cavil said. "It's a good connection to get these guys a spot. There were some other places they could've gone, but they decided to go together. It's a good thing. They can hold each other accountable."
Connally's class expands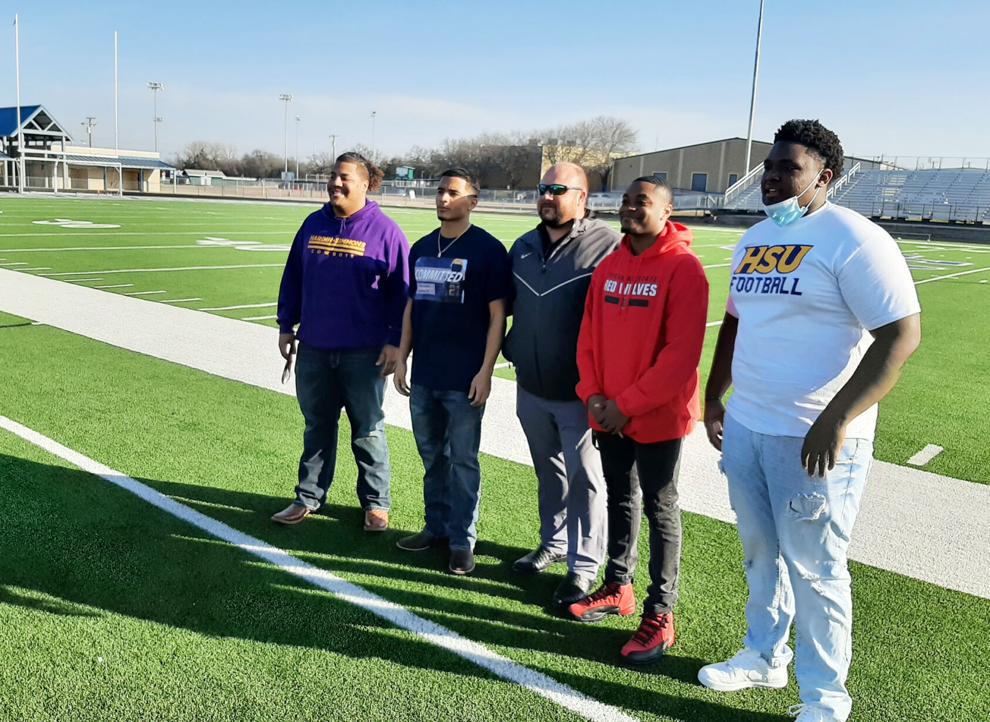 The Connally Cadets added four more to their group 2020-21 football players to head for college programs.
Connally held a December signing in which Kavian Gaither signed with Sam Houston, Cody Coffman signed with Mary Hardin-Baylor and Tyler Webb signed with Idaho.
On Wednesday, Cadets Marcus Long, Torii Pullen, Perrish Cox III and Jermain Spurlock had their turns.
Spurlock and Pullen are headed together to Hardin-Simmons.
"We'll probably be roommates together," Pullen said. "One of my brothers that I grew up with is coming to college with me."
Long signed with William Penn in Oskaloosa, Iowa, where he will transition to wide receiver.
"That's what I really want to do at the next level, and I took the opportunity," Long said. "I just like running routes, catching the ball and making big plays for my team. So that's what I want to do at the next level."
Cox took a preferred walk-on offer to Arkansas State of the NCAA Group of Five Sun Belt Conference.
"I'm blessed that I got offers from those (smaller) schools. But going to Arkansas State is a better opportunity for me," he said. "They want to try me at corner, and I feel like I can play there. They also want me to be on special teams, and I feel I can be a big part of that."
Rockets trio blasts off
Robinson's student body invaded the gym to celebrate three signees in three different sports on Wednesday morning. Rocket football standout Joseph McHenry will join Mary Hardin-Baylor's successful Division III program, while on the diamond Slade McCloud signed with Seminole (Okla.) State College for baseball and Emma Brignac finalized her commitment to Navarro for softball.
Neither McCloud nor Brignac had a chance to complete their 2020 seasons due to COVID-19. That complicated the recruiting process. But both are thankful they're getting a shot to play at the next level.
"It was a long and hard recruiting process," McCloud said. "It shut down all the D1s, no one could come and watch us play. Couldn't go to their facilities or anything. So juco was mainly the only (option) we had. … But I'm glad to finally get it out of the way."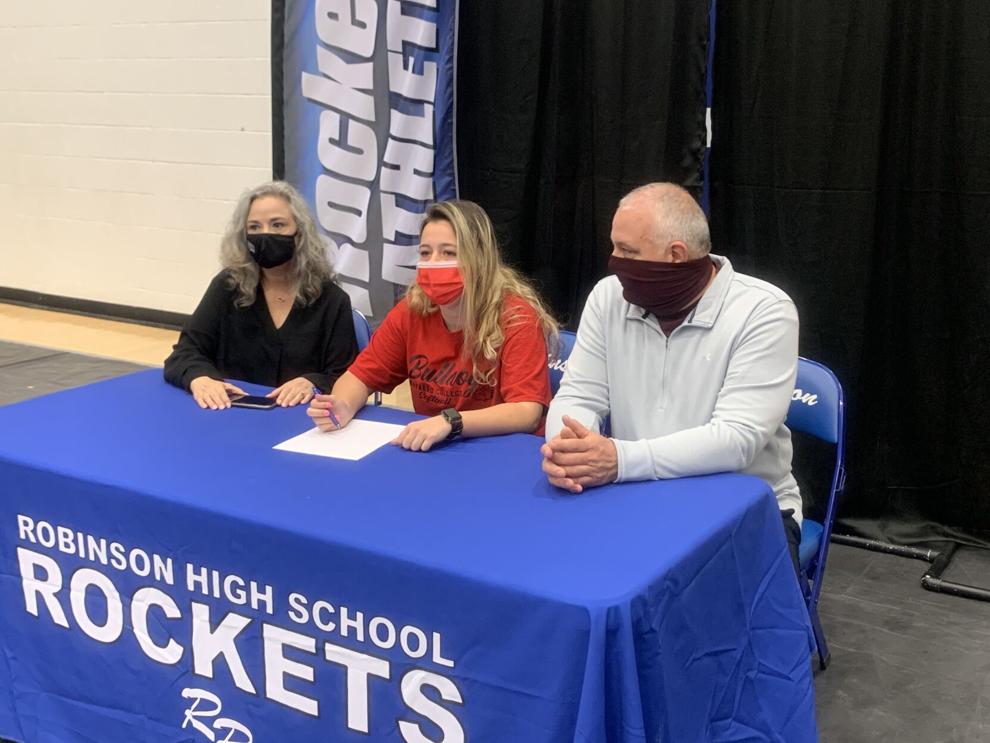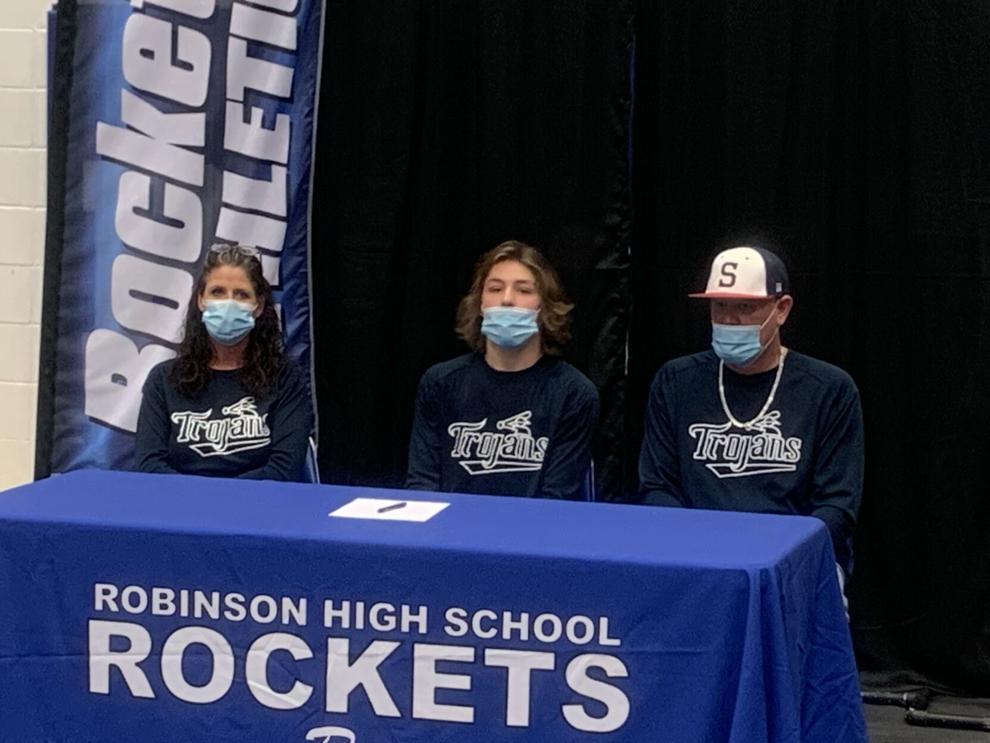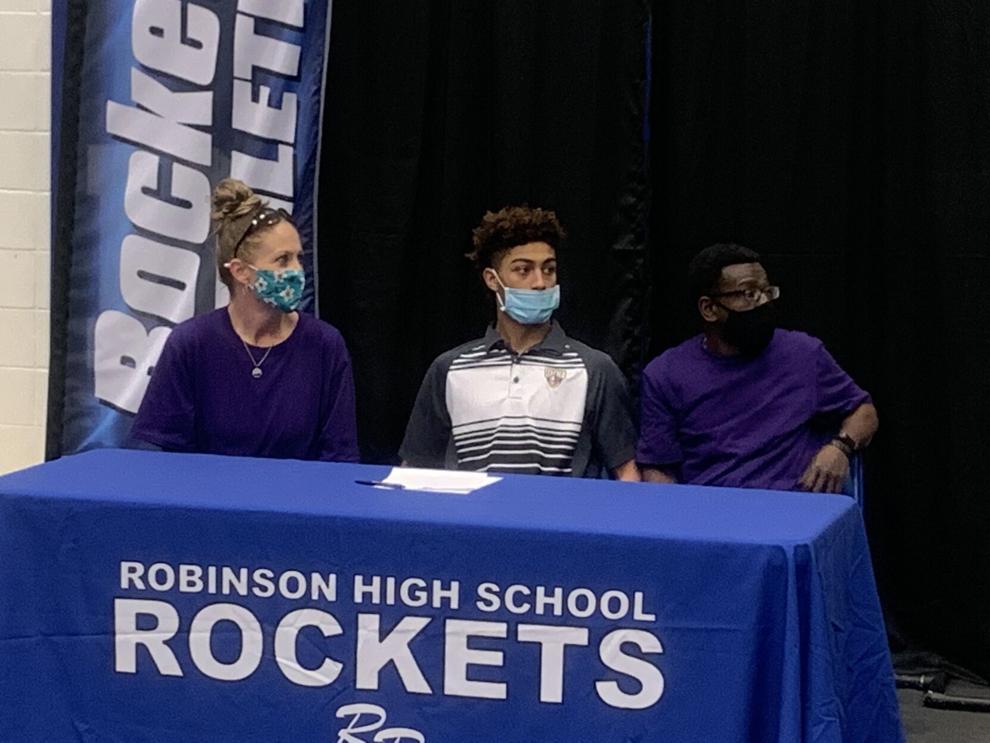 McCloud, who has played several infield positions for the Rockets, called Seminole State "a top-of-the-line juco college" and hopes to get plenty of playing time his freshman year.
Similarly, Brignac breathed a sigh of relief to have the recruiting process behind her. Now she can look forward to a 2021 senior softball season that for UIL teams like Robinson will start on Feb. 15.
"I am so excited to start the high school season," Brignac said. "It's really my last year that I'm going to get to have fun with it and be with my friends that I've been here all four years with. So I'm excited for that."
McHenry dazzled as Robinson's starting quarterback, but the lean 6-foot-2 senior possesses enough athletic ability that he could fill a variety of different roles for the Crusaders. Robinson coach Robert Rubel said he wouldn't be surprised if McHenry played anywhere from QB to receiver to defensive back in college.