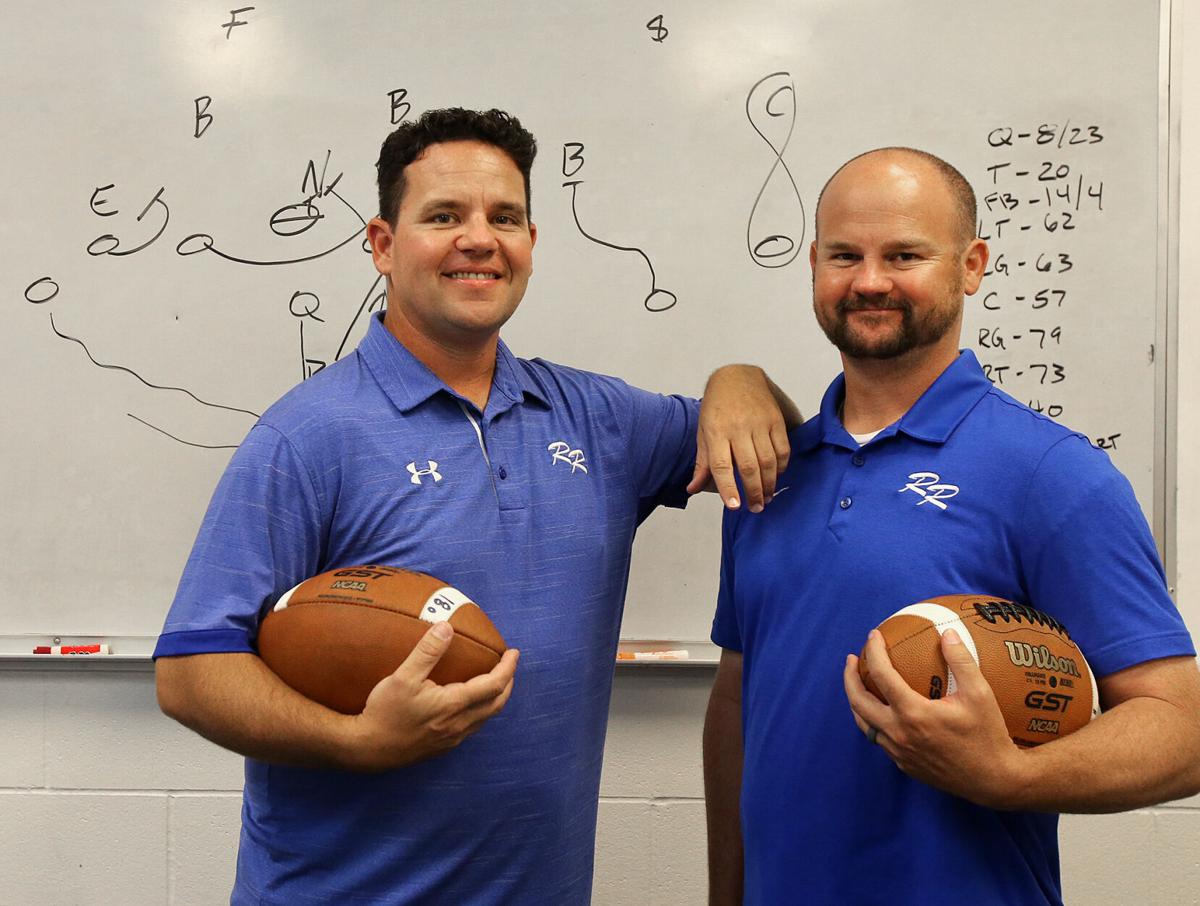 From the outside, a football team appears to be made up of multiple parts, divided into two main structures: offense and defense.
How good is your offense? Can your defense stop anybody? Defense wins championships. But the best defense is a good offense.
In reality, though, offense and defense are like legs. One can't move forward unless the other is firmly planted. Robinson coaches Ross and Michael Caraway know that's how it works.
"It's not something that we spend a lot of time talking about, but we're aware of it," Ross Caraway said. "I know the longer we can possess the ball and keep from turning the ball over, we're putting those guys on defense in a good position and vice versa. If they can have a three-and-out and get the defense off the field and get us the ball back, then the better chance we have of putting more points on the board."
Ross Caraway has been Robinson's offensive coordinator for the last six seasons. In 2015 his brother Michael joined the Rockets' coaching staff. When former defensive coordinator Robert Rubel moved into the head coaching chair in April, he promoted Michael Caraway to defensive coordinator.
That's how two brothers that grew up in China Spring in the 1990s came to be the Rockets' play callers on both sides of the ball.
"One of the things we've been stressing is we wanted to keep our staff in place," Rubel said. "With everything else going on, we felt like we needed that continuity. Ross was in tune with the things we needed to do on offense. Across the board, our whole staff is on the same page and we try to make it simple for the kids."
The Caraway brothers, who are less than two years apart in age, learned to depend on each other while growing up in a single-parent home with two older sisters.
Their mom, Cheryl Caraway, made sure the boys stayed active, whether it was in Boy Scouts, band or sports. In doing so, Ross and Michael learned the value of having a team.
"She did a great job of fostering our enjoyment of sports and other things outside of school," Ross Caraway said. "When we got into athletics, I think both of us leaned on those coaches and teachers and band directors. Whenever we came out of high school, it was just natural when we went to college to go into this field."
Ross Caraway graduated from China Spring in 1996 and went to Texas A&M. Michael followed his brother to College Station after graduating from high school in 1998. Both began their coaching careers while in college as they worked within the Aggies football program and then used those connections to get jobs at the high school level.
Ross's road led back to Central Texas when he took a job under former Robinson coach Brian Lewis in 2009. He remained on staff when Tommy Allison took over the Rockets program in 2011. When Allison was looking for a new wide receivers coach in 2015, Ross knew just the right guy.
Michael Caraway had been coaching receivers at Magnolia High School and his brother had been prodding him to come back to the Waco area. Allison hired Michael, who benefitted from working with his older brother.
"Ross had a really good reputation in Robinson because he does everything the right way," Michael Caraway said. "He's a freakin' work horse. Everybody that I talked to held him in real high regard. I felt like I had a whole lot to live up to. I didn't want to let him down."
Just like there are a lot of different styles of offensive and defensive football, brotherly relationships come in a wide range of flavors. Cain and Abel come to my mind, but so do Orville and Wilbur Wright, and Jim and John Harbaugh.
The Caraway brothers turn their competitiveness outward toward Robinson's opponents.
"When we were kids, we fought just like other brothers," Ross Caraway said. "As we grew up and kind of matured, we got to where it was just a close friendship and bond. (Before they were together in Robinson) I called him for help in the offseason and even in season and he would call me after a big win or a big loss. It just kind of carried over when he came here and we started coaching together. It was easy."
The Caraway brothers' first season as offensive and defensive coordinators at Robinson began with a victory last week. The Rockets defeated Taylor, 26-21, on the Ducks' home field.
For Michael Caraway, that meant he met the initial challenge of directing the entire defense.
"Having to see the whole picture is a whole lot different," Michael Caraway said. "You go from focusing on your position and where your guys fit to having to look at all the different players. Where are our run fits? How are our coverages going to match up with different play calls?"
Because Robinson lost 21 players from its 2019 team to graduation, and because the Rockets compete in Class 4A Division II, the Caraways are forced to share a few players. They're used to that as they were respectively the offensive and defensive line coaches in past seasons and had several players who lined up for both units.
Michael Caraway credited Rubel for facilitating communication on personnel issues and helping the entire coaching staff see the big picture.
As the older brother, Ross Caraway has an appreciation for the similarities and subtle differences between himself and Michael. The younger brother is more aggressive, more likely to bring a blitz and take a risk. The older brother likes to manage risk.
When those differences or any other issues call for immediate action, the brothers don't have to waste time worrying about each other's feelings.
"The benefit is that we're brothers and we can be very open with each other about how decisions we make are going to affect the other side of the ball," Michael Caraway said. "At the end of the day, we're not going to hold a grudge against each other. We're going to do what's in the best interest of the team."