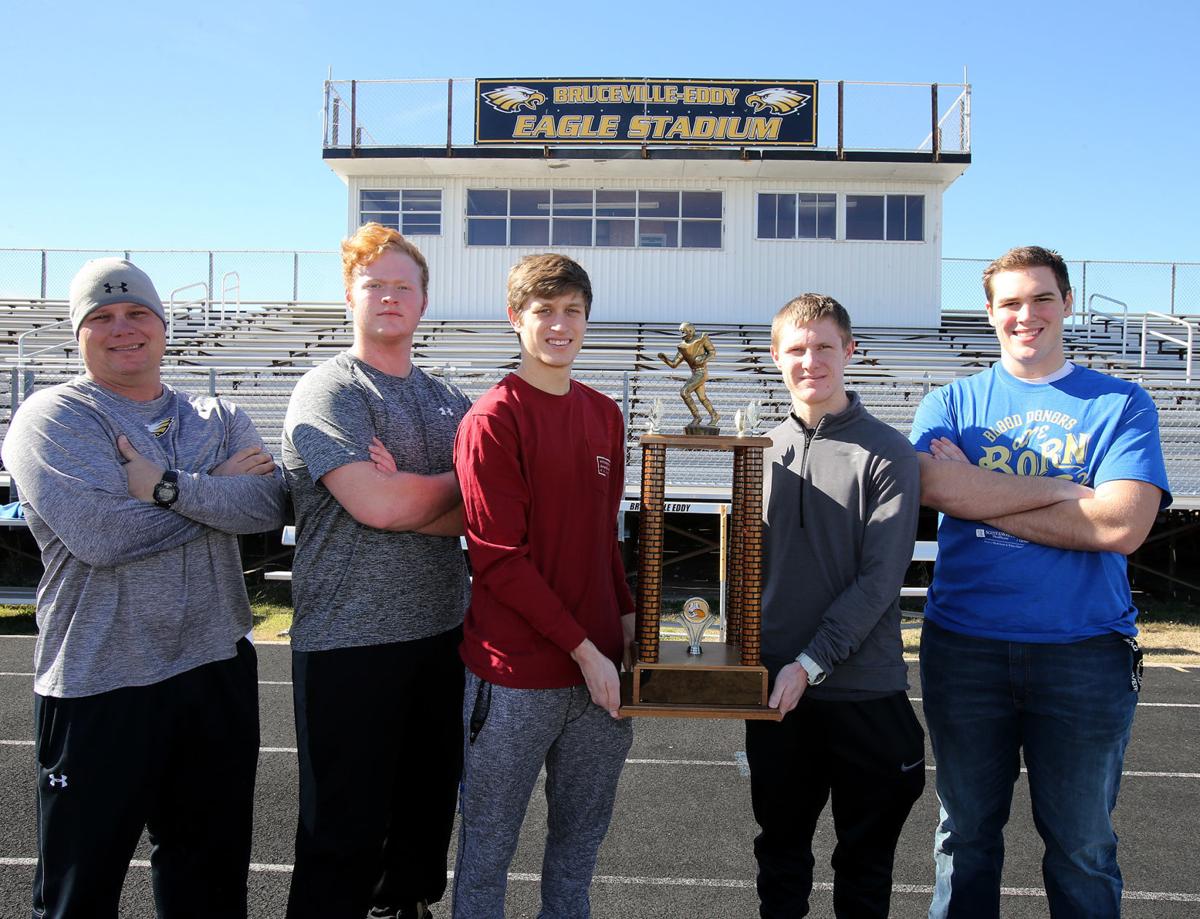 John Chaney couldn't forget about it even if he tried. Whenever anyone from the media showed up to football practice, he knew the first question, nearly word for word, headed his way.
"So coach, it's been 30-plus years since Bruceville-Eddy advanced to the playoffs. How do you get back?"
He won't have to answer that question anymore. Instead, his focus now turns to how to get Bruceville-Eddy back to the playoffs as the Eagles flew into the postseason in 2017 and captured the Waco Trib's 62nd annual Jinx Tucker Award.
"Now we're preaching that this is what's supposed to happen," Chaney said. "This is normal. It's not a 30 years down the road we're going to do it again kind of thing. It's got to be a consistent thing. We've got to be better next year than we were this year. This is what's supposed to happen. This is the norm. It's not something special."
Making the playoffs has been a priority for Chaney since he took the job four years ago. A native of Lorena, the move to Bruceville-Eddy was almost home with the latter less than 10 miles south. Chaney knew the kids were talented enough to win. But the new head coach also knew that advancing to the playoffs wouldn't be a quick fix.
"From day one that was the goal," Chaney said. "That's what we told the kids. Anytime things got slow or got low or anything else, that's what we told them. We reminded them of the goal and that seemed to be a big point for them as well."
In Chaney's first season, Bruceville-Eddy went 3-7 overall and 0-5 in district play to finish last in the standings. In 2015, the Eagles won one game in district play before seeing major growth a year later. Bruceville-Eddy narrowly missed out on making the playoffs in 2016 with a 6-4 overall record and 2-3 mark in district play.
"The kids saw how close that they were in the journey," Chaney said. "We lost two district ball games by seven points (Hearne 28-21, Buffalo 27-20). If we had won either of those games, we'd have been in the playoffs last year. They saw how close we were and I think that helped push them over the top this year."
Special season
Chaney laughed when he said it.
"I aged a lot this year," the Bruceville-Eddy head football coach said. "We had way too many come from behind wins this year. The good part of that was that they believed and worked hard. The bad part of that was we shouldn't have ever been in those positions in the first place."
Even before the cardiac kids pulled through for big-time victories late in the season, Chaney and his coaching staff came face to face with adversity.
The Eagles opened the 2017 slate with a 28-21 victory over Moody, but a slew of injuries threatened to derail the season seemingly before it even started. With starters injured, that affected the kind of game plan Chaney went with.
"We've been very fortunate, up to this year, with injuries," Chaney said. "We've had very, very few injuries. We got the injury bug early this year. I think we went into our last non-district game with six or seven starters out. We started to get them back healthy when we came into district. By the last two district ball games, we had everybody back. It was tough at times because you knew what you could do when everybody was there and healthy and you weren't able to do that. The kids did a good job of staying focused and believing and knowing we'd get back to that point."
After the season opening win, Bruceville-Eddy dropped contests against Axtell, Early and Clifton before starting off district play with a 41-29 win over Leon. Four weeks later, the Eagles were 2-2 in district play with both victories over the bottom two teams in the district.
Bruceville-Eddy was in the top four but New Waverly and Marlin loomed. On Oct. 27, the Eagles hosted New Waverly and quickly found themselves down by 21 points in the third quarter. New Waverly left the door open as it scored to retake the lead with four minutes left in the game but missed the extra point. The Eagles capitalized off the Bulldog miscue with a touchdown and successful extra point attempt of their own to seal the win.
"That was a crazy night," Chaney said. "The best thing I can say about that is the kids, they never slowed down. They didn't give up. They believed they could win. They just kept fighting and were able to come back."
While the win put the Eagles in good position for the playoffs with two weeks left in the regular season, there was still some uncertainty in the air. If New Waverly defeated Marlin the following week, there would be a three-way tie for third with those two teams and Bruceville-Eddy.
And all the Eagles could do was watch. They had a bye Week 9.
"Week nine is an awful off week," Chaney said. "Oh my lord, I hated that. That's been bad the last two years. It was really tough knowing we had done everything we could and it was in somebody else's hands at that point. We knew even if they lost at that point that if we came in week 10 and beat Marlin that we'd be in regardless. Just the week of uncertainty was rough."
Chaney was in the stands at New Waverly for the big contest. And the coach said his phone was continually buzzing with text messages asking how the game was going. Once the clock hit zero with Marlin winning, 35-19, what was uncertain at the beginning of the week was now reality. It was celebration time in Bruceville-Eddy.
"It was awesome," Chaney said. "As the community saw the kind of direction we were headed, it's been great since we got here, especially once we made the playoffs."
Senior class
It's the first group Chaney and his staff have coached all the way through high school. And he's seen plenty of pictures to remember what this year's senior class was like four years ago because their moms are pulling out all the old pictures.
"It's funny because the moms, you see pictures of them as freshmen this year because they're seniors and they bust out all the old photos," Chaney said. "Just how much they've changed, just physically, their personalities, their attitudes. It's encouraging to see those things."
Chaney knows it will be tough to replace this class from both its production on the field and leadership off the field. His hope, though, is that the younger kids can look at the journey the seniors took as a big reason to trust the process.
"We have lots of kids that have the experience of now having gone to the playoffs," Chaney said. "If they're willing to work hard enough and put the time in, they're capable of doing the same thing and more."
Be the first to know
Get local news delivered to your inbox!