After a key district win over Crawford in October, Mart coach Rusty Nail was asked to describe his star quarterback De'Nerian Thomas.
"Wow," was all Nail could say.
He wasn't alone in that assessment. Thomas had that effect on most who watched him play his four years in a Panther jersey, and he saved his most productive season for last.
Thomas rushed for 2,545 yards and 42 touchdowns, threw for 1,034 yards and another 19 scores on only 48 completions and added another trip to the end zone – a 99-yard one on an interception in that 74-49 win for Mart over Crawford in October.
A week later, Thomas broke the career Central Texas rushing record, and his 7,324 yards on the ground put him well beyond the mark set by Chilton's Travis Landrum of 6,535 from 2003-06.
His exploits helped the Panthers average 53.3 points per game and reach at least the state semifinals for the fifth straight season. They also earned him the nod as the Offensive Player of the Year for the 60th annual Super Centex team.
"He had the ability to run by you, run through you or move the pile," Nail said. "But the thing that made us the biggest threat was that he shares the ball. He's unselfish, and he's a great distributor. He never worried about how many carries or yards he has. he's a good leader for our team and a good quarterback because he made everybody better. It wasn't just about De'Nerian. He made just as many plays by getting the ball to the right guy."
Thomas has a quiet nature, but he didn't need to talk himself up. Nail was more than happy to do that for him, calling Thomas the best athlete he's ever coached in the summer of 2011 — before Thomas had even started his freshman season.
Considering the fact that Nail had coached all over the place before settling at Mart, and was coming off his second state championship with the Panthers, that was high praise.
"He didn't do anything to (that statement) but justify it," Nail said.
In a perfect world, Thomas never would have been Mart's quarterback.
He was a slot receiver during his freshman season and showed the ability to go the distance at any moment on the Panthers' jet sweeps, a short pass or even as a kickoff returner.
But Mart didn't have a true quarterback on its roster when Thomas was a sophomore, so the offense's reins were his.
While he isn't the most polished passer, he was able to get the job done. Much of the reason for that was Mart's running game is so prolific that any fake in the backfield brought linebackers and safeties barreling downhill and left receivers running wide open.
He finished with 3,448 passing yards and 45 touchdowns in his three years as Mart's quarterback, and he scored 118 times on the ground in his career.
"I give a lot of credit to the coaches and my offensive line for what they've done for me," Thomas said. "I just go out there and play as hard as I can for them and keep a straight head."
Unfortunately for Thomas and Mart, they weren't able to accomplish the only goal they truly had — a state championship. That dream came unraveled in a disappointing 49-14 loss in the semifinals to eventual champion Canadian.
Because of that defeat, Thomas characterized the season as "kind of a failure." But his season and career can't be labeled in that fashion, nor can the way he carries himself.
"I think his legacy is just his nature," Nail said. "De'Nerian will always be remembered here as a good football player and a good person. I don't know if you will ever find anyone who doesn't like De'Nerian. He's as good of a people person as there is."
Defensive player: Kahlil Haughton, Midway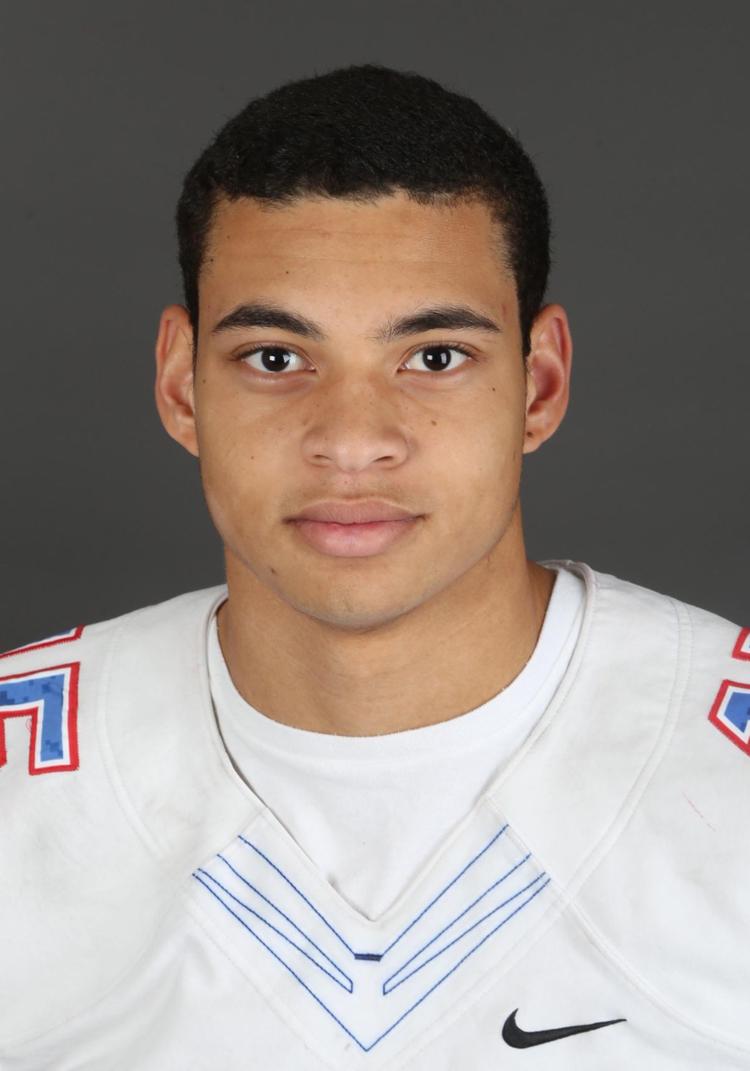 It has become fashionable in recent years for colleges to label themselves as the place to turn for a certain position.
Some examples of this are Penn State as Linebacker U., Baylor as Wide Receiver U. or Texas as Defensive Back U. or DBU.
If Midway wanted to follow that trend, it could go with Safety High.
Former Midway safeties Ahmad Dixon and Orion Stewart set that standard before moving on to Baylor. Kahlil Haughton was the next in that line at Midway, but he's setting his own path by moving on to Oklahoma next season.
"Look at the safeties that have come through Midway," Midway coach Terry Gambill said. "It's a high standard for you to play back there and play like Kahlil Haughton did. It's a great challenge. Our younger kids looked up to Kahlil without a doubt."
Haughton proved to be a solid role model.
He could always play the ball, but he added a toughness and physicality for his senior year that took his game to a new level. He finished with 108 tackles, four interceptions and 12 pass breakups, but he could also change the game with a bone-crushing hit, and he forced five fumbles.
Haughton was exactly the type of performer Midway needed on its last line of defense, and his production earned him the nod as the Super Centex Defensive Player of the Year.
"You're the guy that's on the line, and you've got to make that tackle," Haughton said. "It's a very rewarding position, and I definitely love it. Just watching the guys doing work up front and making plays, and then me making plays on the back end, it's something I really enjoy."
Midway had a rough go of things defensively in Haughton's junior season. The Panthers were 9-3, but they won several of those games in shootouts.
Haughton and several seniors vowed it would be different this year.
"We just worked. Over the spring and summer, we were always out on the field working because we knew we were giving up 40-50 points per game my junior season," Haughton said. "That was something we had to get fixed. So me and Lenoy (Jones), Keith Henson, Marcus (Johnson), a lot of those guys, we got out there and did what we could to lead the other guys and make sure we were in the best position to make the plays we needed to, to keep the score low."
Haughton was the secondary's leader, the one everyone turned to for the calls like the quarterback of the secondary, Gambill said.
He made an impression on his teammates and his coaches, and colleges all over the country were vying for his services before he finally committed to Oklahoma.
"Every college recruiter, I don't care which university, when they left they were totally impressed with that young man," Gambill said. "They said, 'Coach, you said he was good, but I didn't realize he was that type of person. When you get one like that, they're fun to be around and fun to coach."
Offensive newcomer: Keaton Dudik, China Spring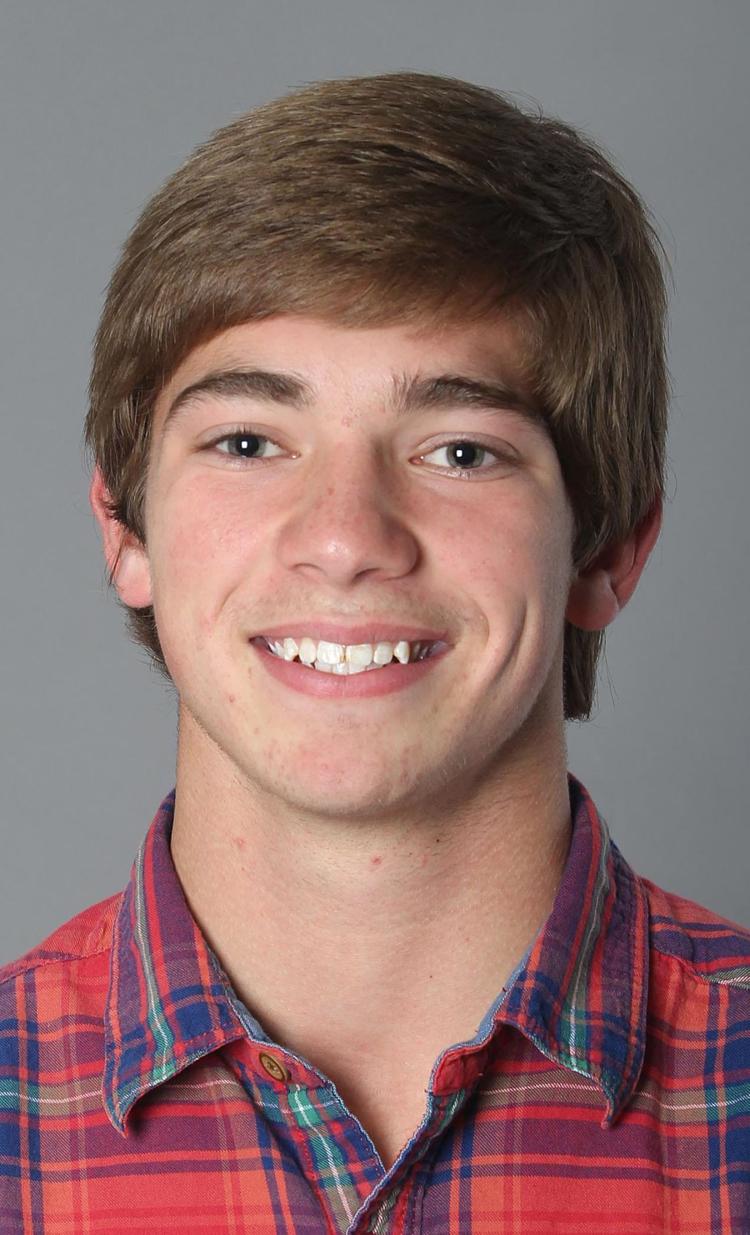 What Keaton Dudik lacks in size, he more than makes up for in effort.
China Spring coach Mark Bell gave his sophomore running back the highest of praise by saying he "plays every play as hard as you can play."
That explains how the 5-foot-9, 160-pounder was able to come in during his first varsity season and have the kind of impact he did. Dudik rushed for 1,227 yards and 17 touchdowns to help an unusually young China Spring team to a playoff berth.
Dudik used quickness to avoid big hits and toughness to shake off the pounding running backs take week in and week out, and his production earned him the Super Centex Offensive Player of the Year honor.
"He just shakes and bakes," Bell said. "He glides and then stays low. He's explosive, and he plays low and quick. He's not the biggest kid, but he's tough. He's not afraid to do anything."
Excitement for next season is high for the Cougars with 32 underclassmen expected to be back next season.
Dudik is one of them, and he'll be expected to do big things again.
"We're going to continue to get him a little bigger and stronger," Bell said. "He's working extremely hard. He's got a great attitude. Whatever you tell him to do, he goes and does it. He's as fun of a kid as I've ever had to coach."
Defensive newcomer: Bricen Mansfield, Whitney
With the way Whitney plays defense, it's all or nothing.
The Wildcats aren't afraid to bring the house to try and make a big play, but that means they need somebody capable of making a play should that backfire and the offensive player squirt free.
Whitney had a few of them this year, but none was better than sophomore Bricen Mansfield. He racked up 92 tackles, picked off seven passes and broke up a 11 more while splitting time between cornerback and safety to grab the Super Centex Defensive Newcomer of the Year award.
"His confidence, his ball skills – he's got really good ball skills – he's always around the football, and that all gave us confidence in him," Whitney coach Kenneth Gilchrist said. "That's something you can't coach. Whenthe ball is in the air, he's going to be around to go get it. I wish I could say I was coaching that, but I'm not. He's a ball hawk, and he's been that way ever since he started playing football."
With Mansfield's help, the Wildcats reached the 10-win plateau and won their first outright district championship since 1982.
But Whitney knows it can improve on the defensive side of the ball after allowing 74 points to Kirbyville in the final game of the season.
And Mansfield's continued maturation will be a key if that progress is to be made.
"I think this offseason will be big for him," Gilchrist said. "He's a kid we need to put some weight on, so when we're playing a team like Kirbyville it's not as hard for him to make a tackle on a 205-215 pound running back. We're just going to put more weight on him and try and get him a little more physical."
Coach of the year: Rick Rhoades, Cameron Yoe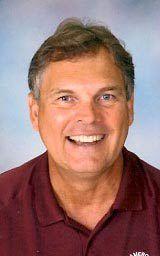 Nobody would have faulted Cameron Yoe if it took a year to reload.
The Yoemen were coming off of back-to-back state championships, and many of the key members of those squads were gone.
"I knew we were very young, and we were replacing a lot of kids," Cameron Yoe coach Rick Rhoades said. "I thought we had the talent to be a really good football team, but we were still very young and a lot of kids were playing positions they hadn't played a varsity game in. I thought we could be pretty good. I don't know that I thought we could win another state championship."
But there the Yoemen were, on the final night of the season, dropping a state championship game-tying 70 points on Mineola to bring home their third straight crown in Class 3A Division I.
Rhoades joined elite company as a coach to win three in a row, and he has been named the Super Centex Coach of the Year.
The way the season ended for the Yoemen belied just how difficult of a ride it had been.
They scheduled as tough as anybody in the state, facing a pair of 4A teams in Connally and China Spring and a Refugio squad that was No. 1 in 2A for the entire regular season. If that wasn't enough, they had to open district with rival Rockdale, one of the top 3A teams in the state that had dropped down from 4A.
They dropped all of those games to start 2-4, and Rhoades had to make sure his team didn't allow that to get his kids down.
"Colleges always send out stuff to high schools as a motivational deal," Rhoades said. "We gave one to our kids, and the theme of its was, 'Don't quit. There's greatness right around the corner.' Keep working, keep improving, and they kept coming out. As they started winning a few ballgames, their confidence level went up."
The Yoemen drubbed Academy, 47-7, in the final week of the regular season to share the district title, and knocked off a Teague team that rolled into the second round of the playoffs undefeated and untested, and was a popular choice to go the distance, 42-31.
"The thing I was really proud of In that game was we were playing a really good team, and we go ahead of them," Rhoades said. "Then they came back and got ahead of us, but our kids responded well, came back and scored a couple touchdowns. When we did that, I thought maybe we had a pretty special team and maybe we could go all the way."
Nobody else got even close to the Yoemen. They crushed Winnie East Chambers, 54-21, cruised past Rockdale in a rematch, 44-25, then dumped 70 points on both of their final two opponents in Edna (70-34) and Mineola (70-40).
"I think it says everything about the kids and everything about the coaching staff," Rhoades said. "We have a great coaching staff in place that does a great job working with the kids from the seventh grade up. If you're having to convince the kids that what you're doing is right it's an uphill battle. Our kids understand what we do works, and they work hard."
---
2014 SUPER CENTEX FOOTBALL TEAM
First team offense
Pos
Player
Cl.
Ht.
Wt.
School
QB
Brett Gilchrist
Sr.
6-5
215
Whitney
RB
Draeshaun Hannah
Sr.
6-0
190
Mexia
RB
Traion Smith
Jr.
5-10
190
Cameron Yoe
WR
Cole Brunett
Sr.
6-0
185
Whitney
WR
Devontre Stricklin
Sr.
6-3
170
Midway
OL
Jacob Burney
Sr.
6-3
255
Mart
OL
Connor Grych
Sr.
5-8
180
Bremond
OL
Jacob Humphries
Sr.
5-11
250
Crawford
OL
Jose Lopez
Sr.
6-0
272
Temple
OL
MJ Morris
Sr.
6-2
275
Midway
UT
De'Nerian Thomas
Sr.
5-9
160
Mart
K
Haden Tobola
Sr.
6-1
180
West
KR
Aaron Sims
Sr.
5-5
135
Cameron Yoe
First team defense
Pos
Player
Cl.
Ht.
Wt.
School
DL
D'Andre Adams
Jr.
6-0
235
Cameron Yoe
DL
Dedrick Garner
Sr.
6-3
230
Fairfield
DL
Jarvis Jones
Sr.
5-10
210
Bremond
DL
Demarcus Simpson
Sr.
6-0
180
Chilton
LB
Devin Eggins
Sr.
5-8
155
Fairfield
LB
JT Estes
Sr.
5-7
155
Whitney
LB
Lenoy Jones
Sr.
6-1
215
Midway
LB
Tyrik Ray
Jr.
5-10
215
Mexia
DB
Parrish Cobb
Jr.
6-0
178
La Vega
DB
Clint Cole
Sr.
5-7
165
Temple
DB
Kahlil Haughton
Sr.
6-2
180
Midway
DB
John Washington
Sr.
5-8
170
CameronYoe
P
Haygen Tibbetts
Sr.
6-1
170
Belton
Off. Player: De'Nerian Thomas, Mart
Def. Player: Kahlil Haughton, Midway
Off. Newcomer: Keaton Dudik, China Spring
Def. Newcomer: Bricen Mansfield, Whitney
Coach: Rick Rhoades, Cameron Yoe
Second team offense
Pos
Player
Cl.
Ht.
Wt.
School
QB
Reid Nickerson
Sr.
6-0
170
Cameron Yoe
RB
Jeff Carr
Sr.
5-7
170
Temple
RB
Braden Murphy
Sr.
5-10
185
Crawford
WR
RayAndre Browning
Jr.
6-1
160
Bremond
WR
Aaron Mitchell
Sr.
5-10
190
Teague
OL
Will Holmes
Sr.
6-1
280
Robinson
OL
Eric Sanchez
Sr.
6-0
210
Cameron Yoe
OL
Zack Shackelford
Jr.
6-4
298
Belton
OL
Garrison Tullos
So.
6-2
280
Bremond
OL
Kendall Wimberly
Sr.
6-3
200
Whitney
UT
Chad President
Sr.
6-3
205
Temple
K
Jackson Smith
Jr.
5-10
150
Midway
KR
Matron Gerald
Jr.
5-9
160
Mexia
Second team defense
Pos
Player
Cl.
Ht.
Wt.
School
DL
Tei Dixon-McDaniel
Sr.
5-10
240
McGregor
DL
Hamilton Hull
Sr.
5-11
180
Bremond
DL
Ricky Thompson
Sr.
6-1
210
Robinson
DL
Dillon VanZandt
Sr.
5-11
205
Crawford
LB
Zacchaeus Bell
Jr.
5-11
185
Teague
LB
Matt McNew
Sr.
6-3
220
Robinson
LB
Logan Paschal
Sr.
6-2
210
Midway
LB
Mason Pruitt
Sr.
5-8
150
Bremond
DB
Cory Bowers
Sr.
6-0
170
McGregor
DB
Tristan Czajkoski
Jr.
5-10
170
China Spring
DB
Wyatt Griffith
Jr.
5-11
165
Crawford
DB
Deontre Jackson
Sr.
6-1
160
Robinson
P
Kyle Holocek
Jr.
5-9
160
Reicher
Honorable mention
Quarterbacks: Roshauud Paul, Bremond; Tanner Thomas, Clifton; Kristian Brown, Connally; Hunter January, McGregor; John Anderson, Meridian; Jaylen Gipson, Mexia; Ben Hicks, Midway; Austin Skinner, Teague; Mason Tobola, West
Running backs: Dylan Haralson, Axtell; Jaren Brooks, Clifton; Dominic Brackens and Charles Oliver, Fairfield; D'Marcus Cosby, Mart; Bryce Haney, Meridian; Eric Clayburn, Midway; Allen Scott, Reicher; LeVonte Owens, Robinson; John Love, Teague; Marques Hatcher, Temple; Kelton Mansfield, Whitney
Receivers/tight ends: Sicory Smith, Cameron Yoe; Kody Fulp and Cutter Haigood, China Spring; Max Viladevall, Crawford; Colby Minze, Fairfield; Jaylon Medlock, Groesbeck; Jacob Spivey, Lorena; Andrew Taylor, McGregor; Dallas Anderson and Westin Gorneau, Meridian; R.J. Rangel, Midway; Robbie West, Teague; Davion Curtis, Temple; Randy Cantwell, Whitney
Offensive linemen: Brandon Harris, Chilton; Shane Bruno and Ethan Sedberry, Clifton; James Edwards, Crawford; Trevon Simpson and Jeremy Wood, Fairfield; Cody George, Lorena; Danny Canet and Bryson Nail, Mart; Taylor Robinson, McGregor; Dakota Ivey, Meridian; Chandler Chick, Eusebio Esquivel and Andy Mills, Midway; Ryan Mitchell and Marcus Williams, Teague
Defensive linemen: Taylor Hull, China Spring; Keaten Green, Crawford; Josh Gallegos and Terrance Rischer, Fairfield; Blake Boles, McGregor; Demitri Freeman, Mexia; Ethan Hightower, Meridian; Jace Hawkins and Jon Ladner, Midway; Marco Castro, Reicher; Will VanWinkle and Myron Busby, Teague
Linebackers: Drew Hayes, Bosqueville; Ryan Cullen, Cam. Yoe; Barclay Brunson and Bo Pearson, Crawford; Jarrett Carpenter, Fairfield; Cooper Edmiston, Gatesville; John O'Kelley, Groesbeck; Alex Parsons, McGregor; Roy Ward, Reicher; Manuel Rodriguez and Max Viladevall, Robinson; Dylan Crawford, Teague; Colton Adams, West, Nick Weigant, Whitney
Defensive backs: Chance Carroll, Michael Gibson and Rahiem Hayes, Fairfield; Pablo Flores, Meridian; Karoan Tatum, Mexia; Zach Martinez, Reicher; Josh Ince, Whitney
Kickers/punters: Erick Rodriguez-Reyes, Fairfield; Gustavo Ortega, University
Be the first to know
Get local news delivered to your inbox!