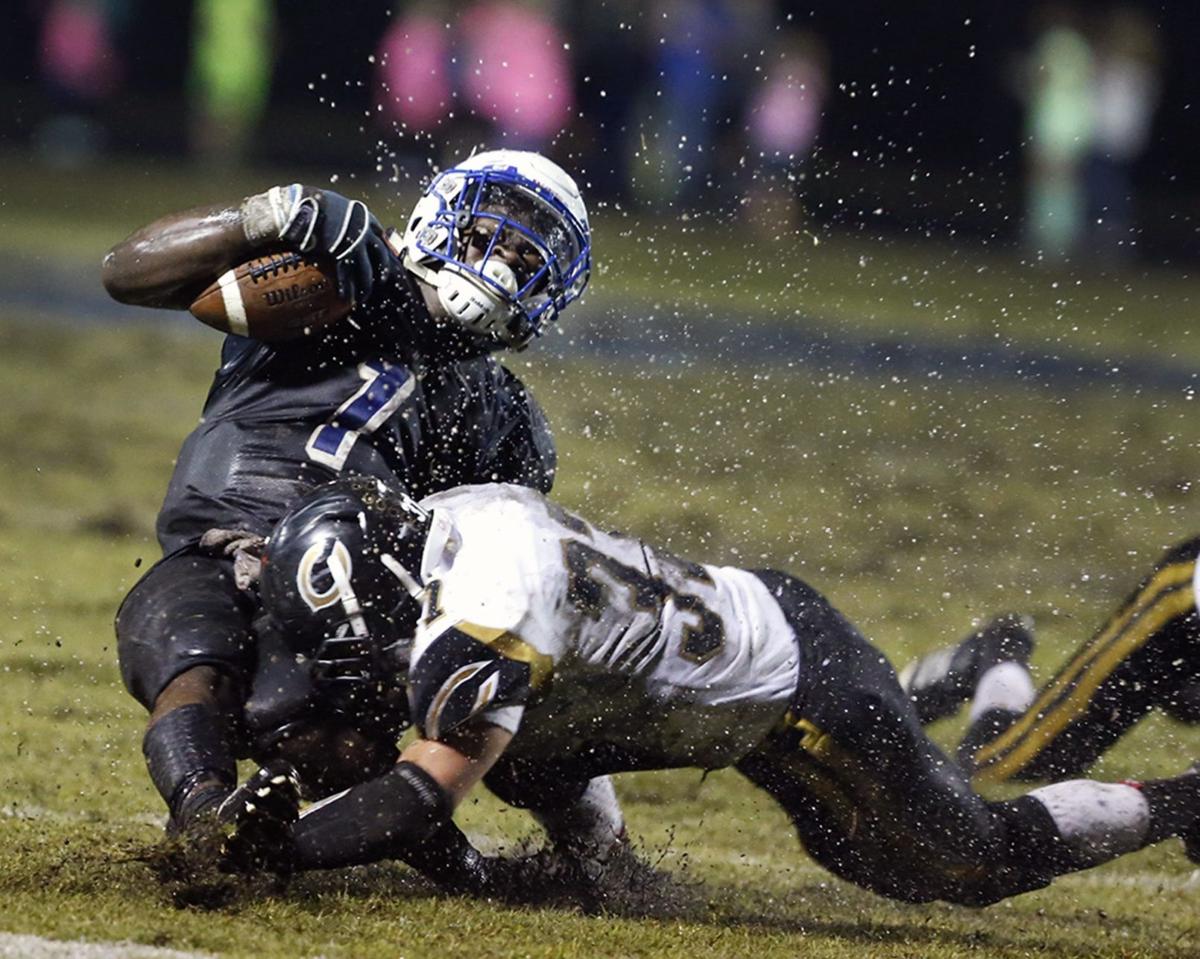 Even on a fast track with ideal footing, Crawford and Bosqueville figured to play a defensive struggle Friday night.
Crawford was able to keep its footing long enough to stick it in the end zone once in the first quarter and again in the fourth, and its defense did the rest in a 14-0 victory that clinched at least a share of the District 8-2A Division I title and its No. 1 seed.
"That's a big deal. You start off every year, and ultimately that's your first goal. You'd like to be district champs," Crawford coach Delbert Kelm said. "Hopefully it positions us better in the playoffs. It's a big deal in the district we're in. It's a tough, tough district. I think it's important to these guys. They showed that in the way their effort has been all year."
The Pirates (9-0, 4-0) will return home next week to close the regular season against last-place Itasca in an effort to finish off an undefeated regular season.
Like the field, they were uncharacteristically sloppy with four turnovers and six penalties, but the defense limited Bosqueville to 120 total yards, forced four punts and stopped the Bulldogs on downs five times.
"I can't say enough about our defense," Kelm said. "We put ourselves in some huge holes, and our defense came up huge. Any time you can play great defense you have a chance to win the ballgame. Right now, our defense is definitely the strength of our team."
The shutout was Crawford's second straight, following a 21-0 decision over Mart last week, and it has allowed 12 points in the district season and 74 overall.
Bosqueville's defense had allowed 55 points all year coming in and was coming off back-to-back shutouts of Itasca and Valley Mills.
But Crawford's tandem of Garrett Dutschmann and Noah Bleything did enough on the ground to help the Pirates to victory. Dutschmann picked up 105 yards on 13 carries, and Bleything went for 95 yards on 10 tries.
Bleything's 36-yard touchdown run with 8:36 to go all but put the game away.
"There were times we really controlled the line and hit some seams, but turnovers really stalled us," Kelm said. "But they had a lot to do with that, too. They are a very good defensive football team. I knew moving the football on them in ideal conditions would be tough, and they play pretty good in the mud, too."
Crawford got the all-important first score of the game by driving 76 yards in 11 plays before Max Villadevall plowed into the end zone from 5 yards out with 2:11 left in the first quarter.
Despite the Pirates' struggles with turnovers, they never broke defensively.
Bosqueville started four drives in Crawford territory, including two at the 25 and 24. But its best chances to score were snuffed out by a missed field goal and a fourth-down pass from the Pirate 7 that fell incomplete to end the Bulldogs' most successful march of the night from their own 12.
"It's extremely disappointing. The defense gave us a chance just like we hoped they would," Bosqueville coach Clint Zander said. "They did all they could, (forcing) four turnovers. We didn't execute offensively. We'd get something going and shoot ourselves in the foot. It just didn't happen for us."
The Bulldogs (6-3, 3-1) were plagued by false-start penalties that seemed to almost always come after a positive play, a slip when it appeared they had a hole or a couple of dropped passes on screens that appeared to be set up for a big play.
Adrian Mathis was the Bulldogs' top offensive producer with 66 yards on 23 carries, but they couldn't find any consistency.
"It's very difficult to overcome mistakes, especially in field conditions like this," Zander said. "We couldn't get to the edge, you can't cut. Everything has to be downhill. The linemen can't really get a push because of the footing. It's just tough."