MANSFIELD — Midway knows the path to victory is through its playmakers, and the Panthers needed everything Jaylon Gibson and Will Nixon could give them Friday night.
Gibson caught touchdown passes of 76 and 63 yards while Nixon broke loose for a 65-yard touchdown run to lift the Panthers to a 38-27 win over McKinney in the Class 6A Division II area playoffs at Newsom Stadium.
"It was a tough game, but it's the area round and you expect it to be this way," said Midway coach Jeff Hulme. "Will was able to break off one and Jaylon was able to break off a couple. The good thing is we get a whole 'nother week with these guys."
With the win, the Panthers (9-3) advanced to a third-round playoff game against Houston Westfield next weekend on either Friday or Saturday.
Midway quarterback Jared Moore enjoyed a superb night as he hit 14 of 17 passes for 247 yards, including the two long touchdowns to Gibson, who made nine catches for 190 yards.
Nixon led the Panthers' running game with 157 yards and two touchdowns on 23 carries.
Moore's 76-yard touchdown pass to Gibson gave the Panthers a 21-13 lead to open the third quarter, but McKinney (7-5) answered with a 92-yard drive that ended with RJ Carver's three-yard touchdown run to pull within one.
Nixon then exploded into an opening on the left side for his 65-yard touchdown. But his fumble late in the third quarter at McKinney's 46 led to Sampson Nazarko's 26-yard touchdown pass to Isaiah Wallace that pulled the Lions within a point again at 28-27 with 9:56 left in the game.
The Panthers needed to take a large chunk of time off the clock, and they did just that as they used more than seven minutes on an 84-yard drive that ended with Bryce Boland's 23-yard field goal to extend the lead to 31-27 with 2:25 remaining.
"It was huge because they had just gotten the momentum back," Hulme said. "We fumbled the ball to them and they did what good teams do and they scored. But then we had a huge drive."
The Lions kept their hopes alive as they drove to Midway's 38 where they faced fourth-and-two. Midway's Reid Cromie intercepted Nazarko's pass over the middle and returned it 69 yards for a touchdown to seal the win with 27 seconds remaining.
"That's the way you draw it up, isn't it?" Hulme said. "They had been hitting (Wallace) over the middle and we were finally able to make a play."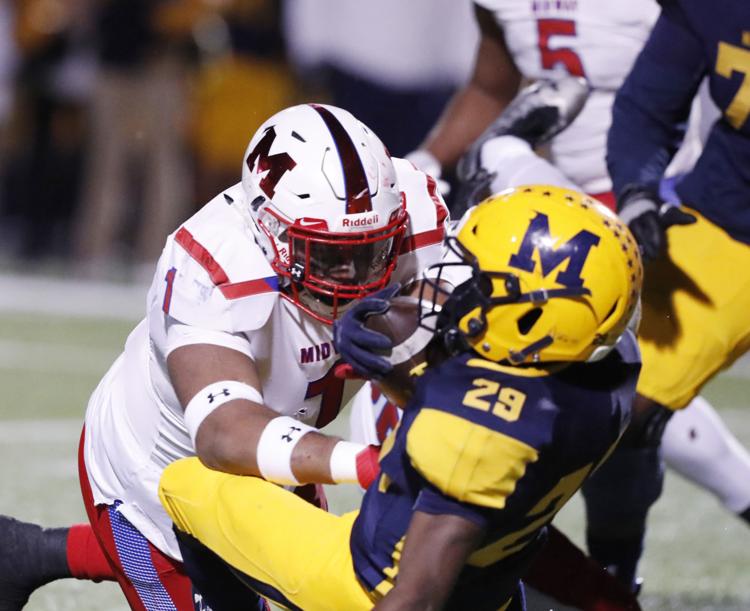 The Panthers moved 44 yards on their first drive of the game, but they were stopped on fourth-and-five when Jalon Rocquemore nailed Nixon after a two-yard gain to the 29.
The Lions quickly moved downfield as OJ Reed got loose for 26 yards followed by a facemask penalty against the Panthers to push the ball to the 11. Reed finished with 152 yards on 22 carries.
After Reed lost a yard on first down, Nazarko hit a wide open Wallace for a 12-yard touchdown for the game's first score with 4:49 left in the first quarter. The Lions missed the PAT, and their 6-0 lead didn't last long.
Moore passed to Gibson along the right sideline, and he broke away from a McKinney defender for a 63-yard touchdown. Boland hit the PAT to give the Panthers a 7-6 lead with 2:02 left in the first quarter.
McKinney answered with a 14-play, 75-yard drive that ended with Nazarko's three-yard touchdown run to take a 13-7 lead with 6:16 left in the second quarter.
But Midway responded with a 75-yard drive of its own that was propelled by Moore's 31-yard pass to Zach Stewart. Nixon drove for a five-yard touchdown on the next play to lift the Panthers to a 14-13 lead with 1:59 left in the second quarter.
Be the first to know
Get local news delivered to your inbox!