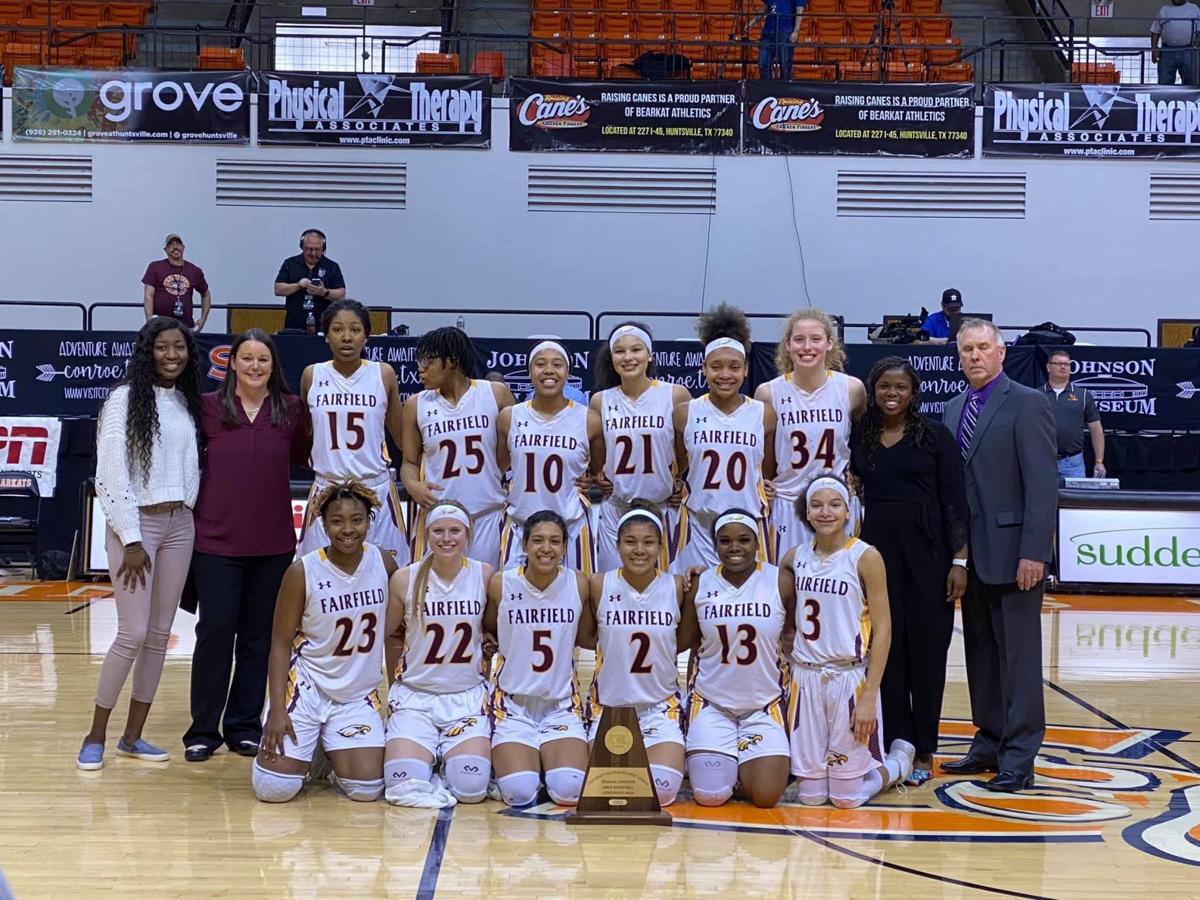 HUNTSVILLE — The Fairfield Lady Eagles had been in this spot before, and they'd endured the long, sullen bus ride home that follows a season-ending loss.
They refused to go through that again. Not this time.
Fairfield forged a hearty rally in the second half to overtake Hardin-Jefferson and claimed a 54-50 win in the Class 4A Region III final on Saturday afternoon at Sam Houston State's Johnson Coliseum. With the win, the Lady Eagles (33-4) advance to the UIL State Tournament for the second time in school history, as they last reached that stage in the 2010-11 season.
It required a healthy dollop of second-half gumption to get there. Fairfield, which had won its previous four playoff games by an average of 29 points, trailed by a score of 27-24 at halftime in the regional final. But that only served to motivate the Lady Eagles more.
"When we came into the locker room at halftime, you could see that the girls knew we were OK," Fairfield coach Sally Whitaker said. "There wasn't a moment of time where we thought we couldn't come back to win it. The girls really came ready to play in the second half."
A year ago, Fairfield advanced all the way to the regional final before falling to Hardin-Jefferson, 64-40. So, facing the same opponent this time around, they recalled the lessons of the past and pulled together to battle their way back.
"I think the biggest deal is there is more of a different level of maturity with this group," Whitaker said. "We've got five seniors who experienced that loss in the regional final last year. After that game, they decided it wasn't going to happen again. That stubbornness came in handy."
It took a group effort. Fairfield worked the ball around and hurt the Lady Hawks (29-9) from a variety of spots on the court. Eight different Lady Eagle players scored in the game, headed up by senior post Braden Bossier's 13 points. Bossier was money from the line when it counted, going 4 of 4 in the fourth quarter.
McKinna Brackens scored 10 points for Fairfield, Breyunna Dowell had eight, and Jada Clark and Jerahle Daniels swished in seven apiece. Brackens and Bossier both made the all-regional tournament team.
For Hardin-Jefferson, sophomore guard Ashlon Jackson scored a game-high 22 points, but the Lady Eagles held her in check much better in the second half, as she scored 15 before intermission. Senior guard Delberta Guillory-Smith had 16 points.
Fairfield will learn of its state semifinal time and opponent by Sunday, but the Lady Eagles will play at either 1:30 or 3 p.m. next Friday at the Alamodome in San Antonio. If they win that one, they'll play for a state championship at 7 p.m. Saturday.
For now, they'll take a moment to enjoy getting there. As the final seconds of the regional final wound down and it was clear the Lady Eagles were going to take it, a rousing cheer burst forth from the Fairfield fans in attendance. Then the Lady Eagles started the dancing and hugging that naturally accompanies any UIL state appearance.
"It was pretty cool," Whitaker said, pausing to collect herself before continuing. "I definitely enjoyed seeing them experience something they had set their mind to since the beginning. It was like, 'OK, let them celebrate. This is a special moment.'"