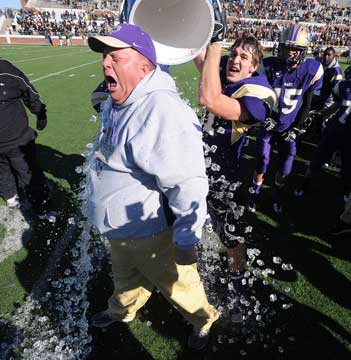 In the history of Texas high school football, few places have experienced the level of success that Mart has.
Coach Rusty Nail has helped continue that tradition of excellence over the past nine seasons with a 105-23 record that includes two state championships in 2006 and 2010 and two more trips to the state title game.
The 46-year-old Nail announced Friday that he was stepping down as Mart's football coach and entering private business with New York Life Insurance Company.
"I have a friend that went into financial planning, and I got interested in that," Nail said. "I started looking at some online materials, and it felt there's a natural market with educators. So I'm going to give it a go. I'm jumping outside of my comfort zone for the first time in 46 years. We'll see what happens."
Nail said he will stay with the school through the spring and will still have a vested interest in Mart's football team. His older son, Collin, will graduate from Mart this spring, with his younger son, Bryson, set to be a senior for the Panthers next year. Nail wants a chance to watch his children compete from the stands, instead of as a coach.
Nail and his wife, Dr. Tawnya Nail, also have a 13-year-old daughter, Alyssa, and he said he hopes to help teachers and coaches plan for their financial future.
"I'm looking at people in similar situations who live paycheck to paycheck," Nail said. "I want to share some personal stories within my family and my friends' families. I'm 46 years old with an 18-, 17- and 13-year-old, and I look at things differently than when I was 25 and bulletproof."
Nail said he has had offers to take coaching jobs at larger schools than Mart, but he was "spoiled" by the situation he had with the Panthers because of the support of the administration and community.
"It's one of the top small-school jobs in the state of Texas, and my nine years here were storybook," Nail said. "I couldn't have written a book with it turning out this good."
There was no immediate word on who will replace Nail, but he has recommended the school hire from within and his choice is offensive coordinator Kevin Hoffman.
"Kevin was in the top three with me (in 2006)," Nail said. "All he's done since then is justify that he can get the job done. There are all kinds of legalities with the (school) board, but I've done all I can do, and Kevin has done all he can do to prove he's earned the job."