ENNIS – Sometimes basketball is a simple game that just comes down to making shots.
Midway got some good looks, but couldn't knock them down when it mattered most.
After trailing after each of the first three quarters, Wylie charged ahead of Midway in the fourth to close out the Panthers, 48-44, in the Class 6A Region II quarterfinals on Tuesday night at the Ennis High School Gym. So ends a fantastic season for the Panthers (28-11), who put together one of the best years in school history that included a top 10 state ranking for a stretch and the most wins this century.
"Without a doubt, man, this group of kids is special, especially this group of seniors," said second-year Midway coach Matt Brown. "They've done some great things for the Midway basketball program. They've really turned our team into a family. You see they turned our town into a community. Obviously we wanted to win the game, but sometimes it's bigger than that. I'm extremely proud of them."
With a regional tournament trip on the line, the game amounted to a fiercely-contested slugfest, and neither team could really get the slip on the other. Midway held a slim 31-30 lead entering the fourth, but Wylie (25-7) went ahead early in the quarter on a runout bucket from Cory Wells, and forced Midway to play chase the rest of the way.
Wylie's length was its most sizable advantage, as the Pirates featured six players 6-foot-3 or taller on its roster. One of those guys, 6-7 senior post Tommy Garriga, gave Wylie its largest lead of the night when he scored on a press-breaking curl to the hoop with 3:44 to go, putting his team ahead 40-33. That sent the Wylie crowd in attendance into near-hysterics, as they could sniff the win.
But Midway has a roster full of fighters, and they weren't going down easily. The Panthers chipped away, cutting the gap to 43-40 with 1:33 to go when senior star Godsgift "GG" Ezedinma drew a foul and split a pair of free throws with 1:15 to go. On the subsequent inbounds play, never-say-die Midway point guard Anthony Scott pestered the Pirates into a steal, and then moments later he fed Ezedinma on a nice inbounds feed for a bucket that cut the gap to 43-41.
But with 40 seconds to play, Wylie's own tough nugget of a point guard Kobe Wiggins drove downcourt and hit a difficult running scoop shot to push the lead back to 43-40. Scott got Midway back within a point after sinking two foul shots with 25.8 seconds remaining, and then the Panthers fouled Wiggins to stop the clock with 24.1 to go. Wiggins calmly nailed both shots to extend the gap back to three at 47-44.
Midway still had its opportunity to tie, but Ezedinma's 3-point try from the top of the arc with 12 seconds to go bounced unsuccessfully off the rim. Wylie rebounded the ball, and Elijah Taylor made one free throw on the other end to ice the Pirate win.
It was just that kind of a shooting night for Midway, though Wylie's hard-nosed defense deserves credit for making the Panthers work for every shot.
"Make or miss, make or miss," Brown said. "Hat's off to Wiley and Coach Pearce, they did a great job. They play hard, they play together, they've got a great team. It was a slugfest. They made the plays down the stretch, made the shots, and we didn't."
Brown said it was the type of game that he expected when he scouted the Pirates.
"Without a doubt. We watched a lot of film on them, and we said, 'It's like looking at ourselves in the mirror,'" he said. "They slide everything on defense, they play physical, they rebound. And they're big, they're a lot bigger than us. But we came and battled with them."
Wiggins scored a game-high 23 points, exploiting the Panthers with his mid-range jumper. For Midway, the four-year starter Scott scored 14 points while playing all 32 minutes, and Ezedinma added 12 to go with nine rebounds and two blocks, including a mammoth two-handed stuff of a Garriga drive in the fourth quarter.
In the first couple of minutes of the game, Midway standout senior Ezedinma came up empty on a pair of bunnies near the basket. But that didn't cause the Panthers' aggressiveness to waver. They continued to take it hard to the basket, even amid the tall sails perched in the paint by the Pirates.
Midway displayed active hands defensively in the opening quarter, which ignited its quick-strike transition game. In one 90-second sequence, Tyler Webb shot out free on a runout and dropped in a scoop, and then Webb came up with a steal and zipped the ball ahead to Scott for another layup.
But Wylie never really went way, battling inside for extra shots, and staying within two points of Midway for much of the game before pulling ahead in the fourth.
Still, Brown walked away filled with pride over the effort his team displayed. That included the role players like Webb, Jordan Simmons, Jordan Byers, CJ Calhoun and Caden Powell, who sank a pair of clutch free throws in the fourth quarter .
"(They made those plays) not just today, but all season. Ant and GG really put their trust in their teammates, too," Brown said. "We had Jordan Simmons, who's a senior and really a good story about how he's improved. Tyler Webb was injured all year, CJ Calhoun won a game for us. All of our guys really bought in, and any given night anybody can step up. Tonight the shots just didn't fall."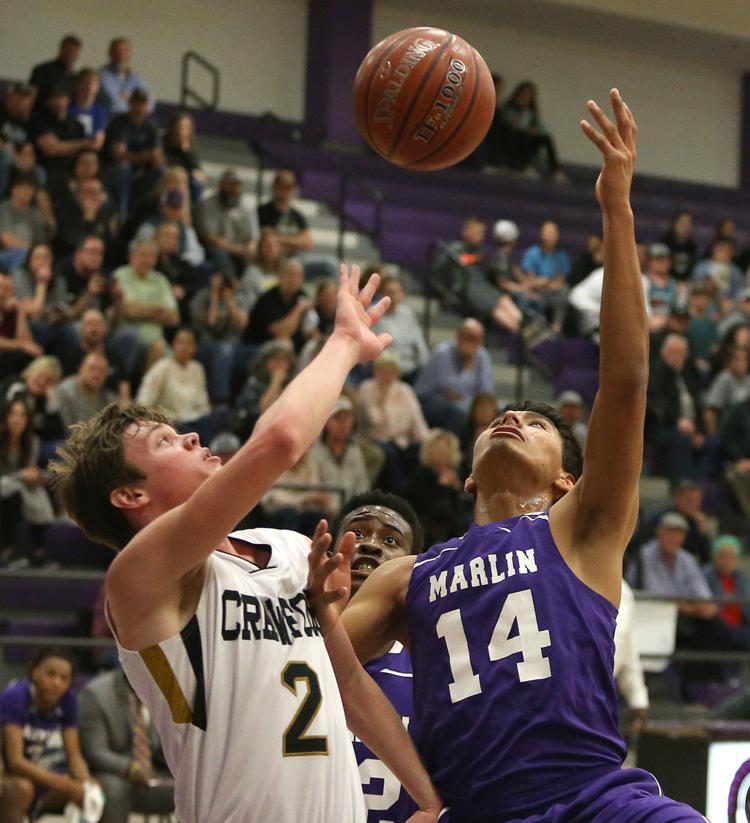 Crawford 50, Marlin 33
The Crawford Pirates came out of halftime and took over their regional final matchup against Marlin at the University High School gym.
The Pirates won the third quarter, 19-4, paving the way for their victory over the Bulldogs.
Cole Reid scored 12 to lead Crawford, and Jed Whitney and Ty Williams added 10 apiece for the Pirates.
Crawford (26-6) advances to play the Shelbyville versus Gary winner in the 2A Region 3 semifinals at 8 p.m. on Friday at Bryan High School.
Marlin finishes its season with a 22-10 record.
Waxahachie Life 62, Connally 47
CLEBURNE — Waxahachie Life outlasted a Central Texas team to reach the regional tournament in Huntsville for the second straight season.
After defeating China Spring in the regional quarterfinal in 2019, the Mustangs led 23-20 over Connally at halftime, then pulled away at the end.
Korie Black scored 23 points to lead the Cadets (21-6) and JuJuan Forward added 10.
Waxahachie Life advances to the regional tournament in Huntsville to play the Silsbee vs. Houston Washington winner on Friday.