When you're playing against a defending state champion, you don't need to help them out.
Unfortunately for Cameron Yoe, that's exactly what the Yoemen did.
The Yoemen paved the way for defending champ Grandview by committing four turnovers, giving the ball away twice on downs, and racking up their share of costly penalties and missed tackles as well. The Zebras capitalized with a 45-14 win in the Class 3A Division I regional playoffs on a foggy, drizzly Friday afternoon at Waco ISD Stadium.
Grandview (12-1) advances to the Region III-3A final for a third straight year, where it'll face off against the Whitney-Troy winner next Friday at 7:30 p.m., again at Waco ISD Stadium. The Yoemen (11-2), meanwhile, bow out in the third round for a second consecutive year.
"Way too many mistakes. We talk about that all the time," Yoe coach Tommy Brashear said. "When we got beat by Troy, we had a lot of mistakes in that game. We've been playing good ever since, but came out this week with penalties, turnovers, a lot of mistakes, missed tackles at times.
"I thought the defense played really well in the first half, second half we missed a lot of tackles. But offensively we couldn't ever get anything going. We had a penalty or a turnover, and momentum would kind of be taken away from us."
Indeed, Cameron was often its own worst enemy. The Yoemen trailed by only 10 with 4:32 left in the third quarter after an effortless-looking scoring drive that culminated with a 14-yard touchdown jaunt from James DeBose. That first Cameron TD made the score 17-7, Grandview, and seemingly gave Yoe some life.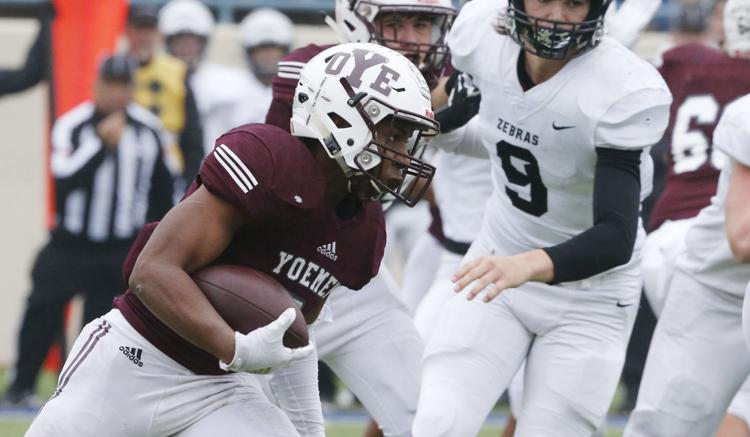 But on the ensuing possession, Cameron was hit with a costly defensive holding penalty on a 3rd-and-9 play for the Zebras. Three plays after that flag, quarterback Dane Jentsch – who's even more fierce than the Zebras' red-eyed inflatable run-through tunnel – bowled over a couple of would-be Yoe tacklers on his way to a 13-yard TD run that pushed the Grandview lead back to 24-7.
Any thought of a wild Yoe rally evaporated into the fog in the early stages of the fourth quarter. Grandview intercepted Yoe QB Braden Brashear twice in a three-minute span, and turned both of those takeaways into touchdown drives to fuel the runaway.
"I think if we would've played a good, clean game and executed consistently, I think we could have had a lot closer game here. I really do," said Tommy Brashear, the quarterback's father. "I felt like we could move the ball, but we made too many mistakes, had too many turnovers."
Jentsch slapped his fingerprints all over the win for Grandview. The junior completed 11 of 15 passes for 151 yards and a touchdown, rushed 18 times for 85 yards and another TD, intercepted a pass on defense and broke off a runback of 40 yards, and for his encore snared a high-hop onside kick by the Yoemen late in the game and raced 53 yards for a special-teams TD.
At that point, it was clear that every bounce was going Grandview's way.
"He does a great job," Tommy Brashear said of Jentsch. "He runs that offense very well, a tough, hard-nosed kid."
In the first half, every time the Yoemen seemed to have the wheels rolling on a successful drive, they'd run into a brick wall and give the ball back to Grandview. Cameron's first drive of the game ended with a Nico Vargas fumble that was recovered by Zebras linebacker Antonio Arellano. On their second touch, the Yoemen moved all the way to the Grandview 28-yard-line, but Braden Brashear's fourth-down pass for Kobe Young sailed over the receiver's head.
Cameron started its third possession near midfield after a Grandview punt, and the Yoemen looked to be on the go after DeBose picked up 18 yards on a crafty first-down run. The Grandview tackler tried to sling DeBose to the grounds after about a five-yard gain, but DeBose rolled over the tackler's body, wisely jumped back to his feet, and took off running for another 13 yards and a first down.
However, on the next play, disaster struck for Yoe. Brashear tried to fire a pass between a pair of defenders downfield, but Jentsch – who doubles as the Zebras' starting safety when he's not slinging passes or running for first downs – saw it coming and stepped in front of the pass for the pick. Jentsch chugged all the way back to the Yoe 37 before being pushed out of bounds.
Grandview eventually capitalized on the turnover with the first points of the game, as Nathaniel Baker punched in a 24-yard field goal to put the Zebras up 3-0 with 6:59 to play in the half.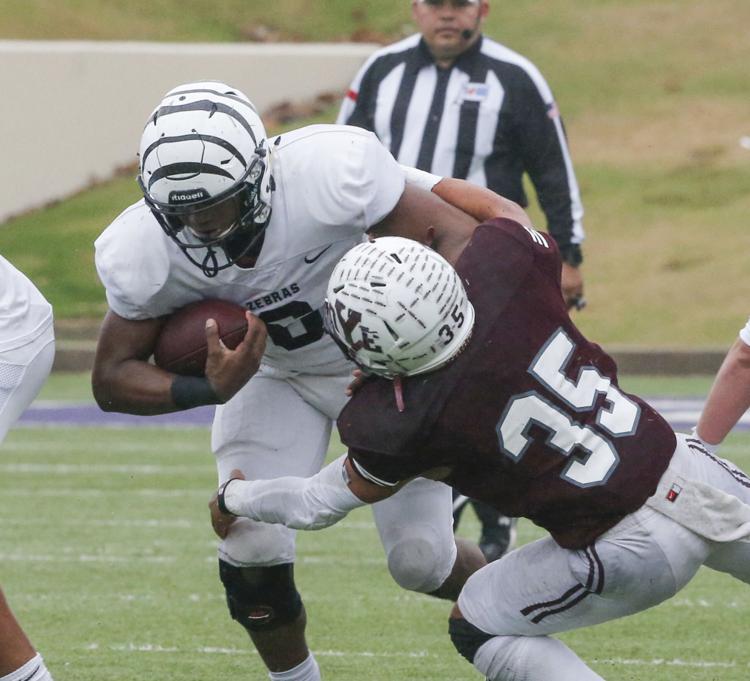 Cameron appeared poised to respond on the ensuing possession. Brashear and the Yoe receivers zipped the ball into Zebra territory, and were set to go for it on a 4th-and-2 from the Zebra 17 when a false start penalty backed them up. After a timeout, the Yoemen still opted to go for it, but Brashear's pass over the middle fell incomplete amid a bit of unflagged contact.
Again, the Zebras made the Yoemen pay for failing to finish. With just 2:30 on the clock, Grandview put together an efficient 10-play, 78-yard scoring drive. Jentsch provided the biggest of those plays when he zig-zagged through the Yoe defense for a 26-yard gain to the Yoe 24. Five plays later, Tremayne Gullatte plowed up the middle for a 4-yard TD run, extending the Zebras' lead to 10-0 with 23 seconds before the half.
Cameron couldn't sustain any momentum in the second half, either, as the Zebras stretched the lead out in the fourth quarter. For the Yoemen, Braden Brashear connected on 15 of 23 passes for 158 yards and a touchdown in his final game, but was picked off three times by the Zebra defense. DeBose carried 14 times for 105 yards and a score and also had a 13-yard TD reception, while Vargas picked up 64 yards on 10 carries.
In his postgame huddle on the Waco ISD turf, Tommy Brashear told his underclassmen to "remember how this feels." He couldn't offer much consolation to the graduating Yoe seniors but to praise them on another fine season.
"You look at these seniors and you see them crying, and they're upset. Unfortunately somebody has to lose, and two years in a row (it's us) in the third round," the coach said. "I'm getting to where I hate the Thanksgiving break, honestly, because it gets us out of our routine. I don't know if that's the reason why (we lost), but I can't stand it."
Be the first to know
Get local news delivered to your inbox!