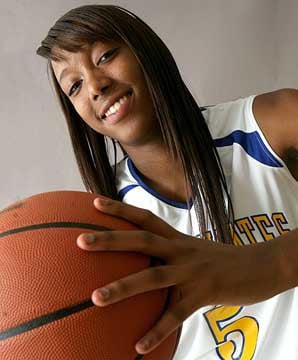 Looking back at the season, La Vega coach Robert Salter couldn't think of many of Porsha Roberts' performances that stood out.
The problem was that most of the senior post's games were so good it was difficult to separate them.
"Porsha had a pretty consistent performance," Salter said. "It's hard to say there were many games that were outstanding."
A gifted athlete blessed with a lean 6-foot-2 frame, Roberts' basketball skills improved every season.
As a senior, the Stephen F. Austin commit became an absolute terror for opponents in the lane, especially defensively, leading all Central Texas players with 12.5 rebounds and five blocks per game.
But she also refined her offensive game to become one of the area's top scorers as well, averaging 19.1 points.
"It's been quite a transformation to me," Salter said. "She was very undisciplined and talented as a sophomore. She has understood the game as it's progressed for her the last two or three years. She understood she needed to work on some things, and she committed herself to being a better player."
The combination of all of those elements earned her the District 19-3A MVP award and all-state recognition from the Texas Girls Coaches Association and the Texas Association of Basketball Coaches.
Now Roberts can add another accolade, as she's been chosen as the Super Centex Player of the Year.
"It feels good," Roberts said. "We worked together as a team and it paid off, even though we didn't do that well in the playoffs. I put in a lot of work in practice, out of practice, in the offseason and just all around basketball, and it paid off."
With Roberts anchoring the middle, the Lady Pirates finished with a 27-7 record that included wins over eventual Class 4A state runner-up Austin LBJ and 3A state qualifier Fairfield.
She was the Lady Pirates' driving force, even while facing constant double and triple teams.
"I think she handled it well," Salter said. "It's difficult when you're responsible for anchoring the whole team from the post without having the ball most of the time. It's difficult to keep yourself mentally in the game. It's awfully frustrating at times when you can't get the ball to keep working hard, but she would stay in the game, bide her time and really be patient."
Although Roberts' consistent performance was her hallmark, there was one game that stands out. In the district opener against Lorena, she unleashed her total arsenal, recording a triple-double with 22 points, 17 rebounds and 10 blocks.
As dominating as Roberts was, she believes she's far from what she could be as a player.
"I need to work on everything," she said. "Dribbling, shooting, getting bigger in the post, rebounding, a lot of areas."
But if there's anybody who's proved she'll work to get it done, it's Roberts.
"I know her best days in basketball are ahead of her," Salter said. "If she can stay on that learning curve, I know we'll be hearing about her for years to come."
Coach of the Year: Stephen Heers, Fairfield
Going into the regional tournament, Fairfield senior Courtney Morton said she was tired of stopping at regionals.
The Lady Eagles had been to Huntsville three times during her four years but had never gotten over the hump.
Her coach could relate, with this year's trip being the sixth to a regional tournament in his 22-year head coaching career without a state tournament trip.
They both realized their dream this year.
Morton put Fairfield on her back in the Class 3A Region III tournament with 55 points and 29 rebounds in wins over Smithville and Lorena to propel the Lady Eagles to their first-ever trip to the state tournament.
"Courtney dominated the whole regional, and it was pretty amazing," Heers said.
Morton and Barvion Wyatt provided senior leadership, but the rest of the team was young.
For putting all the pieces together and guiding Fairfield to Austin, Heers has been named the Super Centex Coach of the Year.
It wasn't always evident the Lady Eagles would return to regionals, let alone break through.
They lost twice in district play and had to win a playoff game over Palestine to claim the 20-3A title.
That victory turned out to be the springboard that created a wave of momentum that nobody could stop until a loss to Lucas Lovejoy in the state semifinals.
While Heers enjoyed the ride to his dream of reaching state, watching his players receive the support and accolades they have meant even more to him.
"Our school has been overwhelming with its support," Heers said. "The girls are still being patted on the back. That was pretty awesome doing something that nobody at this school had ever done."
Newcomer of the Year: Summer Dolezel, Lorena
One benefit of a new coach is a completely blank slate.
So when first-year Lorena coach Rodney Gee first saw Summer Dolezel's calm under fire handling the ball during fall practice, he thought she was a natural starter.
Forget that she had never played varsity basketball before. Toss out her sophomore classification. Put on the back burner the fact that Gee wanted to put her at point guard, arguably the most pressure-packed position on the court.
"She's just a really confident kid," Gee said. "I think her instincts about the game and her feel is really good. She just plays with a lot of confidence."
For her grace under extreme circumstances, Dolezel is this year's Super Centex newcomer of the year.
"It felt great to know I was a sophomore starting," Dolezel said. "It was just really fun knowing that. I guess I worked hard for it. I kind of expected it."
Dolezel averaged 11.9 points, was named to the Texas Girls' Coaches Association all-state team and was constantly on the spot in big games.
She hit a 3-pointer against Connally in the regular season to send the game into overtime, led the Lady Leopards to a District 19-3A title and helped guide Lorena into the regional finals and just a hair from qualifying for state.
All as a sophomore with no varsity experience before this season.
"It was just really fun knowing that I can handle that situation," Dolezel said. "You can put me in and I'll work just as hard to get my teammates involved."
Staff writer Will Parchman contributed to this story.
Player of the Year:

Porsha Roberts, La Vega
Newcomer of the Year:

Summer Dolezel, Lorena
Coach of the Year:

Stephen Heers, Fairfield
FIRST TEAM
Pos
Player
Class
Height
School
G
Meghan Braeuer
Sr
5-7
Belton
G
Toi Gober
Sr
5-9
Midway
G
Loryn Goodwin
Jr
5-9
Temple
G
Dianna Jones
Sr
5-8
Midway
G
Mackenzie Roach
Sr
5-6
Robinson
G
Katie Sampson
Jr
5-5
Lorena
G
Cassi Stegall
Sr
5-8
Hico
G
Barvion Wyatt
Sr
5-9
Fairfield
F
Kaymee Gooden
So
5-9
Mart
F
Courtney Morton
Sr
6-0
Fairfield
F
Bethanie Najera
Sr
5-9
McGregor
P
Kirsten Goodwin
Jr
5-8
Crawford
P
Porsha Roberts
Sr
6-2
La Vega
SECOND TEAM
Pos
Player
Class
Height
School
G
Ashley Bean
Sr
5-6
Waco High
G
Tianna Cobb
Sr
5-4
Waco High
G
Whitney Doyen
So
5-6
Bruceville-Eddy
G
Jordan Henderson
Sr
5-7
Hubbard
G
Dakota Mayr
So
5-4
Clifton
G
Robin Wimberly
Sr
5-10
Whitney
G
Kaitlyn Zarosky
Sr
5-8
Cameron Yoe
F
Erin Sims
Jr
5-10
Lorena
P
Briana Kirven
So
5-8
Coolidge
P
Regan Ledbetter
Sr
5-11
Meridian
P
Monique Moss
Sr
5-8
Aquilla
P
Danielle Rousey
Sr
5-10
Riesel
Honorable mention
Guards: Tyler Reed, Aquilla; Brook Brashear, Cameron Yoe; ReAnn Snell, Connally; Tiara Tatum, Fairfield; Nakaila Banks, Hubbard; Lashelle Williams, Mart; Kayleigh Ripley, McGregor; Jamie McIntyre, Milford; Courtney Collier, Parkview; Destiny Henderson, Hayley Guerrero and Madison Watson, Teague; Kellie Carpenter, TCA; Morgan Deaver, Vanguard; Delany Baum, Valley Mills
Forwards: Hannah Hayes, Bosqueville; Paige Culp, Clifton; Claudia Zuniga, Hico; Brianna Bates, Midway; Kyera Abram and Katelyn Mehringer, Teague; Ketara Chapel, Temple; Sarah Balch, Valley Mills
Posts: Paulina Perry, Aquilla; Kobi Ashley, Axtell; Hannah Maass, Bynum; Reagan Newman, Clifton; Maggie Wright and Lindy Burks, Evant; Stacey Underwood, Hico; Danielle Brisby, McGregor; Bria Bell, Midway; Ashley Ross, Milford; Lacey McKenzie, West; Erika Brown, Whitney
District's offensive MVP earned all-state nod by averaging 19 points, 5.3 rebounds, 4.7 steals.
DIANNA JONES
First-rate ball-handler increased scoring output to 16.3 per game, picked up district MVP, all-state honors.
MACKENZIE ROACH
One of area's top shooters led Rockets to playoffs with average of 18 points, 5 rebounds, 3 assists.
KATIE SAMPSON
Defensive pest used long arms, quick feet to disrupt opposing offenses, also chipped in 11.9 points.
CASSI STEGALL
One of best pure shooters around topped area in scoring, 3-point and free-throw percentages.
BARVION WYATT
Matchup nightmare on perimeter claimed district MVP honor, led team to first-ever state tourney.
KAYMEE GOODEN
Double-double threat's ability to score inside, outside aided Mart's quest for third straight district title.
COURTNEY MORTON
Put team on back at regional tourney with 55 points, 29 rebounds in two games to take home MVP honors.
BETHANIE NAJERA
District offensive MVP racked up 13.5 points, 9 rebounds per outing to lead Lady Bulldogs to postseason.
KIRSTEN GOODWIN
Centerpiece of Crawford's regional tourney team pulled in district MVP award, averaged 16.5 points.
PORSHA ROBERTS
Player of Year dominated in post like no other, finished with averages of 19.1 points, 12.5 rebounds, 5 blocks.
SUMMER DOLEZEL
Newcomer of Year bolstered team's ballhandling, clutch shooting, garnered all-state recognition.
STEPHEN HEERS
Pushed Lady Eagles over regional hump and into state tournament for first time in school history.
Be the first to know
Get local news delivered to your inbox!