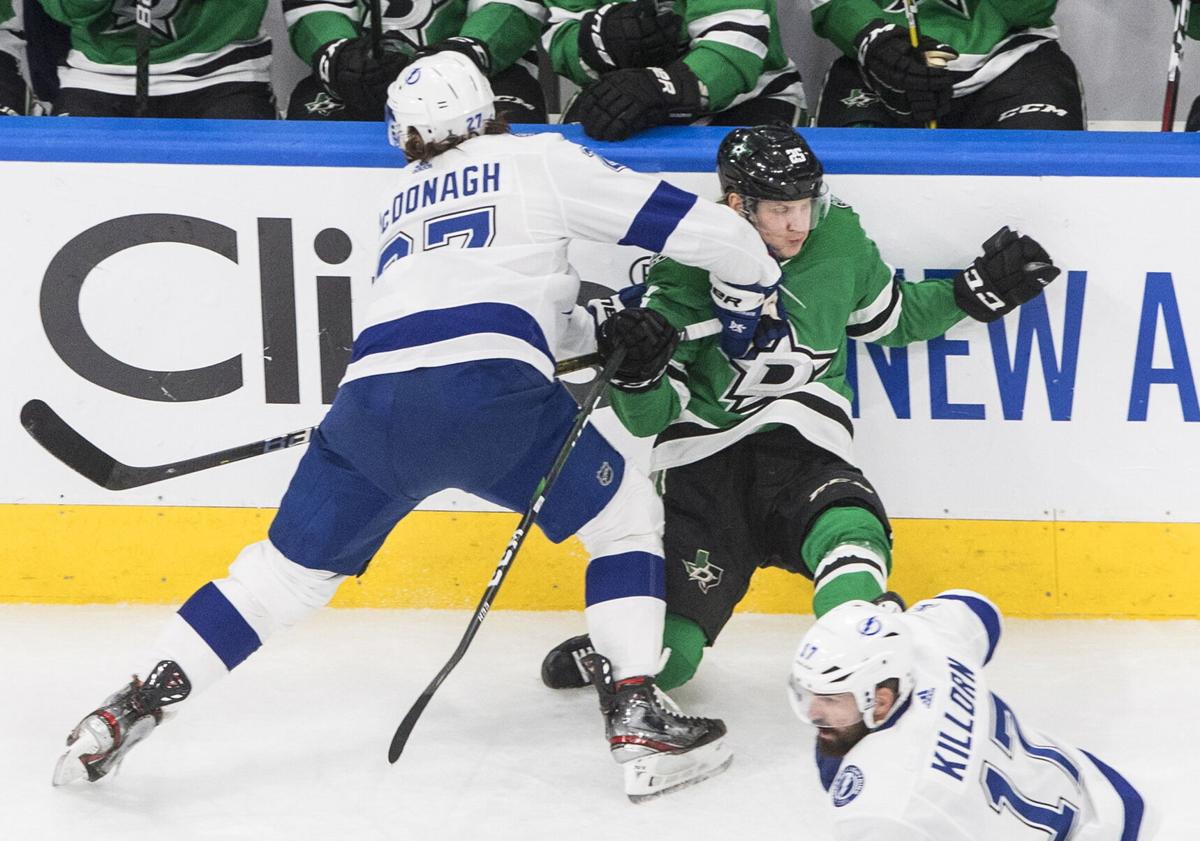 When you pour a soda over a cup of ice, a thousand little bubbles break out in a cheer for you.
When you pour the second-best (or maybe third-best) Dallas Stars season in history over a Cup of ice, the bubbles remain eerily silent. And that's unfortunate.
A historic Stars season ended Monday night, as the Tampa Bay Lightning stopped Dallas, 2-0, in Game 6 of the Stanley Cup Finals. It marked Dallas's third trip to the NHL's championship round since coming to Texas in 1993, and the first in 20 years. Though the Stars weren't able to chug from Lord Stanley's massive tumbler, they still have much to celebrate in 2020.
Yet it still feels like a missed opportunity for the Stars franchise. Not just because they were denied the title. Sure, that'll stick in their craw for a long while, just as it does for every second-place finisher in every season. That's a given. The real whiff for the franchise is the missed fan experience of the team's run to the Stanley Cup Finals, and ultimately the jolt in attendance and interest that would have provided.
Hockey was never intended to be played in a vacuum. There are certain hard-and-fast rules in life. The book is ALWAYS better than the movie. The sequel is NEVER as good as the original. And hockey is DEFINITELY better in person.
It's a "you had to be there" sport. Such truth is self-evident at any point of the season, but it amps up about 200 degrees in the playoffs. (And yet the ice doesn't melt. Weird, right?) Fans crowd into that fish bowl and push their faces right up against the glass. When things grow especially intense, those crazed customers will bang on that glass and scream until their voices evaporate into some sort of hoarse growl. It's a beautiful thing.
The Stars missed out on that. Granted, so did the Lightning and every other team in the NHL's bubble setup in Edmonton and Toronto. But, again, for the Stars these opportunities don't roll around every year. The franchise's longtime fans deserved that first-hand view of the Stars' first Stanley Cup run in two decades. Alas, COVID-19 doesn't care about what anyone deserves.
The diehards will be back. They always come back. But the bandwagon hoppers weren't able to take a seat at the party, and that makes the Stars two-time losers. As much as we might all want to deride the wishy-washiness of those kinds of front-running fans, pro teams actually thrive on them. Those are the fans who will spend large chunks of their paychecks on jerseys and hats to look the part. Those are the fans who may end up being tomorrow's diehards. They missed out on their gateway season.
Hockey will always be a niche sport in Texas. (And most of the Sun Belt cities, for that matter.) This isn't Canada, where toddlers learn to shoot slapshots soon after they take their first steps and where the NHL actually leads the sports talk TV and radio shows.
The Stars draw well in Dallas, but they're always going to play fourth fiddle in the Big D band behind the Cowboys, Rangers and Mavericks. Seasons like this one are supposed to give them a momentary taste of the spotlight. A fiddle solo, if you will.
They averaged a franchise-best 20,326 fans in the 2019-20 pre-COVID shutdown regular season. That number was undoubtedly aided by Dallas hosting the NHL's annual Winter Classic, as more than 85,000 fans descended on the Cotton Bowl on New Year's Day to watch the Stars thwart Nashville, 4-2. But clearly people in the Metroplex were starting to catch hockey fever, and the fact the Stars weren't able to benefit in the playoffs is a shame.
Who knows, maybe this season will have some carryover effect for 2021. It was a team marked by grit and resilience. The Stars scratched back from down 2-1 in their first-round playoff series against Calgary, and showed massive amounts of moxie in winning an overtime Game 7 over Colorado in the second round. They need to learn that playing shorthanded isn't an ideal way to score goals, but it's a testament to their ability to grind that they pushed Tampa Bay to six games despite being on the wrong end of so many power plays.
If COVID ever dissipates and fans return to NHL arenas for the 2020-21 season, the Stars should benefit at the turnstiles. Some of those on-the-fence, would-be patrons will say, "Hey, the Stars were pretty good last year! Let's go see a game, whaddya say?"
But Stanley Cup runs aren't guaranteed. The 2020 Stars at night were big and bright … and then there was silence. Nobody clapped and completed the refrain.
Too bad, because they really deserved better.
Be the first to know
Get local news delivered to your inbox!