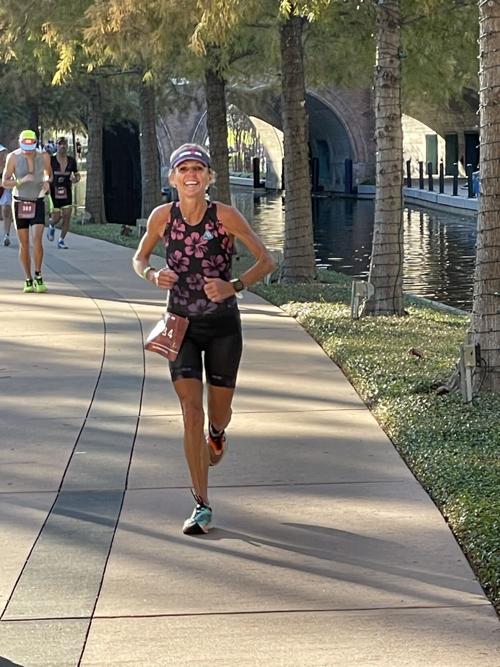 All of Nancy Goodnight's friends call her Squirrel, but maybe they ought to call her Acorn.
She's one tough nut to crack, that's for sure.
As one of Waco's busiest endurance sports competitors, Goodnight has long understood the idea of perseverance. In recent weeks, though, she has taken that concept to amazing new levels. Honestly, if you're looking for the perfect picture of can-do spirit, look no further.
To properly frame Goodnight's remarkable comeback story, let's backpedal a bit. Yes, it's a tale of constantly moving forward, but we must first shift into reverse just to illustrate how far she has traveled.
Back in April, Goodnight was competing in an Ironman 70.3 race in Galveston when she suffered a nasty accident aboard her bicycle. She was hoofing along at 29 miles an hour when her aero bars — the specially-designed handlebars that racers lean on during long rides — dislodged from the brand new bike.
Immediately, Nancy knew she was in trouble.
"I tried to veer off the course," she said. "The second I knew it was happening I tried to find a patch of grass, and I didn't want to take anyone else with me. I ended up hitting a patch — this is according to witnesses, I have no memory of this — I hit a patch of asphalt and did a full flip into the air and landed on my side and was unconscious for a very long time."
As bad as that sounds, reality was even worse. Goodnight suffered multiple fractures and a severe head injury. For the first two weeks after the accident, she needed assistance getting dressed and eating. She couldn't drive a car for the first six weeks, as she had casts on both of her arms. Her recovery was a slow, painful process, filled with surgeries and countless hours of physical and occupational therapy sessions.
But the word "quit" does not exist in Nancy's vocabulary.
"You hear put one foot in front of the other and you think, that's not really easy to do. Especially on the really hard days," Goodnight said. "But every step forward gets you that much closer to your destination, and you just have to keep moving — even if it's slow, even if it's hard. You just keep going."
So, she kept going. Like Dory, she kept swimming, only without the water. She didn't always progress at the pace she would have preferred. Doctors wouldn't let her run or swim for much of her recovery, and for months her only biking came indoors on a stationary bike. But bit by bit, inch by inch, she grew stronger.
Finishing a triathlon is a victory in itself. For a lot of competitors, that's the primary objective. Even as an experienced triathlete, that was Goodnight's mindset as she returned to action the weekend before last at Ironman Texas in The Woodlands, her 10th straight year to tackle that grueling race.
Goodnight finished all right. She finished in a time of 12:03.33, which topped her 55-59 age group and gave her an automatic qualifying spot to the 2022 Ironman World Championships in Kailua-Kona, Hawaii.
"You kind of want to have a comeback to even finish after you've had a bad wreck," Goodnight said. "It was really good. We've been all through this rough year or two with COVID and everything, and it just shows that you don't give up, you persevere, you keep going. It was a very good feeling to be able to do that. I was very, very surprised."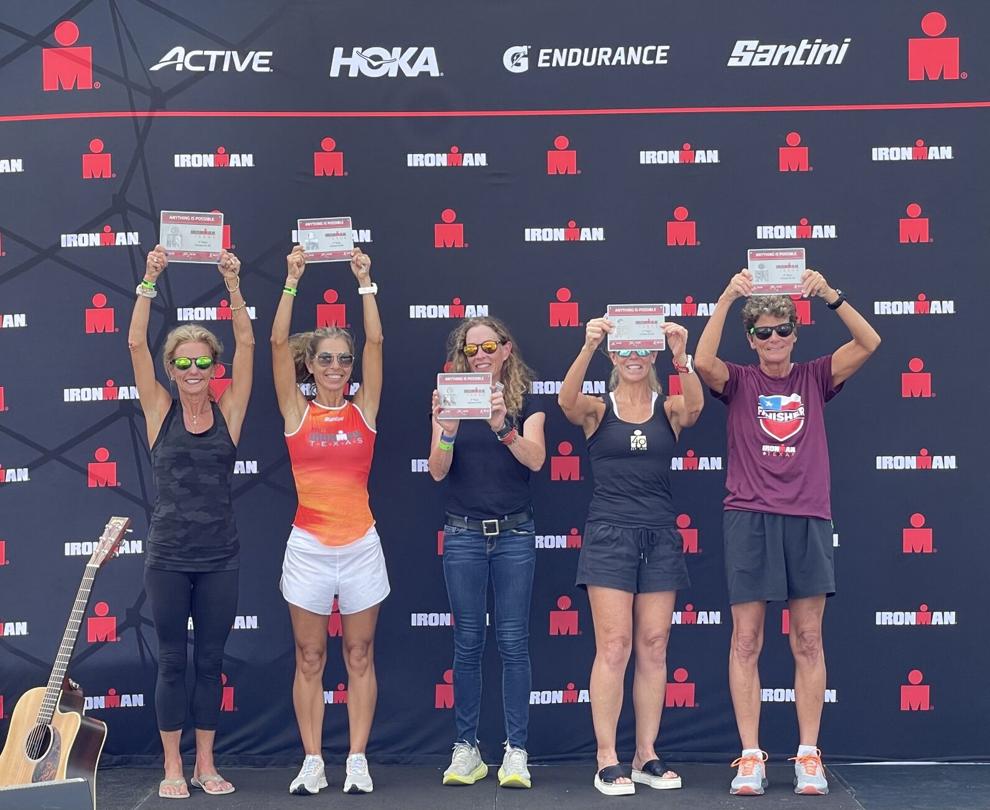 Nancy's group-winning time was so unexpected that she had to completely alter her travel schedule because of it. Oh, did I not mention that she had plans to run the Boston Marathon just two days after that Ironman race?
Goodnight crossed the finish line at around 7 p.m. on Oct. 9, to a chorus of gleeful cheers from her nearby friends and family. She had a scheduled 5 a.m. flight to Boston, but altered those plans to attend the Ironman Texas awards ceremony at 1:30 p.m., that afternoon of Sunday the 10th. "You have to be present at the awards ceremony to claim your (World Championship) slot," Goodnight said.
So, after she picked up her glitzy belt buckle and clinched her future trip to Hawaii, Nancy boarded a plane out of Houston at 5 p.m., landing in Boston at 2 a.m. after layovers.
Sleep, who needs sleep? You've only got to get up and run 26.2 miles in the world's biggest marathon in a few hours.
"I thought it would be so hard," Goodnight said ."Then I took off and I started feeling, 'This feels pretty good, I'll see how long it lasts.' Then I kept going and I'd say, 'This feels pretty good, let's see how long it lasts.' And I kept going."
Naturally, it got hard. Goodnight said around mile 20 she could feel fatigue gaining on her. But she's a runner. She's used to pushing through.
"The last two miles I was like, 'I don't care, I just made my time and I know where I am, I'm happy with it.' The last two miles I kind of jogged on in," she said. "I don't know how it happens. I thought it was going to be super crazy and I'd be sore, but I wasn't."
Did you catch that part about making her time? Yep, she did it again. Goodnight completed the race in 3:41.44, which qualified her for next year's Boston Marathon.
You can break this lady's body — please don't, she's been through enough — but you'll never break her spirit.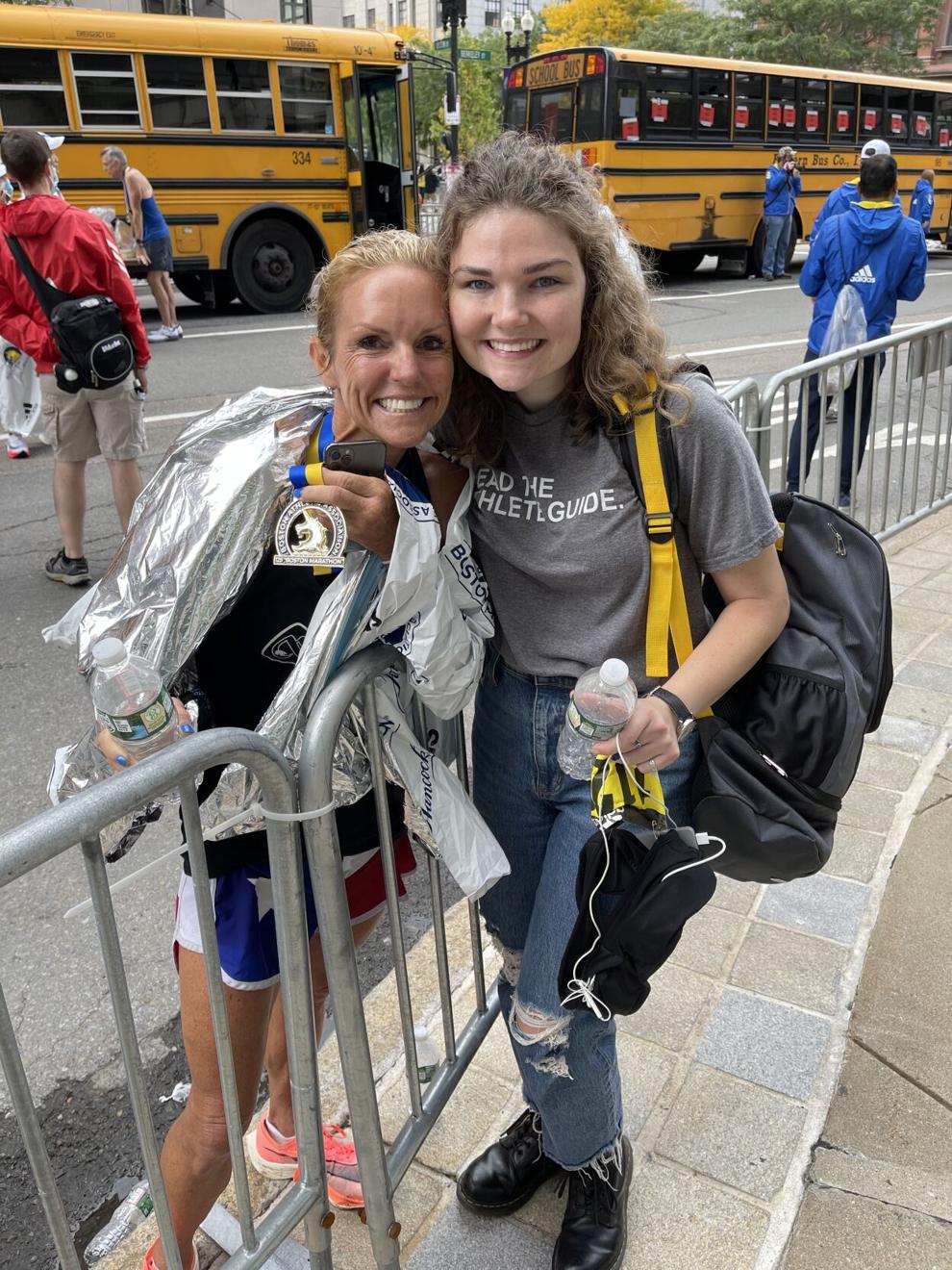 In fact, she'd love to be out among the thousands of competitors for this weekend's Ironman 70.3 and Ironman 140.6 races in Waco. Well, she will be out among them, but not as a racer. She's needed elsewhere, so she's acting as volunteer director for this busy race weekend. It's nothing really new, as she has volunteered her time for years for all kinds of Waco race days, from the Miracle Match Marathon to TriWaco to the Wild West 100. (If you're willing and able to join her small army of volunteers, she could still use your help. Give her a call at 254-405-2518.)
Given her zest for pushing herself, she wishes she could be one of the roughly 20 athletes who plan to pull off a unique Ironman double this weekend.
"I would totally be doing it if I weren't working this deal. I'm totally jealous," she said.
Nancy isn't really complaining, mind you. She considers herself blessed beyond belief following her accident, and so every chance she gets to lace up her running shoes — hell, every breath she takes — she views with gratitude.
"I think that's part of the reason that this past weekend was so euphoric or celebratory for me. It's not just about finishing a couple of races," she said. "It really could have been so much worse, and I'm lucky I'm alive and I just need to celebrate being alive."
Progress is hard. Quitting is easy. The word perseverance requires the introduction of adverse conditions, a "severe" hill to climb.
Here's a thought. When you think about giving up, think of Nancy instead.
"I keep telling all my aid stations that are volunteering this weekend, that's what we want to encourage these people to do, is to not quit, and to keep moving, even though it's really hard and really painful, it will get you there eventually," Goodnight said. "Maybe not as fast as you want to go, maybe faster, who knows. But every step you feel a little bit more triumphant that you're getting closer to your goal, and it makes it a little easier with every one of them."