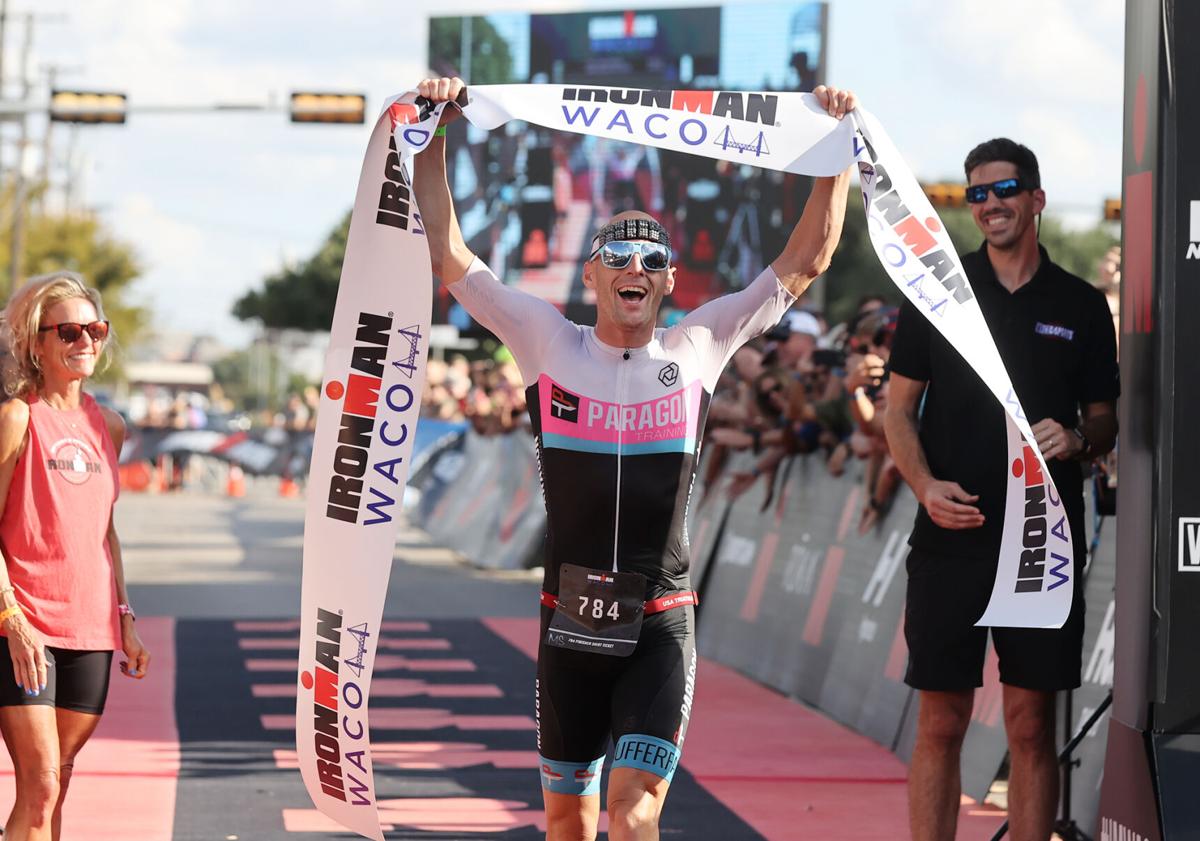 The Ironman is regarded as the most challenging race in the world, so Mark Saroni believes it's counter productive to put too much pressure on himself.
He looked at the inaugural Ironman Waco triathlon like it was a practice day in the Hill Country near his home in San Antonio.
"My mindset going into today was go out there and have a fun bike ride, have a good run, and get good and tired," Saroni said. "I'm pretty tired. So I'd say mission accomplished."
Saroni's approach paid off as he won Ironman Waco with a time of eight hours and 41 minutes on the 140.6-mile course on a warm and breezy Saturday.
The top women's finisher was Jana Richtrova, a native of the Czech Republic who lives in The Woodlands. She finished at 10 hours and 16 minutes.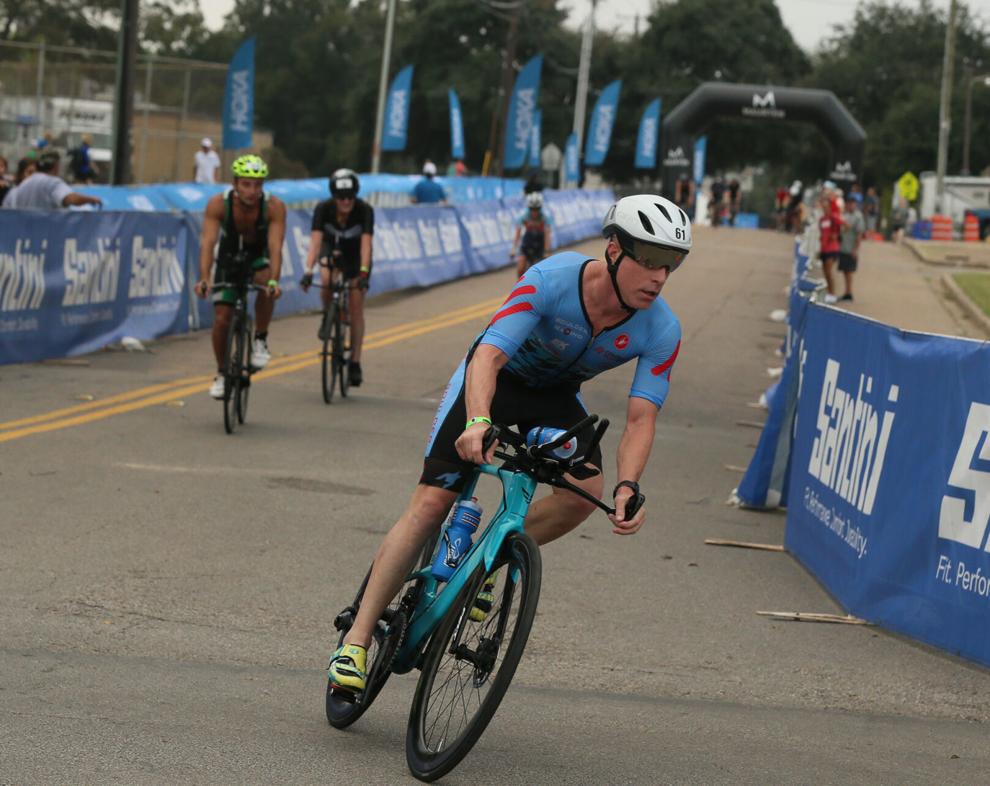 The race began with a 2.4-mile swim in the Brazos River, followed by a 112-mile bicycle ride that went around the countryside and by Lake Waco. The race ended with a 26.2-mile run along the Brazos River that ended on University Parks Drive by Indian Spring Park.
About 900 competitors signed up for the full Ironman, and about 3,300 athletes registered to participate in Ironman 70.3, which is half the distance beginning at 12:30 p.m. Sunday. The 70.3-mile version was held in Waco in 2018 and 2019 before COVID-19 wiped out plans for the 2020 Ironman.
The 32-year-old Saroni, a former cross country runner at the University of Texas-Tyler, won by 30 minutes over second-place Patrick Harfield of the Cayman Islands, who came in at nine hours and 11 minutes. Third-place Yanir Fatal of Israel finished at nine hours and 15 minutes.
Competing in his sixth Ironman, Saroni was among the top five competitors to finish the swim portion in 59 minutes.
"The swim was OK," Saroni said. "My position was good, my time wasn't great. I came out fifth, so I can't complain about that."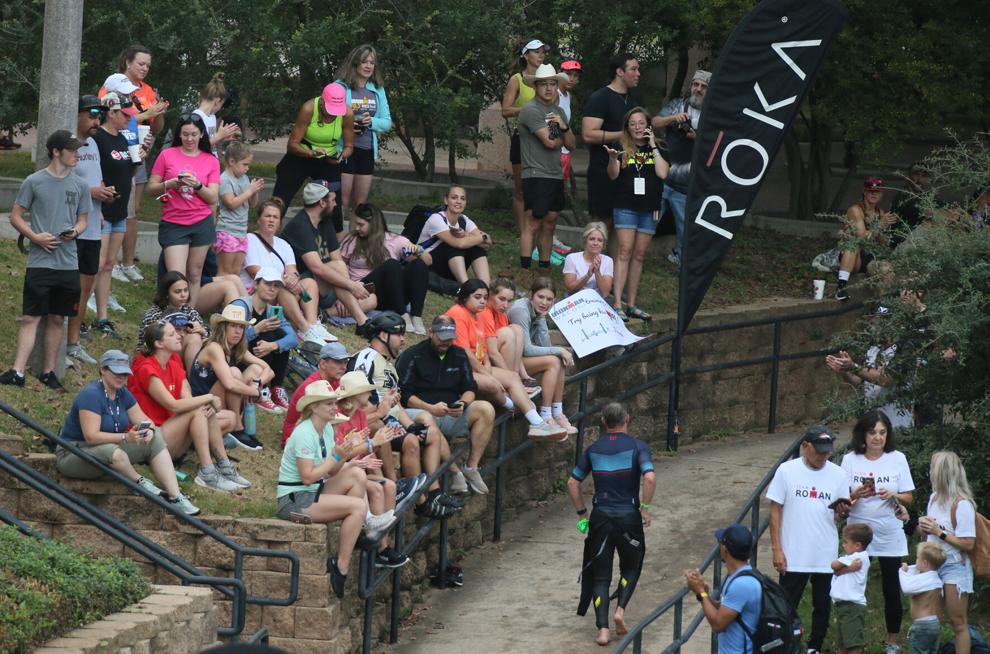 But Saroni took the lead on the bicycle ride as he finished in four hours and 36 minutes, breaking away when another rider's bike failed.
"I had a really strong bike," Saroni said. "Another rider caught me around 95 to 100 (kilometers), and I kind of sat behind him for 20 to 30 (kilometers). I guess his chain blew off around the time I put a surge in. I felt bad for him, but I still had to do the run."
Still with a lot energy in the tank, Saroni completed the run in two hours and 59 minutes. As he crossed the finish line, he wore a big smile as fans and race volunteers cheered him on.
"The run was really good," Saroni said. "I felt solid and smooth. Obviously you get tired at the end, but overall it was the first time that I ran under three hours, so I was really happy with that."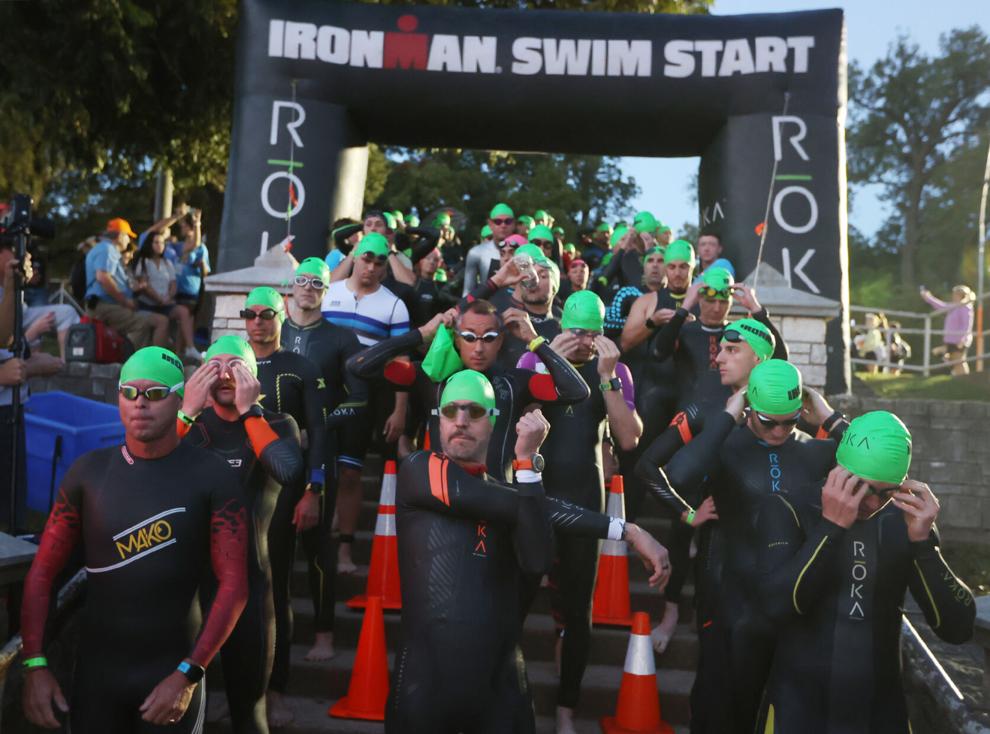 Saroni operates a fitness training company in San Antonio called Paragon Training, and is thrilled when he sees other people reach their fitness goals. His wife, Allison, will run the 70.3-mile race on Sunday.
"I'm just trying to help people get faster," Saroni said. "I'm a big believer that you're never too slow to get faster. I'm just trying to inspire people, get them motivated, and get them out the door."
Richtrova came into the race with an impressive resume since she was the 2019 Ironman world champion in the 35-39 women's age group.
Now competing in the 40 to 44 age group, Richtrova was training for the Kona (Hawaii) Ironman world Championship. But the Oct. 10 race was postponed until February due to COVID-19 travel interruptions.
"I decided to sign up for this one instead," Richtrova said. "It kind of worked out perfectly."
Richtrova completed the swim in an hour and 18 minutes before a strong bike ride that went five hours and eight minutes. She finished off the race with a three-hour, 45-minute run.
"I did my best and got out of the water and on the bike," Richtrova said. "That's where I usually shine. There was a tailwind for about five miles, and the rest of it was a headwind or a tailwind. It made it a tough ride. This was a very tough course. It was super windy and hot, and the run was super challenging with all the holes and bridges."
Richtrova, whose Instagram title is "The Czech Chick," believes she's becoming a stronger triathlete as she's aged because she's learned how to train more effectively and allow her body to recover.
"I keep getting faster and stronger, but it never gets easier because you want to keep going faster," Richtrova said. "You just have to pay more attention to recovery and listen to your body a little more than 10 years ago."