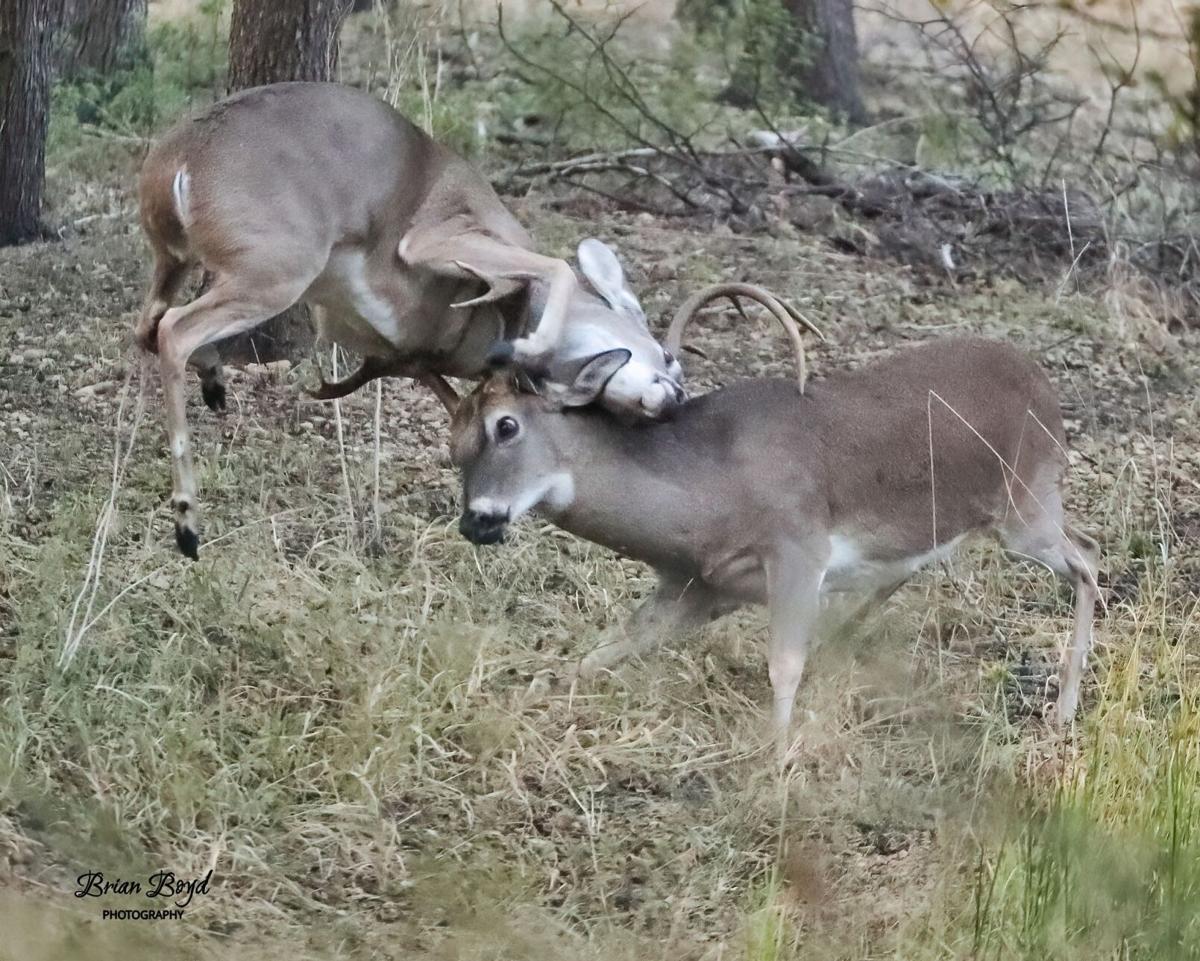 The 2021 deer season started off with a bang — lots of them. And just as predicted, hunters are finding big-horned, big-bodied deer that are going head-first into the rut, or mating season.
Reports and photos of successful hunts came rushing in last week, way more than we have space for in this column, but I hope to share some pictures and stories in the next few weeks. But with all the hopeful signs, things aren't all good in the hunting world.
With traditional hunting grounds turning into housing developments, people selling off their land after generations of ownership, and other factors making leases harder to come by, a growing number of lifelong hunters are scrambling for places to hunt.
So it stands to reason that with an increased demand on a dwindling supply, another issue for hunters is that prices on available leases are rising, making an already expensive sport even more pricey. Long-gone are the days of heading out to the blind at 5 in the morning with grandpa and some cousins to set up for a Thanksgiving morning hunt.
Add to those sad facts a new development reported by veterinarians at Penn State University, who have found that at least 3 in 10 deer tested in Iowa last year had active CVOID-19 infections, suggesting that white-tailed deer could be what's known as a reservoir for the disease, carrying it and potentially spreading it back to humans. By the beginning of this year, that number had surged to 80% of deer testing positive.
Researchers in Ohio have also reported positive cases in deer, and wildlife biologists in Texas and other states are testing both captive-bred and wild deer for the disease. Even more than ever, wildlife and medical experts recommend wearing gloves and other protective gear when handling and processing wildlife.
But bad news doesn't mean folks should just pack up and quit. Despite these troubling trends and turns of events, hunting is a tradition that will find a way to carry on. There are public hunting options for people looking for places to hunt, there's a history of success in treating wildlife with vaccines and medications through baits and other methods, and solutions to other issues can be pursued. Plus, a well-prepared meal centered on wild game is hard to beat, and that's motivation enough for a lot of folks to turn the trends around.
Competing seasons
Cold mornings and warm afternoons can make it seem like we're living in two different seasons at the same time, and fish populations are going through the same things, trying to figure out which feeding and behavior pattern to settle into.
Catfishing legend Danny King says that being adaptable is the key to catching fish these days.
"Well, here comes Mr. Winter, and the fish don't know whether to stay deep or to go shallow," King said. "I've fished for the past few days, and one morning I caught a 30-pounder from the bank in about twelve feet of water, and later on caught a bunch of three to six pounders in two feet of water."
King says the shad have been solid around the shoreline, adding that they were so thick, he could reach out and slap the water and knock some bait fish onto the bank. As usual, his bait of choice is his own Danny King's Catfish Punch Bait.
Long-time Tribune-Herald outdoors contributor and pro striper guide Clay Yadon (Reel Deal Striper Guide Service) is also working to figure out what the fish are up to, and he has been busy chasing big schools of striped bass around Lake Whitney with the help of some friends.
"The gulls are migrating in along with the cold fronts," Yadon said, "and they're excellent indicators of where the fish are feeding. The summer heat has finally broken, and as the water cools off, the fish are becoming more and more active."
This is the time of year when fish are building up body fat to get them through the winter and give them energy for the spring spawning season. "We had a tremendous shad hatch," said Yadon, "the best I've seen in years. The fish are fattening themselves up on all the shad and will be building eggs and taking in as many calories as they can."
It's also the time of year when sound travels through the increasingly dense water more efficiently, meaning that stealth will be required more and more. "When you see a school of feeding fish, blasting into it with your big motor running will not only scatter the fish, but it'll also make everybody else mad who's fishing that same school," Yadon said. "Approach from upwind and come in with the trolling motor making long casts."
Recently, he's been catching fish on live bait, topwaters, and swim baits. Get a bait in front of them and they'll eat it.
There is superstition
Some people are more superstitious than others. I've known sports fans who would wear the same hat on game day, sit in the same seat, eat the same meal and so on, thinking that their wardrobe, seating location and what they ate somehow affected their favorite team's performance.
I've also known a number of athletes who laugh their butts off thinking about fans like that. But you can't convince my cousin Jimmy that his worn-out easy chair has zero impact on the outcome of the Cowboys game.
A lot of hunters and anglers have a lucky hat or shirt and when you're the one participating in the activity anything that adds a little confidence booster can't be a bad thing, and I find myself dipping my toes in Lake Superstition every once in a while. For example, when there's a lull in the fishing action, I hum or sing a particular song that seems to bring the fish back to the feed trough.
But most of the time I realize that superstitions are a waste of time. That's why last Sunday evening, after I had written about a particular skunk encounter with my pack of dogs a number of years ago, I didn't believe my column had anything to do with the skunk that showed up at our place and threatened to make me mix up that batch of skunk remedy I had talked about.
It took some doing, and I was thankful for all the work we've done with our current set of dogs about listening to our commands instead giving in to their natural drive to chase prey, but they all came home smelling as good as a dog can.
But just in case there is something to superstition, I'm now thinking about a million dollars.