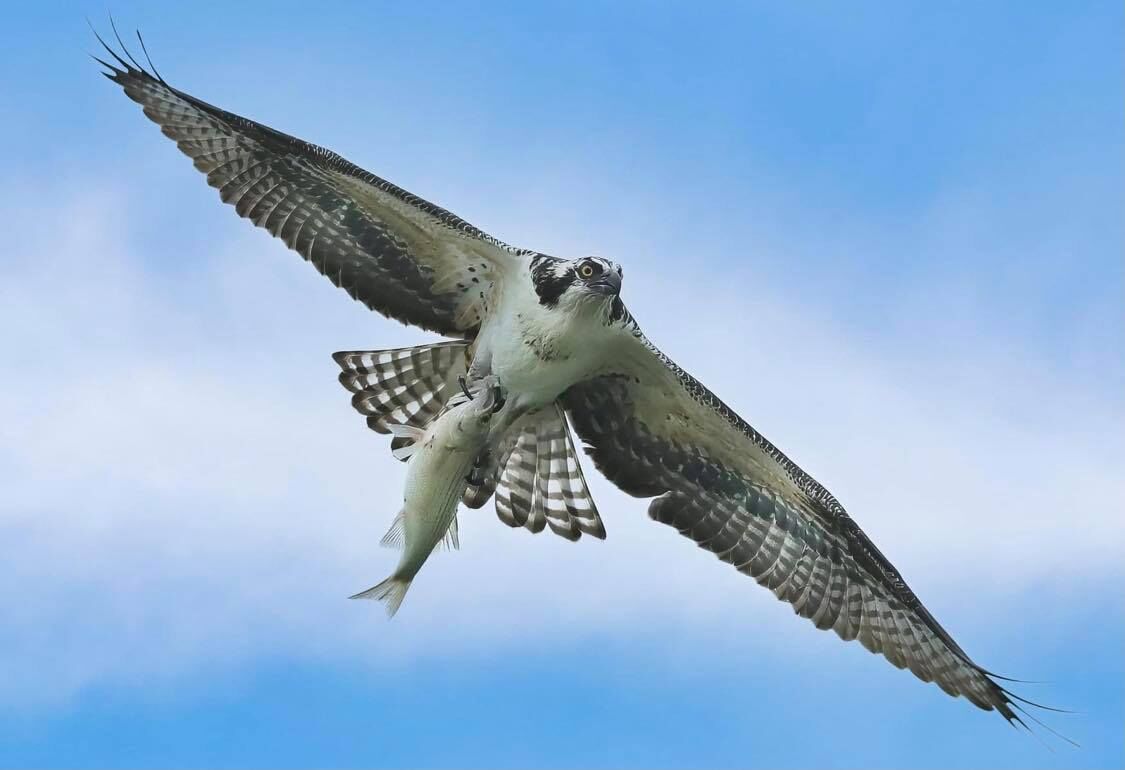 Almost everybody has some kind of cellular device these days, and even a flip phone can distract you long enough to miss something amazing that's happening right in front of you.
Don't get me wrong, I keep my phone nearby almost all the time. I use it to find out stuff that I can't figure out, check the weather radar to make sure I'm not going to be caught in a storm, take pictures and videos of my latest big bass, listen to my favorite songs, and to keep in touch with friends and family.
But despite all the things I like about having that technological power, I still prefer to look around at my surroundings instead of staring at a screen, and Central Texas offers amazing things to look at — usually within a few minutes' drive from wherever you are.
Lake Waco is home to a wide variety of fish and wildlife, including both predator and prey species that interact daily, but a lot of people don't take the time to slow down and look around long enough to see it. It's not like going to the zoo, where the animals are put out into the exhibits every day for folks to walk by and look at. To see real life-and-death encounters and other National Geographic moments, you have to be out there and focusing on what's around you.
Sometimes, you get lucky and see something like a mayfly drop from a tree limb into the water and instantly get smashed by a waiting sunfish. Maybe a snake is having a frog for lunch next to a lily pad. And if you're really fortunate, you can see an osprey or bald eagle crash the water's surface from above and come out with an unlucky fish that was swimming too close to the sun.
There are plenty of places around the lake to set up a chair and blend into the scenery, but most people don't have to even leave their neighborhood to find wildlife. There are plenty of creatures living in town, including squirrels, rabbits, snakes, foxes, raccoons, opossums, armadillos, skunks and even a few bobcats and coyotes. Many of these animals are nocturnal, so they do most of their business while people are sleeping.
Backyard feeders are good ways to draw birds and wildlife into viewing range, and even something as simple as tossing out some wild bird seed can bring a variety of creatures in to take a free meal.
Whether you're sitting on the shoreline watching the wind blow lapping waves into the rocks, or perched on a backyard swing while doves and cardinals peck at the seeds on the ground, getting outside and shifting into low gear will do more good for your state of mind than all the self-help gurus you can stuff into a Volkswagen.
Striper patterns changing
Lake Whitney striper guide Clay Yadon (Reel Deal Striper Guide Service) reports that cooling water temperatures have shifted striper behavior patterns, but he's still catching limits and burning through roughly 125 shad per trip in the process.
"We're catching tons of fish," he said. "Nothing giant, but we're putting plenty of keepers in the box every day. The shorter daylight hours are helping cool off the water and I expect bigger fish to start showing up as the temperature drops some more."
He says the fish are schooling up, but they're on the move. "We'll get on a school and catch some fish, then they'll be gone," said Yadon. "I've been just setting up over a hump or channel and wait for them. They come through in waves and as a school passes by, we'll pick off as many as we can before they move on."
Stripers can also be found surface schooling this time of year, and if you think catching a largemouth bass on a topwater bait is exciting, you should try it with a 15-pound striper.
Dreams coming true
I grew up in a time when a lot of people kept a metal Folgers Coffee can on the stove and poured their bacon grease into it for the next time they needed some greasy goodness in a recipe. It was also a time when lots of folks took kids fishing.
Those weren't perfect times, but I grew up loving bacon and fishing, so I was pretty happy. I still keep leftover bacon grease (I use a screw-top canning jar) and know plenty of people who still take kids fishing, so the good old days are still here for me.
One of those people is Jimmy Bennett, founder of JMB Fishing Foundation, and Bennett has made a name for himself by promoting the outdoors and helping kids who are in need of some good days in their lives.
This week, Bennett will pick up a family from Kansas City that's flying into Texas. The son had a brain tumor removed last year and is still getting through some issues, and his two dreams in life are going hunting and riding in a race car.
Both of those things are going to happen during their trip to the Lone Star State, as he'll accompany Bennett to Tommy Honey's Central Texas ranch on a ram-hunting trip or two, followed by some laps this Saturday night at the dirt track races in Elm Mott.
I imagine that if you keep tuning in to the Tribune-Herald outdoors column, you'll see a picture or two of Brennan and Bennett and their adventures.