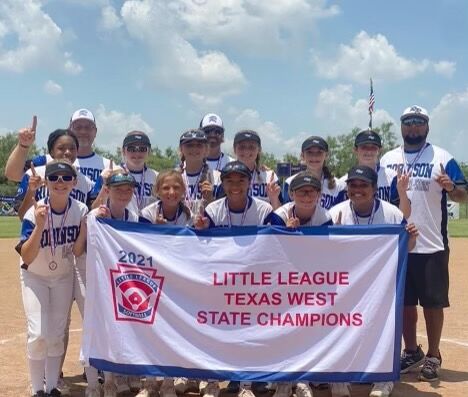 The Robinson Little League All Stars put it all together in their opener at the Southwest Region softball tournament.
Robinson got timely hits, a gem in the circle from pitcher Raelynn Van Zee and sparkling defensive plays as it defeated Texas East representative Ganado, 6-0, on Monday afternoon at the Southwest Region Little League Complex.
Van Zee struck out three and held Ganado to one hit in a complete-game shutout. She also scored the go-ahead run in the bottom of the first and added an RBI to start a five-run rally in the fourth.
Fittingly, Robinson shortstop Lexi Rosillo closed it out with a diving catch of a line drive and then picked off a runner at third base for a game-ending double play.
With the victory, Robinson moves on in the winner's bracket final of the tournament to face the Oklahoma representative at 10 a.m. on Wednesday back at the Southwest Region Little League Complex. All of the tournament games are being televised on ESPN channels or ESPN-Plus.
Because there will be no international teams in the Little League World Series this year due to COVID-19 protocols, the champion and the runner-up from the Southwest Region advance to the Little League World Series. Robinson needs just one more win to make the championship round and clinch a World Series berth.
Van Zee was Robinson's first base runners in the bottom of the first inning after she drew a one-out walk. Addison Young followed by hitting a fly ball to center field, which was dropped by the Texas East centerfielder. That allowed Van Zee to motor home for the go-ahead run.
The Robinson pitcher retired the first eight Texas East batters in order. Then, after surrendering a two-out walk in the third, Van Zeen sat down another seven in a row.
The Central Texas softball all-star squad padded its lead with a five-run inning in the bottom of the fourth. Brenleigh Robinson led off with a single to left. After Van Zee drove in a run with a single to shortstop, Young produced the key hit of the rally. She smacked a single to left field that brought home Haven Hansen and Rosillo. Peyton Richardson added an RBI single to left that scored Young.
Van Zee followed up the rally by retiring Ganado in order in the top of the fifth.
Ganado's Kalyn Benavides tripled to start the top of the sixth. But Van Zee was unfazed. She struck out the next batter, setting up Rosillo's double play to seal the victory.