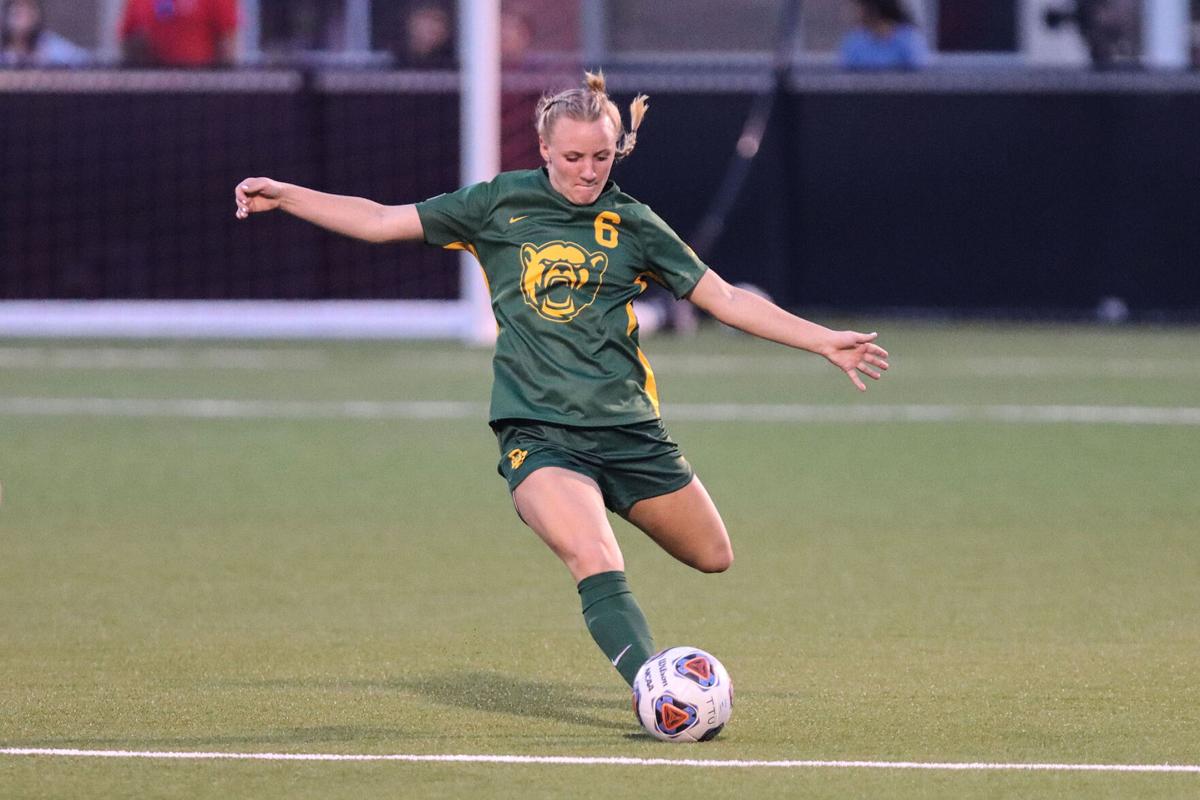 Kayley Ables was the most prolific scorer in Waco High soccer history, recording an astounding 100 goals in three seasons for the Lady Lions.
So after her first few days of Baylor preseason camp in the summer of 2018, she naturally began walking toward the offensive end of the field when coach Paul Jobson split his team into groups.
But Jobson stopped Ables in her tracks.
"Hey Kayley," Jobson said. "Go with the defenders."
Ables didn't question Jobson's decision. She just put her head down and began playing with the same aggressiveness and focus that made her a great scorer in high school.
For the last three seasons, Ables has developed into one of the best defenders in the Big 12. Ables was twice named the league's defender of the week after the Bears recorded scoreless double-overtime ties against TCU and Texas Tech in the first two games of the 2020 season.
"One of the reasons we recruited Kayley is because she had such a tough mentality and we knew that would slide really well into how we play defense," Jobson said. "We knew she could shore up some critical defensive strategies and defensive abilities. She also had the willingness to do whatever it was the team needed done."
With her braided blond hair flying, the 5-foot-5 Ables never stops moving on the soccer field. She estimates that she runs seven miles during the course of a game.
That's the kind of effort it took to shut down Texas Tech All-American Kirsten Davis earlier this season or any of the other top Big 12 scorers.
"Actually, I don't miss scoring," Ables said. "I like where I play and the pride that comes with it. Scoring is more of an objective stat, but I like stopping plays as well. To see opposing teams have a lot of shots and no goals means we're doing something right."
With a young squad featuring 14 freshmen, Baylor has been offensively challenged this season, scoring just one goal in four games. They dropped a 2-1 decision to Iowa State while recording three double-overtime scoreless ties.
Ables is so dependable on the back line that Jobson has kept her there instead of switching her back to offense. Her value as a defender has been apparent since her freshman season.
"Honestly looking back on it, we had a need," Jobson said. "We kind of had a hole in our back line, and we needed somebody to fill it. We thought Kayley could be the short term solution for that with every intention after that to move her up the field. You've got somebody who locks into a position so well it became really difficult to move her out of that position."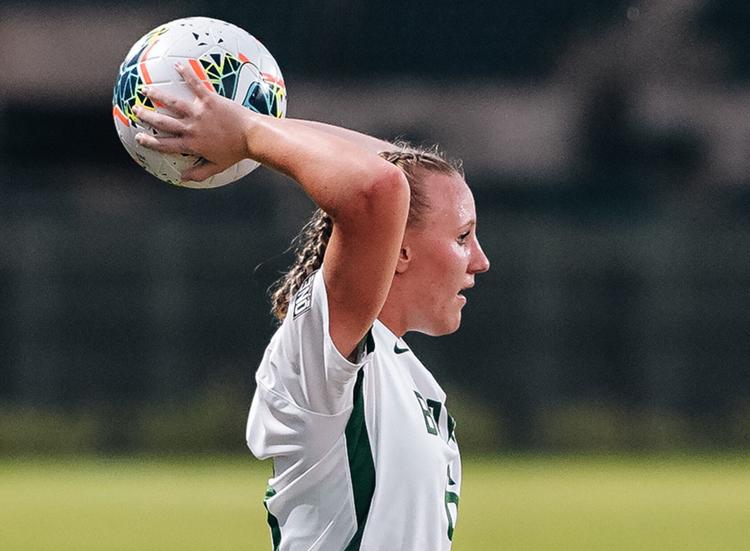 With the experience Ables has gained over three seasons, Baylor freshman midfielders Sarah Hornyak and Chloe Japic have leaned on her for advice. Sophomore defender Tara Sumer gains comfort from playing with Ables.
"She is one of the most talented players I've been around," Sumer said. "She is a warrior on the field and will sacrifice anything for her teammates. We play the same spot on the left side outside back. I've been able to learn a lot from her and the way she plays and the way she carries herself on the field and pushes herself for every game. She's really taken me under her wing and guides me in the right direction."
Ables began playing soccer when she was 9 years old, but was also a multi-sport athlete who participated in gymnastics, volleyball and track.
"I dipped my toes into everything," Ables said. "I don't really like running that much, which is a weird contradiction because I run a lot. I can run seven miles in a game, but if a coach said to run one mile I would probably lose it."
Ables starred for the Waco High soccer team since her freshman year in 2015 as was named the Tribune-Herald's Super Centex newcomer of the year after scoring 29 goals.
As a sophomore in 2016, Ables was the Super Centex player of the year as she erupted for 45 goals for a Waco High team that won 20 games and captured its first district championship in seven years. Ables was nicknamed the Beast because nobody could stop her.
It was also during her sophomore year that she committed to Baylor, and her Christian faith was a major factor. She talked to both Paul Jobson and his wife, Marci, who had formerly been Baylor's head soccer coach before she stepped aside to focus on raising their children.
"It was not a hard decision," Ables said. "I had talked to the Baylor coaches before, and I was sure that was where I wanted to go. I knew the program was different, and the culture at Baylor is important to me. Marci said that you don't have to be a Christian to be here, but it's a big part of what we do. She said if you're a Christian wear that badge wherever you go."
Beginning in her junior high years, Ables played select soccer in the Dallas area. Playing for the Solar organization, she improved her skills and expanded her knowledge of the game against high level competition.
After a superb junior year at Waco High, Ables played select soccer throughout her senior year.
"Select soccer very much sped up my development," Ables said. "I was introduced to a lot of different coaching styles, and I learned multiple styles of play. I was able to take something from every coach."
When she arrived at Baylor in the summer of 2018, Ables quickly learned that NCAA Division I soccer demanded an even higher level of play.
Joining a veteran team that included All-American Julie James and all-Big 12 defender Sarah King, Ables helped the Bears win the Big 12 championship and advance to the Elite Eight of the NCAA tournament.
"That team had so many seniors who helped me in so many different ways," Ables said. "Julie James set a great example and Sarah King helped me a lot as a defender. Coming in as a freshman I knew we were really good, and there was pressure in some ways but it made you want to step up."
After the Bears struggled through an injury-plagued 2019 season, the Baylor campus shut down in March due to the pandemic. Ables stayed in shape by running both short and long distances, which has paid off since Baylor's first four games have gone into double-overtime.
Though Baylor is playing a shortened nine-game Big 12-only schedule, Ables is excited that she's still getting a shot to play. Her teammates feed off her passion for the game.
"She's just a spark of energy," said Baylor senior midfielder Ally Henderson. "I mean she's someone who is dependable on and off the field. She has so much experience to pour into the freshmen playing on the back line with her. She really loves God, you can see that just in the way she lives and the way that she plays and the way she treats people."
Be the first to know
Get local news delivered to your inbox!