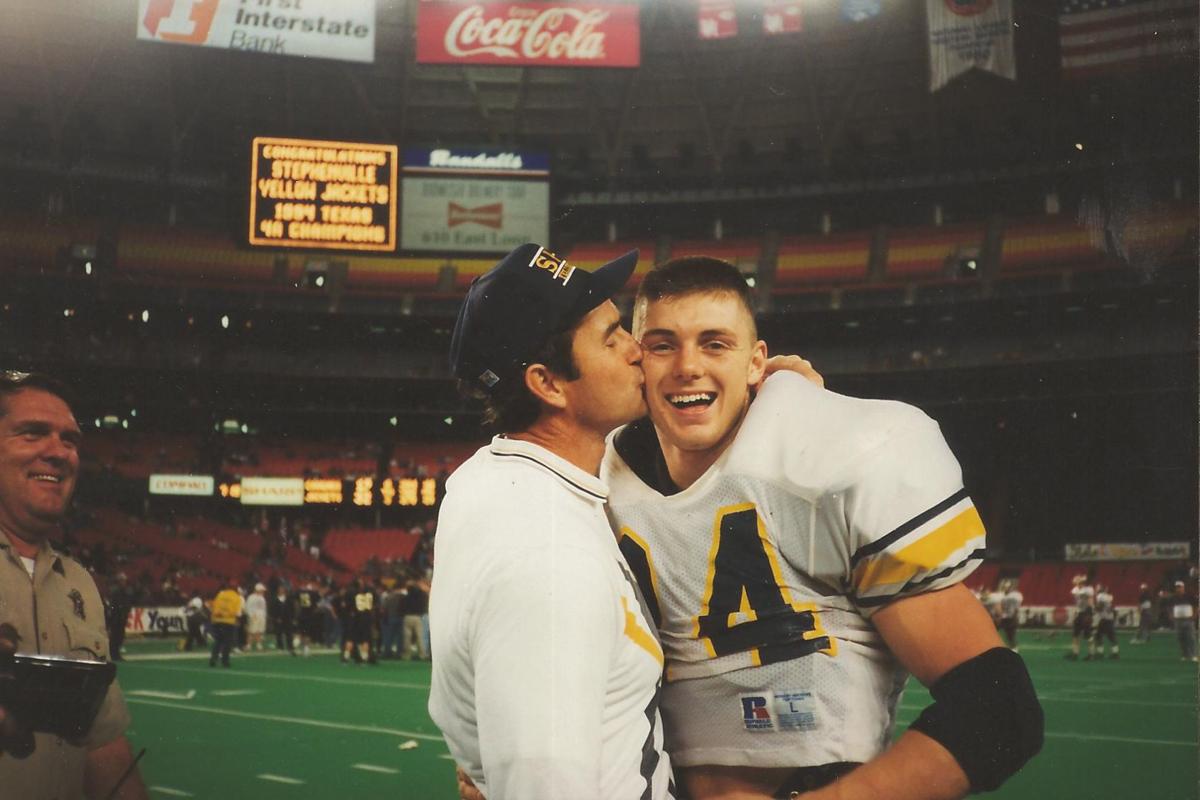 When Stephenville won its first two Class 4A state championships in the early 1990s, there wasn't a more versatile player on the field than Jason Bragg.
Bragg was highly regarded as a safety for the Yellow Jackets' 1993-94 championship teams, but he also excelled at wide receiver, running back, outside linebacker and cornerback, and even ran a few plays at quarterback during his high school career.
If that wasn't enough, he also punted and returned kicks. As a senior, he was named USA Today's Texas high school football player of the year.
"I was so young and excited to be out there that I'd play every down if they let me," Bragg said. "High school football in Texas is unbelievably special. There were very few games at Texas A&M that I got as excited about playing as much as high school."
When Bragg got the news that he would be inducted into the Texas High School Football Hall of Fame on May 4, he was elated because the guys he played with during those years were so special to him.
"Thirteen guys from that 1994 team ended up playing college football somewhere," Bragg said. "We had such a great group of guys. We were like a group of brothers taking care of each other."
Stephenville had never won a state championship before Art Briles arrived there in 1988, and Bragg remembered how excited everybody was when the Yellow Jackets tied high school powerhouse Brownwood.
"We had been Brownwood's whuppin' dog for a long time," Bragg said. "Briles got there and tied Brownwood in the late 1980s, and that was almost as big a deal as winning state. I think I was as amped up for that game as any."
Bragg was called up to varsity during the middle of his sophomore year in 1992 to play cornerback. After a playoff appearance that season, the Yellow Jackets won their first state championship the following year.
One of the most memorable plays came in the state semifinals against Waxahachie when Bragg caught a 50-yard touchdown pass from Branndon Stewart late in the fourth quarter.
"Coach Briles had a play named 'Gun Gold Right, 500 Fly,'" Bragg said. "Stewart called it and I just had to get down the field. The safety came up and the next thing I knew the ball was in the air and I caught it and I was running into the end zone. On the next play, I caught a two-point conversion pass that put us back up 22-21."
The Yellow Jackets held on for that win and then beat La Marque, 26-13, for the state championship the following week.
With Bragg playing a major role, Stephenville repeated as state champions in 1994. After Stewart signed with Texas A&M, Glenn Odell took over as quarterback, but Bragg was often the guy the Yellow Jackets looked for to deliver the big plays.
Bragg made all-state for the second straight year as he intercepted eight passes and collected 61 solo tackles on defense while carrying the ball 97 times for 1,030 yards and 25 touchdowns and making 31 catches for 438 yards and eight touchdowns for the Yellow Jackets' offense.
One of his biggest games came against Brownwood as he rushed for 232 yards on just 10 carries, including breakaway touchdown runs of 60 and 67 yards.
The Yellow Jackets went on to win their 32nd straight game and second straight state championship over La Marque with Bragg sealing the 32-17 win with a 32-yard touchdown run.
Bragg went on to play at Texas A&M, but his career was cut short in his third year because of concussion issues. He now works in the title insurance business and lives in Salado with his family that includes three children.
As much as his 50-yard touchdown pass is remembered in Stephenville, he didn't watch the replay in the week following the game as he focused his attention on an injury that he had to recover from as the Yellow Jackets prepared for the state championship.
A few years ago, he finally saw the tape when he went back to Stephenville to speak at a United Way event.
"I hurt my knee during that game and I could feel it down to the bone," Bragg said. "So I never watched the Waxahachie game through high school and college. Then at the United Way function a few years ago, a lady gave me a copy of the game. I finally sat down and watched it. Stewart threw a little bit of a rocket 45 yards in the air and I just had to catch the ball and run for the touchdown. It was like one of those dreams."
These days, a lot of people like to talk about how hard they work.
At a recent NFL event in New Jersey, Ken Houston found himself sitting next to his friend "Mean" Joe Greene. Houston was wearing the Pro Footb…
Coahoma, Texas, is a small town of less than a thousand people sitting on Interstate 20, midway between Big Spring and Colorado City. The Dair…
To this day, more than 35 years later, the 1983 Daingerfield team is still spoken about with reverential tones in East Texas.
Few people have been more integral to Waco sports history than Ken Casner.
During the 27 years he spent at Fox Sports Southwest, Jon Heidtke helped oversee coverage of all manner of sports, from the NBA to Major Leagu…
Eighteen out of 22. That's the record of Scott Phillips, Texas high school football coach. In 22 years of coaching, he took his teams to the p…
As 34-year-old Adrian Peterson prepares for his 13th NFL season, his nickname "All Day" becomes more and more fitting with each sunrise.