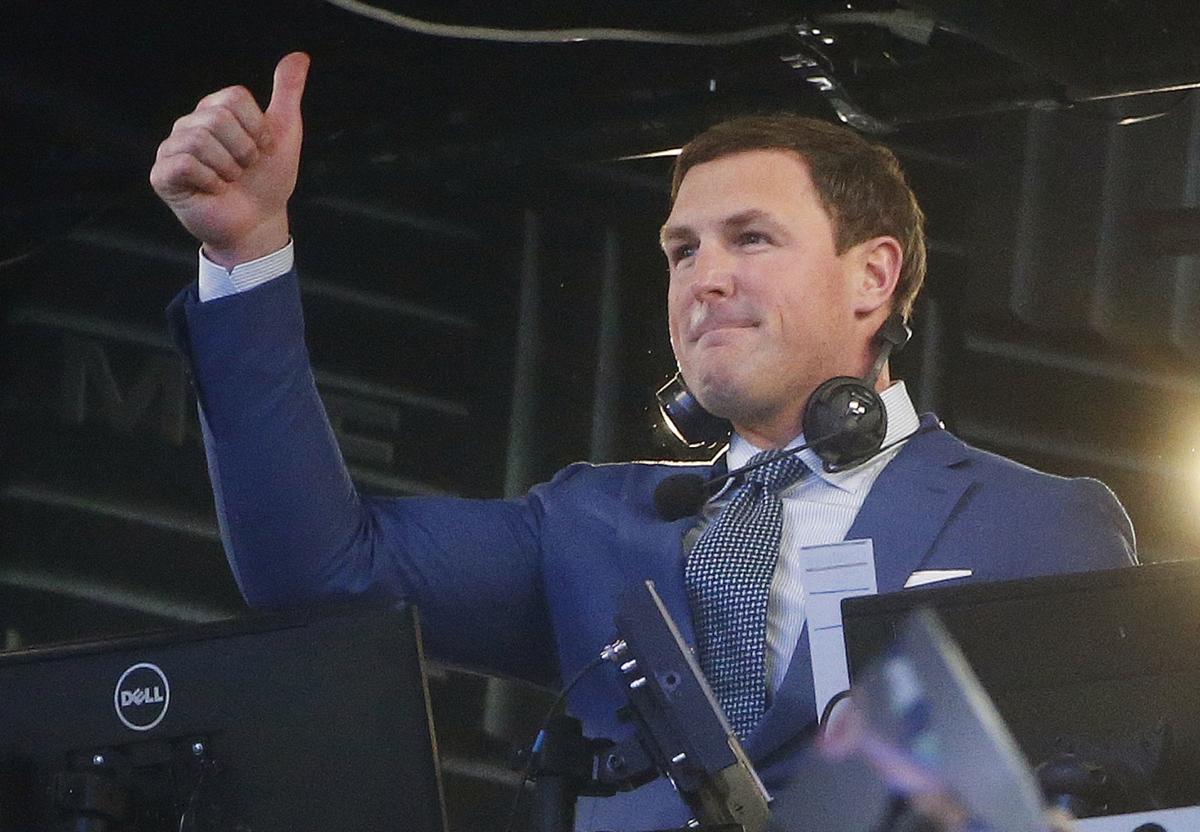 Every once in a while, sports fans get a glimpse, during the heat of battle, into their hero's soul.
It happens when a dehydrated and exhausted Michael Jordan shakes off flu symptoms to score 38 points in Game 5 of the NBA Finals, or when 46-year-old Nolan Ryan teaches the White Sox' Robin Ventura what happens to a young'un when he charge the mound against a legend.
And it happened on a fateful night in November of 2007 in Philadelphia. The Dallas Cowboys were leading the Eagles, 35-10, and driving toward midfield when Dallas quarterback Tony Romo threw over the middle to tight end Jason Witten.
Never one to flinch in traffic, Witten caught the pass despite the fact that Eagles defenders Quintin Mikell and Will Peterson were closing in on him at a high rate of speed. Mikell launched himself into a helmet-to-helmet hit on the Cowboys' tight end. Witten caught the ball and absorbed the shot from Mikell in one motion, then Peterson peeled off Witten's helmet.
But the Dallas tight end didn't go down. He merely looked around for open space and accelerated down field. Cowboys fans got to see the determined look in Witten's eyes, unobstructed by his head gear.
"Lost his helmet and keeps running! Without a hat!" Dallas play-by-play announcer Brad Sham exclaimed on the radio broadcast. "Don't take a man's hat!"
Witten, who will be inducted into the Texas Sports Hall of Fame as part of the seven-member Class of 2019 on March 30, set a long list of Cowboys records. Among them, he played in more games and caught more passes for more yards than anyone in the history of America's Team.
Yet it's not difficult to pick a play that defines Witten.
"I think that play was my career," Witten said in an interview with the Tribune-Herald last week. "Was there anything spectacular in there? No, not really. You kind of get hit from two different guys. It was a big clutch catch and you didn't blink. You just keep going at it."
By the time the Eagles tackled the helmet-less Dallas tight end, he had gained 53 yards and reached the Philadelphia 6-yard line. Six plays later, the Cowboys settled for a field goal, which helped them defeat the Eagles, 38-17.
The play and the win over Philly helped Dallas gain momentum on the way to a 13-3 regular season and the NFC East title. It was Witten's 297th reception on his way to 1,152 catches by the end of the 2017 season.
But it's the one that will never be left out of a Witten highlight reel.
"The thing about the Philadelphia play is that it totally encapsulated everything about him," Sham said. "His football ability as well as his refusal to be defeated."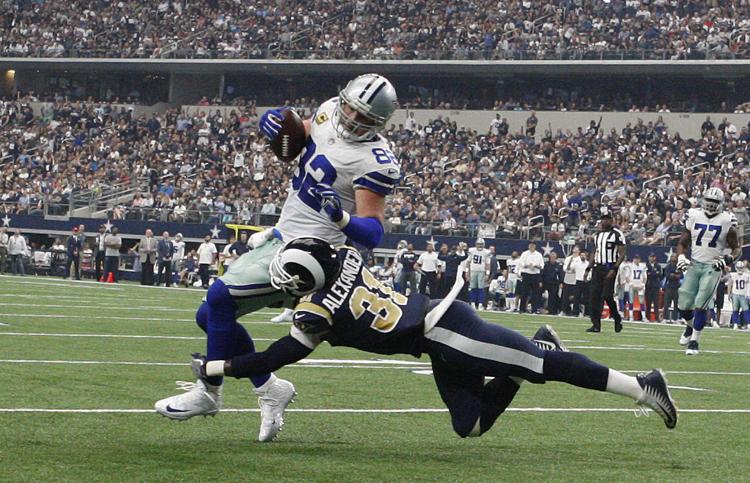 Witten took Cowboys' fans breath away again last spring when he announced he was retiring in order to move to the broadcast booth. But this time, Dallas supporters were left with lumps in their throats instead of triumphant cheers.
Sham, a member of the Texas Sports Hall of Fame selection committee, saw an opportunity to celebrate Witten's career while the tight end's achievements were still fresh on the minds of football fans.
"I love it when, if we have someone that's clearly deserving, that you put that person in first before others do," Sham said. "He was going to be in at some point, so it seemed to me the first opportunity and I'm glad it worked out."
But when Witten enters the Texas shrine, it won't be as a retired player.
Last week, one day after speaking with the Tribune-Herald for this story, the Cowboys re-signed their all-time receiving leader to a one-year contract.
"The fire inside of me to compete and play this game is just burning too strong," Witten said in a statement published on DallasCowboys.com. "This team has a great group of rising young stars, and I want to help them make a run at a championship. This was completely my decision, and I am very comfortable with it. I'm looking forward to getting back in the dirt."
Dallas certainly knows what it's getting back with Witten.
The club drafted the tight end out of Tennessee in the third round 2003. From the beginning and for the next 15 seasons, Witten proved to be a model of consistency. He played in 15 games as a rookie, making 35 catches for 347 yards, which was enough to convince the Cowboys. Witten didn't miss a game for the next 14 seasons as he piled up 11 Pro Bowls and 2 First-Team All-Pro honors.
In 2012, Witten won the prestigious Walter Payton NFL Man of the Year Award, which recognizes one player each year for his volunteer and charity work off the field along with his excellence on it.
Sham said Witten's induction to the Texas Sports Hall of Fame shows how much Texans appreciate his character along with his longevity and achievements.
Cowboys owner Jerry Jones said Witten is a rarity as a man and a player.
"His career accomplishments are worthy for induction into the Pro Football Hall of Fame, and we are thrilled to have him back in 2019 where he will add to his resume on the field," Jones said. "I've said many times, he is among the top five persons that I have ever come into contact with in my 30 years in the NFL. That includes players, coaches, commissioners and executives from all walks of life. We are grateful to have him as a very important part of Cowboys history."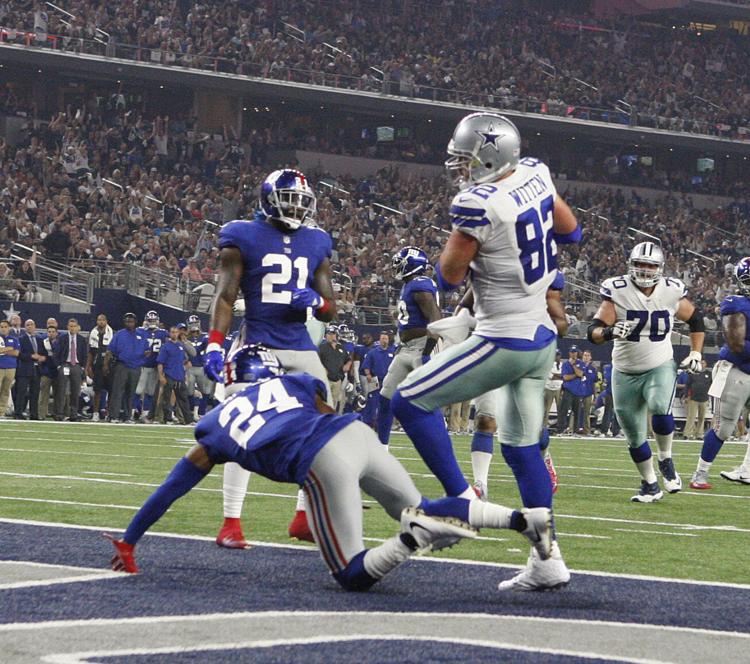 All of that is easy to see now that Witten is preparing for his 16th NFL season. But his core values were there at the start and played an integral role in helping him transition to pro football.
Witten decided that, win or lose, through success or failure, he was going to work hard and treat others like he would want to be treated.
"I'm going to be humble, I'm going to be accountable, do it with a smile on my face, make other people around me better," Witten said. "From the beginning, that's just the way I tried to approach it. I think that's why I was able to be embraced in this community the way I was in Texas and Cowboys nation."
The only thing missing from Witten's time in Dallas is a Super Bowl.
Quarterback Dak Prescott, running back Ezekiel Elliott and a young and improving Cowboys defense led the team to the NFC East championship last season. It appears that most of the key pieces that made Dallas successful in the second half of the 2018 campaign are back in place.
So will the newest Cowboy member of the Texas Sports Hall of Fame also be the piece that takes Dallas back to ultimate glory?
"I think they all feel an urgency to try to win now," Sham said. "I do think that (Witten) would not have come back if he didn't feel that they could win now. I think they probably said, 'Well, wait, with Jason Witten or without Jason Witten? Well, you're better with Jason Witten. You're always better with Jason Witten.' "
Be the first to know
Get local news delivered to your inbox!