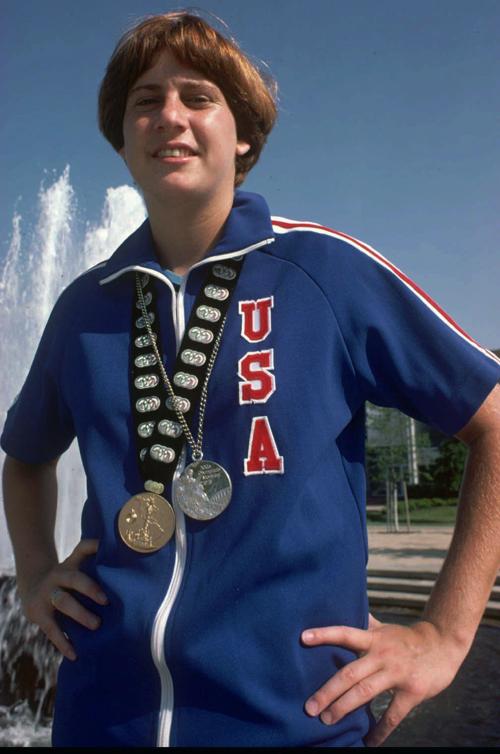 A long time before the Connecticut Huskies and Baylor Lady Bears climbed to the top of the mountain of women's college basketball, before the Tennessee Lady Vols or Louisiana Tech Lady Techsters dominated the game, and before there was a WNBA there was a kid from Queens, New York, who could play some ball.
Before women had their own NCAA Basketball Tournament Selection Show, before the NCAA even oversaw the women's game, that kid took a shot at basketball glory.
Nancy Lieberman, who grew up playing hoops in New York schoolyards and the basketball Mecca of Rucker Park, showed up at Queens College with friends at a talent search for no less than Team USA.
"It was almost like 'America's Got Talent,'" Lieberman said. "They pin a number on you and you play throughout the day. And at the end of the camp, there I was."
Lieberman was 15 years old when she tried out in 1974 at Queens College, one of four regional sites across the country tasked with finding players. She was chosen from among 250 to travel to the next stage in Albuquerque, N.M.
Since then, Lieberman has been drafted and played in multiple pro leagues, both in the women's and men's game. She's become a household name for her skills on the court and as a TV analyst. She's broken the glass ceiling in becoming a head coach for men's pro teams.
And, somewhere along the way, the hoops star from Queens became a Texan. Lieberman will be inducted into the Texas Sports Hall of Fame on Saturday as part of the seven-member Class of 2019.
"I wasn't born here. I chose Texas," Lieberman said. "After I was drafted (by the Dallas Diamonds of the Women's American Basketball Association in 1980), I chose to stay here because I love the people, the community. For someone to be here for 39 years — and I'm a proud New Yorker — this place grew me up. It took me from a 22-year-old, where I was just kind of formulating the path of my career, and this city put their arms around me and nurtured me into a professional."
Lieberman arrived in Dallas as a hoops star and that has a lot to do with her status as a basketball prodigy.
When the girl from New York traveled to New Mexico to test her game against the country's best, she made an impression.
Former Cal State Fullerton and UCLA coach Billie Jean Moore noticed and spoke up for the high schooler that made it to the final stage of tryouts.
"They were in the room during selections and everybody was sitting around," Lieberman said. "And Billie says, 'Let's pick the last spot for the future of the game. We can put a really good player on the team, but if they don't play, they're going to complain. Let's do something smart, let's pick the 12th spot, you know they're not going to play that much, but let's pick it for the future of the game.' I was selected and I think it turned out ok, right? I'm grateful to Billie Moore for giving me that opportunity."
Lieberman went on to win a gold medal in the Pan American Games in 1975 and a silver in the Montreal Olympics in 1976, both before she had even started her college career.
Having already earned plenty of street cred in basketball, Lieberman then chose to pick a college she could put on the map. She picked Old Dominion, a program that had never won more than 16 games in its seven seasons of existence when Lieberman stepped on campus.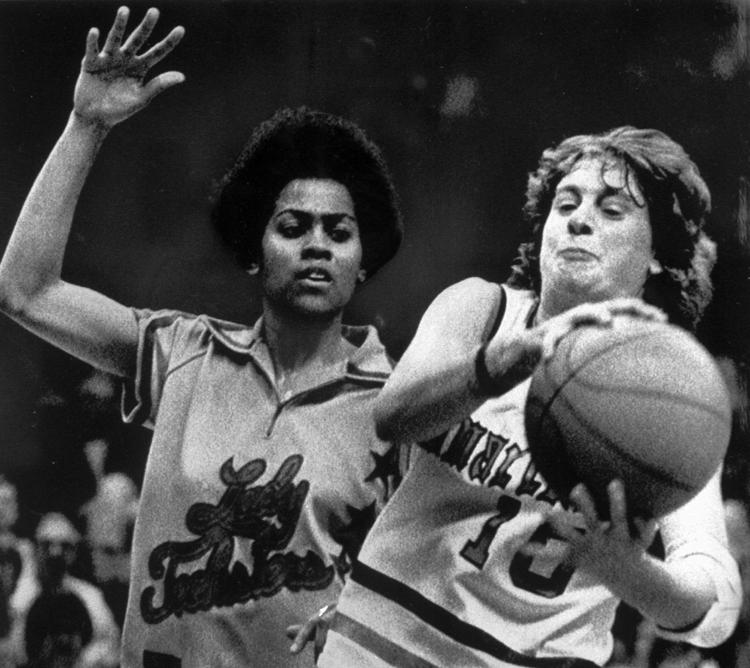 Lieberman, who earned the nickname Lady Magic while playing women's basketball at the same time a kid named Earvin Johnson Jr. was playing at Michigan State, proved to be rocket fuel for Old Dominion.
In her first two college seasons, the Monarchs went to the WNIT semifinals and then won the WNIT in 1977 and 1978. They ascended to the AIAW Tournament, the pre-1982 equivalent of the NCAA Tournament, during Lieberman's junior season and won back-to-back national titles in 1979 and 1980.
With Lieberman as its driving force, Old Dominion became the must-see act of women's hoops.
"We were women's basketball way before Tennessee and UConn," Lieberman said. "We set the standards of having sold-out crowds. Our fieldhouse was sold out every night. Everywhere we went, we were like America's team. It was always sold out when we came to town whether we were playing USC or Long Beach or La. Tech. It was always their record crowd. I'm proud of the fact that we helped build women's basketball on and off the court."
Old Dominion defeated Louisiana Tech for the 1979 national championship and Tennessee for the 1980 title and that triumvirate ushered women's basketball onto national television.
"People knew who you were and people wanted to see you," Liberman said. "A cereal is not a cereal until you see it on Saturday morning cartoons."
Among the people who took notice of Lieberman's basketball skills was Dallas Cowboys quarterback Roger Staubach. As it turned out, the Dallas Diamonds selected the Old Dominion star with the first pick of the 1980 WABA draft.
"When I got to Dallas, I've got to admit I was a little green and I was so New York," Lieberman said. 'I was like 'How you doin'? What's goin' on?' I had such a heavy accent a few years later I had to go to elocution school for ESPN to get rid of my New York accent.
"People were like, 'So are you happy to come to Dallas? Do you know anything about Texas?' I go, 'Yeah I know everything about Dallas.' And somebody went, 'How so?' I go, 'I watch Bonanza all the time. I like Little Joe.' People kind of gave me the side eye."
Luckily for Lieberman, the Cowboys quarterback reached out a hand of friendship.
"Two or three days later, I get a phone call and it's from Roger Staubach," Lieberman said. "He's like, 'Hey, Nancy, Roger Staubach. And I'm like, 'Hey, Mr. Hail Mary, How you doin'? How'd you get my number?' He must have seen the press conference and thought, 'I need to call this girl, she needs a friend.'
"He really put his wing over me and I'm very grateful. He invited me to the house with Mary Ann, to play basketball in the back yard with all the Cowboys of that time. Roger had a Sunday pick-up game. Here I was playing pick up at Roger's on Sundays with Preston Pearson and Drew (Pearson) and (Calvin) Hill and Too Tall (Jones)."
Lieberman played three seasons for the Dallas Diamonds before the WABA folded for good following the 1984 season. She also had stints with the Springfield Fame and Long Island Knights of the men's USBL, and the Phoenix Mercury and the Detroit Shock of the WNBA.
But her best days weren't seen by TV or arena crowds.
"Some of the greatest moments of my basketball career, athletically, took place at the Downtown Y on Broad Street (in Dallas)," Lieberman said. "Because I was playing against men at noon and at night every day. I would just want to play so bad. The only place I could play was when the USBL called me in 1986."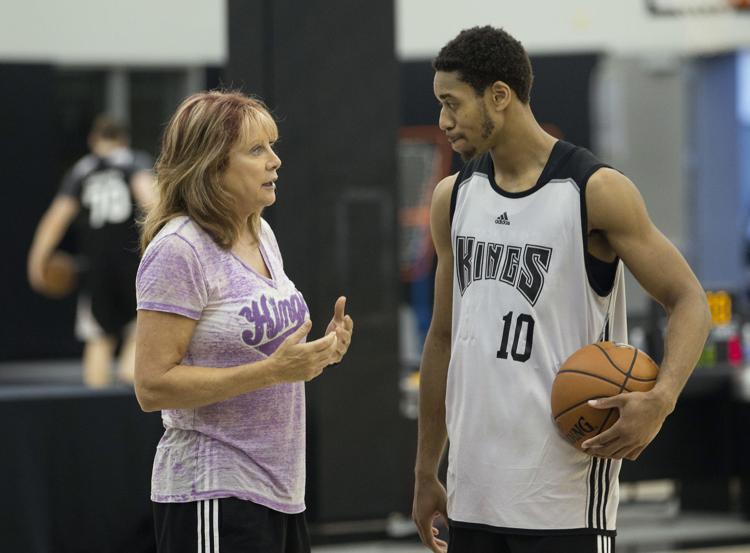 One of Lieberman's best Dallas friendships came out of playing hoops at the Signature Club while she was preparing for her WNBA comeback ahead of the 1997 season.
"Deion (Sanders) and I didn't know each other," Lieberman said. "I had just gotten in that time period inducted in the Basketball Hall of Fame. We're just sitting there, maybe five feet from each other. And he didn't even look at me and he said 'Congratulations' and I'm staring straight ahead and I go, 'Thank you.' He goes, 'It must have been amazing.' I said, 'It was.' He goes, 'I can't imagine what it felt like.' I'm like, 'It's awesome. You'll know when it happens to you.' And then we looked at each other and he said (introducing himself), 'Hey, Deion.' I go, 'Nancy.' We've been inseparable brother and sister since that day at the Signature Club."
Lieberman's son T.J. Cline, himself a current pro basketball player as a 6-9 forward for the Israeli team Hapoel Holon, looks back on his own childhood with a sense of awe.
"I had the luckiest childhood of anybody I knew," Cline said. "There were days where Mom just says, 'Come on, TJ, get in the car.' 'Where are we going?' 'We're going over to Deion's house. You're going to go play with Bucky,' Deion's son. He was one of my really good friends growing up."
While it's difficult to define Lieberman's career — she has been an accomplished player, broadcaster, coach and even hoops philanthropist — deep down she's just another lover of the game.
So it's no surprise that some of the most competitive games she's played have taken place in the driveway.
"I swear, until I was about 15 years old, I couldn't beat my mom one-on-one," Cline said. "She would just hit shots in my face. When I got to six feet, she would never let me win. She was 150-0 and then when I finally beat her, she never played me again."
Coming off their 1983 College World Series championship, the Texas Longhorns faced a major league dilemma.
Highland Park High School has been a Texas football powerhouse for many, many years. Back in the 1960s, the Scots were scheduled to play the L…
Tony Franklin was among the last of a strange, dying breed: the barefoot kicker.
Every once in a while, sports fans get a glimpse, during the heat of battle, into their hero's soul.
Imagine if a young tennis prodigy came along today, and she never lost a match at Wimbledon, the Australian Open or the French Open. Imagine s…
Be the first to know
Get local news delivered to your inbox!