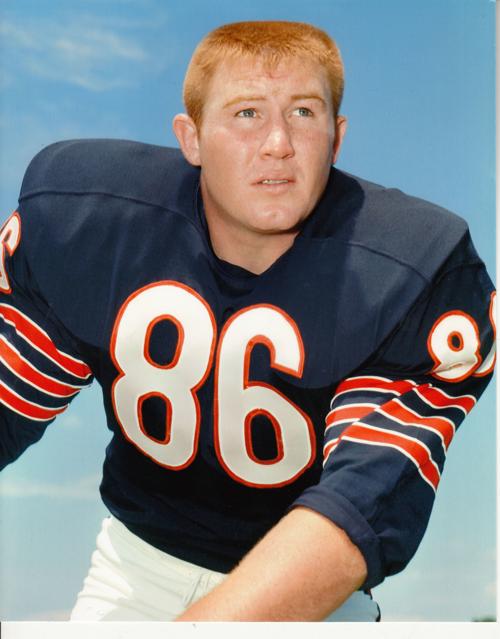 Highland Park High School has been a Texas football powerhouse for many, many years. Back in the 1960s, the Scots were scheduled to play the Longview Lobos in a non-district game. The coaches had films and studied them carefully. In particular, they game-planned to stop an inside linebacker from dominating the game.
The scheme called for double-teaming the player in question on every offensive snap.
At the end of the first half, Loyd Phillips, that guy Highland Park tried to stop, had so many tackles that the Scots had to rethink their strategy. New plays, triple teams — nothing worked. By the end of the game, Phillips had 32 tackles and no one had been able to stop him.
Phillips, who will be inducted into the Texas Sports Hall of Fame on Saturday, began playing football in the fifth grade in Longview. Most of his junior high teammates became his high school teammates.
"We had a really good team our junior year," Phillips said. "Several of the players went on to play for Division I colleges."
Still, as good as the Lobos were, Phillips said the team never really played up to its potential. But he still made lifelong friends. One of those friends is Bob McEachern of Waco.
"As he got bigger and bigger, Loyd became an inside linebacker. He just dominated the football field," McEachern said.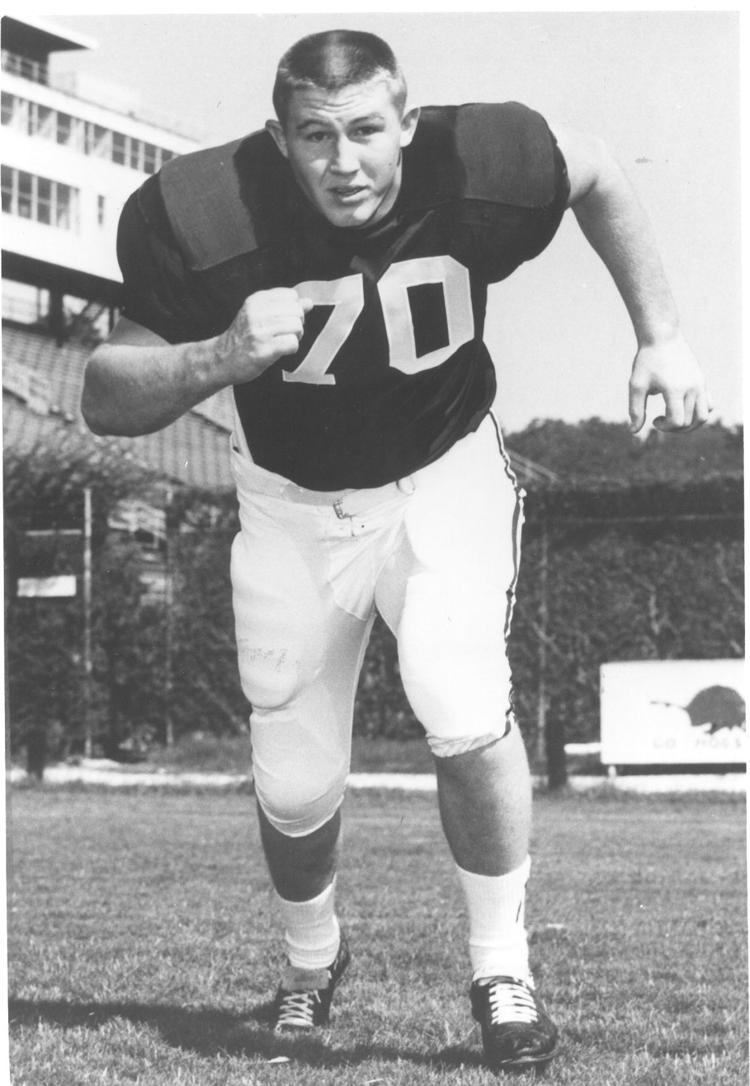 Phillips' dominance in high school inevitably led to a bevy of college coaches approaching him and recruiting him to play for their schools. Phillips was interested in some Texas schools.
"J.T. King was coaching at Texas Tech," he said, "and I was intrigued with him. Also, TCU was interesting because Bob Lilly played there. He was always one of my heroes, and still is."
The University of Texas didn't recruit him very hard, more along the lines of, "If you want to come here, we may be able to find a scholarship."
The two schools that worked hardest to get him were the Oklahoma Sooners of the old Big 8 conference and the SWC's Arkansas Razorbacks. Loyd's mother really liked Bud Wilkerson, OU's coach at the time, and it looked like that would be the school Loyd would attend.
But there was something about Arkansas. Maybe it was assistant coach Jim Mackenzie, who helped sway Phillips to become a Razorback. Certainly, head coach Frank Broyles wanted Phillips. But Phillips says of Mackenzie, "I really liked him and he decided to like me."
That is somewhat of an understatement. Phillips thought so highly of the coach that he named his son Mackenzie Phillips.
The Razorbacks of the early 60s fielded some stout football teams. NCAA rules required that schools could not play freshmen on varsity teams. During Phillips' freshman year, SMU and Arkansas played. McEachern's sister lived in Texarkana, and his parents went up to visit the sister and travel to Arkansas to see the game.
"Dad said he looked just like he did in high school," McEachern said. "If they ran to the right, he tackled them on the right side of the field. If they ran to the left, he tackled them on that side."
Phillips moved up to the Hogs' varsity in 1964. He played on a team that included Ken Hatfield, who later had a stellar career as a head football coach at places such as Arkansas, Rice and Clemson. Jimmy Johnson, who would make a name for himself as a coach at Oklahoma State, the University of Miami and the Dallas Cowboys, started on the defensive line with Phillips. Cowboys owner Jerry Jones was also on the team, though not as a starter.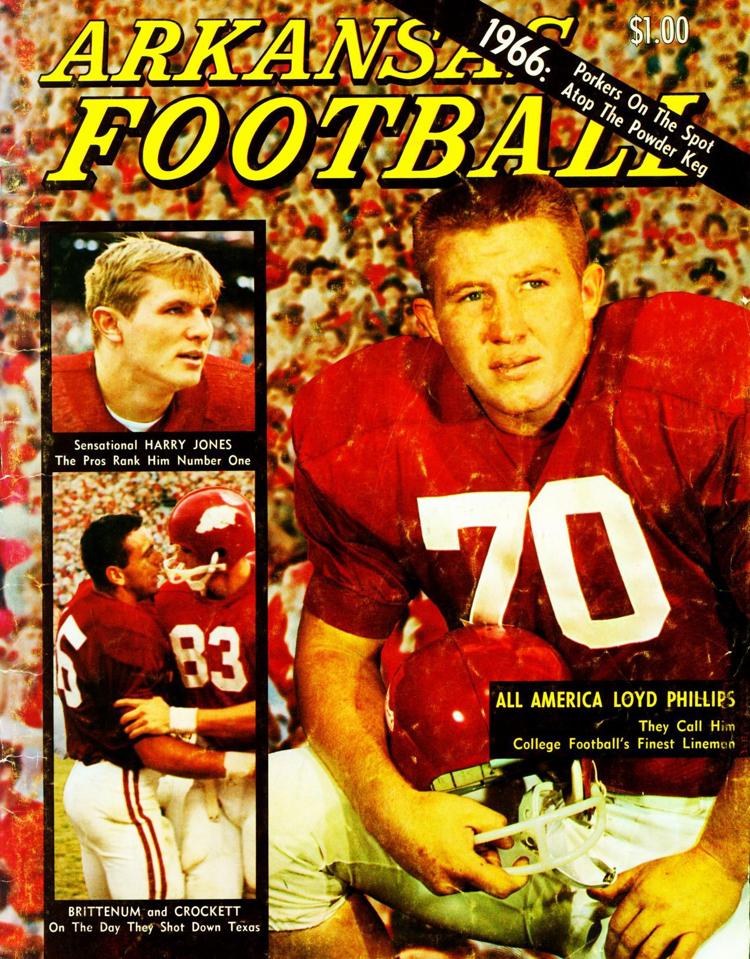 Arkansas began the year with a win over Big 8 school Oklahoma State, 14-10. They had wins over Tulsa and Wichita State in non-conference play and swept the SWC, including a win against then-No. 1 Texas, 14-13. Following the win, Arkansas moved from No. 8 to No. 4.
By the time Arkansas played the Nebraska Cornhuskers in the Cotton Bowl, the Hogs were ranked No. 2 behind Alabama. The Cotton Bowl was the first time the two schools had played each other. The Razorbacks entered the game allowing only 5.7 points a game; Nebraska scored 24.9 points per game.
By the end of the first half, Nebraska led, 7-3. The Razorbacks scored their only touchdown in the fourth quarter, allowing them to win the game, 10-7, and remain undefeated.
When Texas upset No. 1 Alabama, 21-7, in the Orange Bowl, Arkansas was proclaimed national champions.
According to Phillips, the '65 Razorbacks were an even better team than the '64 team. They went through the regular season undefeated. During the '65 season, McEachern said UT moved Tommy Nobis to the guard position specifically to block Phillips. Phillips still had 18 tackles.
According to McEachern, Phillips was, "unblockable, so quick and so savvy."
All hopes of winning another national title ended in the Cotton Bowl, where LSU upset Arkansas, 14-10.
In the '66 season, Arkansas again had a dominating defense, but they were upset at home by the Baylor Bears, 7-0, and then lost the season finale against Texas Tech, 21-16. Phillips still vividly remembers that Tech game.
"I had a terrible game against Texas Tech my senior year," he said. "We should have won by two or three touchdown, but got beat. SMU went to the Cotton Bowl that year, and we beat them, 21-0. It's a team game. Whether I played great or not didn't matter if we won or lost."
Part of the Hogs' loss to Tech can be blamed on the unexpected death of one of their teammates. They had had the funeral the week before the game.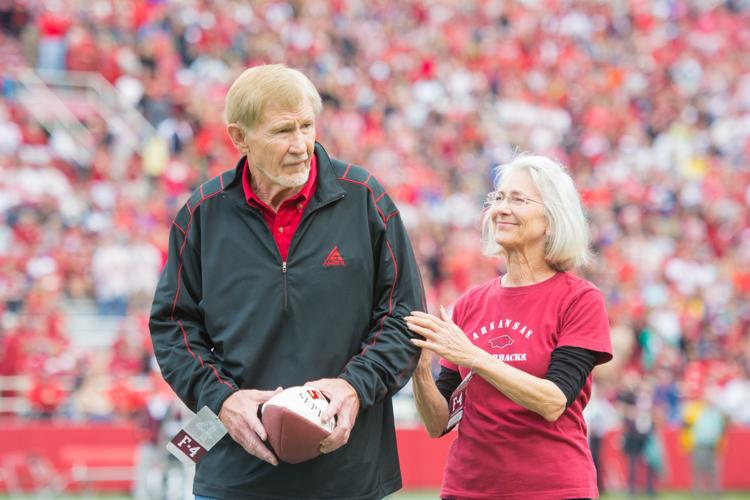 It was after that Tech game that Arkansas' sports information director Bob Cheyne informed Phillips that he had won the Outland Trophy as college football's best lineman.
"(He said,) I don't deserve it. Tell them to give it to someone else," Cheyne told Hawgsports.com in 2013.
After a long chat with Cheyne, Phillips finally agreed to accept the award for the school and his teammates.
After graduating from Arkansas, Phillips was taken in the first round by the Chicago Bears in the NFL draft. He played three years in Chicago and two years in New Orleans before retiring for health reasons.
During his school days, both in high school and in college, Phillips said he didn't put too much effort into earning good grades. He did just enough to get by and remain eligible to play sports.
When he retired, though, he realized that he needed an education to support his wife and family.
He re-enrolled at Arkansas, earning a BA in education and later picking up a master's in administration. Using those degrees, he became an assistant principal for 37 years.
Phillips wanted to make a difference in the lives of children who were like him. He wanted to help redirect students to take their education seriously and make something of their lives.
After retiring, Phillips and Hatfield began to work with Horses for Healing, a program designed to provide therapy for special needs children. The program was started by Harriette Habern, a special ed teacher, in the Rogers, Arkansas, area.
"It's a great program," Phillips said. "It's all over the United States now. It's a tremendous program, and anyone who volunteers and gives their time to help children are wonderful."
On the field, Phillips had a motor that never stopped. According to McEachern, Arkansas coach Frank Broyles said he never had a player that got to the quarterback as quickly or in such a bad mood.
"The other guy had the ball, and (Phillips thought) he wasn't supposed to have it," McEachern said.
Away from the football field, though, there was another side to Phillips. The educator who sought to reach out, the humanitarian who gives of his time and talents to help special needs children.
"He is very humble," McEachern said.
One last thing. Google Loyd Phillips and read about his career at Arkansas. There will be a mention of a tremendous fight on the practice field between Loyd and his younger brother, Terry Don. As the story goes, it took almost half the team to separate the brothers.
Brothers fight; it's what they do. But brothers also love each other. While Loyd went on to a pro football career, his brother remained in athletics after graduating from Arkansas. Terry Don became an athletic director, making stops at Liberty, Louisiana-Lafayette, Oklahoma State and finally Clemson, from 2002-2012. One of his last moves at Clemson was promoting Dabo Swinney to the head coach position.
It's easy to hear the pride in Loyd's voice when he says of Terry Don, "At Clemson, he's a rock star."
Loyd Phillips was a first team All-American in 1965 and 1966. He won the Outland Trophy his senior year. He was inducted into the College Football Hall of Fame in 1992. And now he is being inducted into the Texas Sports Hall of Fame Saturday.
According to those who know him best, it couldn't have happened to a nicer guy.
Tony Franklin was among the last of a strange, dying breed: the barefoot kicker.
Every once in a while, sports fans get a glimpse, during the heat of battle, into their hero…
Imagine if a young tennis prodigy came along today, and she never lost a match at Wimbledon,…
Be the first to know
Get local news delivered to your inbox!