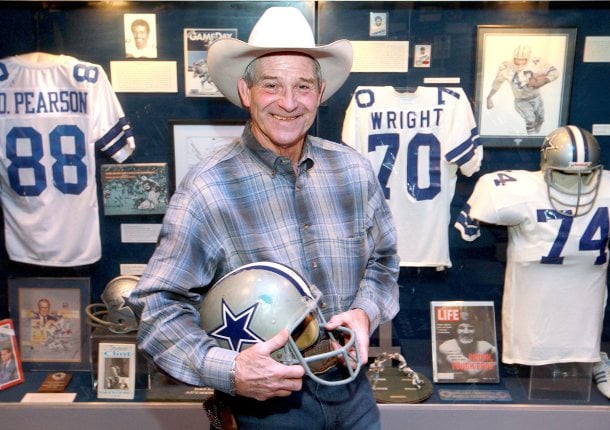 Walt Garrison pulls up to the Texas Sports Hall of Fame in a big green Ford F-350 truck that's designed to haul a horse trailer.
There's no doubt who owns the truck since the license plate reads "Skoal." Garrison began endorsing the smokeless tobacco in 1970s commercials, and still likes to put a pinch between his cheek and gum.
Long after he retired from the Dallas Cowboys, he's still a real cowboy. He's 68 and is trying to make a comeback as a team roper after undergoing rotator cuff surgery a year ago.
"I tried roping on Sunday, and it was pretty bad," Garrison said. "But I didn't fall off my horse."
Garrison owns a 47-acre ranch near Argyle, Texas, where he keeps his quarterhorses and roping steers. Rodeo has always been a big part of his life, and he's spent many years traveling the circuit across the country.
But he will take time off from his rodeo activities to be inducted into the Texas Sports Hall of Fame on Feb. 18. Many of his former Cowboys teammates from the 1960s and 70s are already in the hall, and are glad the tough, old fullback is joining them.
"Man, I'm so delighted," former Cowboys linebacker Lee Roy Jordan said. "He's one of the most lovable guys in the world, and one of the toughest to play the game. He not only was a Cowboy, he was a cowboy."
Garrison was such a bona fide cowboy that he asked for a two-horse inline trailer as part of his signing bonus after Dallas drafted him in 1966. On their off days, Garrison took his teammates to his father-in-law's ranch where he would show them how to rope. During training camp in Thousand Oaks, Calif., he'd engage his teammates with cowboy stories.
"He'd have a whole new bunch of cowboy stories when we'd go to training camp," former Cowboys All-Pro defensive tackle Bob Lilly said. "Some of those stories would last over an hour. He also taught us how to whittle. He was our big entertainment."
Some of the memorabilia he dropped off to the Hall of Fame in preparation for his induction included his old Cowboys helmet, a picture of himself on the cover of a 1972 Sports Illustrated, and several examples of his whittling. The most striking piece of wood that he carved was an extra-long horse with three saddles.
"That's my cowboy limo," Garrison said.
Growing up in Lewisville, Texas, football and rodeo were always Garrison's passions. He played linebacker for the Fighting Farmers' football team and rode bulls, bulldogged steers and rode bareback in the rodeo arena.
Garrison earned a scholarship to Oklahoma State in 1962, where he was coached by legendary quarterback Sammy Baugh on the freshman team. The players seemed more amazed by Baugh's feats than anything they saw on the football team.
"Sammy could still throw and punt the ball when he coached us," Garrison said. "We'd run fly patterns and he could punt the ball to us like he was throwing a pass. I remember my dad came up to Stillwater and I introduced him to Coach Baugh, and he stood there like a little kid in awe of him."
Before his sophomore year, Garrison moved to running back, where he quickly unveiled his physical style of play. As a junior, Garrison rushed for 730 yards before coming back as a senior to rush for 924 yards to earn appearances in the Senior Bowl, the East-West Shrine Game and the annual all-star game that pitted the top rookies against the defending NFL champion.
Picked by the Cowboys in the fifth round of the 1966 draft, Garrison signed for a $15,000 bonus and the two-horse inline trailer. Garrison hooked up the horse trailer to a 1966 Pontiac Bonneville that required a $140 hitch that piqued the interest of Cowboys general manager Tex Schramm.
"I told Tex I needed a $140 hitch for the trailer," Garrison said. "He crawled under the car, and I asked him what he was doing. He said he wanted to see what a $140 hitch looked like."
When Garrison joined the Cowboys, he could hardly believe he was on the same team as All-Pro defensive tackle Bob Lilly and receiver Bob Hayes, who had won the 100 meters at the Tokyo Olympics in 1964.
"Here I was on the same team as the fastest man in the world and the greatest defensive tackle to ever play the game," Garrison said. "I said, 'What the heck am I doing here?' I was kind of like my dad when he met Sammy Baugh. I wanted their autographs."
During his first three years with the Cowboys, Garrison played backup fullback behind Don Perkins, and did a lot of work on the special teams. But after Perkins retired following the 1968 season, Garrison took over as starting fullback the next season and rushed for a career-high 818 yards.
When the Cowboys needed a tough yard up the middle, Garrison was often the man they called on.
"Walt was hard-nosed and would run over you," former Cowboys linebacker Chuck Howley said. "He was a good blocker and a good athlete, and he had that attitude that he wanted to do well all the time. We had drills where the fullback would block the linebacker, and I hated to go up against him because he'd catch your chest high every time."
Playing with a broken collarbone, Garrison helped the Cowboys win their first NFC championship game in 1970 when he caught a five-yard touchdown pass from Craig Morton in the third quarter in a 17-10 over San Francisco. After losing a 16-13 heartbreaker to the Baltimore Colts in Super Bowl V, the Cowboys were determined to win it all the next season.
The Cowboys played near flawless football in Super Bowl VI as they rolled to a 24-3 win over Miami. Garrison rushed for 74 yards on 14 carries against the Dolphins, and was a major threat throughout the regular season, as he rushed for 429 yards and caught 40 passes for 396 yards.
"Winning the Super Bowl was our goal all year long," Garrison said. "I remember guys like Bob Lilly, Lee Roy Jordan and Roger Staubach talking about it. That Super Bowl was probably the most perfect game we had ever played offensively and defensively. We really had a party after that Super Bowl."
Garrison enjoyed one of his best statistical years in 1972 as he rushed for 784 yards and made 37 catches for 390 yards as the Cowboys made another playoff appearance. Though the Cowboys had a lot of great backs like Perkins, Dan Reeves, Calvin Hill and Duane Thomas during Garrison's nine seasons, he always made an impact as a runner, receiver and pass blocker.
"He was one of the toughest guys running the football, and was a tremendous blocker and protector of the quarterback," Jordan said. "He would fight a guy to the very end to keep him from getting to the quarterback."
Garrison felt it was a privilege to play his entire NFL career under Tom Landry, one of the most innovative coaches in history.
"Tom knew everything because he invented most of it," Garrison said. "He invented the multiple offense and the Flex defense. He was brilliant. I remember in meetings he'd just go from the offensive room to the defensive room. He was also the most fair coach I've been around. He never held a grudge."
Hoping to make it an even 10 years in the NFL, Garrison tore up his knee after the 1974 season when he was trying to bulldog a steer at a rodeo in Bozeman, Montana. Garrison finished his NFL career with 3,886 yards rushing while making 182 catches for 1,794 yards for a combined 39 touchdowns.
After his football career ended, Garrison kept riding on the rodeo circuit. His first wife, Pam, who died of cancer, and second wife Debbie have also been heavily involved in rodeo throughout the years.
"I couldn't play football but I kept bulldogging steers until about 10 years ago," Garrison said. "I don't ride as much as I used to. But I still like to do team roping."
Garrison is looking forward to his induction into the Texas Sports Hall of Fame, and some of his former Cowboys teammates like Lilly and Jordan are anxious to welcome him into the club.
"Walt was always an overachiever," Lilly said. "He's got a wonderful mind, and a wonderful gift of gab. He was a big part of our success and a big part of our entertainment."
And he'll always be known as the Cowboys' cowboy.
Be the first to know
Get local news delivered to your inbox!