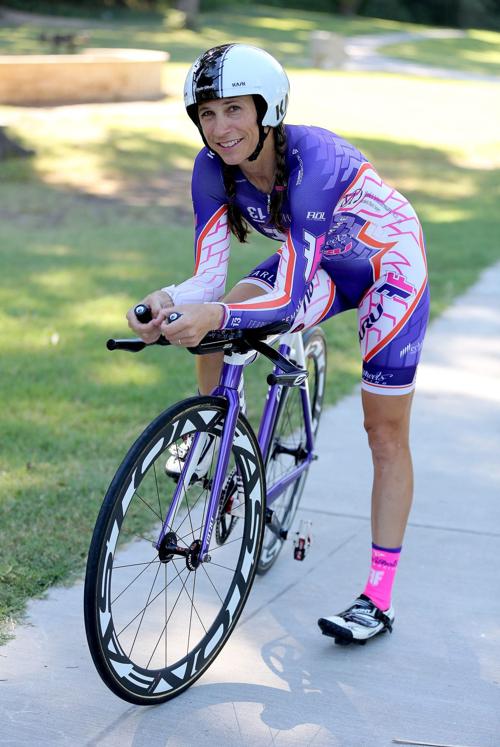 Catherine Moore's story starts nearly 1,300 miles away in a town outside of Detroit. When she was a senior in high school, Moore had a friend making the long trek to Central Texas to attend Baylor University.
Her curiosity was aroused because she ran track in high school. She decided to contact Baylor, just to gauge its interest level.
"I wasn't really sure if my times were going to be good enough, but I called them and gave them my workout numbers and fortunately for me they liked them, so I made the trip to Texas," Moore said.
Her time at Baylor proved to be somewhat tumultuous. Moore ran cross country and track for the Bears, but her career was riddled with injuries, forcing her to spend much of her time rehabbing on an indoor bike.
But her unofficial bike training improved her time in the 5,000 meters by a minute and her mile time by 15 seconds. Swayed by fear of injury, Moore stayed off the pavement and kept to the pedals.
"I was getting stress fractures every year," Moore said. "Being on the bike, it was something I really enjoyed. It was fun, something different."
Moore graduated with a bachelor's degree in science in education in 1994. She returned home for a while, then spent 11/2 years in California, where she met her husband, Ian.
The couple moved back to Waco for Catherine to pursue her teaching career. She joined the special needs department at Waco Independent School District and continued to cycle, but her outings were only for recreational purposes.
"I actually remember the first time I mountain biked. I cried and swore that I would never do that again," Moore said. "It was muddy and the guy's bike I borrowed was around 6-3, so the bike didn't really fit."
Moore didn't let that deter her and soon entered mountain bike competitions. With the births of daughters Daria and Sophie in the early 2000s, Catherine's days of riding the trails dwindled.
They all but disappeared in 2004, when she found out she had melanoma, a dangerous type of skin cancer that takes many treatments during several years to beat.
Fortunately, though, it was caught in its early stages. Moore had more than 60 moles removed over a five-year span. The worst seemed to be over, as she now only has yearly checkups.
"I wasn't really even thinking about biking or any of that," Moore said. "I wasn't even sure about going out in the sun at all anymore. But the bad stuff seemed to be behind me after awhile. I'm very fortunate."
Interest in biking never left her. In 2011, her husband coaxed her into entering another mountain bike race after a 10-year layoff.
"I thought to myself, I'm done. I'm always getting injured," Moore said. "I really just wanted to have fun on the bike. But I entered a team mountain biking competition and that sort of got me going again."
With her competitive juices flowing again, she signed up to teach a Cyclocross class, another form of bicycle racing. The decision would change her life.
"By teaching this course, I really forgot how much I enjoyed it," Moore said. "It's my first love of all the racing disciplines, so I guess you could say that was my gateway back into racing."
Moore continued to road race throughout 2012 and 2013, but something was telling her to try the track.
That same year, she won three national titles on the track, a mixture of the team and individual variety.
She earned another title in 2014, claiming a Cyclocross event in Austin.
Feeling confident, and accompanied by the coach of her Fearless Femmes racing team and a friend, Moore went to Colorado Springs earlier this month to compete in the U.S. Independence Grand Prix's 3K Pursuit at the Olympic Training Center. Moore beat her personal best in the 3,000 meters by 13 seconds and in a surprise to her, bettered the world record in the 2K. Because it was not an official 2K race, Moore was awarded the national record, but not the world mark.
To net a world record, an event has to be the actual set distance.
Moore returned to Waco and against the advice of several friends and fellow racers, wasn't planning to come back in a week to compete in the 2K.
"We had our house on the market, there was a lot of stuff going on and a lot of driving," Moore said. "But Ian sat me down and told me, 'You're riding good right now and I don't want you to have the coulda, woulda, shouldas later in your life and have regrets.' So we loaded up the car with the girls and took off."
Her husband's insight was wise. On July 10, the Moore family was in Colorado Springs for the Vic Williams Memorial tournament at the OTC Velodrome. Catherine Moore vied in the Masters Women 2K Pursuit, setting the world record in that event with a six-lap time of 2 minutes, 29.161 seconds on the 333-meter track.
It was a time that was even better than the weekend before.
"It's a great feeling. It's something that I just grew to love and would have never kept pursuing if not for my husband," Moore said. "It's amazing to be able to pursue something that you love so much this late in life."
Moore will race in two more events this month in South Carolina and California.
Her daughters have adorned the front of her bike handles with a set of googly eyes, maybe as a reminder to not take life too seriously.