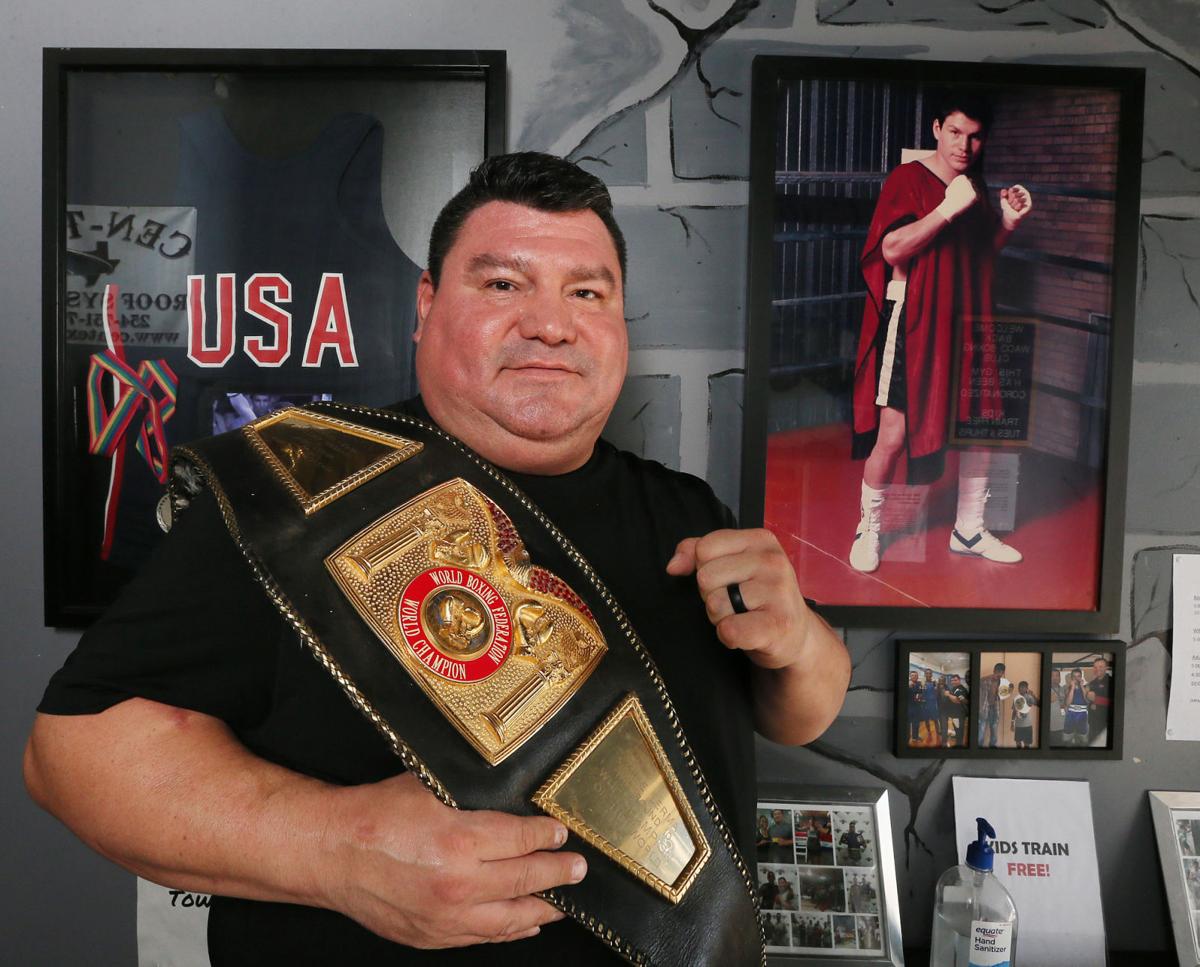 Life never really stops jabbing.
Your reaction may vary. You can run. You can hunker down and take a beating. Or you can duck, dodge, and punch back.
Jaime Lerma is in the shadow boxing stage of life. Two massive shadows — one representing his late father, Jose, and the other his late trainer Gilbert Sanchez — loom over his path. Their voices still ring in his ears. Jaime loved both men dearly. One ushered him into the sport of boxing, the other encouraged him to stick with it.
"Without them, it would have never been possible," Lerma said. "I was a pretty soft kid growing up, didn't want anyone hitting me. But ended up loving it."
Today Jaime Lerma, 47, spends his time trying to influence the next generation of young boxers, just like his father and his ring dad did for him. He operates Waco Boxing Club, the gym that Sanchez started in 1972, and maintains all the same rules and principles that Sanchez established — including not charging young people under the age of 18.
The former world champion interchangeably delivers technical expertise and sage life advice. He knows that every young boxer isn't going to love the sport all the time. Lord knows he didn't.
Jose introduced his three sons — Joe, Jaime and Michael — to the gym when Jaime was around 6. Jaime went for a while, but must've grown bored, because he asked his parents if he could quit. His father allowed it, but one day soon thereafter he invited Jaime to tag along on a gym trip. No pressure, Pops said, you don't have to do anything. Jaime agreed to go.
"I said, well, let me run around with them," Jaime recalled. "Before I knew it, I did the whole workout. I was back there every day again. My dad never asked me about quitting, and I never brought it up again either. I guess I started liking it."
Back then, 6-year-old boxers didn't even wear headgear. That rule didn't arrive until a year or two later. Jaime wasn't instinctively aggressive as a boxer. He waited for the action to come to him.
"Funny thing is, I wouldn't really get into it until I got hit. I was like, OK, let's go," he said.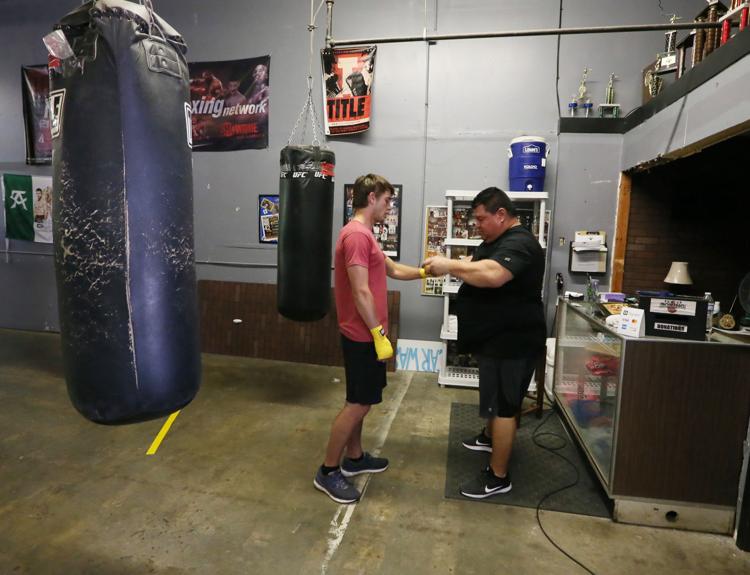 When Jaime was 8, boxing suddenly took on less importance. His father Jose died in a motorcycle accident, leaving behind a 28-year-old wife and five children. The tragedy rocked the family. Jaime started spending less time at the gym and eventually left altogether, feeling rudderless without his father's presence. For about a year, he had nothing to do with boxing.
That's when Sanchez stepped in as the father figure that he needed. The trainer — who was known as "Cuate," Spanish for twin, since he had a twin — gently coaxed Jaime and his brothers to return. He offered to pick them up and take them home.
"One weekend there was a tournament going on in Troup, Texas," Lerma said. "I wanted to go, because that was kind of my escape from the reality that I had to come to know at home without my Dad. The depression of my mother and everything. I went to this tournament that weekend."
The 9-year-old Lerma entered the ring with a boy named Monroe Brooks. For a little more than a round, the young fighters sized up one another and swapped scoring punches. But as the match progressed, Brooks floored Lerma with a pair of body blows that stole his wind away.
Jaime lost the fight, but gained something better. A new resolve.
"(Sanchez) came up and said, 'Don't feel bad,'" Lerma said. "But I was upset, and I said, 'I know I can beat this guy. I know I can beat him. I was just out of shape, I haven't been training.' He said, 'That's why I've been telling you to come to the gym and come train and get ready.' So I told my coach, I'm going to start training again. I'm going to come back in there and I'm going to beat Monroe Brooks. I'm going to find him and fight him again."
Cue the Rocky montage. Lerma started training in earnest. He developed into one of the best young boxers in the country, all while training out at his hometown Waco Boxing Club. Five years after the bout with Brooks, Lerma had ascended to No. 3 in the nation in his age division.
Then one day when he was 17 years old, a phone call arrived that would change the course of Lerma's life. The man on the other end was Jim Fox, director of USA Boxing.
"I got on the phone and said, 'Yes sir?' That's when he asked me if I wouldn't mind being on the USA Boxing Team," Lerma said. "I said, 'Of course. It's a dream."
He said, 'I figured you'd say that. I mailed you a plane ticket, I need you to come to camp this weekend for a European Tour.'" That was pretty awesome. I hung up the phone, I'm just a kid, 17 years old, and I looked at Cuate and I told him, he was excited for me, too."
Minutes later, Fox called back. Sanchez called him to the phone again, and Jaime was worried that maybe Team USA had made a mistake. As it turned out, Fox wanted to talk to Sanchez.
"He gets on the phone, it was real quick and brief, he hung up," Lerma said. "I looked at him and said, 'What was that about?' He said, 'Well, they asked me if I wouldn't mind being a coach for the USA Boxing Team.' So my trainer and I made the USA team together — literally. It was awesome."
Together they toured Europe, fighting alongside the likes of Tim Austin, "Sugar" Shane Mosley and Oscar De La Hoya, among others. Next stop, Olympic Games.
Well, not quite. For the 1992 Summer Olympics, officials introduced a new scoring system, one that Lerma surmised would hamper his chances as an inside fighter. So at age 18, after more than 450 amateur fights and numerous USA/ABF and Golden Gloves regional and state titles, he turned professional.
Promoters came calling in a steady wave. Among them was Lou Duva, who had rising champions like Pernell Whitaker and Evander Holyfield in his stable. Duva wanted Lerma to join his team, with one catch — Cuate wouldn't be his trainer anymore.
"So I walked away from his contract. I had a couple of other big offers, but they all wanted me to leave my trainer behind, which most managers do that," Lerma said. "And I didn't. I trusted my trainer would do the best things for me. He cared about me, and not about the money. So I stuck with my trainer and didn't get as much money starting out. But I still had a very good contract."
Then he added with a breathy snicker, "We did pretty good together."
Good? Unquestionably. Lerma won his first eight pro bouts and 17 of his first 19. In January 1996, he received a call asking if he'd be interested in fighting for the WBF Welterweight Title. Only problem was, the fight would be in nine days. In the Philippines. The original opponent had backed out, and now promoters were running down a list of names looking for a replacement.
Lerma asked for 24 hours to think it over. He had suffered a head butt in training that opened a gash in his head that required nine stitches. Ideally, he would have liked more time to study his opponent and train.
"That night, I thought about it, my trainer and I talked. I said, 'Man, I don't want to live my life saying what-if. I may not ever get another title shot, I don't know. Win or lose, I want a shot at a title. I always wanted that, and I'm going to do it,'" Lerma said.
The odds weren't in Lerma's favor. His opponent, the WBF welterweight champion William Magahin, hailed from the Philippines and would have the home-court advantage, so to speak. The crowd would be against Lerma for sure.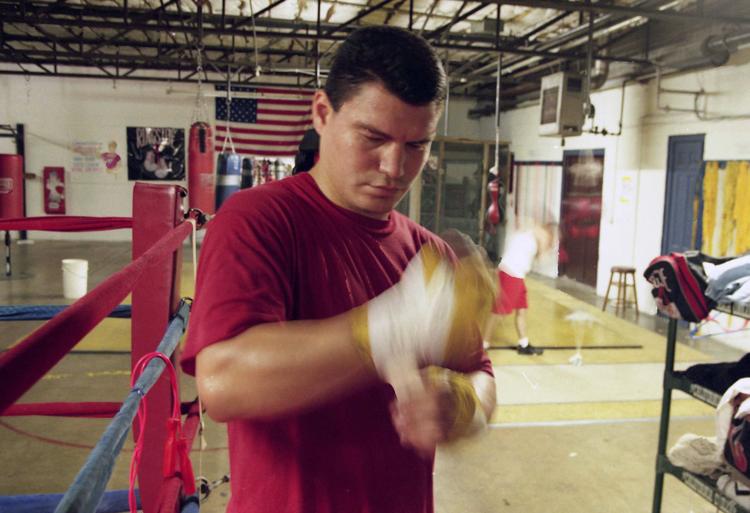 Magahin predicted a fourth-round knockout in the pre-fight press conference. Lerma, never one for much bluster, nevertheless promised he'd still be standing at the end of round 4. In the locker room before the fight, Sanchez was busy taping up Lerma when he uttered some prophetic words.
"He starts shaking a little bit," Lerma said. "You could tell his emotions were going, his eyes were watering up a little and he was shaking as he was wrapping my hands. I said, 'Cuate, you OK?' He said, 'Yeah.' I said, 'What's wrong?' He said, 'Nothing, I've just never wrapped the hands of a world champion before.' It got me emotional. The way he said it, it was like he knew I was going to win."
Lerma said that when he stepped into the ring, he put the jeers of the crowd out of his mind. That's just part of the job. For the first three rounds, he and Magahin played cat and mouse. Jaime figured that if Magahin wanted a knockout, he was going to have to chase him down and earn it.
In the fourth, Lerma surged. He landed some powerful shots, and noticed Magahin starting to wobble. That trend continued through the fifth and sixth rounds. At the end of the sixth he blasted Magahin with a battery of punches that he thought might end the fight. Then the bell rang — too early, in Lerma's estimation.
"I went to my corner and told my trainer, I said, 'They rang the bell early. That wasn't a full three minutes. They rang the bell early,'" Lerma said. "I've been doing this for so many years, through hundreds of rounds, and you learn to know when three minutes is up. … Cuate slapped me and said, 'I don't give a (crap), that was last round, let's get ready for the next round.' I said, 'All right, let's go.'"
Magahin was tough and could take a punch. Lerma continued to whale away in the eighth, outpointing him on the scorecards, and rode that momentum into the ninth. Magahin withstood a standing eight-count in the ninth round, but Lerma wasn't about to let him off the hook.
"Tenth round, the bell rang, I went right at him," Lerma said. "I hit him about 12 to 14 times straight with solid punches, he finally turned his back to me and the referee jumped in to stop it and I became the WBF Welterweight Champion of the World. It was crazy."
Sanchez didn't usually drink, but he ordered champagne in the hotel afterward, and trainer and fighter each downed a glass. The sweetest call wasn't that room service request, though, it was Lerma's connection with his mother back home in Waco.
"She answered the phone and you could hear (the worry) in her voice," Lerma said. "She said, 'Are you OK? Did you have to go to the hospital?' She knew many times I had to go to the hospital to get stitches after fights. I said, 'No, Mom, I didn't. I'm OK.' She said, 'All right, well, that's good, as long as you're OK.' It was almost like she'd already accepted the fact that I lost.
"She said, 'It's OK, it's OK, you did good. Did it go all the way?' I said, 'Mom, how does it feel to have a son who's a world champion?' She just started screaming. She said, 'You won?' I said, 'Yeah.' She said, 'You seriously, really won?' She was excited. It was a good feeling."
Lerma enjoyed bringing the belt home to Waco. He felt proud to represent his brothers and training partners and hometown.
Three months later he won his first title defense over Filipino fighter Allan Alegria again in the Philippines. In October 1996, he lost by unanimous decision to Indonesia's Suwito Lagola in Jakarta, Indonesia.
Lerma continued to fight over the next several years, but he found it increasingly harder to stay motivated. At age 27 in 1999, after almost 22 years from his first venture into the ring and a successful professional record of 25-8, Lerma retired.
"I was kind of burned out with everything. At the end it became a job," Lerma said. "I always told myself that I would not fight for money. I fight because I love it. The money is great, everything that comes with it is great, but I did it because I loved it. But the last couple of years I did it I was fighting for money, which is why I made the decision to stop. People get hurt that way."
When he walked away, he viewed it as a clean break. People would approach him and ask him what he thought about the big fight coming up, and Lerma would truthfully respond, which big fight? He purposefully stayed away from the gym.
Then Sanchez passed away in 2001. His son Gilbert Jr. ran the Waco Boxing Club for a few years. "In 2004 he and I talked, and he didn't want anything to do with boxing, hasn't since he was a teenager," Lerma said. "I didn't want to see the gym close down. The only way it was going to stay open was if I stepped up. So I did."
Lerma took over as owner/operator in 2004, and started taking kids to Golden Gloves tournaments by the next year. He continued Cuate's mission of offering free admission to kids and teenagers.
"I just love doing it. I run it the same way that Cuate ran it," Lerma said. "Kids didn't get charged to come train. Even to this day, I still have a free program. This is 2020, people think it's ridiculous I don't charge people. … I just want to give kids under the age of 18 the same opportunities I had."
Lerma does offer a paid membership for adults and holds fitness boot camp classes to "help me pay the bills and help keep a roof over these kids' heads."
Lerma may have stepped away for a few years, but he never really stopped loving boxing. The sport gave him opportunities he never would have imagined. He filmed a commercial with Larry Holmes and Evander Holyfield. He attended the Miss Universe Pageant in Hawaii. He appeared in an episode of TV's updated "Fantasy Island." He met Lennox Lewis, who called him by name. Once in a hotel lobby, he even met the Greatest of All-Time, Muhammad Ali. "I was like a chick at a Jackson concert," Lerma said. Ali gave him a wink and told him he was still the prettiest around.
"I got to travel the world. I got to do a lot at a young age," Lerma said. "I did all of these things before I was 27 years old. I got to experience a lot. It was all due to not just boxing, not just my skill, my talent, my determination, but a large part of it was because of my trainer and my father. Without them, I would have never pursued all that. I owe them everything."
Be the first to know
Get local news delivered to your inbox!