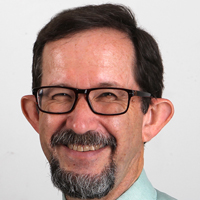 Carl Hoover
Bio

Carl Hoover has covered Waco arts and entertainment, and more, for the Tribune-Herald since 1984.
It is time for fall harvests, but Waco-based World Hunger Relief Inc. is hoping to plant some seeds Saturday with its Fall Farm Day.
The Waco Symphony Orchestra returned to Waco Hall Thursday night with a concert that leaned on the fun of live music, amplified by buoyant per…
October and Halloween bring thoughts of the dead, hauntings and spirits from beyond. They also form the subject — with a Victorian-era flavoring — for weekend events in Waco.
Return to music: Although music by French composers is the Waco Symphony Orchestra's theme, simply the sound of an orchestra playing for an in-person audience is music enough.
A four-year journey to move the Art Center of Waco from its longtime spot at McLennan Community College to a downtown location at 701 S. Eight…
Collectors of Waco artist Kermit Oliver recognize his artistic signature: Realistic studies of people and objects connected by an invisible ge…
At the Waco Hippodrome Friday: In "An Evening With C.S. Lewis," audiences will encounter an agile mind, a considerable sense of humor, and a deep appreciation of life and faith, the actor said.
Jordan Phillips, half of the Nashville alt-pop duo Apollo LTD, wanted their song "Sunday Morning Feeling" to make listeners feel good. Baylor …
A year after COVID-19 concerns sidelined and reshaped public events and festivals, this weekend's schedule shows a return, on paper at least, …
The Waco Cultural Arts Fest is back at Indian Spring Park this weekend, although not quite as full-featured, arranged a little differently and with a sober touch of community loss.
View all