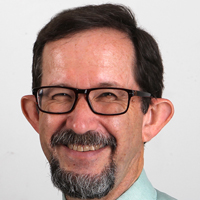 Carl Hoover
Bio

Carl Hoover has covered Waco arts and entertainment, and more, for the Tribune-Herald since 1987.
A national Baylor Religion Survey found increased worry is the leading emotional response to COVID-19 regardless of age, gender, religious or …
The outside comes inside at Cultivate 7twelve as the show by Waco painter Wendy Michelle Davis draws on Cameron Park as her inspiration.
Stacks of plastic fabric panels, each with a colored felt silhouette on one side, cover a counter and part of the front room floor of an East Waco cottage that has become the workspace for the "Bridge of Souls" project.
The Under Summer Skies concert series at Magnolia winds up its four-show season on Saturday with an Americana band that's seeing blue skies as…
Roughly a month after the start of school, some McLennan County school districts are starting to see marked declines in active COVID-19 cases,…
Broadcast journalists sometimes are stereotyped as hard-bitten, competitive or cynical souls, but most of the real ones I know aren't — well, …
Those who go to see the latest show by Waco artist Russell Campbell might bring their phones and not just for selfies: Each pieces has a song paired with it, accessible through a Spotify link.
For Waco book lovers, the week ahead offers several in-person opportunities, from a walk through a historical novel's Waco setting to events with authors, including one featuring 5 local writers.
Though Baylor Theatre's "The Last Night Of Ballyhoo" touches on questions of identity and prejudice, it's family, faith, social class and romance that produce its life-affirming feel.
View all