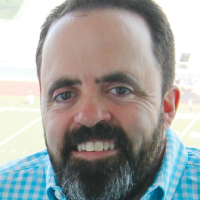 Chad Conine
Bio

Longtime Waco sportswriter and Texas Tech graduate Chad Conine is the author of "The Republic of Football: Legends of the Texas High School Game" and "Texas Sports: Unforgettable Stories for Every Day of the Year," among other titles.
Anyone who follows Midway alumnus Jessica Talley on Instagram has seen some truly spectacular photos that she's posted over the last several years.
Some programs hit the field soon after sunup, while others waited for the heat of the afternoon. A few schools have stuck to the traditional t…
China Spring football coach Brian Bell can sense the energy in his program as the Cougars get ready to embark on the 2021 season.
You know what? You can have your 16-team super conference and your billion-dollar television contract and your better place on the changing la…
The Robinson Little League Softball All Stars have spent the summer rolling past most of the teams they've faced on the diamond.
New University High School football coach Kent Laster talked excitedly with assistant coaches and players about the upcoming start of practice…
The Southeastern Conference Media Days turned into a vocabulary exercise Wednesday as the media at the Hyatt Regency Birmingham-Wynfrey Hotel …
You know what is selfishly one of my favorite things about being a sportswriter?
View all