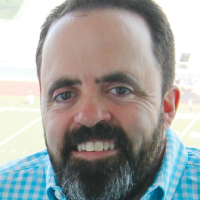 Chad Conine
Bio

Longtime Waco sportswriter and Texas Tech graduate Chad Conine is the author of "The Republic of Football: Legends of the Texas High School Game" and "Texas Sports: Unforgettable Stories for Every Day of the Year," among other titles.
Fans of baseball history have a chance to win a set of prized memorabilia this week while supporting McLennan County residents in need.
For the second straight day, the Baylor men's tennis team announced the addition of a graduate transfer to its 2020-21 roster.
The University Interscholastic League's Medical Advisory Committee held a meeting on Friday to specifically address the protocol for athletic …
The Baylor men's tennis team announced the signing of graduate transfer Charlie Broom on Friday.
BRADENTON, Fla. – After her senior season at Baylor was cut short and the beginning of her WNBA career delayed for more than a week by the COV…
A football coach in the middle of a winning season will almost inevitably talk about how his players are "buying in" to the system.
Some Central Texas football and volleyball teams took their first, possibly tentative steps toward the upcoming season as they hit the field f…
The Baylor women's basketball team continues to attract talented backcourt players from both the high school ranks and other high-profile univ…
After more than a week of confusion, frustration and juggling of schedules, Central Texas athletic directors are back to preparing for fall sp…
Rich Richardson has been part of the Central Texas sports scene long enough to be easily recognizable.
View all