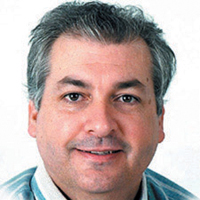 Mike Copeland
Bio

Mike Copeland is Waco native who attended Baylor University and joined the Tribune-Herald in 1978. He's been covering local business since 1992.
Austin Young, originally from South Georgia, is opening a Chicken Salad Chick restaurant at 1509 Hewitt Drive. It probably will open late next…
Hobby Lobby, the crafts chain with a local store at Bosque Boulevard and Valley Mills Drive, announced it would start paying full-time employe…
Waco's economy is getting better, but business leaders have said the next three or four months could prove extra special. Businesses committed…
The Showtime Gentlemen's Club on La Salle Avenue has curve appeal, one might say, with signage that includes female forms in silhouette.
Participants will quietly slip into the building at 605 Austin Ave. on Wednesday and Thursday evenings, hoping to unlock the door to success.
Jobs need filling across Greater Waco even after the local jobless rate dropped again in August to the sixth-lowest among metropolitan areas i…
How the pandemic has upended their lives: a defense attorney, a home health worker, a performing musician, a middle school teacher, a stylist and a single retiree.
Kudos to the Greater Waco Chamber of Commerce for its "Aerospace Issue," a recent publication examining the area's dynamic aviation industry.
For seven weeks, stylist Vicky Humphries, 49, shut down her space at the Hair Studio, 6501 Sanger Ave., in response to the state's COVID-19 or…
Homebuilders Ken Cooper and Andy Horn captured the public's fancy with their Hidden Valley subdivision of upscale homes. Now Cooper is returni…
View all