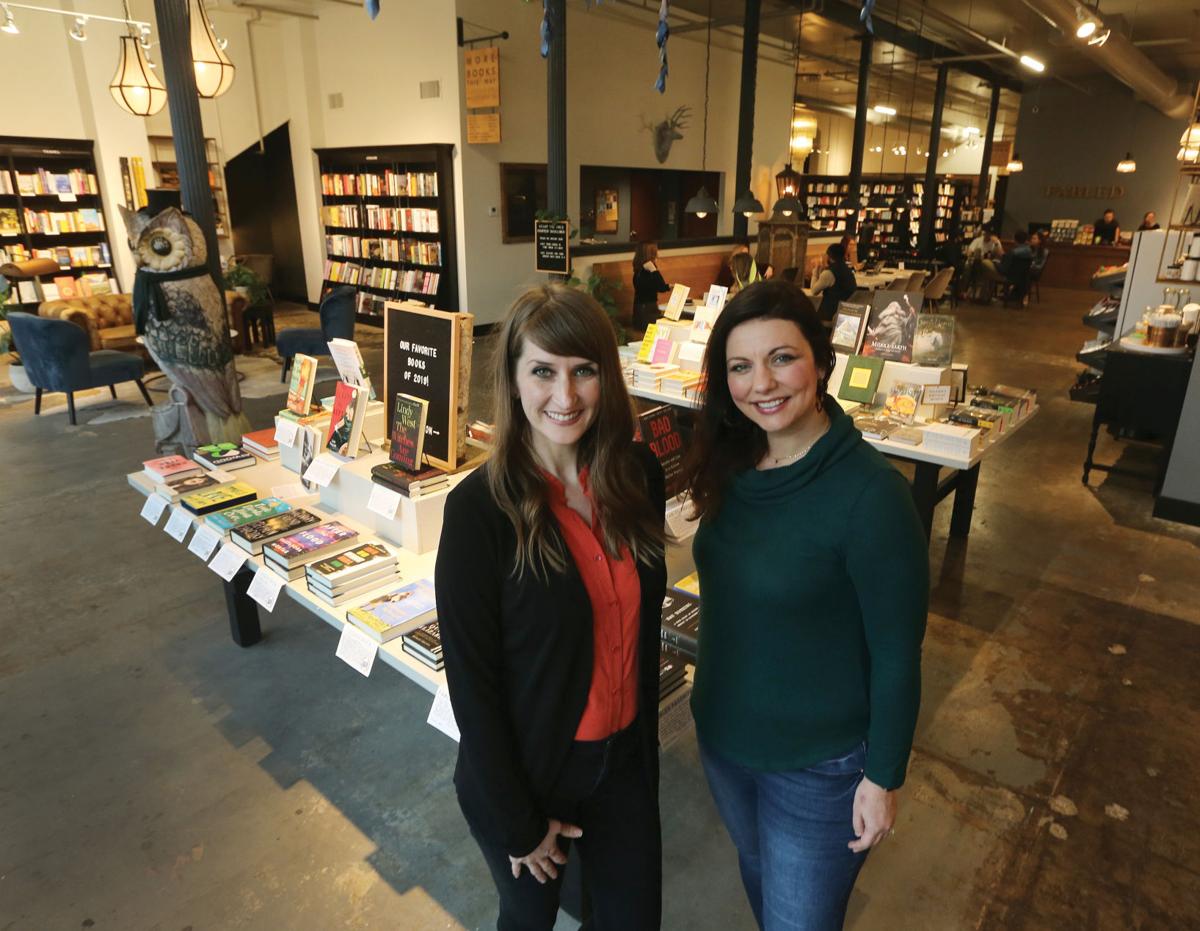 Stepping into Fabled Bookshop & Café, one immediately recognizes the passion for reading by owners Alison Frenzel and Kimberly Batson.
The spacious 6,500-foot interior of the bookstore that opened last August is a reader's haven, creating a sense of wonder and discovery. A 5-foot-tall wooden owl clutching a book greets visitors upon arrival. There are large reading areas, comfortable furniture, a children's area that invites exploration, and a coffee bar and café section that encourages customers to relax with a cup.
Notebook cards with staff recommendations written on them can be found along the bookshelves.
The entrepreneurs began discussing the idea of an independent bookstore for downtown Waco three years ago when they met and discovered a shared love of books. They researched whether the idea for an independent bookstore was feasible, discovering through statistics from the American Booksellers Association that brick-and-mortar book retailers were seeing more sales in recent years.
"We're delighted to see the enthusiasm from the community," Frenzel said. "It affirmed to us that an independent bookstore was right for Waco."
More than just a bookstore, the pair wants Fabled to be a gathering place. To achieve that, they knew a café and coffee bar was needed.
"(The café) always was a key part of it," Batson said. "We wanted to make it a communal hub. Books and coffee. Is there anything better? We're gratified to have people who have found this as their place."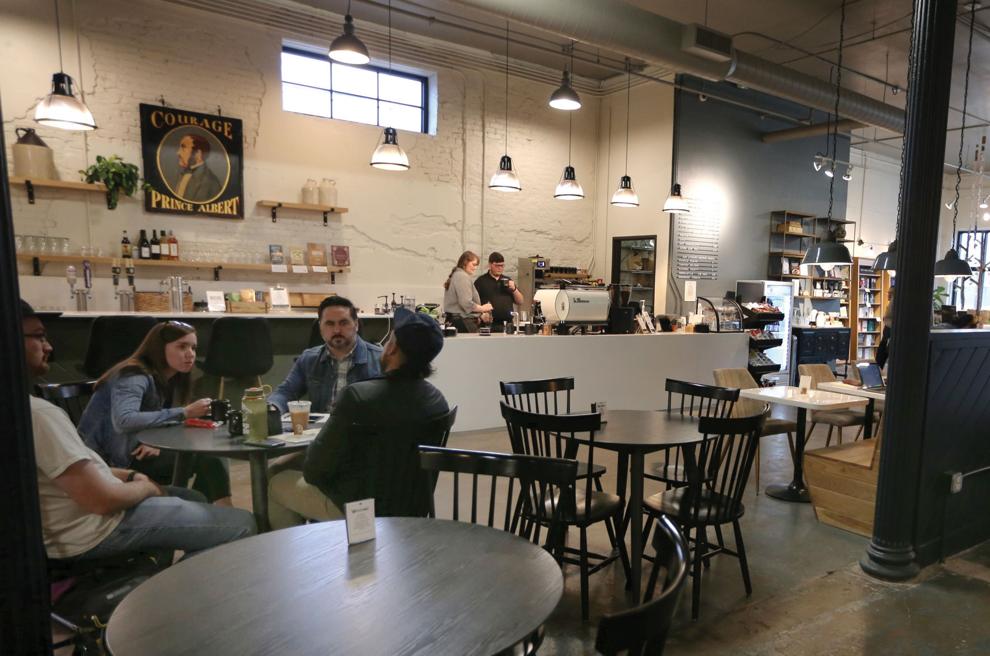 Beyond their shared passion for reading, Batson and Frenzel bring complementary skill sets to the business.
"There were things Kimberly had expertise in that I did not and I had expertise in things that Kimberly didn't," Frenzel said. "So the two of us together had it covered."
Frenzel, the daughter of a Baylor English professor, has a background in marketing, advertising and photography.
Batson, meanwhile, knows a few things about running a café. She had worked as manager of the Common Grounds coffeehouse near Baylor. There she met Blake Batson, who later served as manager after Kimberly left to live in England for a couple of years.
They began dating upon her return and he bought the business in 2012. A year later they married and became business partners in Common Grounds as well as Heritage Creamery next door.
"My husband being an entrepreneur was a good resource to help with the café portion," Batson said.
Even so, Frenzel is quick to point that Batson has an eye for design herself and that was incorporated into the look of the bookstore. And some things just fell into place.
"The owl in the front, for example," she said. "You kind of have to stumble into that. Those types of things create the feeling of nostalgia and magic and discovery. We tried to hone in on how to do that with every part of the store."
"Our vision of the space was so in sync," Batson said. "Having the same philosophy was crucial."
For the Kids
They joke that Fabled is a sort of "mom and mom shop," and note that their children influenced certain aspects of the bookstore.
Nowhere is that more true than in the children's area, which has a secret entrance reminiscent of the one in C.S. Lewis' "The Lion, the Witch, and the Wardrobe."
Once inside, the room is filled with costumes, learning games and tiny chairs. And books, of course.
The wardrobe entrance has been a particular source of pride and a big hit with visitors, they said.
Batson said she's enjoyed happening to catch people enthusiastically introducing the wardrobe to their friends. One woman was overcome with emotion as she discovered it, she recalled, adding that those are the kind of moments that make them happy to have created the bookstore.
It took a bit of explaining the concept of the wardrobe entrance to the contractor, Batson said.
"When we told the contractor what we wanted, he was like, 'We've never done one of those before,'" she said. But it's turned out wonderfully, she added.
Frenzel has a 12-year-old daughter and 9-year-old son, while Batson has two girls, ages 3 and 1, and has another child on the way.
"You will see them running around here from time to time," Frenzel said. "They also are good test subjects for some of the things we want to do here."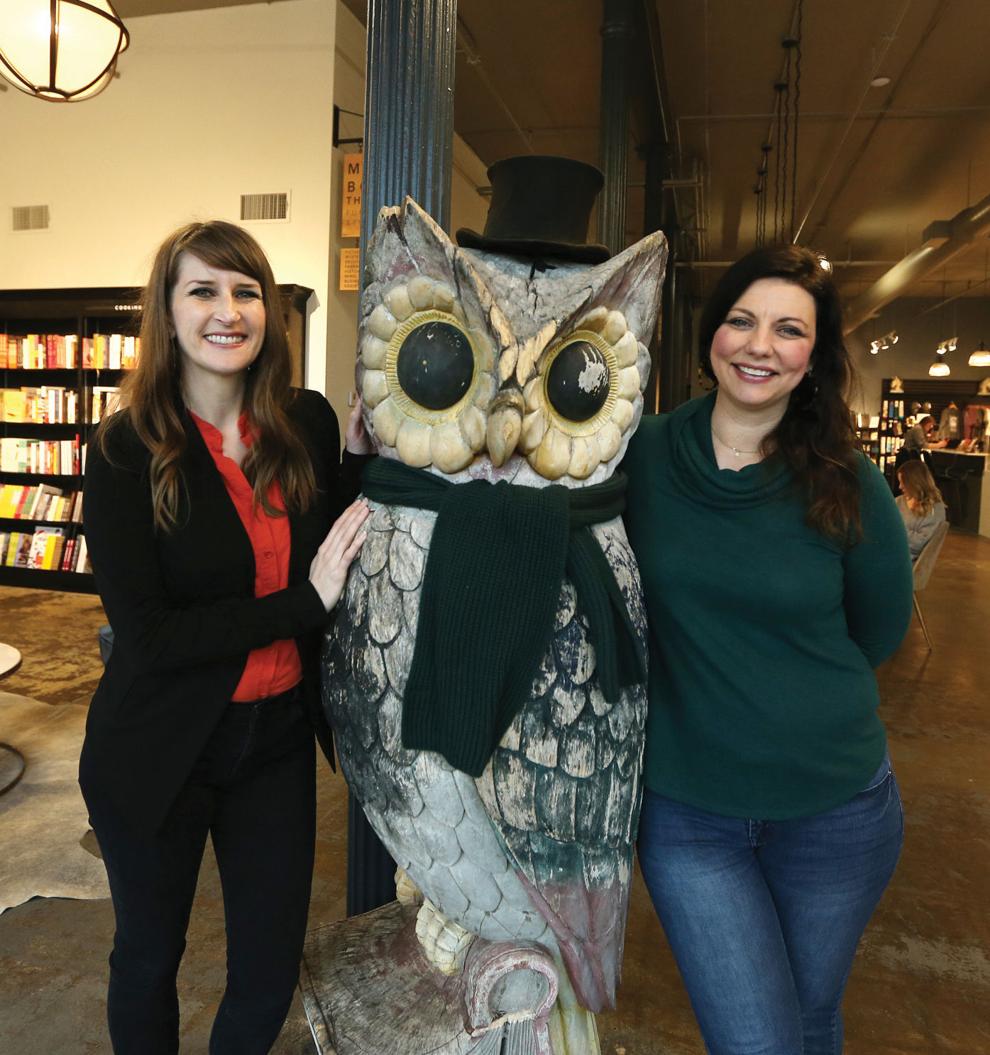 Batson and Frenzel want to make sure the joy of reading is spread to kids, so it hosts weekly events for children.
They also said they are appreciative when parents come up to them, asking for book recommendations for their children.
"We can tell parents what are good books for kids, what the new releases are that they might be interested in," Frenzel said.
That face-to-face interaction at a bookstore can't be replicated with an online bookseller, they note.
"We like to say an Amazon logarithm can only do so much," Frenzel said.
For the entire bookstore, it was about making Fabled an inviting place to settle down with a book, they said.
"We wanted it to be cozy, but also feel relevant," Batson said. "It was about creating a space where a love of reading can be encouraged."
Likewise, Frenzel and Batson have been encouraged by the response to Fabled.
"We're discovering that beyond the local community, there's this whole sphere of book lovers and authors and commentators finding out about us," Batson said.
Now that the bookstore is fully established comes the time to tweak and expand, they said.
"Every system can be better," Frenzel said as she turns her focus to the operations of the business.
"Now it's figuring out things like how many books should be on the shelf, how many do I need to recorder," she said. "It's a dance."
But what has made it go smoothly thus far is the great employees they have, both said.
"Our staff is so important to the success," Batson said. "We have a great team, from managers to café staff to booksellers."
"And when we make changes," Frenzel added, "they've been able to pivot. Everybody has jumped in with us."
Adding More
Fabled plans to launch some new services this spring to provide more options for customers.
They are in the process of expanding Fabled's online shop. The only current online offerings are merchandise such as themed T-shirts and tote bags. They are working to link Fabled's book inventory so customers can purchase books online if they aren't able to make it to the store.
Also in the works is a monthly subscription service that will offer a selection of books readers may be interested in.
The store also has its Fabled Fellows membership program, which offers a variety of perks to members, such as discounts on purchases and pre-orders, and first dibs on ticketed events held at Fabled.
Like many businesses, Fabled keeps followers in the know via social media on Facebook and Instagram. Customers also can subscribe to a monthly newsletter.
"Our big overarching dream is to build literacy in Waco," Frenzel said.
"We're just so thrilled from Waco's response," Batson said. "We're excited to be Waco's independent bookstore."
---
Fabled Bookshop & Café
Mon-Thu, 9 a.m. to 9 p.m.
Fri-Sat, 9 a.m. to 11 p.m.