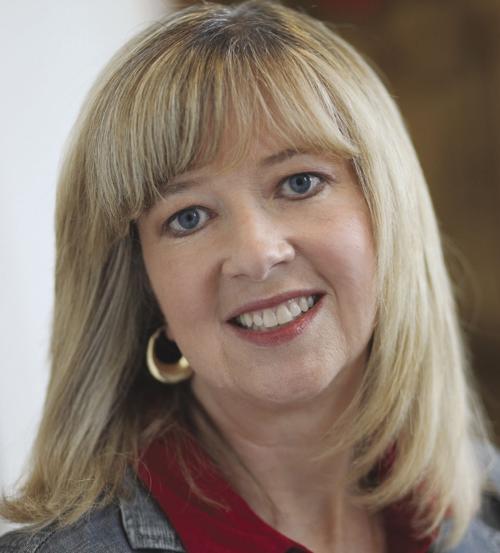 Like other nonprofit organizations, the Waco ISD Education Foundation had to cancel its popular Celebrity Chef fundraising event this year because of COVID-19, but that didn't prevent the foundation from awarding more than $100,000 in grants to teachers for innovative classroom projects.
The Waco ISD Education Foundation and its SurPRIZE Patrol virtually visited 11 Waco ISD campuses in late May to surprise 31 teachers with the news that their grant applications were approved for funding for the 2020-21 school year. This year, the foundation awarded $125,373 to the district, bringing the total funded to more than $1.8 million over the past decade and a half.
The group normally makes surprise visits to teachers' classrooms with balloons and festivities, but with schools closed, the announcements transitioned to a virtual announcement and celebration.
District teachers and staff had the opportunity to apply for funding through the foundation's Innovative Grants program beginning this past fall. That program annually awards approximately $100,000 in grant funding in the four focus areas of early childhood development, enhanced programming for advanced students, extended education for staff, and emphasis on student performance.
This year's grant projects span a wide array of topics and areas, from health sciences, coding and special effects makeup to gardening, performing and visual arts and engaged learning for special populations.
Taylor Bledsoe, chairman of the Waco ISD Education Foundation board of directors and vice president of Sturdisteel, participated in the virtual surprise announcements, including one for a grant to Lake Air Montessori Magnet School named in Sturdisteel's honor.
"Each year, I'm amazed by the creativity and innovation shown through these grant proposals, but this year, we heard from the committee that these were some of the best," Taylor said. "Thanks to outstanding support from our community sponsors, the foundation was able to award more than $125,000 in grants that will benefit teachers and students across the district and provide teachers with unique opportunities to teach their students in creative and exciting ways. As a member of the local business community and an alumnus of Waco ISD, that's a pretty exciting thing to be a part of."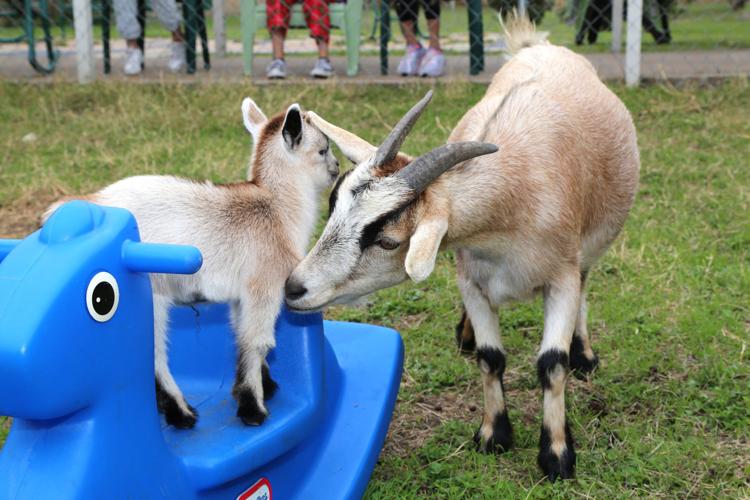 Dr. Susan Kincannon, Waco ISD's superintendent, also participated in the virtual announcements. As Named Grant sponsors, a grant at Hillcrest Professional Development School was named in honor of Susan and her husband, Keith.
"Our education foundation brings the community together to make a difference for our students," she said. "These grants enrich the classroom experience for our students and allow teachers to engage with the curriculum in innovative ways. These grants are proof that our community is invested in our schools and their students' success. Even during such difficult and uncertain times, our teachers and administrators across the district have put so much time and thought into these grant proposals, and I'm excited to see these projects implemented in our classrooms."
In addition to district staff, foundation board members and committee members, the SurPRIZE Patrol included representatives from some of the 17 local businesses and individuals that had a grant named in their honor based on their level of support of the organization and its 14th annual H-E-B Celebrity Cookoff. Although the event scheduled for March 27 had to be canceled due to the COVID-19 pandemic, most sponsors maintained their committed financial support of the organization and its programs.
Letters of intent and full applications were screened and scored by a committee comprised of members of the foundation's board of directors and community volunteers. Applications are scored on various categories including rationale, goals, plan of operation, communication and long-term implications. This year, the committee met in a marathon Zoom meeting to make a final selection of the grants.
Teachers receiving a grant this year were:
Sherry Bagby, Mountainview Elementary; Jessica Bancale, Crestview Elementary; Will Burney, Waco High;
Leslie Cannon, ATLAS Academy; Alison Davis, Lake Air Montessori Magnet; Shawn Dewett, Waco High;
Renee Ebeling, University High; Amanda Flentge, Hillcrest Professional Development School; Tori Garcia and Cristina De La Pena, Cedar Ridge Elementary;
Hope Gereghty, Waco High; Carolyn Green and Nikitha Hartfield, West Avenue Elementary; Carolyn Green and Nikitha Hartfield, West Avenue Elementary;
Jefferson Gunn, University High; Laurie Beth Harris and Lisa Hughes, Tennyson Middle; Lindsey Helton, Alta Vista Elementary;
Peter Holmstrom, Alta Vista Elementary; Kimberly Huffman and Kendall Wilson, Cedar Ridge Elementary; Star Islas and Angela Low, Cedar Ridge Elementary;
Gwen James, Alta Vista Elementary; Erin Lange, Cedar Ridge Elementary; Matthew McMahon, Crestview Elementary;
Erica Muller and Jennifer Findley, Tennyson Middle; Ruzica Norwood, Lake Air Montessori Magnet; Megan Perez and Alison Davis, Lake Air Montessori Magnet;
Rosa Pryor and Irene Barrantes, Kendrick Elementary; Lauren Reasor, Myriam Roberson, Yolanda Anzures and Frencis Mendoza-Villeda, Cedar Ridge Elementary; Jo Spark, Alta Vista Elementary;
Nicky Stokes, Lake Air Montessori Magnet; Bethany Wharton, Lake Air Montessori Magnet.
'Monsterstreet'
If your family is like ours, you have read a lot of books during our "Safer at Home" time. If you have elementary-age children, then mark July 7 on your calendar. That marks the release date of "Camp of No Return," book four in the "Monsterstreet" series by Waco native Jonathan Reynolds. This will be the final book in the series.
"The response to the 'Monsterstreet' series has been more than I ever could have hoped," Jonathan said. "We've had amazing feedback from kids, families, schools, librarians, teachers, bookstores. The most rewarding part has been hearing about reluctant readers who can't stop turning the pages. That's the reason I wrote this particular series in the first place — to get reluctant readers interested in books in general and to get them to fall in love with that feeling of holding a book in their hands and escaping into the world of imagination."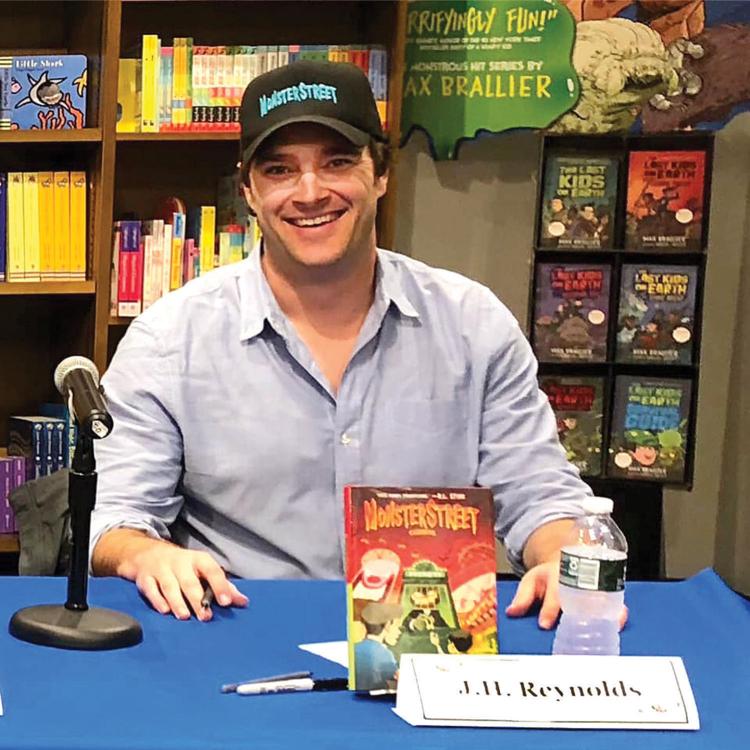 Unfortunately, all book events and tours have been put on hold because of Covid-19, but Jonathan hopes he can do a few events closer to Halloween.
"Camp of No Return" might be the final installment of the "Monsterstreet" books, but that doesn't mean we won't see more of the world Jonathan created. He shared the exciting news that an animated series based on the series is in development.
"My film/TV agent at United Talent Agency in LA contacted me at the beginning of the year about a team of producers who were interested in turning 'Monsterstreet' into an animated TV series.
"I was hesitant at first, because I've always imagined it as a live-action show in the vein of something like 'The Haunting Hour' or 'Eerie, Indiana.' But after several discussions, I started to become more open to the idea.
"When the animation studio behind 'Rick & Morty' and the Academy Award-nominated 'Anomalisa' came on board with their team to develop the animation for the series, I decided to give it a chance.
"I've liked what I've seen and heard so far and am excited to see the end product. Hopefully the show will be available for streaming by Halloween 2021 or 2022."
Area residents might not see a lot of Jonathan during the next few years. In September he will begin a doctorate at the University of Birmingham in the United Kingdom. He will be able to conduct much of his research from Texas so he won't have to move his family overseas long-term, but he does want to bring his wife and children to England as much as possible.
He also will start work on a new book series, once his editor decides which one to pursue. After all, Jonathan submitted more than 10 new series concepts to HarperCollins.
"I feel very fortunate to be in this place of having the necessary people behind me in order to bring stories to the world. It's been a lot of fun, and I'm just getting started," he said.
Bosque Arts Center Activities
A couple of months ago, a friend, who lives in a metropolitan city in another state, asked me to read a draft of a novel she had written and that was a finalist in a writing contest. The book was great, and I hope she wins. If you have written a poem, short story or even a song, you can enter a new writing contest sponsored by the Bosque Arts Center in Clifton.
The center again will host Books on the Bosque in the late fall, but this year will feature a writing contest to tie in to the event aimed at writers and readers. The contest is looking for submissions of short stories, creative nonfiction essays. rhymed poetry and free verse poetry.
Submissions are due by Sept. 21 and cash prizes will be awarded to the winners. There is a $10 entry fee.
If songwriting is more your thing, then you will want to enter the BAC's Eighth Annual Texas Troubadour Songwriters Classic. The BAC celebrates and promotes country music songwriters and singer/songwriters by providing an opportunity nationwide for recognition of their talent in the great state of Texas. The competition will be judged each year by well-known country music songwriters.
The contest is open to U.S. songwriters and singer/songwriters. Contestants may enter original songs by CD or by uploading digital entries to be considered for a $1,000 Song of the Year Award as well as the live competition for singer/songwriters in November with the $1,500 Texas Troubadour and $500 People's Choice awards. The deadline for entry will be Aug. 3.
I didn't know much about the Bosque Arts Center, but learned it is a lively place that hosts art shows, live theater, concerts, various fine arts clubs and more. The center was founded in 1982 and was the brainchild of Joan Speiler, a professional photographer who gained acclaim for colorizing black and white photos. She also was a painter.
"She thought it was important for people to learn about the arts," said Deb Phinney, Bosque Arts Center program director. "She was a doer and a visionary."
To help fund all that activity, the center is holding an online auction of some fabulous items. Auction items include a tour of the Samuel Adams Brewery in Boston, a Tennessee Whiskey Experience including a tour of the Jack Daniels Distillery, salmon fishing in Vancouver, a Saks Fifth Avenue shopping experience in Chicago and much more. Bidding ends Aug. 13.
The online auction is prelude to The Big Event, the BAC's major fundraiser on Aug. 15 (hopefully COVID-19 will not postpone it). Now in its 38th year, the event will feature a delicious dinner, music by Brian Barrett and Serengeti, silent auction, mystery bags and more. A hospitality hour will begin at 5:45 p.m. with dinner at 7 p.m. followed by dancing at 8 p.m.
These are just a few of the events the center has on its calendar. Learn more about the BAC, including entry rules for the writing contests, by visiting bosqueartscenter.org.
Brazos River Cleanup
One of the focal points of our city is the Brazos River, but I think you can admit that the river and its banks sometimes get a little trashy. Volunteers with Keep Waco Beautiful will take care of that problem on July 11.
You can come on out and help clean up the river from 9 a.m. until noon. KWB's awesome partner, Waco Paddle Company, has offered to let volunteers use its kayaks and canoes again on a first-come, first-serve basis.
"It's really great that people can get in the river to get those items that you can't collect on foot. Plus, it is fun to kayak," said KWB executive director Ashley Millerd Crownover.
KWB holds a river cleanup four times a year, but the April event was rained out. Normally, 400 or so folks volunteer to help collect trash and recyclables. The organizers make the event fun by giving out some cool prizes for the most bags collect by a group or person, the most unusual item and the most recyclables collected.
Volunteers are usually asked to bring their own reusable water jug because KWB no longer provides plastic bottles of water, but because of Covid-19, KWB will have canned water donated by Coca-Cola.
"We will have hand sanitizer and hopefully we can get some masks in for those who forget to bring their own." Ashley said. "We will be practicing social distancing as best as we can by setting up a few tables to avoid lines to pick up materials."
All volunteers who register online will receive a T-shirt, designed by Hole in the Roof Marketing, as a thank you. Volunteers need to wear appropriate clothing, including closed-toe shoes. People interested in helping will meet at 200 University Parks Drive where the Waco Paddle Company truck is stationed.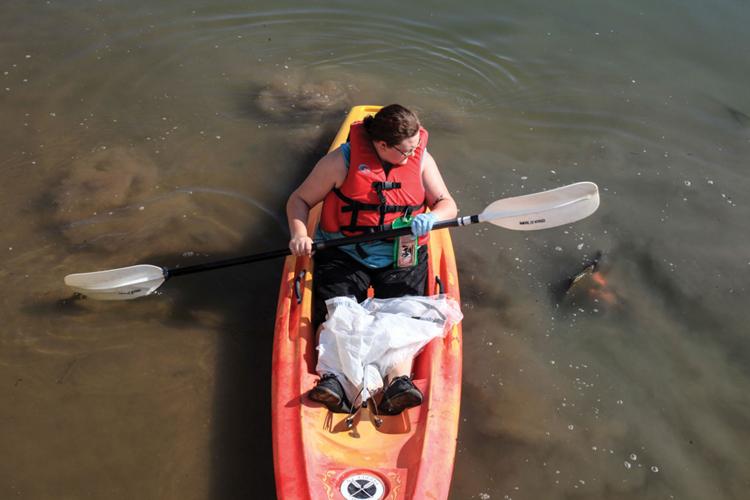 Keep Waco Beautiful was started in 1979 as the Beautification Committee of Waco. The committee changed its name in the 1980s to Keep Waco Beautiful. Keep Waco Beautiful is an award-winning program that has won the prestigious Governor's Award six times, bringing almost $1 million into the community for beautification efforts, and also second place in the national Keep America Beautiful award.
Keep Waco Beautiful has over 400 members and over 13,000 volunteers.
Adjustments
COVID-19 continues to cause issues for local organizations and events. The city of Waco's July 4th celebration has been canceled while the TriWaco triathlon, which normally takes place in July, has been postponed. Additionally, the Meals on Wheels Wild Game Dinner that was to take place Aug. 1, has been postponed until May 2021.
Julie Campbell-Carlson has written for Waco Today since 1997. She's always looking for interesting tidbits for her column.
She can be reached at Julie_Carlson@mygrande.net
Be the first to know
Get local news delivered to your inbox!