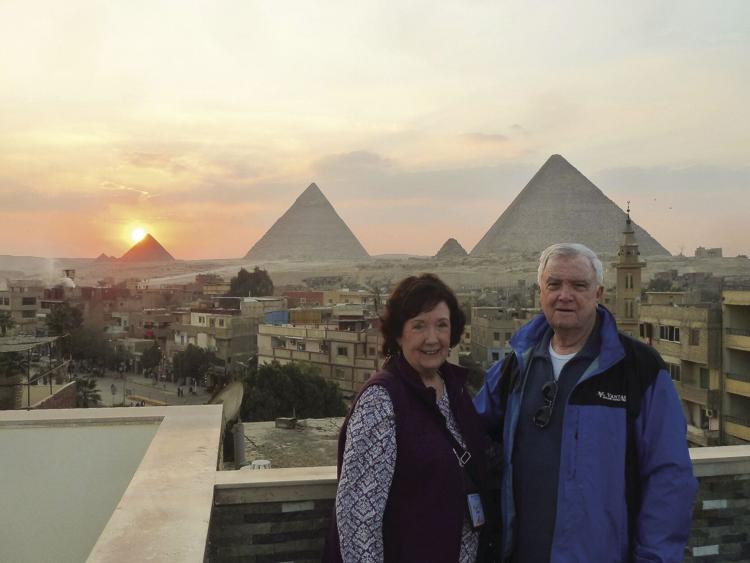 Nancy and Charlie Moore loved to travel. The Waco couple journeyed to six of the seven continents (they have missed Antarctica), seeing fabulous locations along the way. In February, before COVID-19 shut down travel, Nancy and Charlie spent two fascinating weeks in Egypt.
It was their last big trip. Charlie died Sept. 9 after a brief battle with cancer.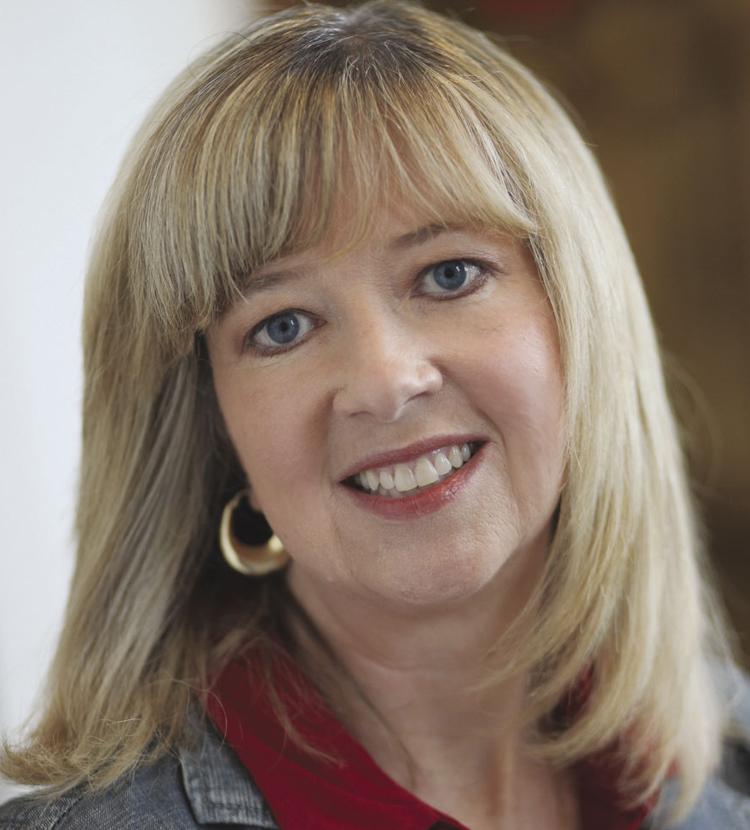 "We were very lucky to get it in just before the true spread of the virus," Nancy said. "We were in Egypt in 1995 and absolutely were in awe of everything we saw. In early 2019 we started looking for a small group tour that went to the more out-of-the-way places, and several others that we had not visited previously."
By accident, Nancy stumbled across the website of a lady who has led such tours for the past 20 years and has made great contacts with local families and antiquities experts along the way. Only 13 were in the Moores' group. That small size gave them access to sites usually off-limits to large groups of tourists.
"Everything our tour operator promised was delivered," Nancy said. "We had access to tombs not generally open to the public; early entry to special tombs that are usually very crowded; visits with local people who show the way people live today in Egypt; exposure to many different types of local food; and more."
The group even spent four nights on the Nile River on a dahabiya (a small, primitive riverboat), and went on a special night visit to the Great Pyramid of Giza, a highlight for the Texas couple.
"The visit was just for our group," Nancy said. "We even got to see two additional chambers that are never open to the public."
The group toured the Great Pyramid for two hours and was the only group on the plateau. They were able to see a chamber nicknamed "the basement" as well as the queen's chamber. A couple of places could only be reached by crawling through passageways, something claustrophobic Nancy did not enjoy.
Charlie put the size of the pyramid into perspective by comparing it to a Waco landmark. Khufu's Great Pyramid of Giza is approximately 1.75 times taller than the ALICO Building and the base covers the area of several city blocks. Great indeed.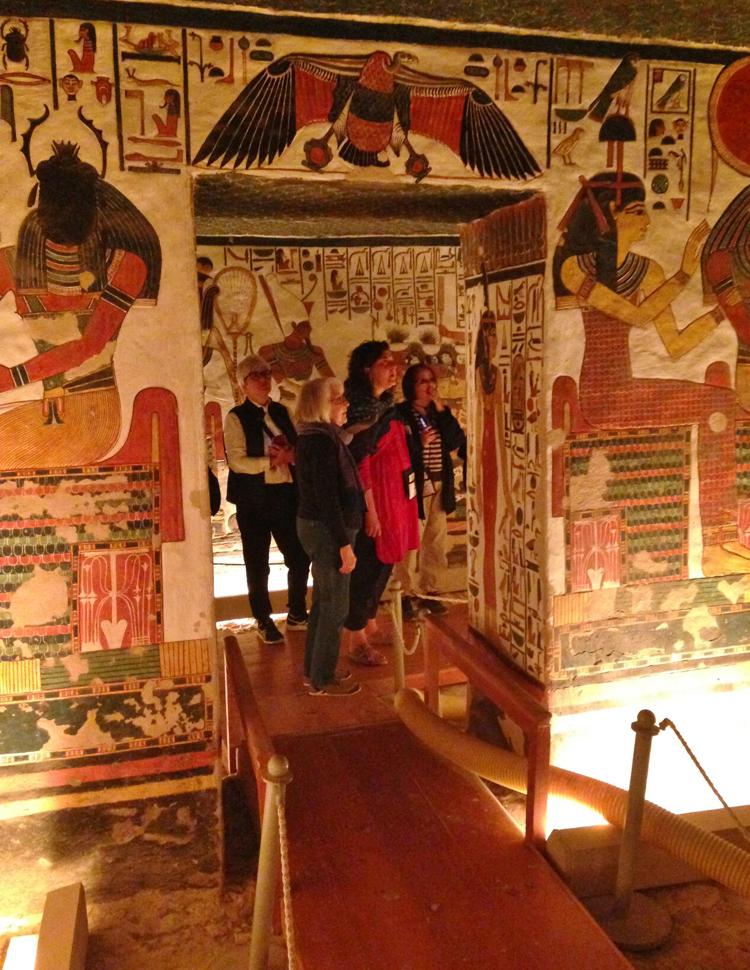 The group also traveled to Luxor to see the Valley of the Kings and Valley of the Queens. They were able to visit Queen Nefertari's tomb, which was reopened to tourists only a few years ago. Even now, admittance is strictly regulated, but with the tour leader's connections, the group was able to stay for 35 minutes.
"The colors take your breath away," Nancy said. "The Egyptian Antiquities Council forbids any paint being added to ancient things. They may be cleaned using conservation methods, but the paint is original."
While in Luxor, the group made a day trip to Abydos, site of the Temple of Seti I, Ramses the Great's father. The temple is one of the best preserved ancient structures and contains the Abydos King List, which contains the names of 76 kings of ancient Egypt, predecessors whom Seti acknowledged to be legitimate pharaohs, Nancy explained.
After seeing Luxor, the group boarded a boat for their cruise on the Nile, but this boat was not like others Nancy and Charlie had taken on travels.
"Rather than being on one of the large, luxurious riverboats, our group leader chose to charter a private small boat just for our group," Nancy said. "These boats are called dahabiyas and are generally rather primitive. Ours was literally built by its owner, so not fancy but adequate … and it had air conditioning. Our little cabins were at water level where the windows are, and we ate on the upper deck. The cooks were wonderful and the food was outstanding."
She particularly loved shawarma and falafel. In fact, the travelers ate two meals with local families.
The group did much more, including touring the Egyptian Museum in Cairo, home to the vast Tutankhamun collection; and spending a day in Abu Simbel, site of two temples that were saved through amazing engineering from the waters of the Aswan Dam. Abu Simbel also is a well-known movie location, including scenes in "The Spy Who Loved Me" and "Death on the Nile."
Zoo Events
October historically is a busy month for the Cameron Park Zoo, and this year is no exception. Two popular events will still take place but with modifications, and the hopefully cooler weather will make the zoo a perfect destination to visit.
"Fall is a big time for us," said Terri Cox, executive director of the Cameron Park Zoological & Botanical Society. "Our events will look a little different, but will still be great."
Brew at the Zoo, a night of beer tasting, usually attracts a crowd of more than 1,100 folks. That number is a bit too large for gathering during a pandemic. So instead of postponing the event, the Cameron Park Zoo will hold Brew on three different nights.
On Oct. 15-17, a capacity crowd of 250 per night can stroll through the zoo while enjoying beers and ciders from four or five local and regional breweries. The bars will be placed throughout the zoo, and this year's Brew at the Zoo will not feature a band or silent auction.
Patrons also will be asked to wear masks when not drinking. As they are wandering the zoo, guests can take part in Goose Chase, a virtual scavenger hunt that has proved extremely popular. Players can simply download the scavenger hunt app and follow the instructions.
Tickets to Brew at the Zoo cost $30 for zoo members and $35 for non-members. Brew at the Zoo T-shirts will be available for $15. Tickets include admission to Brew at the Zoo; a Brew at the Zoo tasting cup; and Beer Passport (which permits samplings of alcoholic beverages). Designated Driver tickets cost $10. Designated Driver ticket-holders will not be served alcohol.
Unlimited sodas and water will be available. Participating in Goose Chase will cost an additional $5.
The Cameron Park Zoo usually hosts Zoo Boo on Halloween night. That will not happen this year, but zoo officials still plan a fun and safe Halloween. Guests are encouraged to wear their Halloween costumes to the zoo that day. They can watch animals take part in Halloween-themed enrichment activities, watch various entertainers, including stilt walkers and jugglers, and maybe even score some candy.
The zoo also will host a brand new fundraising event in October, but one that will get you thinking about the holidays. Families, grandparents, couples and friends can have their family photos taken at the Cameron Park Zoo on Oct. 4 or Oct. 11.
From 11 a.m. to 5 p.m. on those days, some of the area's top photographers will schedule 15-minute photo sessions for $150. Photo sessions will be spaced out throughout the zoo with several scenic backdrops. Strict social distancing practices will be followed to keep you safe. After the fundraiser, you will receive the five best photos from your session.
Because of these photographers' generosity, 100% of your $150 goes to the Cameron Park Zoo. The individuals being photographed also will receive free admission to the zoo on the day of their photo session.
The Cameron Park Zoo sends a special thank you to the photographers who are donating their time and talent: Taylor Nicole Photography, Tiffany Kirks-The Blissful Sparrow, Sheri Hemrick Photography and Photography by Cecy.
Register online at cameronparkzoo.com for your top pick of date, time slot and zoo location.
The zoo can still host small Zoo Snooze events, but has launched the new Wild Nights. Requiring a minimum of 10, Wild Nights includes a night hike, behind-the-scenes tour, scavenger hunt and animal presentation. This is a program perfect for kids and adults. Wild Nights costs $25 per person and a $50 deposit to reserve the evening.
For more information about the Cameron Park Zoo events and restrictions, visit cameronparkzoo.com.
Brazos Education Foundation Golf Tournament
"The needs caused by COVID-19 are great, but that doesn't mean the issues we have had for years aren't still here," said David Horner, director of development for the Brazos Education Foundation. One of those needs David is referencing concerns helping county students pursue higher education, something the foundation has done through its scholarship program for more than a decade.
To help finance those scholarships, the Brazos Education Foundation will host its 11th annual Education 4 Everyone Golf Tournament on Oct. 19 at Ridgewood Country Club. Golf won't be the only thing on the docket. Participants can also look forward to lunch and dinner as well as some fun and unusual activities, such as a rousing game of ladder ball.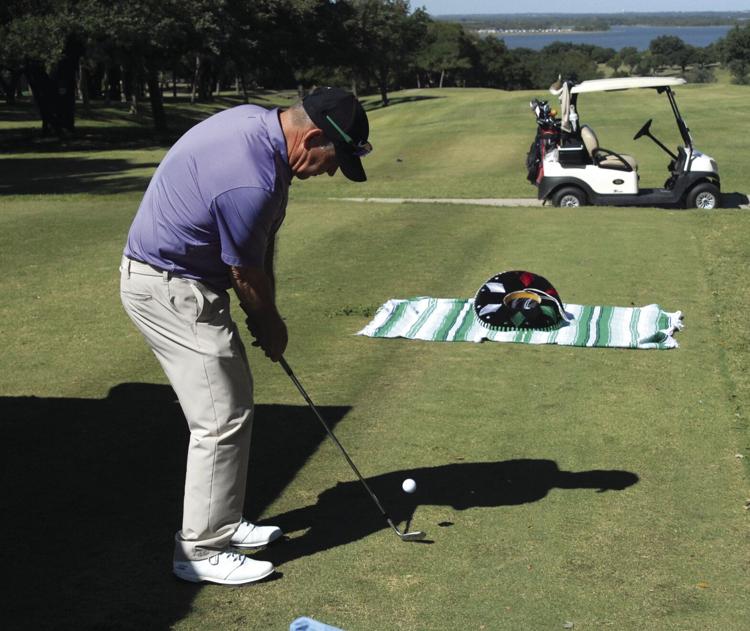 The best part is knowing that 100% of donations from the tournament go directly to providing help for county students. The foundation's administrative expenses are generously underwritten by Brazos Higher Education Service Corporation Inc.
"Amid such uncertainty, golf is an excellent outlet to relieve some stress while still practicing socially responsible distancing," David said. "Ridgewood has assured us that they can host a safe and fun-filled outdoor event in the grand tradition of tournaments past."
The Brazos Education Foundation offers scholarships to 12 county high schools and has provided renewable scholarships to more than 100 students. This year the Brazos Education Foundation awarded $10,000 scholarships to 12 high school seniors. Additionally, recipients can attend workshops that focus on topics college students need to know, such as budgeting, time management, crafting a resume and even etiquette.
The scholarships help students like Guadalupe Alfaro of Mart. Guadalupe was not only Student Council president and National Honor Society president, he also was the first Mart student to receive an associate degree from McLennan Community College while he was still in high school.
"Finances aren't easy for a high school student," Guadalupe said. "I save every penny I can get. I worked extra hours while sacrificing sleep to get my homework done. It was hard. I am proud of the work that I have done. I can say that I did it, but with it came worry and exhaustion. Receiving the Brazos Education Foundation Scholarship will help relieve my stress of affordability."
There are a variety of ways to support the foundation and its tournament. Sponsorships are available at various financial levels.
"There has never been a time that a successful tournament has been more critical to our current and future scholars," David said. "We continue to believe that education is the key to a better future."
For information on the golf tournament, contact David at 254-744-2396.
Family Health Center Honors Pioneer
During the summer, Family Health Center planned to hold a 50th anniversary celebration that would serve as a reunion of residents and a time to honor distinguished guests. Although that celebration has been postponed, FHC honored one of those distinguished guests in late August.
Family Health Center presented the Founder's Award to Dr. William Roddy at his home for his contributions to its establishment and his longstanding commitment to training residents through the Waco Family Medicine Residency Program.
"Since the early 1960s my father has worked to improve the lives of those Wacoans who were financially unable to secure health care," said his son, Dr. Louis Roddy. "He started the Waco Heart Clinic and personally attended children and adults with complex cardiac issues. This was done at no charge. Later in the decade he was instrumental in establishing the Waco Family Practice Program. Along with Dr. Chris Ramsey, they fostered the idea of care for all."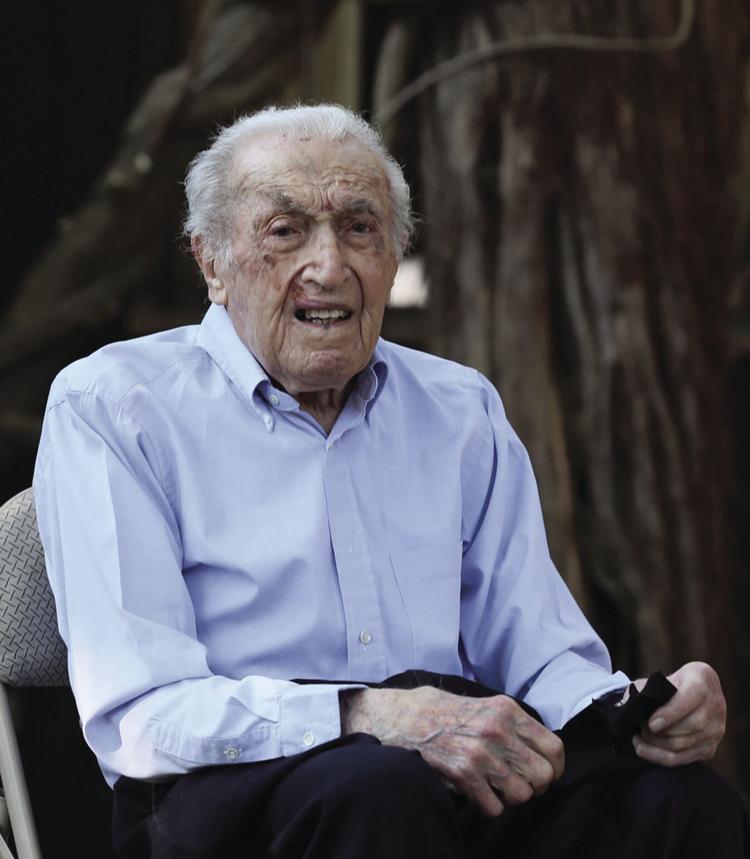 Dr. William Roddy was one of the key local leaders who stepped up to address the challenges faced by the Greater Waco community. He was not only instrumental in Family Health Center's creation, but greatly involved in teaching residents internal medicine as well as cardiac care.
Established in 1969 by the McLennan County Medical Society, Family Health Center was founded to address a shortage of doctors, lack of primary care access for low-income community members, and economic development issues in Waco. FHC was developed from a coalition of business, political and medical leaders pulling together. Dr. William Roddy was on the first committee of the medical society that studied those issues.
The Waco Family Medicine Residency Program is a nonprofit organization that has trained more than 400 family doctors. It is the oldest family medicine training program west of the Mississippi. Over half of Waco's family physicians are graduates of the program. The program places the highest percentage of graduates in medically underserved areas in the state of Texas.
"Dr. Roddy's contributions were not limited to the initial years in the establishment of the residency program, but extended for about 30 years till even after his retirement," said Dr. May Wang, the first full-time faculty employee of the residency program. "Even after retiring from his own private practice, Dr. Roddy continued teaching at the Heart Clinic until the early years of this 21st century."
Family Health Center is a federally qualified health center providing health care to underserved residents of McLennan and Bell counties who have historically struggled in a health care system that favors privately insured patients.
Attending the small ceremony were Dr. Jackson Griggs, CEO of Family Health Center; William Roddy's children, Dr. Louis Roddy and Ellen Hoffman; Dr. Bing Oei, the first resident of the program; and Dr. Wang, among others.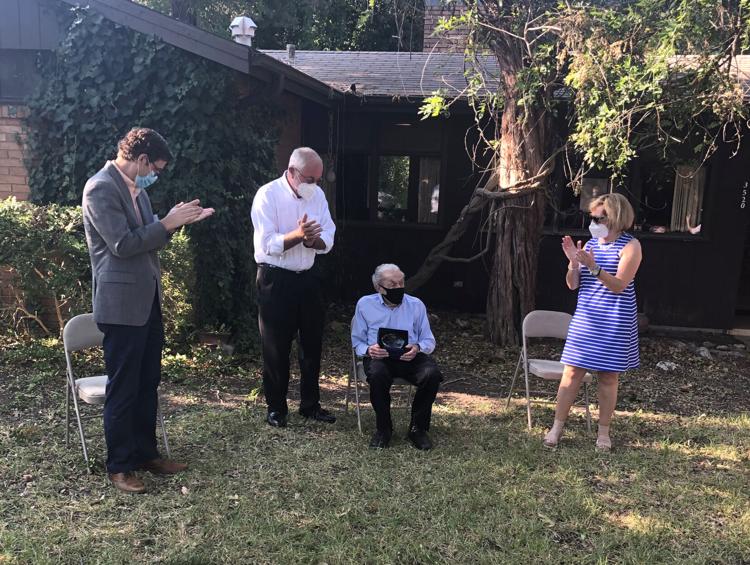 Virtual Cattle Baron's Ball
Make sure you are in front of your computer at 6 p.m. Oct. 1. That evening Waco's Cattle Baron's Ball goes virtual using the Zoom platform. That night, you can listen to a performance by Badlands, hear from presenting sponsor Ascension Providence and from Cattle Baron's chairs. Additionally, honorary chair Steve Beard will tell his story.
KWTX, this year's media sponsor for the ball, will assist in preproduction to make sure technical aspects are in place to help make the most of the night while raising money for the cause. Viewers can access the virtual event by visiting CentralTexasCattleBaronsBall.org. The link will be found on the homepage that will read "Click Here to Join the Virtual Event."
There is no charge to access the link for the virtual event, but viewers will have the opportunity to donate online or by phone throughout the evening. A portion of funds raised will be earmarked for research on cancers affecting the gastrointestinal tract. This includes the esophagus, stomach, pancreas and colon.
The American Cancer Society estimates 1.8 million new cancer cases will be diagnosed in 2020, and over 600,000 deaths will occur from cancer. It is the second-leading cause of death in the United States.
Note: Last month's column listed the wrong school that McLennan Community College graduate Mason Mikeska is attending to play golf. He is at Oklahoma City University.
Julie Campbell-Carlson has written for Waco Today since 1997. She's always looking for interesting tidbits for her column.
She can be reached at Julie_Carlson@mygrande.net
Be the first to know
Get local news delivered to your inbox!