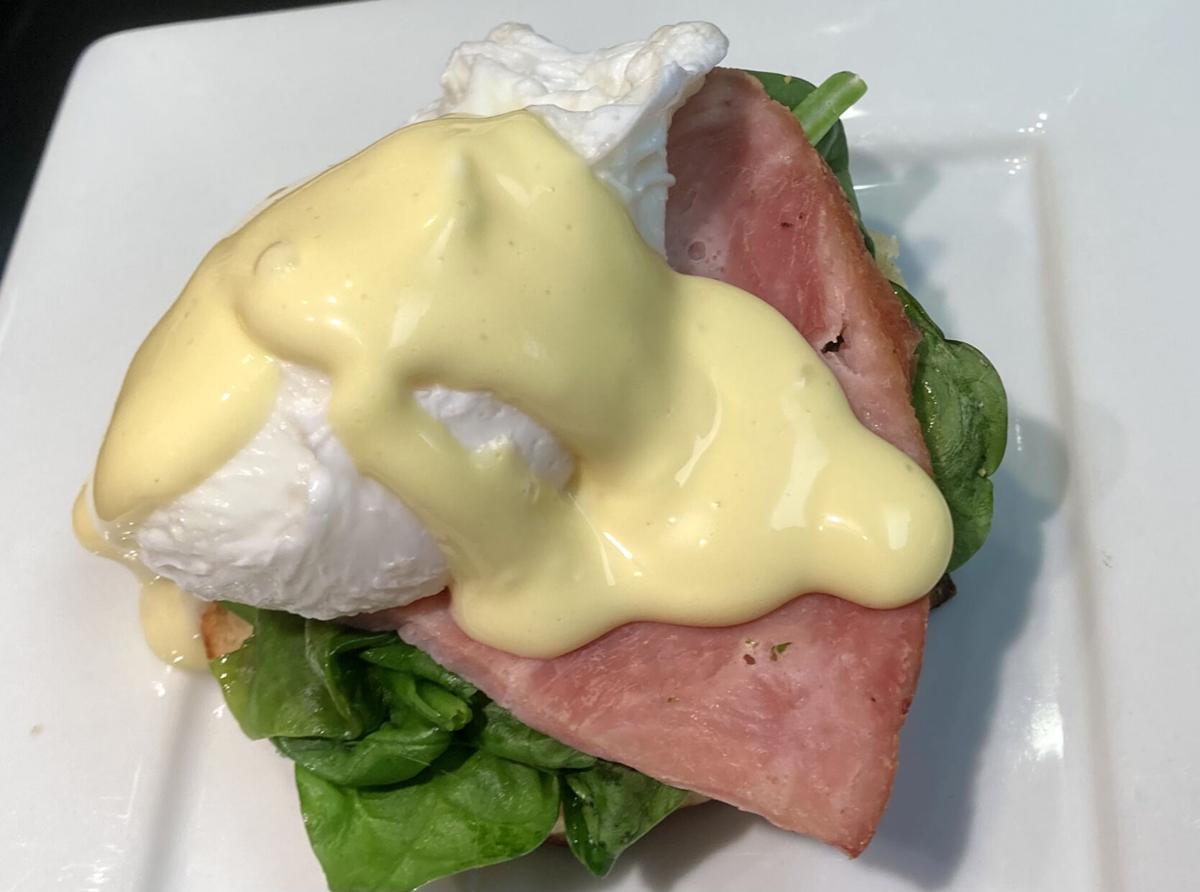 Some time ago, my friend Tim Kohn suggested that I write an article or series of articles on the "mother sauces," the five main French sauces that are the bases of almost every other sauce in classic French cooking. Those five sauces are bechamel, velouté, espagnole, tomato and hollandaise, the last being the most well-known.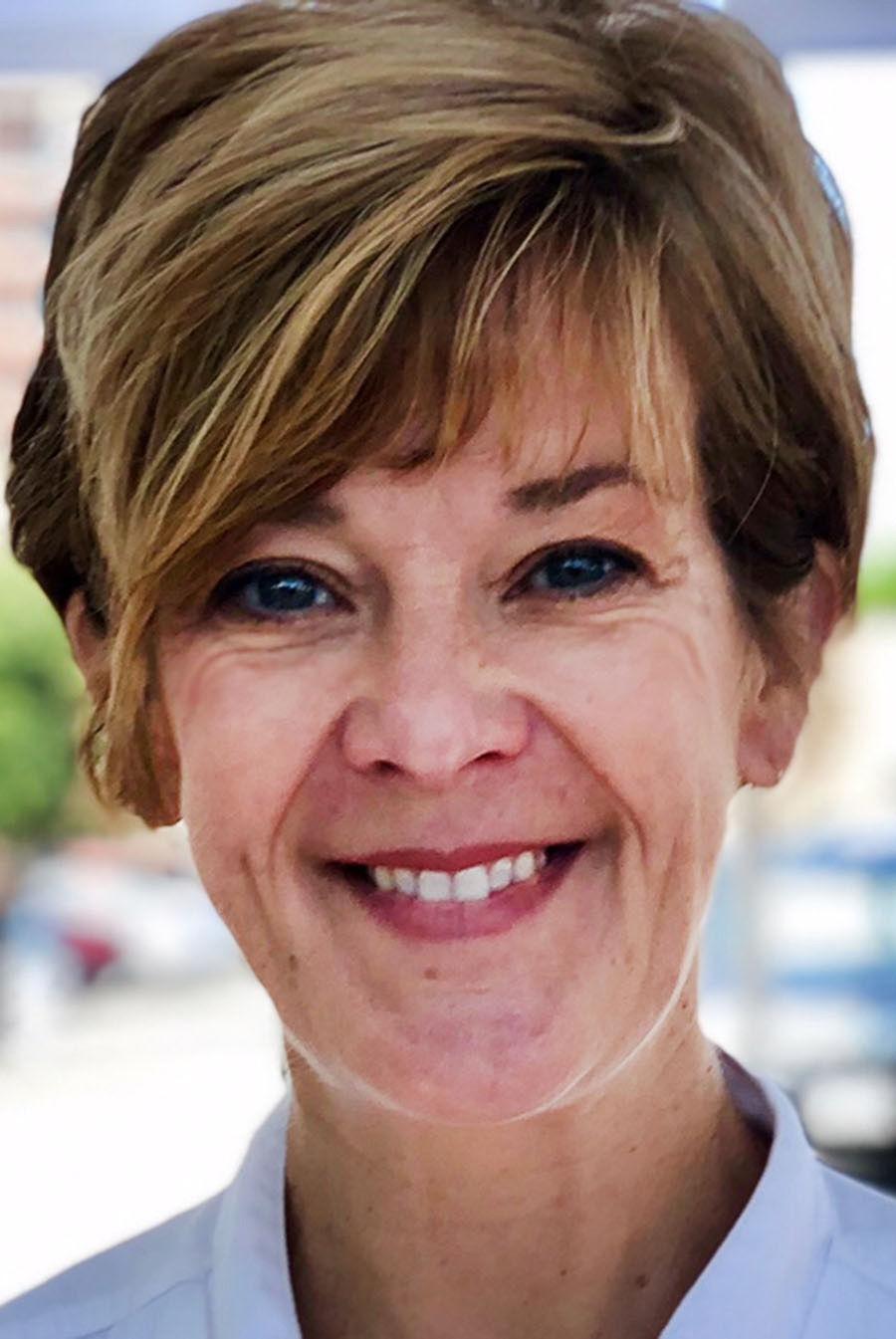 And there began my rabbit hole chase starting with hollandaise, then on to eggs Benedict, to homemade English muffins, to perfecting poached eggs. All of this to say, Tim Kohn, this is not the article that you asked for. Instead, this one is about attempts and substitutions, about (somewhat) heavenly homemade English muffins, leftover ham, messy poached eggs and cheater hollandaise. But mostly, this article is about eggs Benedict.
In December 1942, The New Yorker reported in "The Talk of the Town" that Lemuel Benedict invented eggs Benedict 48 years earlier. Apparently, Benedict, a Wall Street broker and late-night tavern patron, was suffering the morning after a night of heavy drinking. He went to the Waldorf for a late breakfast. This is what The New Yorker article says:
He had a hangover & ordered buttered toast, crisp bacon, 2 poached eggs, & a hooker of hollandaise sauce, & then & there put together the dish that has, ever since, borne his name, Eggs Benedict. He is the sole surviving epicure among those who have given their names to great dishes.
Thefooddictator.com disputes this account in its Nov. 6, 2018 article "The Original Delmonico Eggs Benedict." Indeed, it even shares Delmonico's original recipe on its site.
Eggs Benedict was invented at Delmonico's — America's first great restaurant — in the late 1860s by Chef Charles Ranhofer. The dish, which was named for a regular Delmonico's patron at the time, Mrs. LeGrand Benedict, consists of warm toasted brioche rounds topped with proscuitto cotto, poached eggs, Hollandaise sauce, and an elegant touch of Osetra caviar.
Regardless of the mystery surrounding the origin of eggs Benedict, fans across the country and around the world enjoy it and variations like eggs Florentine, Chesapeake Benedict, Southern Benedict, salmon Benedict, avocado Benedict, and yes, even Spam Benedict. The list seems endless.
Traditional eggs Benedict is this:
Toasted English muffin
Grilled Canadian bacon
Poached egg
Hollandaise sauce
While eggs Benedict is a simple layering of a few items, pulling it all together can be daunting. So, I listed the elements in the order which I made them.
I have a knack for complicating things more than necessary; so, I decided to make my own English muffins. I chose Alton Brown's recipe. It only needs about 30 minutes of rising time where the "Joy of Cooking" recipe requires 1½ hours.
Brown's recipe uses non-fat powdered milk rather than more traditional scalded milk. While the smell is a bit off-putting, powdered milk purportedly creates a creamier texture in the crumb of the bread.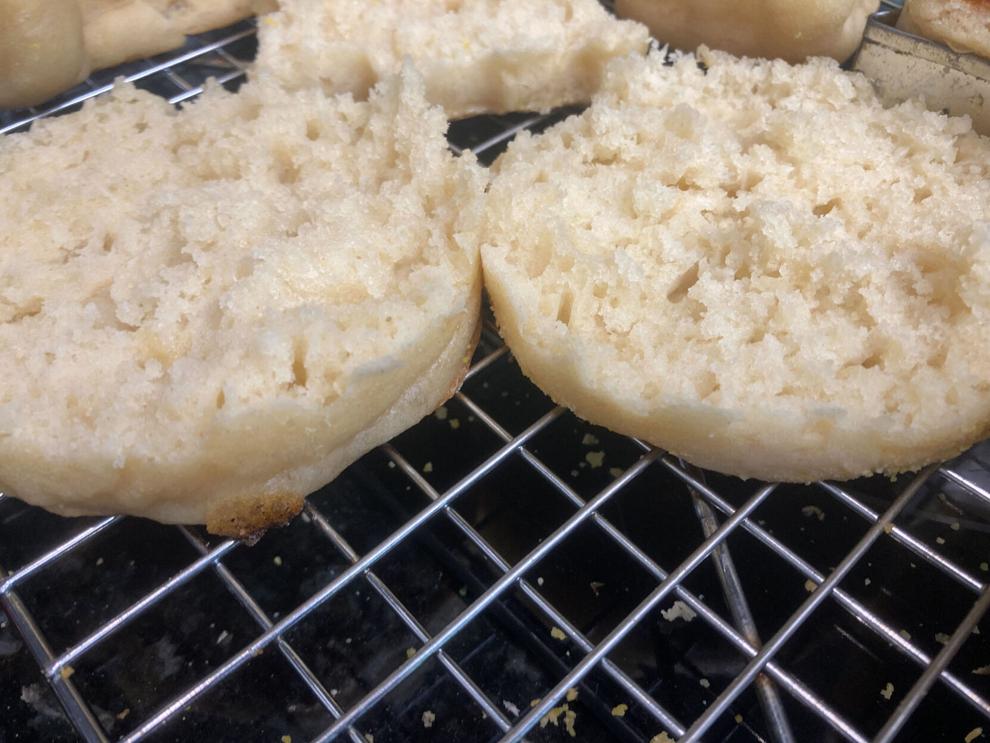 English Muffins
½ c non-fat powdered milk
1 T sugar
1 t salt, divided
1 T shortening
1 c hot water
1 envelope dry yeast (or 2¼ t)
⅛ t sugar
⅓ c warm water
2 c all-purpose flour, sifted
Non-stick vegetable spray
Special equipment: electric griddle, 3-inch metal rings, #2 ice cream scoop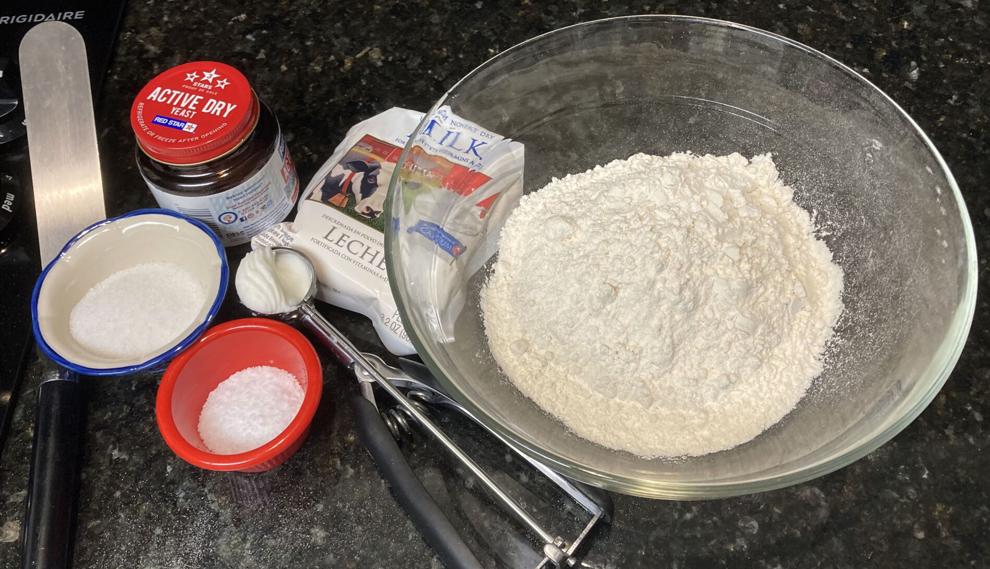 In a bowl combine the powdered milk, 1 T of sugar, ½ t of salt, shortening, and hot water. Stir until the sugar and salt dissolve and the shortening is melted. Let cool.
In a separate bowl combine the yeast and ⅛ t of sugar into ⅓ c of warm water and let rest until yeast has dissolved.
Add the yeast mixture to the milk mixture.
Add the sifted flour and beat thoroughly with wooden spoon. Cover the bowl and let it rest in a warm spot for 30 minutes.
Preheat the griddle to 300 degrees F.
Add the remaining ½ t of salt to mixture and beat thoroughly.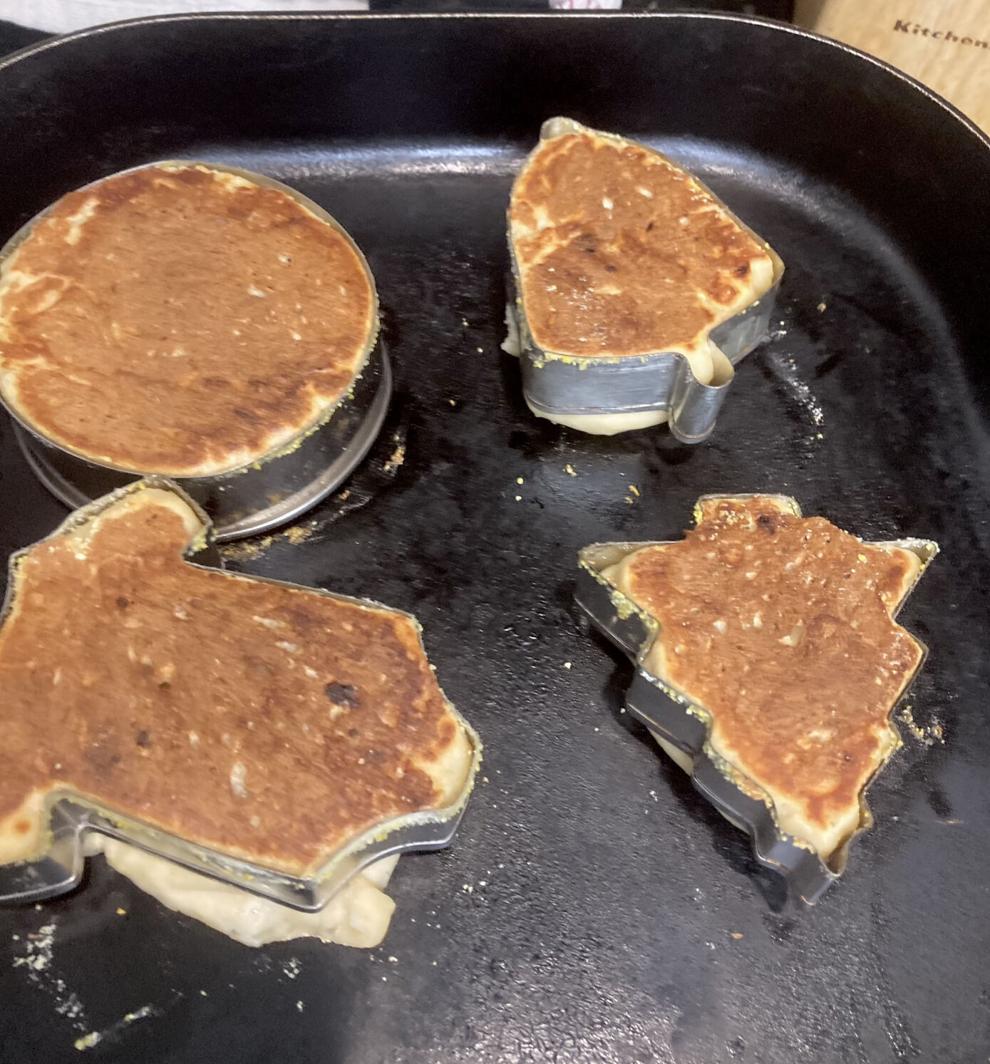 Place metal rings onto the griddle and coat lightly with vegetable spray. Using #20 ice cream scoop, place 2 scoops into each ring. (The dough is very sticky and may need a little manipulation to get it into the rings.)
Cover with a pot lid or cookie sheet and cook for 5 to 6 minutes. Remove the lid and flip rings using tongs. Cover with the lid and cook for another 5 to 6 minutes or until golden brown.
Place on a cooling rack, remove rings, and cool completely. Split with fork and serve.
Because I have never made English muffins before, I was not prepared to commit to the 3-inch metal rings. I substituted cookie cutters — one 4-inch round, one Christmas tree, one "onesie" (like the thing babies wear), one bell and one star. Let's just say it would have been wise to get the rings.
Blender Hollandaise
Yolks of 3 large, pasteurized eggs
1-2 T fresh lemon juice (Because Joe does not like a strong lemon flavor, I use 1½ t apple cider vinegar and 1½ t dry white wine.)
Dash of cayenne pepper
½ c melted butter, warm but not hot, can be clarified but not necessary for cheaters
Salt to taste
Place the egg yolks in blender and whirl briefly. Add the fresh lemon juice and cayenne. Blend for 30 seconds.
Turn blender up to medium-low. Remove the blender lid plug and gradually pour in melted butter in a steady stream. Replace plug and increase speed to medium. Process for about one minute until the sauce blends completely and lightens in color.
Season with salt if desired.
Serve immediately or place in a pre-warmed thermos. (This can keep it hot for about an hour.)
This blender recipe is NOT the basis for all the other sauces you can make with hollandaise, like Béarnaise or mousseline. We will have to cover those with a non-cheater hollandaise recipe.
I avoid poaching eggs because soft-boiling or frying is easier. But a poached egg offers a tender and fluffy egg white that you can't achieve with other cooking methods.
The first several times I poached eggs, I used a large skillet, swirled the water frantically, and made a big mess. Andrew Steakley, owner of Barnett's Public House in Waco, taught me a better, much easier way. His are always perfect.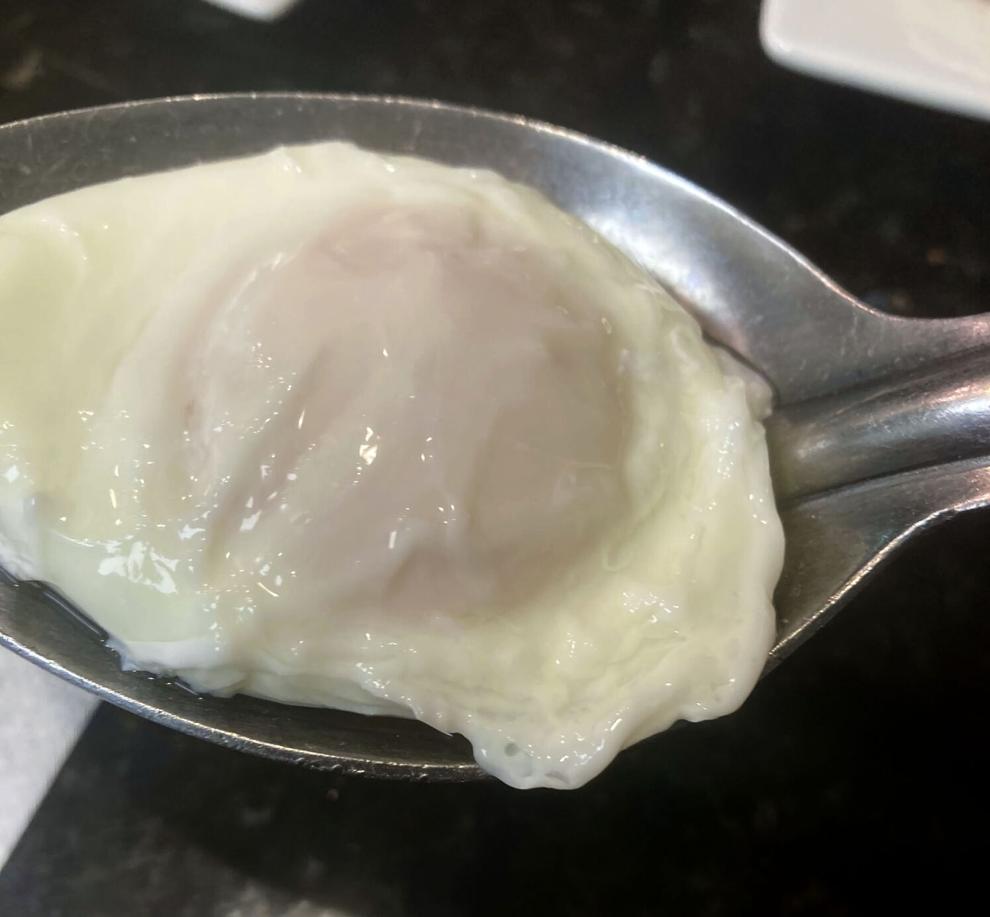 Karyn's Not-So-Perfect Poached Eggs
2 eggs
Large pot of water
Splash of white vinegar (approximately 2 t)
Add vinegar to a large pot of water and bring to a boil. Reduce to simmer (about 205 degrees F).
Crack eggs into two separate ramekins or small cups. Swirl the water, then gently slip the eggs into the swirling water. Cook eggs for about 3 minutes.
Using a slotted spoon, remove the egg and place in a warm water bath to keep for a few minutes, or serve immediately.
This method provides a completely cooked egg white and a runny yolk. I can never quite master the "feathering." Feathering is the swirly egg white that comes off the egg as it cooks.
My egg may not be as pretty as those at The Waldorf, Delmonico's or Barnett's, but it is still perfectly delicious.
Now comes the cheater part. Real hollandaise is cooked over a double boiler very gently to avoid curdling the egg. I first saw a blender hollandaise recipe in my faithful old Better Homes & Gardens cookbook.
Since then I have noticed it in countless other cookbooks and cooking websites. Because the blender version does not actually cook the eggs, I highly recommend using pasteurized eggs.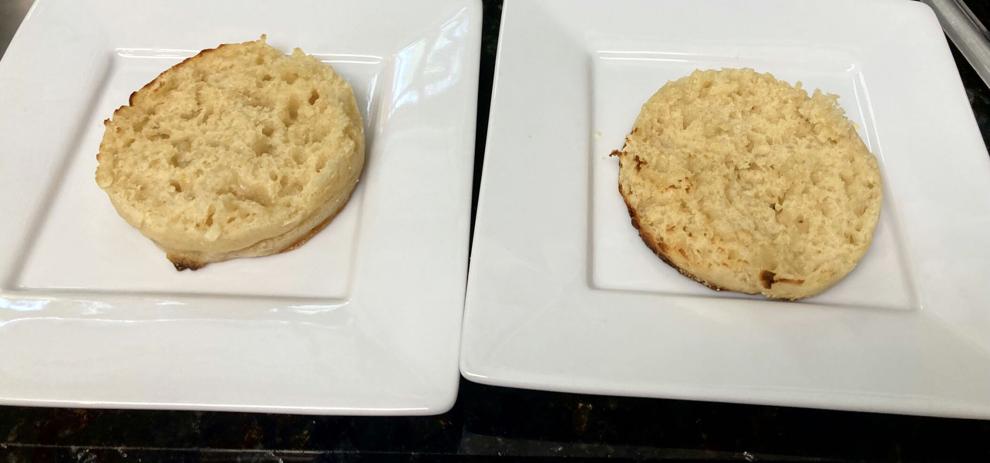 Karyn's Eggs Benedict with Spinach
Serves 1 very hungry person or 2 moderately hungry people
1 homemade English muffin, toasted
1 c fresh baby spinach
2 slices Canadian bacon, or whatever ham you can find in your refrigerator
2 poached eggs
Lots of cheater hollandaise sauce
Layer it in the order listed above. Serve immediately, preferably with a mimosa.
My plan is to move on to the intricacies of non-cheater sauces soon — unless I go chasing down another rabbit hole.
Karyn Miller Brooks' passion for food, cooking and bringing people together spurred her decision to open Gourmet Gallery, a locally owned cooking school. After graduating from Texas A&M with a degree in journalism, she studied culinary arts at Cambridge School of Culinary Arts and Orange Coast College. Karyn married Joe Brooks in December 2016, and he shares her passion for food and cooking. She has one daughter, Molly, and two stepchildren, James and Becky.