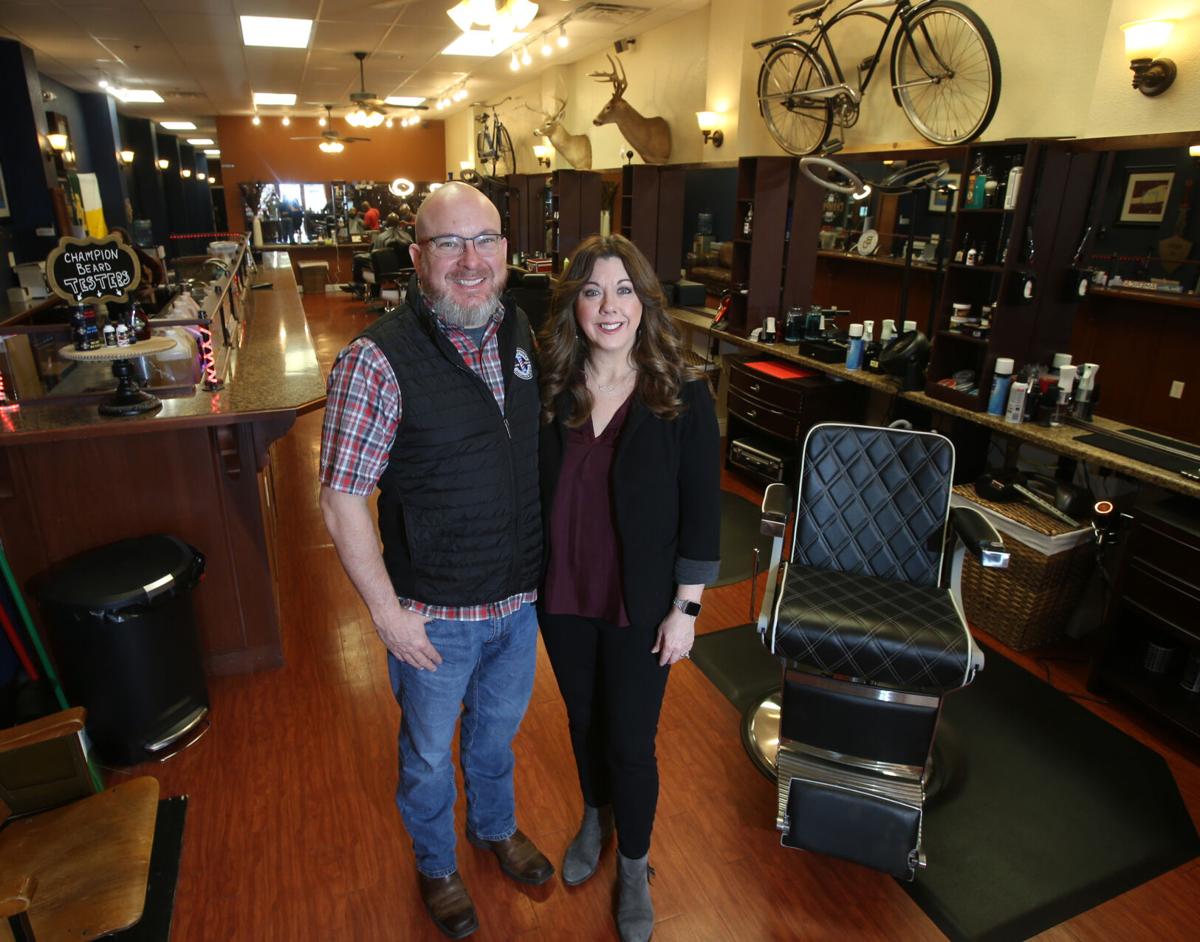 Champions Salon and Barber knows how to cater to its clients.
Champions, owned and operated by longtime barber Lorraine Gritten and her husband Kevin, offers a luxury old-school barbershop experience to its mostly male customers at its downtown and Woodway locations.
Beyond the range of services such as haircuts, straight razor shaves, hair camo, hair removal, beard sculpting, beard detox, beard camo and facials, customers get to enjoy classic rock/oldies, complimentary beer, sodas, water and yes, Dum Dums, nestled on a 100-year-old desk from New York's Woolworth Mansion at the Woodway shop, which was the first to open in 2014.
"We're one of the first barber shops to serve beer in Waco, and the selection supports our local craft breweries," says Kevin, who is an administrator for the business. "Bare Arms on tap at our Woodway shop and Waco Ale downtown across from the Hippodrome."
Lorraine is owner, CEO and a barber educator, running both the Austin Avenue salon and Champions Barber Academy at 1300 Lake Air Drive.
A barber for 36 years, Lorraine said she felt a resurgence in barbering in 2015 when straight razor shaves and beard sculpting were gaining popularity.
"I went looking for local talent at the time with not a lot of success," she said. "Since I couldn't find the kind of professional barbers I wanted to hire, I told Kevin that we'd have to create our own 'Champion barbers' and open Champions Barber Academy, and we did in October 2018."
The school opened at 721 Austin Ave. with 13 barber stations but quickly outgrew that space and moved to 1300 Lake Air Drive in November 2019. It has 21 barber chairs/stations.
The downtown location became the second salon and barbershop, with eight stations and a shoeshine stand.
Background
Lorraine is originally from Toledo, Ohio. She moved to Texas in 1981 and her mother opened Everybody's Barber School, which located on Park Lake and 19th Street. Lorraine attended barber school at night, Saturdays and through the summers while she attended Richfield High School in 1986.
"When I share that I have been a barber for 36 years, people think I'm lying or exaggerating because I don't look that old," Lorraine says with a smile. "Back then, I was one of the few female barbers around. To date, we have added 18 female barbers into the industry, many of which work for us at Champions."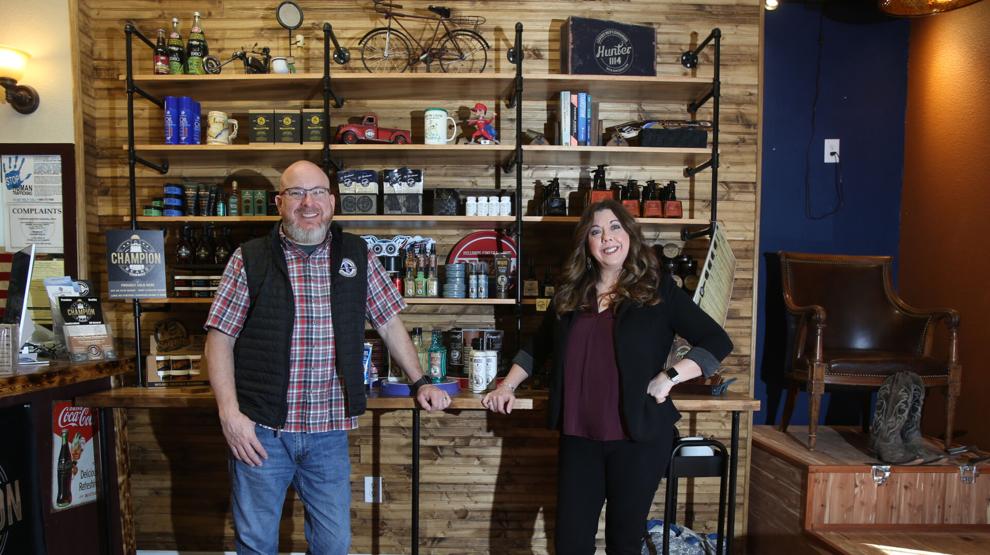 Lorraine spent six months in 2017 driving up and down Interstate35 and living with her daughter Clarissa to attend a barber school in Fort Worth and earn a barber educator's license.
Today she oversees three instructors and 26 students at the academy.
Kevin is a Lafayette, Indiana native who graduated from La Vega High School in 1989. He had always been a cartoonist, attending art school at Texas State Technical Institute (now TSTC) and earning his associate's degree before realizing he was a "starving artist." That led him to help his father, Don Gritten, with family-owned Gritten Automotive and Gritten Wrecker Service. He worked for his father for 20 years. Kevin also worked for Sears Automotive and Nissan of Waco.
The Grittens met on Match.com, exchanged emails and shared a romantic first date at Red Lobster before being asked to leave. When they asked the waitress why, they were informed the restaurant had been closed for half an hour; they hadn't even noticed everyone else was gone during their four hours there.
Together
They married in 2003 and worked separately until 2017, when Lorraine decided to bring her husband on board.
"She has always dreamt of us working together, but the dream wasn't mine because there was nothing I could do at salons," Kevin remembers with a laugh. "Now we see each other a lot, going between businesses, which is ideal because we're each other's best friends."
Kevin wears a variety of hats at Champions, filling numerous needed roles.
"I knew he could be more of an asset to our legacy at Champions," she says.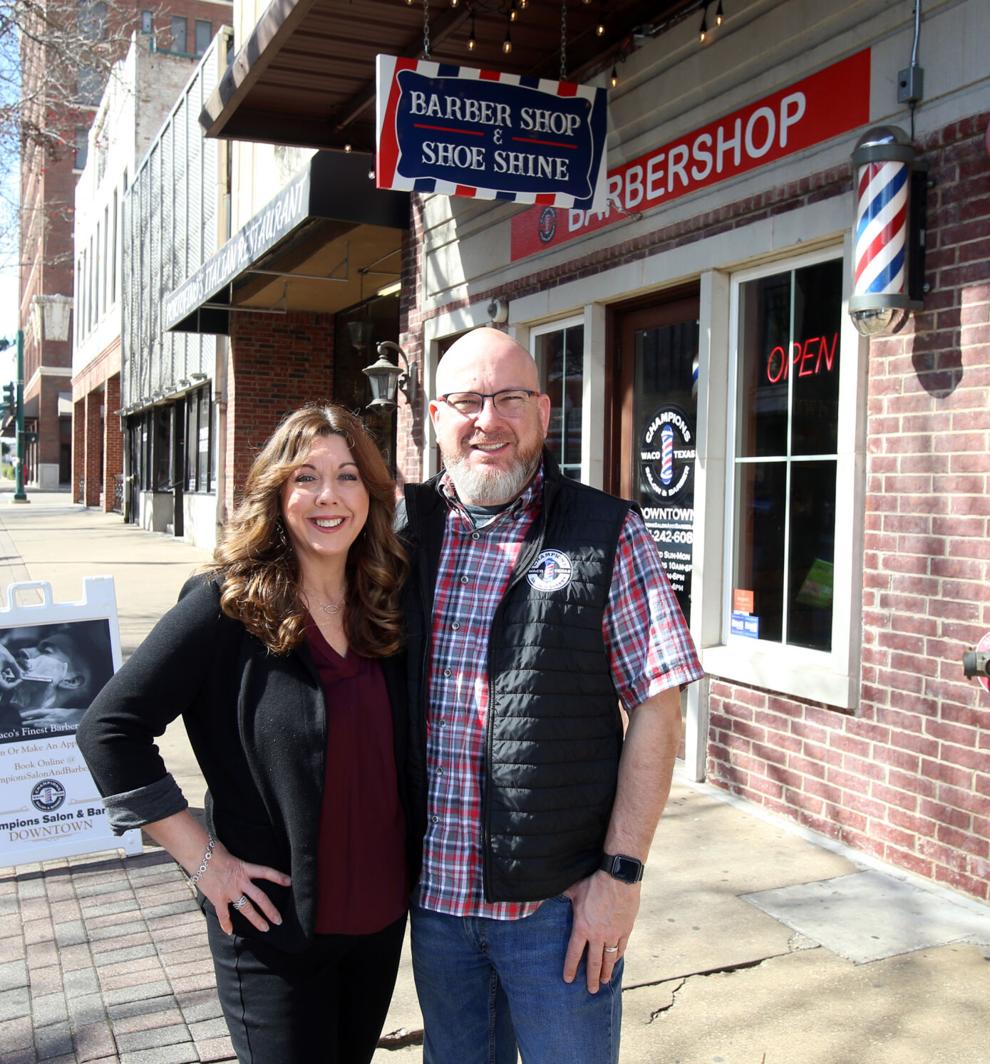 The result is a personal touch, not just an in-and-out buzz or trim.
"We want to make the experience different here, and one way I do that is by talking to my customers constantly like on the show 'Cheers,'" Kevin says. "All our staff have a good work ethic, genuinely love their craft and have great teamwork supporting everyone else."
"We also make our own beard products (oils, butters, beardwash) and sell Suavecito, Reuzel, Hunter1114, Clubman and Dr. Squatch grooming accessories," Kevin adds. "We carry the best men's hair care products on the market along with soaps, shaving lotions, aftershaves and so much more."
While the Woodway shop features 12 stations, seven of which are private rooms, the downtown location was themed after a 1940s old-school barbershop with antique bicycles, obsolete cutting and shaving equipment and vintage photos of old-time Waco barbers.
"A while back, I advertised on Facebook for pictures of local legend barbers," Lorraine says. "That led to the donation of a bunch of old clippers, scissors, brushes and razors that we exhibit on Austin Avenue. I like to honor Ted Hernandez's family of barbers, who were known by many."
Lorraine used to work at Eastgate Barber Shop with the Hernandez brothers.
In addition to his work at Champions, Kevin is deep into a project to open an 80-seat club next door called Slapstix Improv and Comedy Club with contractor friend Mike McBrine. Kevin did improv and some standup comedy on amateur nights when they lived in Austin for 10 years.
"Kevin and I have been renovating for weeks and hope to open in May," McBrine says. "I will be operations manager booking local and outside talent, replenishing stock and overseeing everything along with performing standup and improv, while he does payroll and performs. We also want to add a kitchen to serve light appetizers and offer beer and wine sales."
Regardless of that venture, Lorraine and Kevin say they will continue their focus on making Champions "Waco's finest barbershop." 
---
Champions Salon and Barber
Tue-Fri, 10 a.m. to 6 p.m.