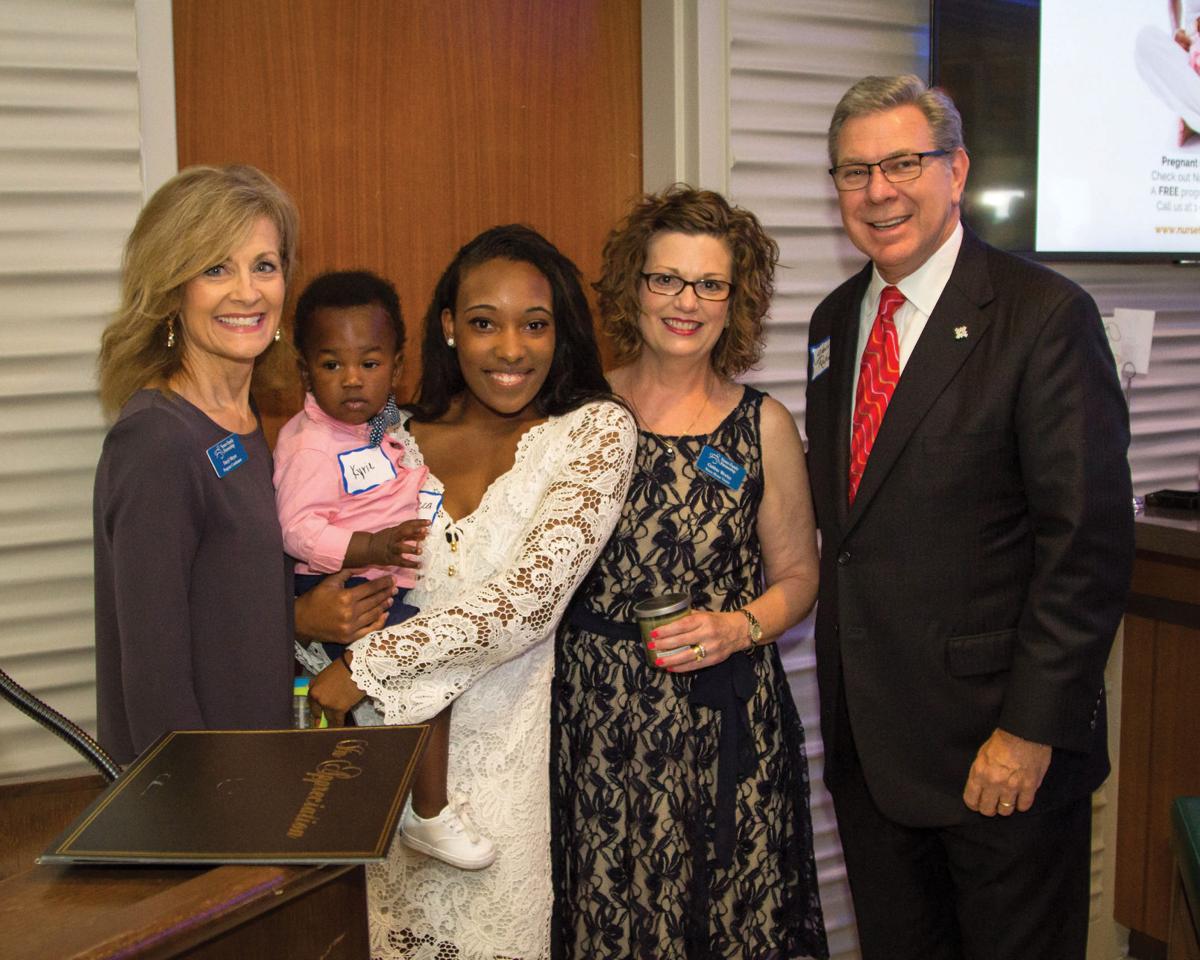 You may have seen the large, eye-catching posters in Richland Mall showing a pregnant woman with the words "A Lot's Gonna Change" written in English and Spanish.
Those signs are sponsored by Baylor Scott & White Medical Center-Hillcrest's Nurse-Family Partnership program, which seeks to educate first-time McLennan County mothers to the changes they will encounter as parents and to connect them with home healthcare nurses.
The health providers supply pregnancy monitoring, mentoring and parenting resources to help new mothers and their babies.
Daryl Meyer, program coordinator for the local NFP, says she didn't know how extreme the need was in the county for prenatal care and follow-up services until her first day on the job with NFP. Meyer's office at the time was in the pediatric unit at the hospital. And on that day three years ago, the new program director learned that there was a 16-year-old in the delivery room giving birth to her second child.
Meyer said she realized, "This is much bigger than I thought." She recognized that young, low-income mothers have a number of questions about parenting and that their babies "don't come with manuals."
The home-based NFP program, which starts before each individual mother's 29th week of pregnancy and goes through the child's second birthday, has now helped more than 200 mothers and has welcomed over 174 babies in the past 24 months. It will graduate its first class of 2-year-olds and mothers on May 4.
The 6:30 p.m. ceremony at Western Heights Baptist Church will be the first for the local Nurse-Family Partnership and will be much like a preschool graduation. Six children and five mothers (yes, there's a set of twins) will take part.
Meyer said it will feature a ceremony with kids in caps and gowns, baby photos and the mothers talking about "how they have done since they started (the program)." The event is open to the public, and Meyer advises bringing Kleenex if you attend. It happens two days before the beginning of Nurse Appreciation Week May 6-12.
Growing Program
A second graduation is planned for September, when the program expects to honor 15 children and 15 mothers. Reflecting the growth of the program since its beginning, NFP anticipates 22 children and 22 mothers for January 2019. Meyer said that by May 2019, the program should be graduating 55 families of 2-year-olds and moms.
The organization will also be celebrating its successes with mothers and babies.
"We have seen healthier babies being born — spending less time in the NICU (neonatal intensive care unit)," Meyer said. "The average for McLennan County is 14 days. We are at five days due (in part) to early interventions and prenatal care."
NFP babies also have a lower rate of pre-term deliveries, she said. The average rate in McLennan County of babies born before 37 weeks is 11 percent, while it is only 3.7 percent among babies whose mothers are in the program.
After graduation, Meyer said the NFP tries to connect mothers with other local programs "that will help them until the baby gets into school."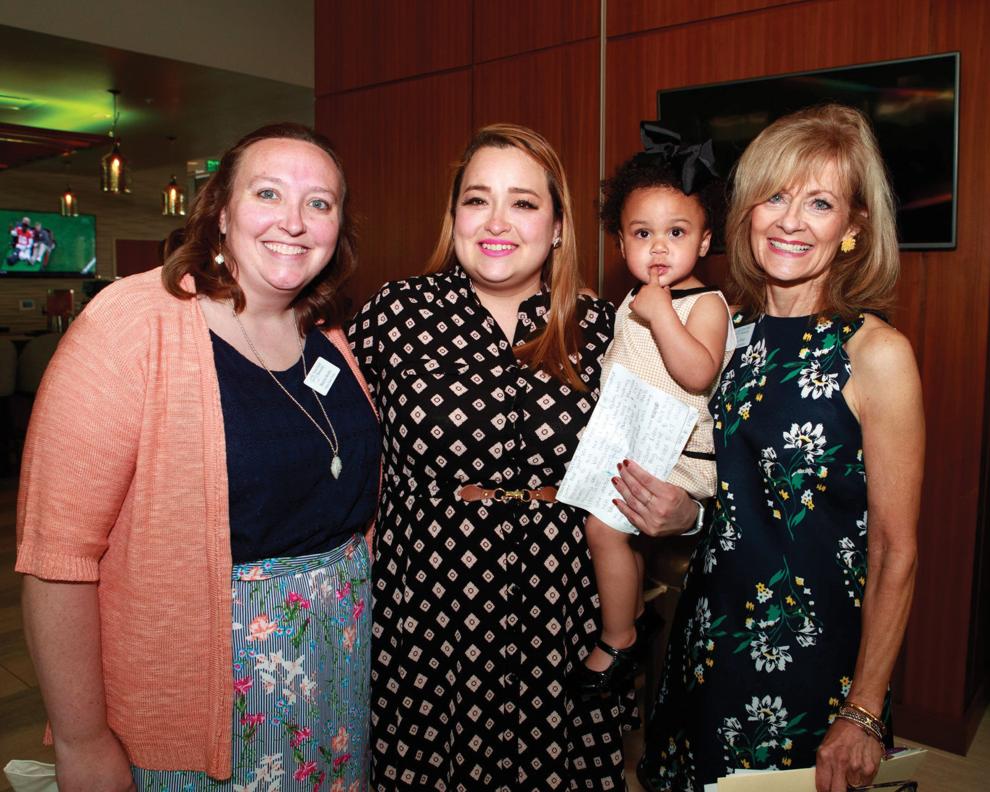 At another event in mid-April at the Baylor Club, the NFP honored its 2018 Mom of the Year, Monique Casarez (and daughter Alexandria), and the program's Nurse of the Year, Gregoria Toca.
Home nurse Gabbie Worley is one of seven NFP nurses. She has 30 clients whom she visits on varying schedules. The emphasis is always on serving the moms and babes.
"The way we work is we're flexible," she said. "It's very client-driven."
She not only monitors the mother's and baby's health, but she mentors the women as well. In their training, the nurses learn case management, but also, Worley said, "We learned a new way to communicate — how to best effect change because many of the girls have things they need to change to make progress in their life."
Worley said the home schedule has the nurse meeting with the expectant mother weekly for the first four visits, then every other week until the baby is born, then back to every week for six weeks after the birth. Visits continue about every other week until the child turns 2.
The nurses are invaluable in the mentoring process. Meyer said, "(They) are there to encourage, to be the other voice saying 'Yes, you can do this.' "
Encouragement
Inspiring the young mothers is a necessary component to the ultimate success of the program. Helping them stay in school, return to school, get into McLennan Community College or Texas State Technical College, or acquire a job is important for the financial stability needed to raise a family, she said.
"Our goal is to sit with the mom and help her decide what her goals are — what her career path is," Meyer said.
In addition to the home health visits, NFP also schedules enrichment get-togethers for the families on a quarterly basis.
Two interns with the program recently assisted with a visit of the moms and kids to the Mayborn Museum. Baylor senior Kelsey Landrum said it was a logical place to schedule an event.
The Mayborn, she said, has "so many learning opportunities for the children and parents to interact — to teach (children) about different subjects and expose them to different stimuli."
Intern Philo Bwabwa, also a Baylor senior, described the museum as a different place where parents can enrich their children.
"Most of the parents don't think about going to a museum when they think of having fun with their kids," Bwabwa said.
Not only did the families enjoy the Mayborn exhibits, they received a class in CPR and children's water safety that met in the museum's water room.
One goal of the quarterly outings, which have also included a cooking class, a block party, a visit to the zoo and to the Hippodrome, is to break down some barriers, Meyer said. If a building or place looks too imposing, a visit there with the group can help make parents "more comfortable being in that environment," she said.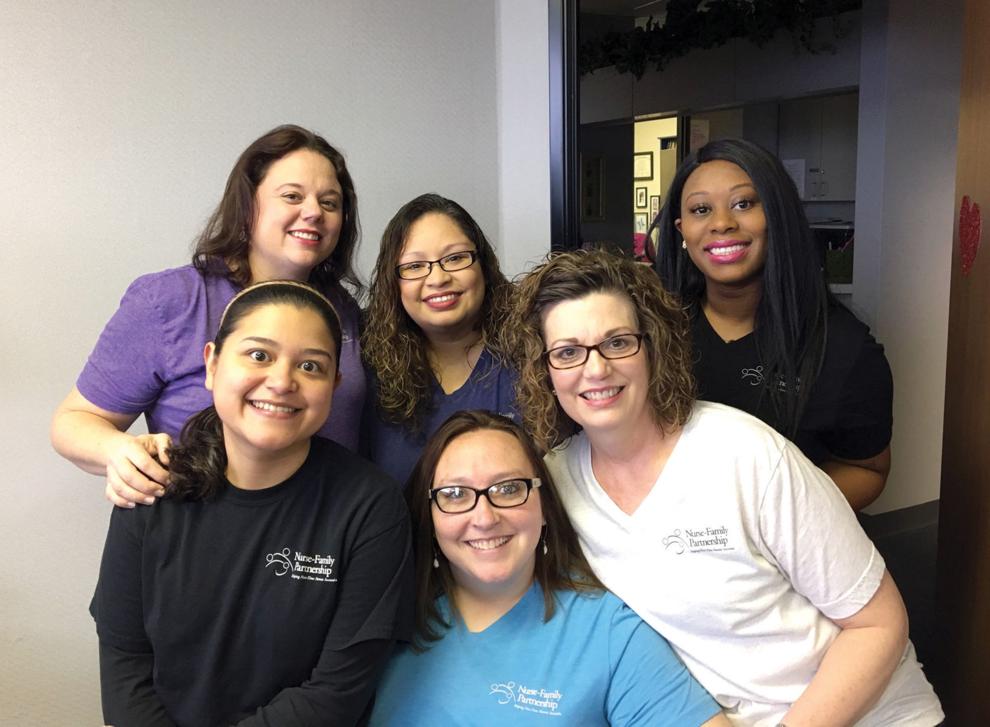 Many Benefits
Long-term national research has shown that mothers and children who are part of the Nurse-Family Partnership have improved prenatal health, fewer subsequent pregnancies, increased maternal employment, improved child school readiness, reduced criminal involvement, and less child abuse, neglect and injuries. Further, the program seeks to instill mothers with a sense of worth and the need to set life goals.
For one mother in the program, who grew up in public housing, a goal is to get into her own apartment. She is enrolled in school and will be graduating from the NFP program May 4.
Another important component of the program is its collaboration with other nonprofits in the county. Meyer said that many specialized programs exist in the area that fit into the mission of NFP. Some of them are AVANCE, Baylor University, Care Net Pregnancy Center, EOAC/Early Head Start, Family Health Center, Hispanic Chamber of Commerce, HOPES Program/Family Abuse Center, Mission Waco, Waco ISD and several others.
Collaboration uses resources efficiently. Meyer said, "We know what we do well and what other people are doing well."
For instance, NFP partners with WERN (Waco Employer Resource Network), a joint effort of Goodwill and Caritas funded through the city of Waco, which can match the mothers in the program looking for jobs with companies and organizations that need employees.
The Waco Foundation has supported the NFP financially and was instrumental in bringing the Nurse-Family Partnership to Waco. Executive Director Ashley Allison said the foundation appreciated the 38 years of evidence from the NFP national program that proved the organization's success and its capacity "to end the poverty trajectory of women and their children."
Allison added, "After learning about the program and how the outcomes align with some of the key issues in our community, both Waco Foundation trustees and staff knew this would be a great fit in Waco."
Matthew Polk, the executive director of another partner organization, Prosper Waco, said NFP aligns with the three broad goals of Prosper Waco — education, health and financial security. Additionally, he said it "sets an example of what high-quality social programs should look like. NFP is meeting a large need and filling a gap."
Former Waco mayor and board member of Prosper Waco, Virginia DuPuy, was instrumental in getting NFP to Waco, though she says the real credit goes to Baylor Scott & White-Hillcrest and Waco Foundation's Smart Babies Initiative.
"I only recognized the potential for NFP's long-range impact on Waco and our current and future generations of mothers and their children," she said.
DuPuy credits the program with success in growing its services and raising awareness.
"As more and more young mothers utilize these services, I also hope for growing awareness among vulnerable families about the importance of the healthcare and education of young mothers. Our community cares, but NFP provides specific services that can impact our community long into the future."
---
Nurse-Family Partnership
For more information about the Nurse-Family Partnership, call 202-1130 or visit nfp.sw.org.