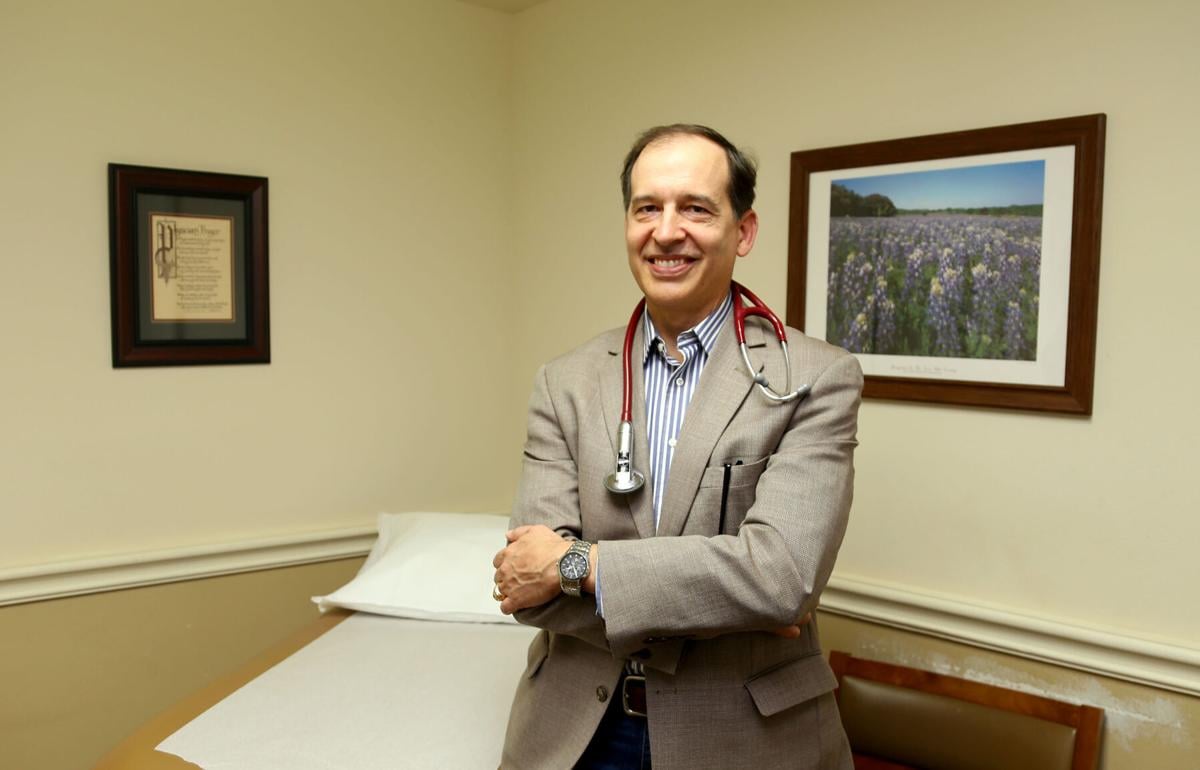 As a self-professed "Aggie in a Baylor world," complete with two maroon stethoscopes and a Texas A&M office lamp, family physician Dr. Karl Trippe enjoys the personal touch in his Waco Primary Care practice.
Trippe (pronounced "trip") often stays after work if necessary so that patients can pick up needed medicine and is willing to meet people on weekends when he can to take care of emergencies.
"Patients don't get as much personalized quality care nowadays, so I'm on call 24/7 and like to really listen to my patients, especially about their mental and spiritual concerns because sometimes they're more important than the physical," he says. "As doctors, we cannot ignore their significance because many times we can't fix the physical until we have tried to fix the emotional side."
Although his parents never told him what to do for a career, he felt medicine was his calling while attending A&M from 1985-89.
"I realized where God wanted me, although I could have gone into other vocations," he says. "I just prayed about it and decided it was what I wanted to do."
Hannah, the youngest of his four daughters, handles her father's referrals and marketing.
"He is really dedicated to his practice, seeing patients daily and always working," she says. "He never stops. It's a calling to him, not a job. He knows how to prioritize well to keep up with everything."
As one of three independent local family physicians, the 53-year-old Dallas native learned about devotion to practice, caring and bedside manners from many other doctors over the years. He now does family care from infants to one patient aged 102, along with pediatrics, geriatrics and even hospice.
Some patients have been with him for 20 years.
Background
Trippe attended San Antonio schools, graduating from Central Catholic downtown, and earned a bachelor's degree in biology at A&M. He then worked at the University of Texas Health Science Center in Houston doing anatomy research before medical school at Texas Tech from 1992-96.
He finished his residency in 1999 at Lake Shore Clinic and later began renting space from Dr. Pat Pryor, who bought land at Londonderry Drive and Old McGregor Road, built the present facility and added a wing in 2000.
When Pryor retired in 2015, Trippe took over the practice and oversaw some additions of his own, expanding his general practice and branching into aesthetics, which includes laser hair reduction and removal, non-invasive body and facial contouring and skin rejuvenation.
Full-time aesthetician Kaylee Wade also performs skin resurfacing and micro-needling focusing on stretch marks, acne and pigmentation problems along with lashes and eyebrows work and a spa on the side. The clinic also offers Evolve by Inmode, a total body solution with body remodeling, muscle toning and cellulite treatment.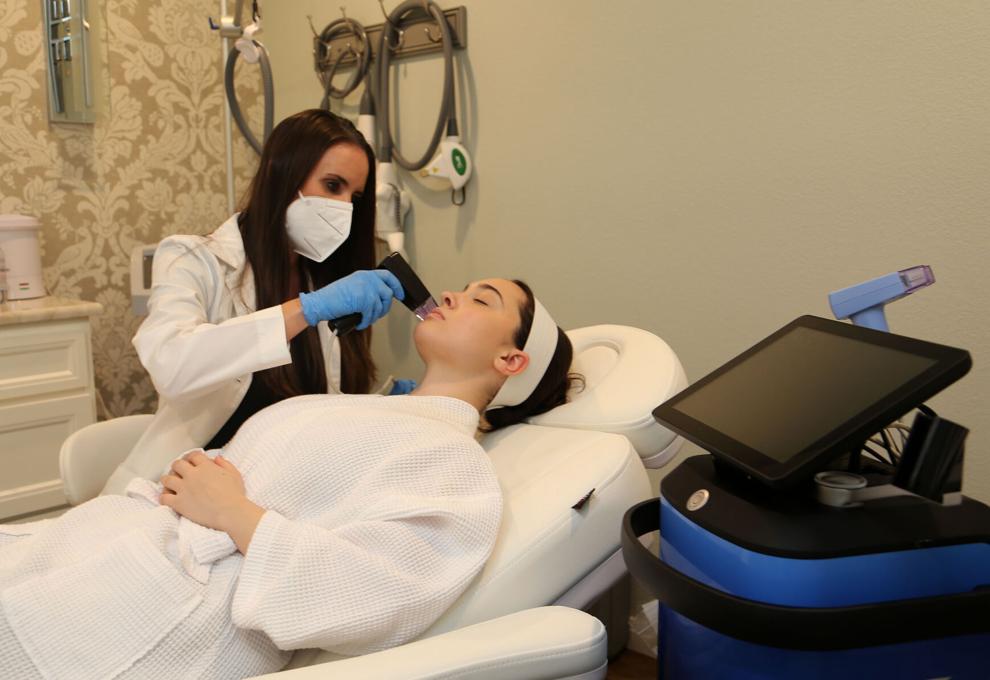 Rounding out the Waco Primary Care staff are nurse practitioners Kendall Nobles and Connie Barker, medical assistants Maria Guerrero, Lisa Morales and Rhonda Rostockyj, licensed vocational nurse Lindsay Hallonquist, front desk receptionists Shannon Gallina and Michelle Ochoa and billing manager Amy Cameron.
Together, they help Trippe deal with the daily patient log along with advertising and the business side.
Challenges
"Our biggest problem is constantly fighting the insurance world, getting adequate reimbursement, medicine and testing for our patients," Trippe notes. "Unfortunately, that's not going away anytime soon. I frequently have to phone for authorization to justify everything my clients need."
The pandemic only added to the problems, but he was determined to stay open to continue his patients' care.
"How many practices let you come in daily during COVID-19? Most were sent to an ER, but we never closed," he says. "We said, 'If you have COVID, come in' because I determined that I couldn't send them in without checking them first, taking care of them."
Another adjustment WPC had to make was for the proliferation of social media on referrals instead of by old-fashioned word of mouth.
"I had to get into media, although years ago it was frowned upon for doctors to market, promote and advertise themselves because it made other physicians wonder what you were up to," Trippe says. "It depends now on your specialty. That's where people look as well as recommendations, especially younger people. I still get business from word of mouth, but a lot do only social media for referrals."
Light-hearted
Don't think for a minute Trippe is all work and no play. He owns pugs and brings three of them to work two or three days a week to his staff's delight.
"The nurses take turns feeding them, and we have a place out back for them to play or in an upstairs room, but they get into things or fight on occasion," Trippe says. "We can hear them downstairs, and Kendall tells me to check on them, so I have to excuse myself from a patient and separate them."
At home, he used to enjoy watching medical shows, always giving away the conclusion of "Mystery Diagnosis" before his girls could figure it out, driving them crazy, according to Hannah.
Today, he'd rather watch westerns or Motor Trend Network to help him restore a 1973 Mercury Cougar convertible. Weekends or free evenings, he likes fishing for bass and catfish near Lake Granbury, attending A&M football games and playing tricks on co-workers and family, especially his youngest sister, Cindy Myers, a physical medicine rehab specialist who worked at Baylor Scott & White before moving to Salt Lake City.
"I'd mess with her at her hospital, asking what kind of a doctor she was when she was gone once and telling the admin clerk I was her boyfriend," he says with a laugh.
"When she came down the hall, she jumped all over me and said to stop doing that. I miss her not being here to pull stuff on her. She isn't that way and has never messed with me."
So what's in store for his practice? His youngest daughter knows the likely answer.
"He always wants to expand because he believes the more you reach, the more you help, body and mind. If he can, he will," she says.
Trippe agrees and expands on that by saying, "My biggest goal is to find another physician who has my vision and can help me take care of people, then pass it down to someone after another 20 years or so. I tell my patients I'll give them that long but can't promise them anything after that!" 
---
Mon-Fri, 8 a.m. to 5 p.m.
(Sat options for aesthetics)
also on Facebook, Instagram