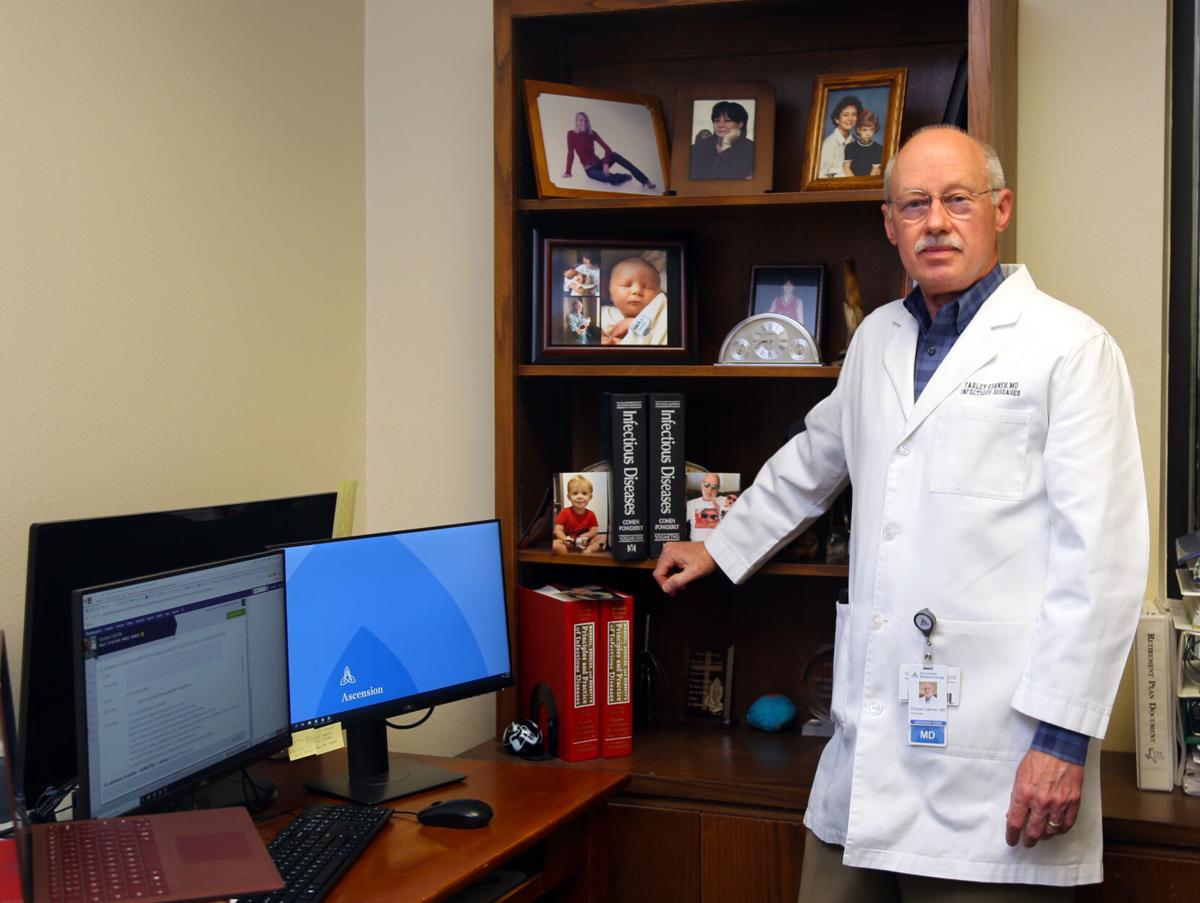 Infectious disease specialist Dr. Farley Verner has The Beatles' 1967 hit song "Hello, Goodbye" for his cellphone ringtone, which sort of fits as he and the rest of the world want to say goodbye to COVID-19.
It's a good thing he enjoys the Fab Four's music, because he's heard that ringtone a lot these last 14 months as the health authority for Waco-McLennan County.
Verner grew up in Houston and joked he did not have the typical lifelong dream of becoming a doctor. Excelling in math and science, he originally planned to become an engineer, but after two years of that curriculum, he decided that wasn't the right career choice for him. He wanted to meet different kinds of people and help them, so he decided on being a doctor.
At the time, he was thinking of family medicine as a specialty. "I wanted to be a Marcus Welby," said Verner of the 1970s TV doctor.
After graduating from the University of Texas Medical Branch at Galveston, he completed an internal medicine residency training at Baylor College of Medicine in Houston and subsequently finished an infectious disease fellowship in 1985. That year he moved to Waco and joined Dr. Scott Lea in forming Waco Infectious Disease Associates. The 1980s HIV crisis was the first pandemic Verner encountered.
When asked why he chose this specialty, he explained, "Not only do you get to deal with challenging puzzles all the time, but a whole lot of the time you get to do something that truly works."
He also said it's an opportunity to help, and a chance to have a job that is truly interesting. It's a challenging and gratifying career choice that's brought him a great deal of personal satisfaction, he said.
No Easy Answers
The country was focusing on getting through another winter when COVID began to appear on the country's radar screen early last year. News that the virus was becoming a public health crisis was beginning to surface.
"Initially, we thought of COVID as being someplace else." Verner said. Almost overnight it seemed, COVID struck Waco.
Health authorities were trying to figure out the best course of action with little data to go on.
"Trying to assess the seriousness of COVID was something everyone in this field was having trouble with," Verner said. "Those that assessed it as being extraordinarily serious were not necessarily taken seriously."
From the standpoint of science, he says the world should have been expecting a pandemic.
"In recent years, we've had new and infectious diseases emerge, like SARS and MERS, but those did not persist and manifest as a threat, so it was easy to become complacent," he said.
COVID wasn't playing by the usual rules.
Difficult Decisions
The virus began spreading like wildfire, and Verner said public health experts had no way of knowing just how far reaching this virus would be.
"In public health, we had to take the information we had and come up with the best recommendations possible and try and implement them and see how that made a difference," he said. Continually, he got the question: "What was going to happen next?"
"I was a voice that said it's going to get worse," he said
Multiple meetings became the norm as health authorities tracked the pandemic locally. Situational update meetings that were occurring daily at the height of the pandemic last year are now every Monday and Wednesday. Other key meetings that were three times a week now meet once a week. Monitoring COVID numbers remains a top priority in helping keep the public safe, he said.
Verner said early decisions to proceed with a city lockdown served the Waco community well for a long time. Summer surges occurred when lockdowns were relaxed or the public disregarded the advice of avoiding large, indoor gatherings or refusing to wear a mask.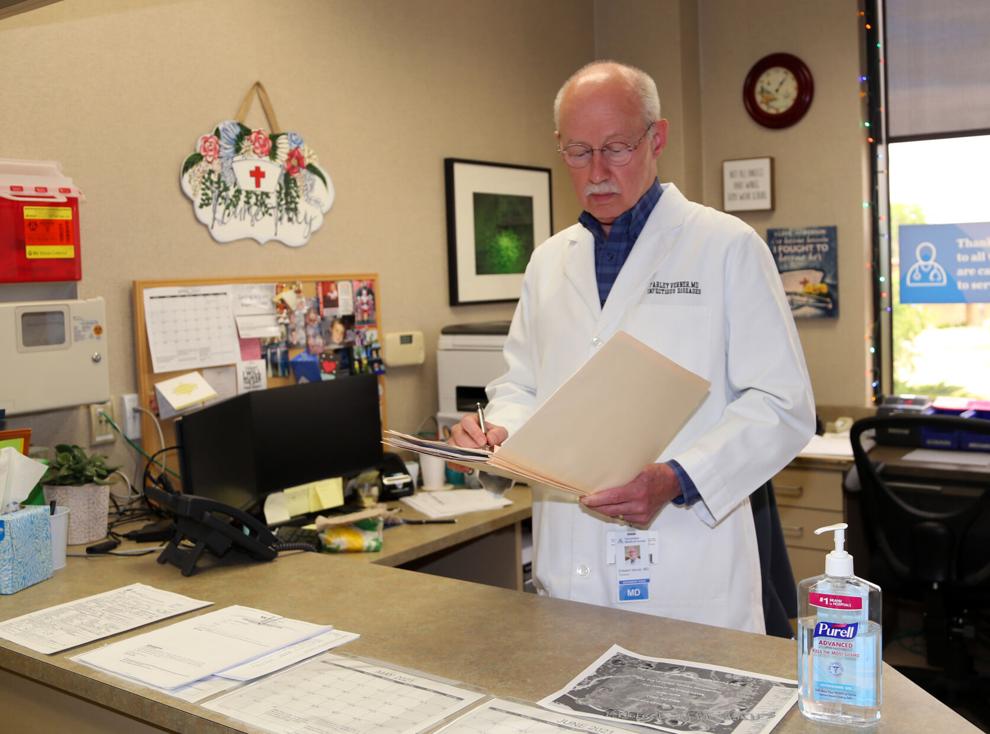 Verner has been the county's health authority since 2003, taking over the role from Lea after Lea joined the faculty of the Baylor College of Medicine.
He noted the correlation of relaxing or ignoring safety protocols seemed to fit the timeframe of surges. He applauded the efforts of the public who took lockdown efforts seriously, and he's convinced that thousands of lives would have been saved if there had been a national mandate for mask wearing.
Whether or not to open school classrooms in the fall brought more discussion to Zoom meetings. Again, Verner said there wasn't a lot of data to drive a good decision. There was the weighty question of COVID cases rising again with the start of in-person learning versus the psychological and financial aspects of keeping kids out of the physical classroom.
Verner said he believes the community did a good job of allowing parents to decide what was best for their own children.
Best Weapon
Mask wearing, social distancing and handwashing all play crucial roles in controlling COVID-19, but the golden key was vaccine development.
"To have a vaccine that's safe and around 95% effective is truly remarkable," Verner said. "The big thing now is vaccine acceptance."
Taking the vaccine is vital in helping return to more normal times, he said. The quicker everyone gets vaccinated, the quicker the community will reach herd immunity, making it harder for the virus to find someone to infect.
He said it's thought that once a community reaches 70% immunity rate, the virus cannot be sustained at epidemic levels. It may never completely disappear, but strict control is the goal, he added.
Once a person takes the vaccine, they should encourage others to do the same. If you don't want the protection yourself, take the vaccine to protect those around you, he advised.
Verner deeply understands the pain of not being able to see and hold loved ones.
"Our grandchildren are young," he said. "Little kids grow and change a lot in nine months, and although we had Facetime, it was hard."
When he received the McLennan County Medical Society's Presidential Distinguished Service Award in December, it was done without much fanfare, via Zoom. Jokingly, he said he might have preferred it that way, anyway.
Sharing Recognition
Serving as McLennan County's health authority, Verner shouldered responsibility for many decisions to keep the community safe. He's quick to share recognition with the many who have played an important part in response to this pandemic.
He says the community should be proud of how the health district staff, the mayor, city and county leadership managed to adapt and deal with this crisis, and he credits both hospitals for rising to the challenges in dealing with COVID.
Waco Family Medicine has done a tremendous job in helping keep its patients safe, he said. Also working tirelessly was his partner, Dr. Jeana Benwill, his Ascension Medical Group office staff and leaders from Baylor, McLennan Community College, Texas State Technical College and the Region 12 Education Service Center.
Citizens who have acted responsibly deserve recognition in doing their part to keep themselves and one another safe, he added.
It really has taken a village to lead the community through these dark and challenging times, he said. Verner also credits his wife, Peggy, for her tremendous support in helping him find his emotional reserve in this unprecedented time.
COVID remains a threat, but thankfully we are on the road to recovery, he said, because — as he referenced another Beatles song — "All You Need is Love" and masks and vaccines.